WWE: The Most Influential Performers in Pro Wrestling History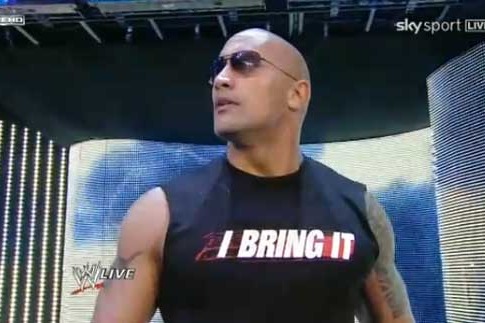 from hiphopstan.com
Professional wrestling, as an industry, has been around since the early 1900s (if not earlier).
In that time, thousands of performers have come and gone, but only a relatively small handful have truly influenced the product in meaningful ways.
Today, we're going to celebrate those performers who have truly been influential in changing the direction and the content of wrestling for the better. These are men who, through various avenues, made a mark on professional wrestling that lasts to this day.
In each slide, I will discuss the performer and how they left their considerable mark on professional wrestling.
Suggestions are welcome...enjoy!
Begin Slideshow

»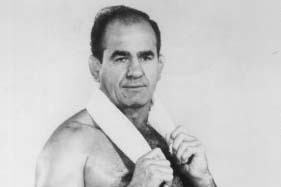 from wikipedia.org
INFLUENCE: Technical Ability
The first performer on the list is the great man who is arguably the innovator of modern professional wrestling (and the first undisputed world champion), Lou Thesz.
Among other things, Thesz innovated the STF, the powerbomb, and the appropriately named Lou Thesz press (most famously done in modern times by Stone Cold Steve Austin).
He was a wrestling purist and a "hooker" (to simplify, a submission specialist) who would pave the way for the great technical wrestlers like Chris Benoit, Bret Hart, and Kurt Angle.
He was not flashy by any means, but Thesz was one of the first to make technique paramount in the world of professional wrestling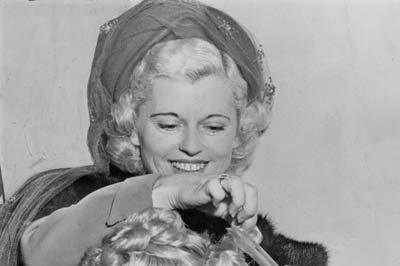 from gorgeousgeorgebook.com
INFLUENCE: Showmanship
For a long time, professional wrestling was a ring-based, technical spectacle based around the talents of performers like Lou Thesz and Ed "Strangler" Lewis.
However, as we modern fans know, professional wrestling would not be what it is today without the element of showmanship. To that end, one cannot write about the most influential performers in pro wrestling history without mentioning the career of "Gorgeous" George Wagner.
At 5'9" and 215 pounds, Wagner was not the most physically imposing or fit performer; looking at pictures of him, he was not particular "gorgeous" either. He was, however, the first performer to truly gain the ire of the fans.
He came to the ring to the tune of Elgar's "Pomp and Circumstance" (which would later become the entrance theme of Randy Savage), wearing a frilly robe and spraying perfume.
He would cheat liberally, and after winning he would often admire his still-gorgeous features in a mirror, a tactic which would be most famously adopted by Muhammad Ali (an admitted homage to Wagner).
Additionally, Gorgeous George's prime coincided with the birth of a newfangled device called the television. George's television appearances were instrumental in the rise of television (arguably as much as performers like Lucille Ball), and established professional wrestling as viable programming for the fledgling medium.
Wagner's televised antics would garner him national attention as well as an AWA World championship.
Many purists such as Thesz dismissed Wagner as simply a gimmick wrestler and nothing else, but the fact remains that if it weren't for Gorgeous George then professional wrestling might not have become as successful as it ultimately did.
Heck, if it weren't for Gorgeous George, television might not have become as successful as it ultimately did.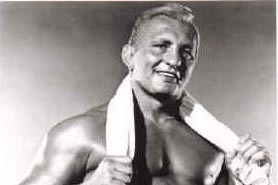 from ioffer.com
INFLUENCE: The Fusion of Style and Substance
If Gorgeous George innovated showmanship and the art of antagonizing audiences, then the original Nature Boy, Buddy Rogers, perfected it; not only that, but his antagonistic ways ultimately led to the creation of the most successful wrestling company in the world.
He was a flamboyant heel but was also a capable in-ring performer; he, like Gorgeous George before him, also drew the ire of the wrestling purists.
Specifically, Lou Thesz was a noted critic of Rogers. Their fractious relationship was ultimately what caused Rogers, along with Toots Mondt and Vincent J. McMahon, to withdraw from the NWA and form the WWWF (nowadays the WWE).
Rogers, who had dropped the NWA title to Thesz shortly before McMahon and Mondt broke away, was awarded the newly created WWWF title (supposedly after winning it in a tournament in Rio de Janeiro).
He suffered a mild heart attack soon afterwards and dropped the title a month later to Bruno Sammartino (though some believe that he didn't want to drop the title to Sammartino and faked the illness) before slowly fading away from the main event.
His rise to prominence would signal the beginning of a new era in pro wrestling, where performers could be both technically proficient and flashy. Not only that, but he was the innovator of the Figure Four Leglock, and was a direct influence on the career of fellow Nature Boy, Ric Flair.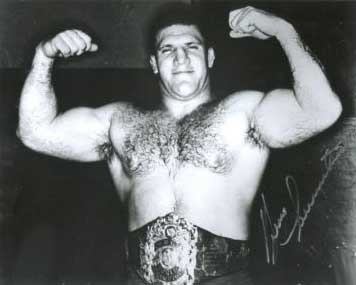 from mediabistro.com
INFLUENCE: Consistent Excellence and Drawing Power
Bruno Sammartino was not a flashy guy who utilized theatricality to get himself over. He was a hard-worker, a blue-collar performer who sold out Madison Square Garden on a consistent basis, making the company that would become the WWE a consistent power in the Northeast.
Oh, and he held the WWWF/WWE title for a total of 12 years.
Sammartino was the guy who, more than anything, dominated the sport on a consistent basis and gave legitimacy to the newly created WWWF championship.
Month in and month out, the short, funny-looking guy from Italy defended his world title against anyone and everyone, drawing huge crowds to the WWWF's flagship arena.
During a time period where pro wrestling (and the United States itself) was undergoing numerous tumultuous changes, Sammartino led the way as McMahon's No. 1 draw.
Without Sammartino legitimizing the WWWF (and the McMahon name), who knows where wrestling would be today?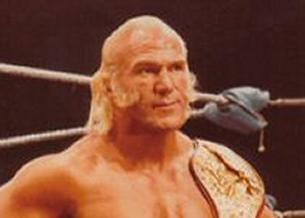 from superstarbillygraham.net
INFLUENCE: The First Dominant Heel Champion
If you look at the history of the WWE championship, you will notice that in the early years of the title, the only performers who held the title for any length of time were babyfaces. That all changed with the arrival of "Superstar" Billy Graham, who won the title from Bruno Sammartino.
Fun fact: Graham is the longest-reigning heel world champion in WWE history.
His reign lasted for 296 days, by far the longest reign in the history of the WWWF/WWE; the next longest world title reign is a three-way tie between Yokozuna, JBL, and Triple H at 280 days (technically Randy Savage held it the longest, but he did not turn heel until late in his title reign).
Graham was the first dominant heel champion, a guy who proved that bad guys could hold the title and be consistent draws in professional wrestling.
Not only that, but he was a charismatic performer and one of the first to introduce the bodybuilder's physique into professional wrestling.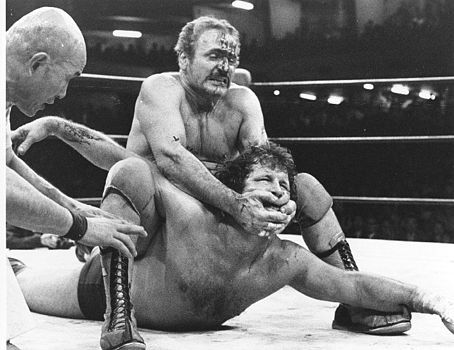 from wikipedia.org
INFLUENCE: Hardcore Wrestling, The Foreign Heel
Ed "The Sheik" Farhat was never the most technically sound performer in the history of professional wrestling, but he was arguably the most brutal; more specifically, he was the first man to bring the violent, hardcore style to the mainstream.
If Thesz brought technique and George and Rogers brought showmanship, then The Sheik brought blood to the world of professional wrestling.
He would attack his opponents with various frightening foreign objects (i.e. pencils, fireballs) that would cause cringe-inducing violence to his opponents; if it weren't for The Sheik, promotions like ECW may never have become as big as they did.
In addition, The Sheik was an innovator in the concept of the foreign heel; Farhat (despite being an American by birth) refused to ever speak on camera, allowing different managers to do the talking for him.
His foreigner gimmick would be repeated by numerous others (including his nephew Sabu), and his use of the Camel Clutch as a finisher would be utilized by countless foreign heels who came after him.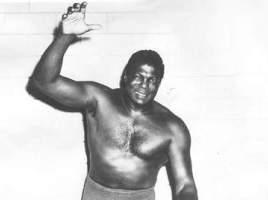 from croobal.com
INFLUENCE: The Minority Pioneer
Race relations in the history of the United States have always been a struggle, coming to a head in the mid-to-late 1950s with the rise of Malcolm X, Martin Luther King, and landmark court cases such as Brown v. Board of Education.
In pro wrestling, the color barrier was essentially broken by Houston Harris, better known by his ring name of Bobo Brazil.
Brazil was the first African-American to compete against white performers, including a time where he earned a WWWF title shot against Bruno Sammartino. In 1962, Brazil defeated Buddy Rogers to win the NWA World Title, becoming the first African-American world champion in pro wrestling history.
However, Brazil refused to accept the title since Rogers was injured, and NWA does not officially recognize this title win (the honor of first African-American champion now generally goes to Ron Simmons).
Brazil never seems to get the credit for breaking wrestling's color barrier in the same way as Jackie Robinson did in baseball, but without Brazil, then many of the great minority performers in wrestling's history (including Simmons, The Rock, and many others) may never have gotten their chance.
from blacksportsonline.com
INFLUENCE: Psychology, Storytelling
There are so many reasons to include Ric Flair in a list of the most influential performers in professional wrestling history; after thinking about it for a while, the area I've decided that he is most responsible for influencing is psychology and storytelling.
In his prime, Ric Flair was, without a doubt, the master of in-ring psychology; he was not just a performer, but also a storyteller in tights.
He popularized working over a body part (usually the legs as a setup for the Figure Four Leglock), of liberally cheating whenever he could, and of instigating the fans through the use of his legendary "Woo!" catchphrase (which he adopted from Jerry Lee Lewis's "Great Balls of Fire").
In a nutshell, he was the culmination of the work done by performers like Gorgeous George and Buddy Rogers (his idol), but with the ability to make both him and his opponent look like a million bucks in the ring.
Flair, a 16-time world champion, was responsible for helping legitimize the careers of a multitude of performers whether by wrestling them (i.e. Sting, Ricky Steamboat) or by teaming with them (The Four Horsemen).
Flair was one of the main people responsible for adding drama to wrestling matches, for being able to put people over, and for being darn entertaining while doing it.
Woo!
from tvtropes.org
INFLUENCE: Babyface Showmanship, The Importance of the Finisher
It is not overstating it to say that if it weren't for Hulk Hogan, then professional wrestling would not be a national phenomenon; he is directly responsible for the nationalization of WWE and for pushing wrestling into the mainstream, mainly due to the fact that he was one of the first great babyface showmen in the history of professional wrestling.
Think about it for a second: who were the great showmen of pro wrestling's early years? Gorgeous George, Buddy Rogers, Billy Graham...all were heels.
However, Hogan showed that the good guys could be more than the clean-cut, blue-collar everymen who just did their job (guys like Bob Backlund, who held the WWE title shortly before Hogan's ascension).
Hogan, whose ring skills were never that special, was the first to truly make his name based on his speaking ability, but his contribution to pro wrestling does include one very important in-ring piece: he was arguably the first performer to truly make a finishing move important.
Now, he was not the first person to use a trademark finisher (i.e. Buddy Rogers and the Figure Four). However, Hogan's reliance on the drama and the build-up to his Atomic Legdrop made a recognizable and noteworthy finisher an absolutely essential piece of any wrestler's arsenal.
Don't believe me? Name a single wrestler after Hogan's arrival who achieved any major success without a noteworthy finisher. Don't be surprised when you can't.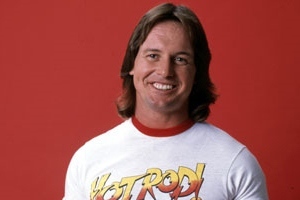 from pwpix.net
INFLUENCE: The First "Cool" Heels
Heels have always been guys that you are, naturally, supposed to hate. They torture and antagonize the fans' favorites and you boo them for it.
But then you have guys like Roddy Piper and Jake Roberts, who were so good and so entertaining at what they did that fans began to cheer them; due to this phenomenon they were also two of the first major heels who eventually turned into babyfaces.
I kept going back and forth between which of these two deserved the nod before I decided that they both deserve the honor of the first "cool" heels in pro wrestling history.
Roberts was one of the first heels who was not overly anti-American or who took constant shots at fans. He was dark, cut awesome (yet scary) promos, and had a snake with him at all times; in feuds with Randy Savage and Hulk Hogan, Roberts (the heel) began to get cheered over the beloved Mega Powers, including an infamous incident in which Roberts DDT'ed Hogan on his Snake Pit talk show, leading the fans to cheer for Roberts (and to McMahon dropping the proposed angle).
Piper makes the list because he was unbelievably good on the mic, going back and forth between being hilariously funny and frighteningly dangerous (and often somewhat offensive) on a second's notice.
In addition, if he wasn't such a spectacular antagonist to Hulk Hogan, I firmly believe that Hulkamania might not have reached the heights it did (something that Piper himself made note of on TV while he was in WCW).
Truly, Piper and Roberts were two of the first guys who fans were supposed to boo but because they were so good at what they did, wound up cheering for them in the end.
On a curious note, neither man ever won the WWE championship (and of the two, only Piper won any championship in WWE).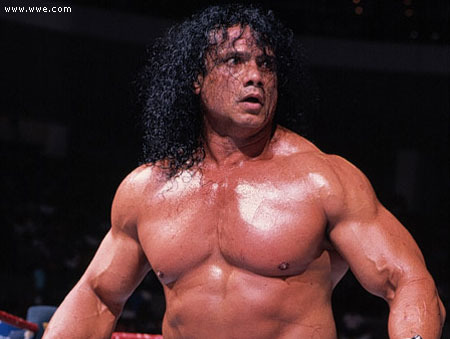 from prowrestlingarchives.com
INFLUENCE: The First True High Flyer
Jimmy Snuka makes the list of the most influential performers for adding a new dimension to the world of pro wrestling.
Like Elgin Baylor and Bill Russell in the NBA, Jimmy Snuka was the one who proved that the game could be played not just on the ground but also in the air.
Snuka's aerial theatrics (including his legendary missed leap from the cage onto Bob Backlund in 1982) influenced countless performers (including Mick Foley, who cites Snuka as his favorite wrestler) and began the trend of performers going vertical in their moveset.
Now, Snuka was not the first person to ever go off the top turnbuckle, but he was the one who made it a consistent part of his arsenal.
His influence paved the way for the daredevils and risk-takers of the business to become accepted much in the same way as Russell and Baylor in the NBA and Bob Hayes in the NFL.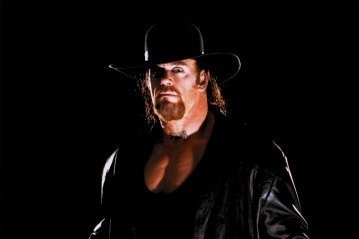 from tvtropes.org
INFLUENCE: Theatricality
By the time that Mark Calaway showed up at Survivor Series in 1990, showmanship was already a well-established trend in pro wrestling. However, Calaway's Undertaker character was arguably the first to bring effective theatricality to the business.
Here was a big, scary-looking dude who dressed like a mortician and supposedly was undead and had various superpowers. He was supposedly impervious to pain, and no-sold opponents attacks by sitting up like a zombie.
As time went on, he began to wear make-up and darkened his hair (often wearing it in front of his face). He could summon smoke and lightning into the arena with a wave of the hands.
In the age of over-the-top, gimmicky character in professional wrestling, The Undertaker stood out for being the most…well, not believable, but he was certainly the one that the fans took to the most.
Despite debuting as a heel, fans starting cheering for him early on; when he won his first WWE championship from Hulk Hogan at Survivor Series 1991, fans popped like crazy for him.
Soon enough, Undertaker was a mega-babyface and–despite being a huge, scary-looking dude–stayed that way for most of his career.
He has been with WWE for 22 years, and in that time the company has moved past its over-the-top, gimmicky phase, but The Undertaker still remains one of the most beloved, popular performers in the company.
Oh, and if we're talking about the most unbreakable records in sports history, The Streak is up there with some of the best. It's never going to end...not at the hands of Brock Lesnar, not John Cena, not anybody.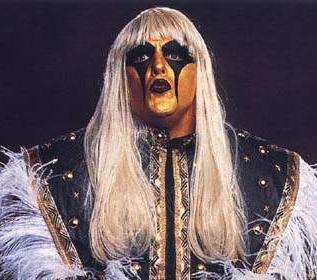 from pt.prowrestling.wikia.com
INFLUENCE: Pushing the Envelope (to the Line)
I'll admit that, on a list filled with Hall of Fame performers, the inclusion of someone like Goldust might not make much sense.
But, to paraphrase the fine folks over at Wrestlecrap, if you were to write a history of professional wrestling, then you must include a section on Goldust.
Why Goldust? Because his character was the first to really push the envelope. And I mean he pushed it hard. Pro wrestling had had its weird moments before, but never had a male performer become obsessed with another male performer (in this case, Razor Ramon).
Pro wrestling has never been the most progressive of sports, so the idea of a sexually aggressive performer stalking another guy (including giving him mouth-to-mouth at one point) was a groundbreaking moment.
And while Goldust never became a main event player or world champion, he paved the way for future performers to keep pushing the envelope; if people were going to be OK with Goldust, they'd be OK with most anything.
Was Goldust, of all people, ultimately responsible for the rise of the Attitude Era in WWE? Perhaps, perhaps not. But he deserves to be in the conversation.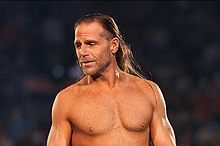 from wikipedia.org
INFLUENCE: All-Around Perfection
Shawn Michaels might not be the greatest performer in the history of pro wrestling, but he is definitely up there in the top tier.
What he most definitely is, though, is the man who brought all-around perfection to the game.
Michaels was a great technician and psychologist. He was a great high-flyer. He cut phenomenal promos. He was equally good as a babyface and as a heel. Toward the end of his career, he also became great at putting newer guys over and making them look good.
He was a champion (including WWE's first ever grand slam champion), a headliner, a showman, and one of the best big-game performers of all-time.
He is one of six people in WWE history to wrestle in a five-star match (the others being Undertaker, Bret Hart, Owen Hart, John Cena, and CM Punk).
Shawn Michaels could (and did) do everything in his career.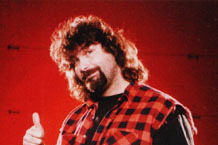 from nndb.com
INFLUENCE: The King of the Promo
Everyone has a feeling on who is the best promo guy in the history of pro wrestling.
Some people will say The Rock. Some say Steve Austin. Some say John Cena, CM Punk, Hulk Hogan, Shawn Michaels, and so on.
I say it's Mick Foley.
While Ric Flair added psychology to the ring, Mick Foley was one of the first people to add psychology to promos. His promos were emotionally powerful, and he made you feel every ounce of his pain. He made you feel his fury. He made you feel his conflict. He could then turn right around and make you laugh.
Has anyone in the history of wrestling been as good at being both funny and frightening, sometimes at the same time? I say no. Mick Foley is a guy who never phoned it in when he was on the mic, at least until recently (and even then, he could come up with some phenomenal stuff when he needed to).
His ECW work was brutally devastating. His work as Mankind made him into a tortured soul who made you both felt pity and fear. Dude Love made you laugh, as did his goofball commissioner persona.
Maybe it's just my opinion, but no one in the history of pro wrestling made you feel something like Mick Foley.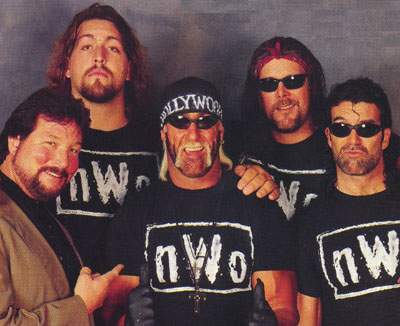 from abovetopsecret.com
INFLUENCE: Heels Can Sell Merchandise, Too
Heels–and heel factions–had long been dominant forces in professional wrestling, but the facts are facts: heels don't sell t-shirts. Heels don't make movies.
Well, they didn't until the nWo came along.
The nWo were cool heels in the mold of Roddy Piper and Jake Roberts, but they were also threatening and dominating; rarely had a group of heels ever dominated the direction and course of a professional wrestling company, but the nWo did it (as did The Four Horseman, but not to the same degree).
The nWo was responsible for lifting WCW to new heights in the mid-1990's. People were buying nWo t-shirts. Hulk Hogan was still main eventing wrestling shows and making movies.
The nWo-WCW rivalry led to arguably the greatest build in the history of pro wrestling in the Sting-Hogan match at Starrcade 1997 (though the match itself was a huge letdown).
The nWo showed that, despite what common wisdom had often said, heels really can move merchandise and drive the industry.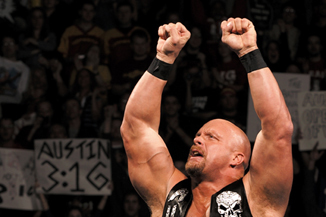 from tvtropes.org
INFLUENCE: The Anti-Hero
In the mid 1990's, pro wrestling was moving in a different direction. The days where guys like Bret Hart (squeaky-clean good guy) dominated were becoming a thing of the past. Guys like Rocky Maivia (the "never stop smiling" blue chipper) were not getting over like they used to.
Wrestling fans wanted a new breed of hero. They got one in the form of Stone Cold Steve Austin.
Now, the idea of the anti-hero was nothing new in pro wrestling; guys like Billy Graham, Roddy Piper, and Jake Roberts (who I discussed earlier) were bad guys that fans would cheer; even people like The Undertaker flirted with the anti-hero babyface in the early 1990's.
However, the move towards the anti-hero as good guy came to a head when Steve Austin turned face at WrestleMania 13.
Austin did not play by any rules other than his own. He flipped off and attacked anyone and everyone, including his dastardly boss Mr. McMahon.
Every time he drank a beer, cursed, and beat the hell out of some poor sap, the fans couldn't get enough of it; Austin's heyday coincided with arguably the most successful era in this history of professional wrestling (and was directly responsible for WWE taking control of the pro wrestling market).
And that's the bottom line, 'cause Stone Cold said so.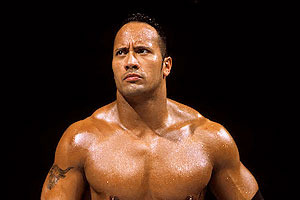 from westlord.com
INFLUENCE: The Performance Artist
I can't really think of a better way to say this, so I'll just come right out with it: The Rock was a wizard on the microphone.
He was not as nuanced and as emotionally powerful as someone like Foley–not by a long shot–and in fact his promos were very formulaic: take the microphone, listen for chants, appeal to the crowd, run down his opponents in a humorous manner, state what his game plan was, then hit a catchphrase to end it.
People like to criticize John Cena's promos for being repetitive, but watch any Rock promo and you'll see the same routine in place.
However, what The Rock had over Cena (and truly, everyone else in wrestling's history) is that his abilities on the microphone were not simple promos. They were performance art.
He could make the crowd chant his name, quiet down, get loud, finish his catchphrases, laugh at his jokes…the man could do anything with the microphone in his hand.
As entertaining as he was during his babyface apex, I actually think that he was better during his 2003 heel run (especially his now-legendary Toronto promo), especially during his feud with Hulk Hogan (his impressions of Hogan's classic posturing are genius).
The Rock may not have had the most original things to say on the microphone, but I think it's fair to say that no one has ever (and I mean ever) said them the way that he has.