Olympic Soccer 2012: 5 Reasons We Can't Wait for the USA-Japan Women's Final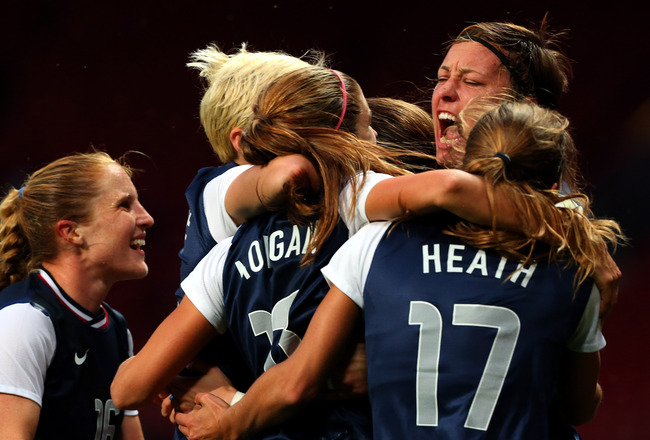 Stanley Chou/Getty Images
When the United States takes on Japan in the Olympic gold medal match, it will be the best game of the tournament.
And you can be darn sure we'll be ready for it.
There is plenty to be excited about, and it will be tough to wait. The two teams are great, and the matchup is even better. It will be rough waiting until Thursday for this epic matchup.
USA Looking for Revenge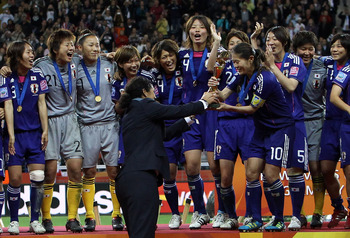 Martin Rose/Getty Images
In last year's World Cup, the USWNT was the favorite but fell short.
An underdog, Japan took the Americans down in an electrifying final. Now the United States will want to avenge that loss with a gold medal victory.
Given that it's just been one year, most of both teams are still around, and that revenge mentality will surely shine through on Thursday.
Already Been Great Matches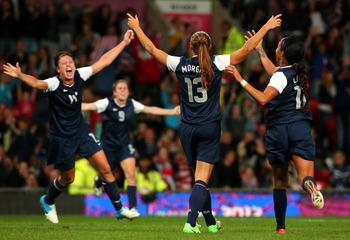 Stanley Chou/Getty Images
These Olympics have not been short on drama.
The United States needed 122 minutes to beat Canada, and they barely managed to sneak by them. Japan, meanwhile, has been putting on a clinic on how to slowly destroy your opponent.
Each team has a flair for the spectacular, and on one of the biggest stages in women's soccer, great things will happen. You will not want to miss a second of this final because you never know what might happen.
Homare Sawa's Last Big Game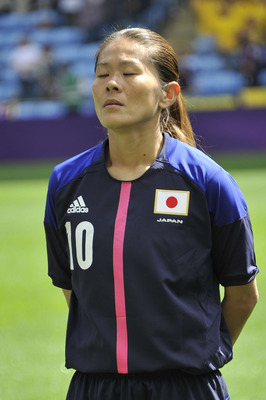 Francis Bompard/Getty Images
Homare Sawa is one of the greatest female footballers of all time.
She has been playing for Japan for nearly 20 years, and she has quite the resume. Since 1993, she has played in five World Cups and four Olympic Games. She has more than 170 caps and 80 goals, including five in last year's World Cup. She was the 2011 FIFA World Player of the Year, but she has meant so much more for her country.
With that said, at 33, it is unlikely that Sawa will still be playing in the 2015 World Cup. Obviously, you wouldn't want to bet against her, but this is probably her last major tournament match for Japan. She's a legend, and she will want to go out with a bang.
Sawa hasn't scored in the Olympics yet, but you can be sure that will change on Thursday.
USA Coming off Emotional Win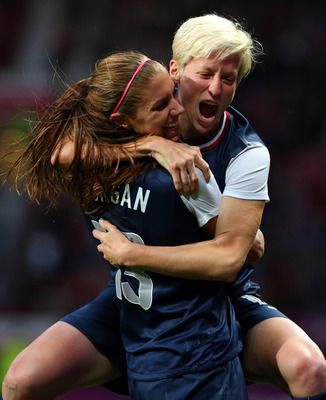 Stanley Chou/Getty Images
After more than two hours of playing time, the United States overcame Canada on Monday.
It was an emotional victory, and it was a legendary one. However, the USWNT must now respond to that win by winning an even bigger match. It's a tough task, and it certainly shouldn't be taken for granted.
Somehow, the Americans must rebound from the emotional roller coaster they rode against Canada. They must refocus themselves and try to avenge a loss from last year. If they can't get in the right mindset, Japan will dominate.
If, however, the United States can attain a calm, focused mindset, Japan is in some big trouble.
Contrasting Styles Will Make for a Great Matchup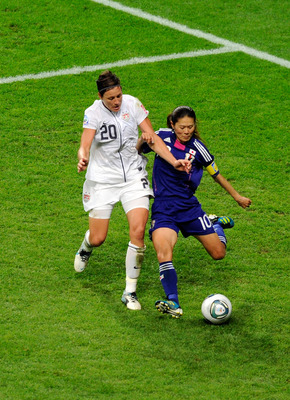 Thorsten Wagner/Getty Images
These are two of the best women's teams in the world, but they couldn't be more different.
Japan likes to possess and keep the ball shifting around the field. They pass and move as well as anyone, and their possession actually has some bite to it. They move forward well, even if it is a little slower and more indirect.
The United States, on the other hand, goes right after the defense. Using the speed of Alex Morgan and strength of Abby Wambach, the Americans play direct and straight into the middle. Even if the crosses seem a little blind from time to time, they're consistent in the attack. The United States' opponent's backline is always in some trouble.
Something has to give in this match, and whoever can impose their style more effectively will win.
Keep Reading