Boise State Football: Key QB Factors to Replace Kellen Moore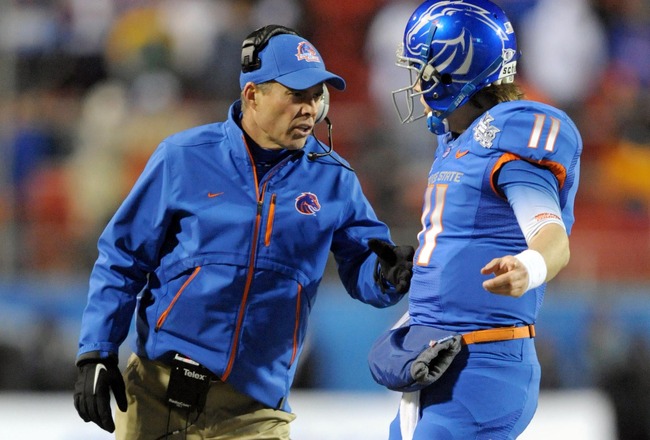 Kirby Lee-US PRESSWIRE
Boise State football coach Chris Petersen was asked what he was going to miss most about Kellen Moore. The coach quipped, according to The Idaho Statesman, "Touchdowns. Wins. Completions." Jon Gruden, when hosting Moore on his ESPN show, lauded Moore's anticipation and accuracy. Certainly replacing Moore will be tough. Stepping into his shoes will be tougher.
The Broncos coaching staff has continued to state the race for the starting quarterback job is up for grabs. Whoever manages to grab it will have a spotlight shining squarely in his face. The starter may not be named until the week prior to BSU's Aug. 31 season opener at Michigan State.
So let's look at the position, point out what the new QB will need and where he might be able to improve on what Moore did. It's a big hill to climb. Moore's numbers are certainly daunting: a 69.8 completion percentage, a career QB rating of 168.97, 142 touchdown passes against 28 interceptions. He also threw for 14,667 yards in four years.
Boise State has four quarterbacks vying to replace him. Joe Southwick has the most experience as the prime backup to Moore in 2011. Grant Hedrick was the third-string QB and saw limited field time last season. Jimmy Laughrea is a redshirt freshman signal-caller and Nick Patti rounds out the group as a true freshman.
Mobility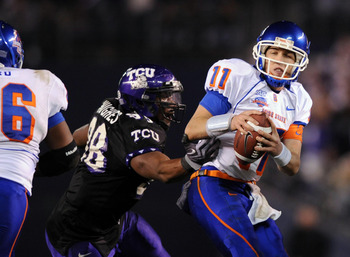 Christopher Hanewinckel-US PRESSWIRE
To say Kellen Moore was not the most mobile of quarterbacks is an understatement. Now, of course, quarterbacks get sacked and that counts against the rushing total, but not once in four years did Moore have positive yardage. ESPN's website has him (for his career) with 101 rushing attempts for -133 yards. He did score three touchdowns on the ground.
By comparison, Joe Southwick rushed 16 times for 47 yards over two years, and redshirt freshman Grant Hedrick rushed eight times for 70 yards and a touchdown. Hedrick was an outstanding running quarterback in high school in Independence, Ore., rushing for more than 1,500 yards and 17 touchdowns in his senior year. He also passed for more than 2,500 yards and tossed 34 touchdowns with one interception.
Nick Patti was not quite as mobile moving across the line of scrimmage, but did have 626 yards and seven touchdowns in his senior high school season in Florida. Jimmy Laughrea had 327 rushing yards and six touchdowns as a high school senior in Rocklin, Ca.
Hedrick was used primarily in the Wildcat formation in 2011 and didn't have many chances to pass the ball, but when it comes to mobility, he may have the edge. Whether mobility is a factor or not, in the Bronco offensive scheme, remains to be seen.
Arm Strength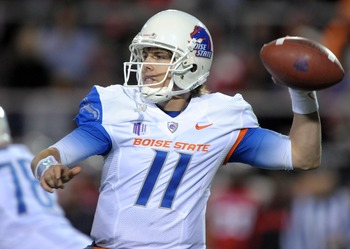 Kirby Lee-US PRESSWIRE
Another knock against Kellen Moore was his arm strength. Most of the Bronco routes were designed to work on his accuracy and anticipation. His average for 2011 was 8.7 yards per reception with a long of 71 yards (includes catch and run). Southwick, in the same scheme, average 8.6 yards per reception on 23 completions.
Coach Chris Petersen, in an Idaho Statesman story, was quoted as saying that Jimmy Laughrea has "got an arm like we've never had" at Boise State. What that may mean is that if Laughrea can stretch the field, Boise State may be throwing it a little deeper in 2012.
Receivers running deeper routes pulls the opposing defensive secondary down the field and that can affect the running game. Laughrea may have an edge here, but much depends on what plays take advantage of his arm.
Size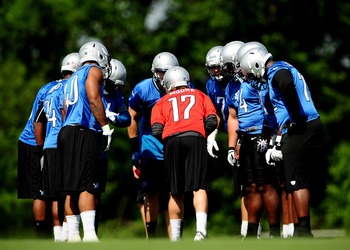 Andrew Weber-US PRESSWIRE
There is nothing you can do about genetics and size. One of the criticisms (among many) leveled at Moore was that he was small for the position. Moore was listed at 6'0" and 191 lbs.
Laughrea is listed at 6'1" and 201 lbs., Patti is shorter at 5'10" and 189 lbs., Southwick comes in at 6'1" and 192 lbs. and Hedrick is listed at 6'0" and 191 lbs. Bigger at the position? Not this year.
Poise Under Pressure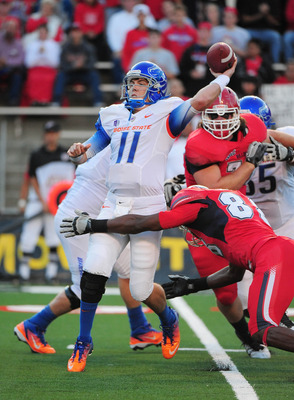 Kyle Terada-US PRESSWIRE
In 2007, Bronco quarterback Jared Zabransky threw a pick-six late in the Fiesta Bowl against Oklahoma. It put the Sooners on top with less than a minute-and-a-half remaining. But look at the tape—as Zabransky runs off the field he smiles. It was like he knew he still had it.
Moore exuded that same confidence. That is how Moore became the winningest quarterback in NCAA history.
None of the current crop of QBs have played in a college game as a starter with the game's outcome riding on their shoulder pads. Of the quartet, Joe Southwick has the most time under center in a college game.
Nick Patti was the Florida 8A Player of the Year and participated in an Elite 11 Quarterback Camp. He has also picked up the BSU system quickly. Still, he is a true freshman and the college game is a bit faster than what he may be used to.
Southwick put in his time as understudy but it may not be enough. He is being pushed and to push for the starting QB job, a player must have command of the system, confidence in his abilities and poise. This category is a toss-up
Who Has the Edge?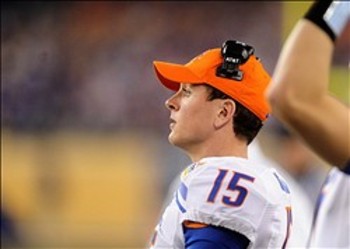 Mark J. Rebilas-US PRESSWIRE
This is still up in the air. Each prospective QB brings his own touch to the position. Southwick has experience at the position, Hedrick got in some snaps in 2011 as the third-string QB, Laughrea has the arm, and Patti is used to taking command on the field and getting the job done. Boise State coaches are not talking about who might have the edge, and the quarterbacks are all off limits from interviews.
With less than four weeks to go to opening day, the Broncos are keeping the challenge to replace Moore a horse race. Keep in mind that Hedrick and Laughrea has both burned their redshirt years. According to a Sports Nation report from earlier in the year, BSU is not sitting back, content with the four QBs currently on the roster. Whoever gets the job will have to earn it, and then fight to keep it.
Keep Reading

Boise State Football: Like this team?