3 Biggest Takeaways from the Houston Texans' First Week of Camp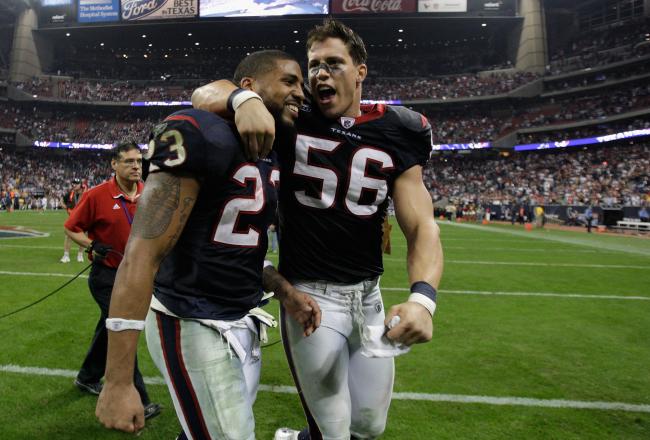 Texans running back Arian Foster and linebacker Brian Cushing
Bob Levey/Getty Images
Ah, the sweet sounds of August.
Barbecue sizzling on the grill, kids splashing in the neighborhood pool and a quarterback's cadence as he audibles at the line of scrimmage in training camp.
Personally, that last one is my favorite; it's about time too.
I had begun to think football season would never arrive!
But, alas, it has and the Houston Texans couldn't be more excited to start the season.
After all, Houston is an early favorite for many fans and analysts to compete for the AFC Championship and provided a few things go their way, it's not out of the question. But there are several storylines to think about after the first week of camp.
First, when the Texans came into camp the defense was without its leader and one of the most dominant players in the league. No doubt the loss of Mario Williams would be devastating to any other team. Luckily, this defense hasn't had Super Mario since week five of last season and was still arguably the best in the league. So they already know how to dominate without Williams.
But someone still needed to step up as the leader of this defense and the former defensive rookie of the year, Brian Cushing, has done just that.
Even though Williams is gone, the fourth-year linebacker is taking over. So don't worry Texans fans, Cushing's got this and he's going to do a great job.
Unfortunately, even with Cushing stepping up, the defense could still be hurting if JJ Watt and Kareem Jackson don't get healthy and stay that way.
Which leads me to my next big takeaway: injuries.
Right now JJ Watt, Duane Brown, Kareem Jackson and Andre Johnson are working to come back from injury.
That's four starters—not good.
I'm confident all of these guys can come back and be ready for the start of the season and even play the entire year. But if they aren't careful they may be watching the game from the sideline in street clothes.
Last season, injuries were the biggest problem for the Texans and they still managed to make the playoffs for the first time in franchise history and even won their first game against the Bengals. Just imagine what they could do with a healthy team. And that doesn't just go for those four guys.
Matt Schaub, Owen Daniels and Arian Foster have also had frustrating injuries in the past. So hopefully, if all of these guys can stay healthy, we can see the full potential of the Houston Texans.
Just keep in mind that Houston isn't 100 percent right now and if they aren't careful, they won't be the whole season.
But even with the injuries, there is still some good news: the high expectations for the year.
Which also happens to be the last takeaway after the first week of Texans camp I want to touch on.
Despite what seems to be a lot of negatives, Houston still has extremely high expectations this season. They expect to win a lot of games and the AFC South division title. On top of that, they expect to make the playoffs and make a serious run for the Super Bowl.
And they expect to do it with whoever is on the field.
This Houston Texans team is confident and ready to show the NFL they are serious. The Texans fanbase should be just as confident.
They are absolutely full of talent and from what I've seen so far in training camp, that talent is about to achieve big things in 2012.
This article is
What is the duplicate article?
Why is this article offensive?
Where is this article plagiarized from?
Why is this article poorly edited?

Houston Texans: Like this team?