Olympic Basketball Schedule 2012: Previewing & Predicting Quarterfinal Matchups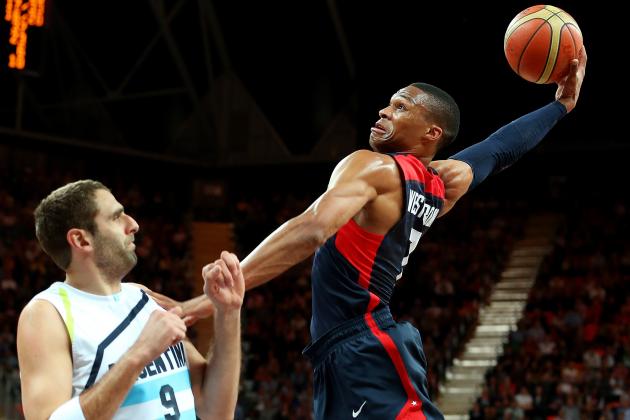 Christian Petersen/Getty Images

Preliminary games are over, and the quarterfinal games are set.
We had a surprise performance from Russia who played tough enough to win Group B, and some expected play from powerhouse and gold-medal favorite Team USA, who easily closed out the top spot in Group A.
However, even more is at risk in the quarterfinal round, which is played as a knockout stage. Lose and you're out. Emotions are sure to run high, but hopefully we won't see any more cheap shots (just ask Carmelo Anthony).
With the quarterfinals ready for take off on Wednesday, let's take a look at each matchup and predict who's going to give the Team USA a run for their money, or should I say medal?
Begin Slideshow

»
Christian Petersen/Getty Images

Andrei Kirilenko and the Russians will look to assert their dominance over a young Lithuanian squad, who frankly don't stand much of a chance against the remaining superior teams.
After suffering their first loss, 82-80, at the hands of Australia's Patrick Mills, who drained a three-pointer as time expired in their final preliminary game, Russia will be seeking a momentum-building bounce back win.
Sure to be part of the Russian's offensive attack is Andrei Kirilenko who averaged 18.2 PPG through the first five games. Their stingy defense, which recorded the second lowest Points Against at 71.8 per game, should also hold the Lithuanians at bay.
Linas Kleiza (15.8 PPG, 6.2 RPG) will lead the way for Lithuania, who continually give the U.S. problems but have done little else to prove themselves in the Olympics. Both of their wins came against Nigeria and Tunisia, who combined to win one game.
Prediction: Russia 83, Lithuania 74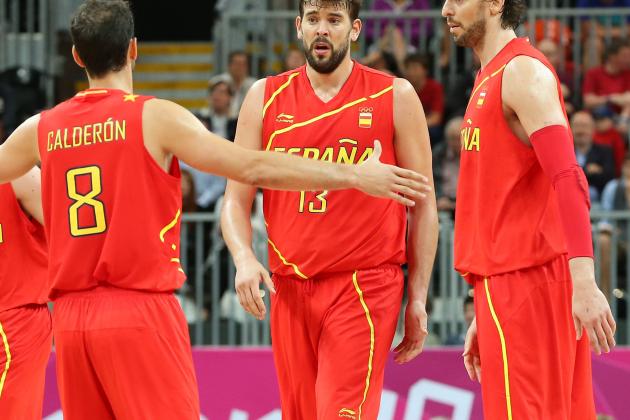 Christian Petersen/Getty Images

Highly touted as the No. 2 team entering the Summer Olympics, the Spanish national team finished third in Group B after dropping their final two games to Russia and Brazil, both of whom finished ahead of them.
That being said, the Gasol Bros. will be licking their chops at the prospect of a semifinal rematch with the Russians. Expect a big game from Pau and Marc, who are the two top scorers on the team at 20.6 and 11.8 PPG, respectively.
Tony Parker and the French team can be the wrench in the machine for Spain as they attempt to continue their success through the international bracket. France's only loss came against the U.S. team in their first game, and since then have won four straight, including an eight point victory against offensively-minded Argentina.
If France can limit their turnovers (15.8/game) and take advantage of scoring opportunities, they can prove a solid opponent to Spain.
Prediction: Spain 90, France 79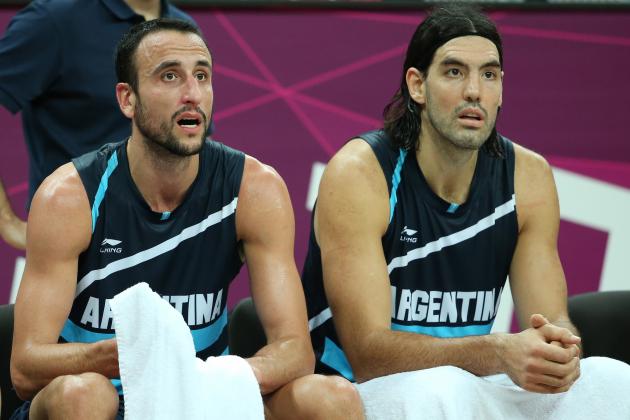 Christian Petersen/Getty Images

If Brazil wants any chance at winning this game, it will be on the defensive side of the ball.
Their defense, which held opponents to an unbelievably low 69.8 PPG (349 PA overall), will need to stop the hot-shooting Argentinian team featuring the likes of Luis Scola and Manu Ginobili.
Scola (20.2 PPG) and Ginobili (20.0 PPG) are the No. 2 and No. 3 ranked scorers in this years Olympics and have led Argentina to double-digit wins in all three of their victories.
If Indiana Pacers guard and Brazil's leading scorer, Leandrinho Barbosa, can provide the type of magic he gave Brazil in their upset win over Spain on Monday, 88-82, they could continue to roll and presumably face Team USA in the semifinal round.
Only time can tell.
Prediction: Argentina 77, Brazil 76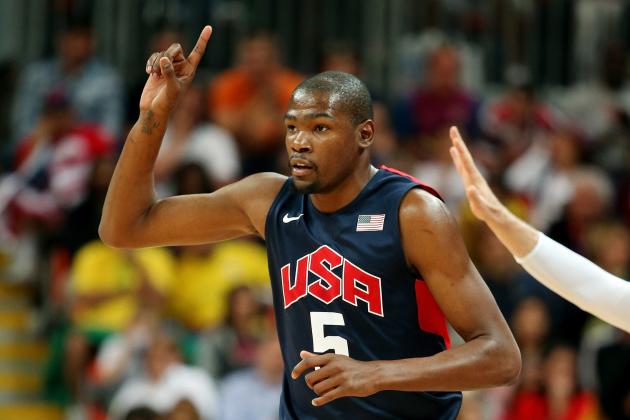 Christian Petersen/Getty Images

There's not much to say here other than the U.S. team has no excuse if they lose this game.
Sporting a plus-191 point differential against their opponents, the U.S. has lived up to the pre-Olympics hype, especially after their 126-97 drubbing of Argentina to close out the preliminary round unbeaten.
Kevin Durant looked absolutely unstoppable against Argentina on his way to a 28-point game and Chris Paul was creating offense like it was his business—and, well, it is!
Australia's confidence will lie with main man Patrick Mills, who has been a spark plug for the team by averaging 20.2 PPG. Yet while the Aussie's have made it this far without Andrew Bogut, his big frame will be missed down low against the U.S.
Prediction: U.S. 110, Australia 88