Why Texas Rangers Fans Should Now Be Panicking About Josh Hamilton's Struggles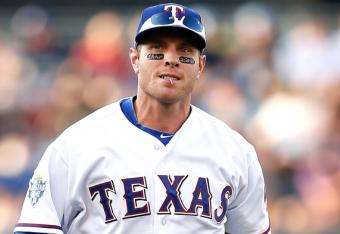 When will it end?
That's the question we've been asking about Josh Hamilton ever since right around early June, when it first became apparent that Hamilton wasn't crushing the ball like he was in the first six weeks of the season. Quietly, he had slipped into a slump.
He has stayed in that slump. He has now been a mediocre player for a longer period of time than he was a brilliant player earlier in the season.
And it's time for Texas Rangers fans to start getting very, very worried about Hamilton's prolonged slump. Because right now, it's not a question of when it will end. It's a question of if it will end.
A certain perspective is needed here, and for that we'll take a look at Hamilton's splits for the first few months of the 2012 season, courtesy of Baseball-Reference.com: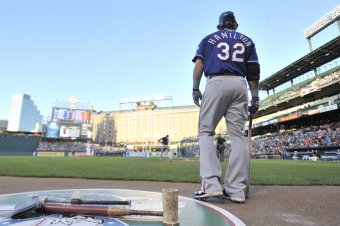 Hamilton's season reached a peak when he hit four homers in a single game in Baltimore in May.
Mitchell Layton/Getty Images
April: .395/.438/.744, 1.182 OPS, 9 HR and 25 RBI
May: .344/.405/.781, 1.187 OPS, 12 HR and 32 RBI
June: .223/.318/.436, .754 OPS, 4 HR and 16 RBI
July: .177/.253/.354, .607 OPS, 4 HR, 11 RBI
August: .200/.200/.280, .480 OPS, 0 HR and 6 RBI
It's clearly been bad, but you can also see that we're not talking about a constant level of badness. No sir, Hamilton's slump is getting worse as time passes.
Just as concerning is the effect Hamilton's struggles have had on the Rangers offense as a whole. They finished second in the majors in runs scored in April and first in runs scored in May. In June, they finished seventh in runs scored. In July, when Hamilton's slump was at its worst, they finished dead last in the majors in runs scored.
Yeah, that actually happened. The Houston Astros scored more runs than the Rangers in July. The Chicago Cubs outscored them by almost 20 runs. These are things I shouldn't have to type. Ever.
What we have here is a pretty clear indication that the Rangers offense can't be at its best unless Hamilton is at his best.
Complicating matters is the fact that it's more important now than ever before for the Rangers offense to be at its best, as the club's starting pitching staff has been leaving the offense with more and more slack to pick up in recent days.
Rangers starters began the season by posting a 3.14 ERA in April, but ever since then they've struggled to keep scores low on a consistent basis. During the month of July, Rangers starters went 7-11 with a 4.40 ERA. So far in August (though we're admittedly talking about a very small sample size), Rangers starters have a 7.50 ERA.
And help is not on the way for Texas' starting rotation. Neftali Feliz and Colby Lewis are both done for the season. Roy Oswalt has been moved to the bullpen, and one assumes that the Rangers are privately hoping they don't get an excuse to move him back into the rotation.
That leaves Matt Harrison, Yu Darvish, Ryan Dempster, Derek Holland and Scott Feldman to take it the rest of the way.
There's little to complain about where Harrison is concerned. He's Texas' best starting pitcher and generally one of the more reliable starting pitchers in the American League. If only the team's four other starters were as reliable.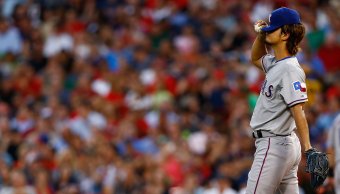 Yu Darvish's walk rate has climbed over six per nine innings since the All-Star break.
Jared Wickerham/Getty Images
The Rangers can make it to October with this starting rotation, though. Their bullpen is perfectly capable of cleaning up whatever messes the rotation may cause, and the Rangers are going to generate more than enough offense on a given night to pick up the slack. This has been the case so far in August, as the Rangers have scored more runs than any team in baseball despite Hamilton's .480 OPS.
But merely making it to October isn't enough as far as this Rangers team is concerned. The ultimate goal is to get to the World Series for a third year in a row and to win it for a change.
And this is why Rangers fans should be freaking out about the notion that Hamilton's slump may not have an end. They're going to need him in order to win the World Series. And that's not even close to being an exaggeration.
If the Rangers are going to win the World Series this year, it won't be because of their pitching. The Rangers' starting rotation in 2012 is weaker than the 2011 team's rotation, which was weaker than the 2010 team's rotation. This means there's going to be a greater emphasis on Texas' offense to get the job done than there was in either 2010 or 2011, and that's where Hamilton's slump comes into play.
The Rangers can compensate for a struggling Hamilton, but he's the difference between their offense being very good and being elite. He's the primary cog. The linchpin.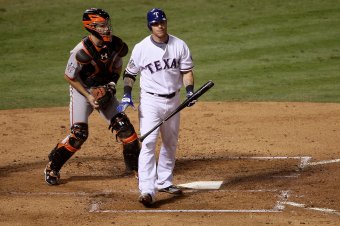 Hamilton had one homer and one RBI in the 2010 World Series.
Elsa/Getty Images
It doesn't bode well for the Rangers to begin with that Hamilton does not have a good track record in World Series play. He posted a .393 OPS in the 2010 World Series and a .672 OPS in the 2011 World Series. He did hit that huge home run in Game 6 of the 2011 World Series, but beyond that he was largely unproductive.
The Rangers couldn't win the World Series in 2010 or 2011 with an unproductive Josh Hamilton. For the Rangers to break the pattern, Hamilton needs to break the pattern.
But how?
Good question. There's nothing physically wrong with Hamilton, and his mechanics appear to be in good shape. His swing is as sweet as ever.
He's just not making contact like he was earlier in the season. The general consensus is that this is related to Hamilton's approach at the plate, a notion proposed by various baseball experts and even Hamilton's employer. That's the kind of criticism one invites when one is seeing only 3.56 pitches per plate appearance.
It's true that Hamilton has never been an overly patient hitter, as he saw just 3.58 pitches per plate appearance in 2011 and 3.64 in 2010, when he won the AL MVP. What he's failed to do this season is adjust to the fact that pitchers are finally approaching him like a Barry Bonds-esque invulnerable slugger.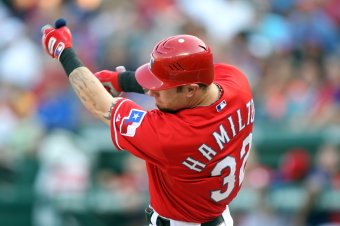 Hamilton is ninth in the AL in strikeout percentage at 24.0 percent.
Layne Murdoch/Getty Images
As Dave Cameron of FanGraphs pointed out in late June, pitchers are quite literally staying away from Hamilton. He's not getting much to hit on the inner half of the plate. Instead of helping himself by laying off the bad pitches and forcing pitchers to challenge him, he's helping them out by trying to hit their pitches.
He's not just swinging and making bad contact; he's swinging and missing a lot too. Per FanGraphs, Hamilton is swinging at 46.3 percent of the pitches he sees outside the strike zone, and he's missing nearly 20 percent of the time overall. His swinging-strike percentage was a mere 13.6 percent in 2011.
Hamilton ended July with three straight games in which he didn't strike out. It looked like he was making progress. Alas, he's already struck out eight times in August, with at least one strikeout in all five of Texas' games.
There really is no progress to speak of. Hamilton is legitimately stuck in a rut, and he's running out of time to get out of it before the games where every pitch counts finally arrive.
So be worried, Rangers fans. The Rangers are going to need the great Josh Hamilton in order to win the World Series, and the great Josh Hamilton is nowhere to be found.
If you want to talk baseball, hit me up on Twitter.
This article is
What is the duplicate article?
Why is this article offensive?
Where is this article plagiarized from?
Why is this article poorly edited?