Raw Reaction: Recapping and Grading Latest Episode (8/6)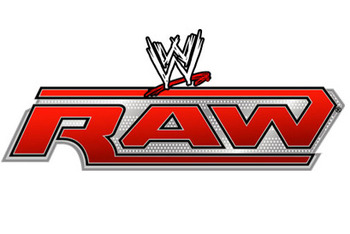 fanpop.com
Yes, I am back after claiming I was done with Raw after last weeks infuriating episode. But, for those who have called me out and said I would be back this week, I have one thing to say: You are somewhat right.
This time around, at the suggestion of some readers, I have utilized my DVR to fast forward through all the commercials, social media plugs and useless filler. So, while you are correct that I am back again this week, it is in different fashion.
Getting to wrestling, this episode is closing in on SummerSlam. With AJ still at the helm, how will this episode of Raw go? Hopefully the set didn't catch on fire this time.
Here is a recap of the promos and matches, so that I can be fair to the hard workers in the professional wrestling giant.
Opening Promo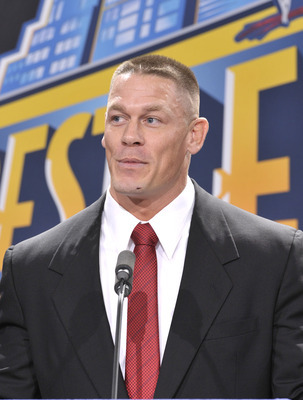 Michael N. Todaro/Getty Images
AJ, the new general manager of Raw, came out and began to announce matches for the night, which included Big Show versus Randy Orton and John Cena versus Daniel Bryan.
She was then interrupted by CM Punk, who proceeded to apologize to AJ for screaming in her face last week. He then asked AJ to cancel the triple threat match at SummerSlam, which got the crowd pretty hot and against him.
Punk is back to being a solid heel and is great at getting emotional responses from the audience. Did anybody other than me think that Punk looked like Lemmy from Motorhead with the middle of his goatee shaved out of his beard? Just a thought, but I digress.
Cena then made his way out to the ring. Again, a typical Cena promo where he has to work so hard for things. He works so hard for respect and everything he gets.
Big Show made his way out after some bickering. It's good to see him in his classic black wrestling attire; I never really understood why he wore camo to begin with.
The fans get to vote for Punk's opponent (Kane, The Miz and Rey Mysterio). I had a feeling I knew who it would be—and let's put it this way, we've seen the match way too much lately.
Decent promo to open up the show, but it probably didn't need to be 15 minutes.
Grade: B-
CM Punk vs. Rey Mysterio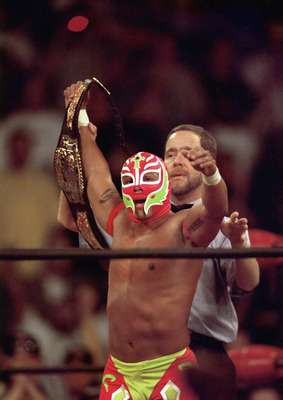 Elsa/Getty Images
Based on what I saw from Twitter, the match should be between CM Punk and Rey Mysterio. When it was all said and done, Punk ended up wrestling Mysterio, which shows that they may actually take the polls into account.
That's good because I thought Kane would wrestle Punk, and God knows I don't want to see that match yet again.
After Mysterio's five-minute entrance, we finally got down to business. Both men put on a pretty solid match. I especially liked the modified triangle choke that he used in the middle of the match on Mysterio.
After the commercial, the match continued to be good. After a 619, Mysterio went for a top rope splash, but was countered. He then got finished by a GTS and Punk was the winner.
Good match to start the wrestling portion of the show.
Grade: A-
Alberto Del Rio vs. Christian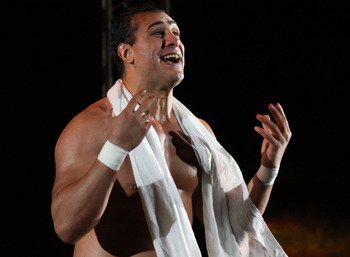 Gallo Images/Getty Images
A very cool vignette of Wade Barrett played and got me excited for his return. Maybe he will play even more into the bare knuckle boxing role than before.
Del Rio wrestled Christian after angering AJ. The two put on a pretty solid match together. I like del Rio's character when he is aggressive.
Ricardo Rodriguez provided a big enough distraction to help del Rio earn a submission victory over Christian. Does anyone think this is a bad sign of things to come for Christian's character?
After the match, Sheamus absconded with del Rio's car. Silly Ricardo, don't leave the keys in the car!
Grade: B
Randy Orton vs. Big Show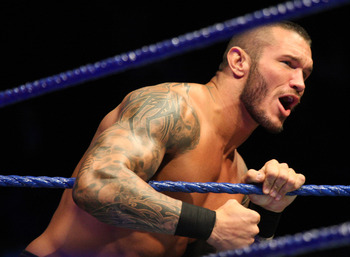 Gallo Images/Getty Images
I love Big Show and respect him for the legend he is, but he can't put on a good match anymore. He is too old and too slow. Every one of his matches are just too slow paced.
Does anybody else other than me find it weird that people are kicking out of the chokeslam lately? Two weeks in a row, John Cena and Randy Orton have easily kicked out, even though it is one of Show's finishing moves.
For a majority of the match, Show dominated Orton. The best moment of the match had to be Big Show's huge spear on Orton.
In the end, both men were counted out and nobody won. It was a good way to protect both guys, as they are in the major title hunt.
After the match, Show set Orton up for the WMD. Orton ducked it and gave him an RKO.
By the way, did anybody see the guys with the "We hate Cena" shirts? I chuckled.
Grade: C+
Ryback vs. Tyler Reks and Curt Hawkins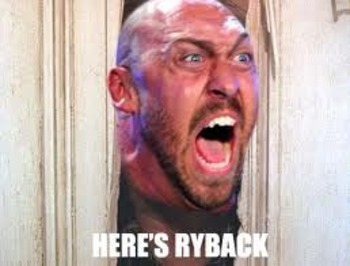 wfigs.proboards.com
Is the creative team getting lazy? Because we already have seen this match, even though he has been developing a rivalry with Jinder Mahal.
This match was actually pretty good. Ryback is very powerful and getting better, while Reks and Hawkins are just good wrestlers in general.
Hawkins took the eventual pinfall, and Ryback's win streak continues. I personally like Ryback, but I can see why people chant Goldberg and criticize him.
Grade: B
Epico and Primo vs. the Primetime Playas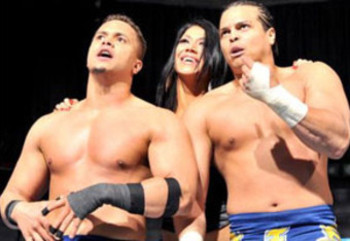 marcuspitt.com
We returned from commercial and both tag teams were already in the ring. Obviously, Rosa Mendes wasn't at ringside after her airport situation today.
I really like Primo and Epico. They are very talented and athletic and deserve to be recognized more. That being said, the Primetime Playas are great heels, especially with AW.
After the Playas tried to bail on the match, Kofi Kingston and R-Truth caused a distraction that allowed Primo and Epico to take the win. This will set up a tag title match at SummerSlam for the Playas and the tag champs.
Grade: C+ (some of the selling in the match was not great)
Brodus Clay vs. Damien Sandow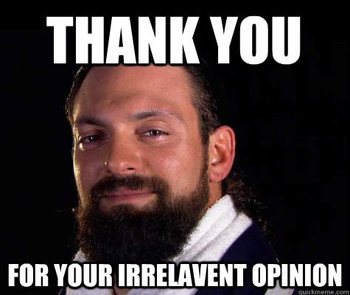 ringsidenews.com
I like Brodus Clay, but his entrance is getting annoying. I would love for him to turn heel and just be a complete monster.
Before Clay could even make his way down the ramp, Sandow attacked him from behind and assaulted him. He worked the leg hard, with some of those stomps looking quite stiff.
I am growing quite fond of Sandow as a heel. He is very good at what he does and the crowd absolutely hated him tonight.
Since this match didn't happen, I am going to give this an incomplete grade, even though it progressed a possible storyline between the two.
We then went backstage and found out Daniel Bryan and Kane will wrestle at SummerSlam.
Grade: Incomplete, but the Sandow attack was enjoyable.
Kelly Kelly vs. Eve Torres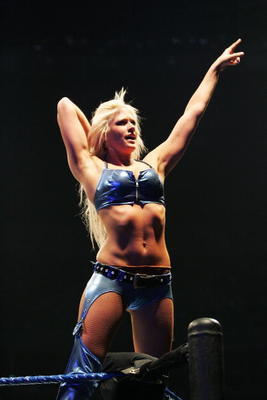 Gaye Gerard/Getty Images
Kelly Kelly is back and is wrestling Eve Torres. They are probably the two hottest divas in the WWE.
Haha, classic Jerry Lawler as he says ''tag me in'' when Kelly Kelly goes for the stink face on Eve Torres. That's the old Jerry Lawler that made me laugh back in the day.
Kelly Kelly won with a pretty decent looking frankensteiner. She got a pretty good reaction from the crowd, but that may be more from her looks than her in-ring ability.
To be honest, Eve deserves better than that.
Grade: B-
Shawn Michaels
John Sciulli/Getty Images
Shawn Michaels is out to cut a promo for his hometown. Of course, I knew he was going to be talking about the SummerSlam match between Triple H and Brock Lesnar.
Yes, the WWE needed Michaels to save this feud, as they screwed it up so far.
As predicted, Lesnar came out with Paul Heyman to confront the "Heartbreak Kid." As said before, who cuts a better promo than Heyman? The man is a wizard on the microphone.
We found out that Michaels would be in Triple H's corner for the SummerSlam match. As it looked like Lesnar was going to go after Michaels, Triple H made his entrance.
Lesnar vowed to "see" Michaels before SummerSlam, meaning he would probably jump him at some point. The promo was important and actually got me somewhat interested in their match.
Grade: A-
Alex Riley vs. Dolph Ziggler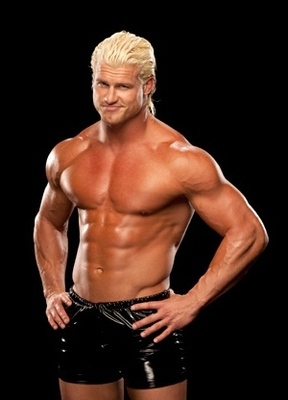 pwpix.net
It's good to see Alex Riley on Raw, but this match's emphasis was too much on Chris Jericho. I understand it's part of the storyline, but he didn't need to be on camera every five seconds.
While Jericho took a Tout video of Ziggler from ringside, Riley rolled up Ziggler for the win. Yes, a guy who hasn't won since Richard Nixon was president rolled up the Money in the Bank winner and potential world champ.
Ziggler still doesn't get the respect he deserves.
Grade: C
Kane vs. the Miz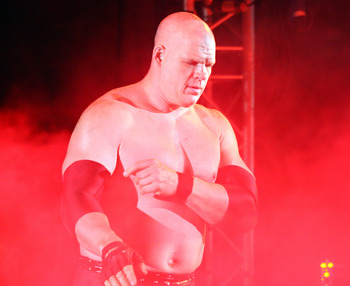 Gallo Images/Getty Images
The first thing I am going to say is, did the Miz use the "F" word on live TV and the delay didn't catch it? Or were my ears playing tricks on me?
Nevertheless, I was surprised at how good of a match these two put on. I am one of the people who is not impressed with the Miz as a wrestler, despite his skills on the mic. Also, Kane looked better than usual, which is usually attributed to his age.
Kane ended up winning the match, which again demeans the title a little bit. But, I can live with the decision, as Kane has a big match coming up at SummerSlam.
Grade: B+
Bonus: Grand Theft Sheamus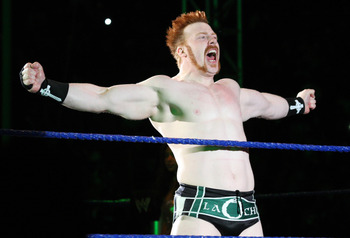 Gallo Images/Getty Images
The whole Sheamus stealing del Rio's car and messing it up was pretty uninteresting to me. What did you all think?
John Cena vs. Daniel Bryan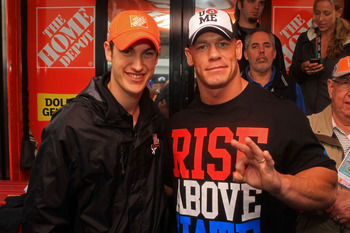 Matthew Stockman/Getty Images
Again, Cena gets the main event over everyone else, including CM Punk. This seriously needs to stop, I don't care if he is their biggest star.
In terms of the match, it was OK. Daniel Bryan makes most wrestlers look good (sorry Khali), so this match had potential to begin with.
The ending was pretty cool. Bryan countered the STF with an attempted LeBell Lock. But then, of course, Cena hit the AA and won cleanly.
CM Punk interrupted the celebration. Then, Big Show came down and Cena shoved Punk out of the way to take on Show. As he went for the AA, Punk interrupted again and went to the announcer's table, where he let Jerry Lawler have it again.
Punk went to kick Punk in the head, but was knocked out by Show. Cena then took the WMD as well, and Show stood tall to end the show. Solid ending to give Show some momentum.
Grade: B
Conclusion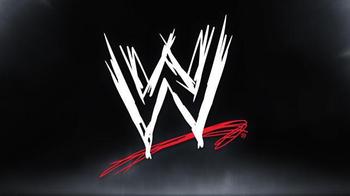 wwe.com
Just from fast forwarding with my DVR, here is a quick rundown of the annoying filler that I luckily didn't watch. There were at least 10 recaps, three Twitter plugs, two Raw Active plugs, four Tout plugs and two WWE.com plugs by my count.
That solidified my switching to DVR and starting the show an hour and a half into it.
Overall, it was good to see more wrestling and less plugs this show. Yes, there were still a lot of recaps and plugs, but it wasn't nearly the amount of last week.
The wrestling matches were average, but they sufficed my appetite. Therefore, this show receives a solid grade.
Grade: B
Keep Reading