NHL Predictions: 10 Teams Who Will Challenge for the Stanley Cup in 2013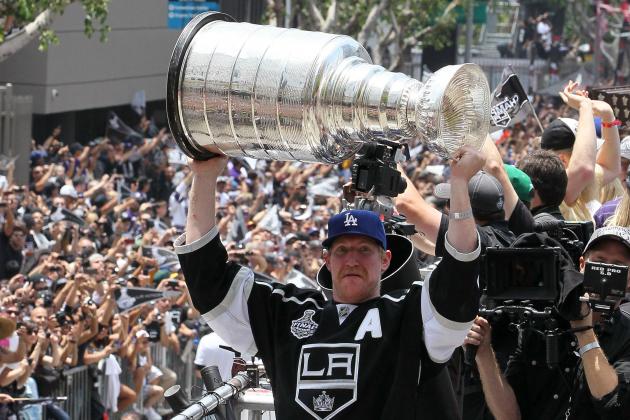 Victor Decolongon/Getty Images

I have never been a huge fan of the Summer Olympics. Don't get me wrong, I am as patriotic as they come and cheer for the red, white and blue as loud as anyone whenever the United States is involved in something, but I am still sitting here counting down the days until the NHL season...mainly because I can't figure out the rules of water polo.
There have already been many different storylines that have occurred since free agency started on July 1st; and while some teams have failed to fill their lineups properly, many teams have made extravagant strides in their roster.
Here are ten teams that will contend for the Stanley Cup in 2013.
Begin Slideshow

»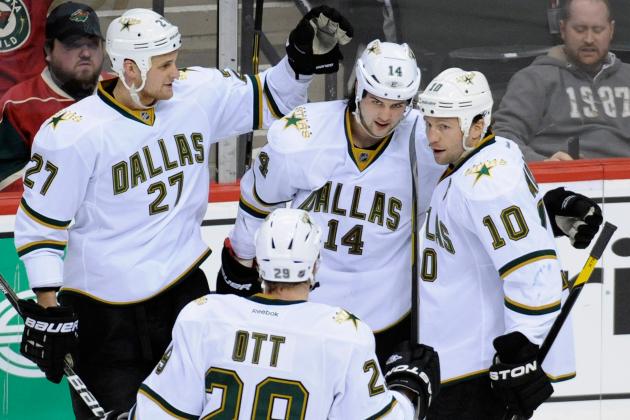 Hannah Foslien/Getty Images

Record Last Year: 42-35-5 (10th in Western Conference)
2012 Finish: Missed Playoffs

While they fall just short of this list, I believe the Dallas Stars are going to be one of the more entertaining teams to watch this upcoming season, and don't be surprised if they create some fire as the playoffs come around.
They signed 40-year-old Ray Whitney—who put up 77 points last season with the Phoenix Coyotes—to a two-year deal, and they also agreed to a one-year deal with Jaromir Jagr, who had 54 points with the Philadelphia Flyers in 2011-12.
It will be interesting to see how these two veterans will complement youngsters Jamie Benn and Loui Eriksson, who are both now put in a position to have great seasons statistically.
If Kari Lehtonen can hold firm in the net, look out for the Stars to make some noise in a weakened Western Conference next season.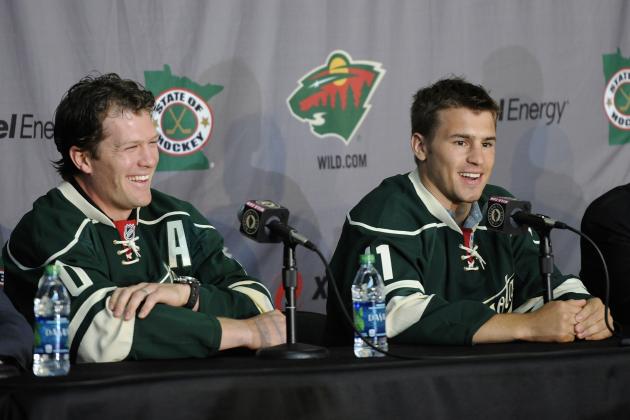 Hannah Foslien/Getty Images

Record Last Year: 35-36-11 (12th in Western Conference)

2012 Finish: Missed Playoffs
I never had the Wild on this list to begin with, but to many people who don't follow hockey that closely, the Minnesota Wild is the only team they may have heard about this offseason due to their signings of both Ryan Suter and Zach Parise.
While the two guys are definitely a step in the right direction for the franchise, the Wild are still far from Stanley Cup contenders.
Parise leaving the Devils is a much bigger blow to New Jersey than it was a gain to Nashville, and the same can be said for Nashville. The Wild lack depth on both sides of the ice, and outside of Dany Healtey and Mikko Koivu, they have no legitimate threats to score goals.
Kyle Brodziak did manage to light the lamp 22 times last season, but his minus-15 rating more than makes up for that number. While Koivu missed some time due to injury, Heatley was the only player to surpass the 45-point mark last year.
On the defensive side of the ice, when your go-to defenseman was arguably Marek Zidlicky, there isn't much to like.
Parise and Suter will add some depth to a team that desperately needs it, but they will still be fighting for a playoff spot. They are both stars, but the fact that this year's free agency pool was so thin caused the media to make it seem like these two guys can take a team that finished 24th in the NHL in points to the top—and that's asking way too much.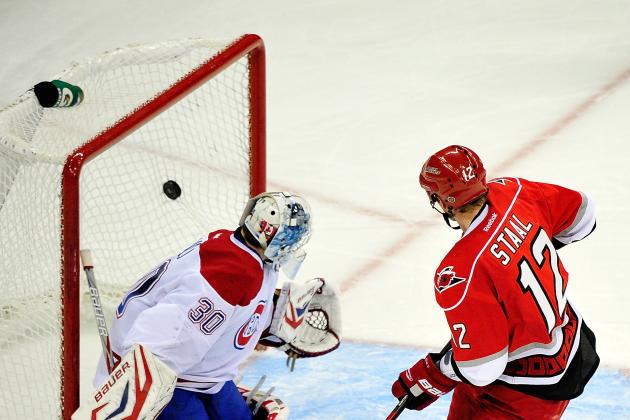 Grant Halverson/Getty Images

Record Last Year: 33-33-16 (12th in Eastern Conference)

2012 Finish: Missed Playoffs
Well I just went on a rant about why last year's 12th placed team in the West isn't a serious contender, but now I am going to explain why last year's 12th placed team in the East is one. The signings of Jordan Staal and Alexander Semin are far more important in Carolina than that of Ryan Suter and Zach Parise in Minnesota, and here's why.
Signing Jordan Staal will not only improve every aspect of Carolina's game (penalty kill, power play, defensive coverage, center depth, etc.), but it will also wholeheartedly improve the game of his brother and team captain, Eric Staal. It is no secret that these two have always wanted to play with each other, and now that they are, Eric's morale will be at an all-time high.
Semin, on the other hand, will bring another offensive threat to the lineup, and with only a one year deal to his name, he will be motivated to have a prolific year in order to receive some solid offers from the NHL next offseason.
People tend to forget that the Hurricanes won the Stanley Cup in 2006, which was only seven seasons ago.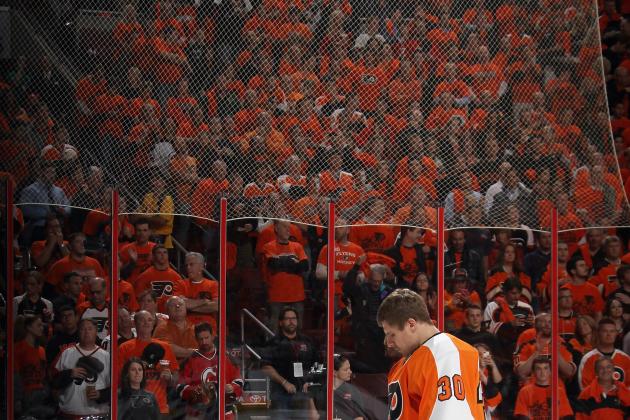 Bruce Bennett/Getty Images

Record Last Year: 47-26-9 (5th in Eastern Conference)
2012 Finish: Lost to NJD 1-4 in Eastern Conference Semifinals
I was one of the most surprised human beings on the planet when I heard that the Nashville Predators had matched the monstrous offer sheer that Shea Weber had agreed on with the Philadelphia Flyers, and I had to have a moment of silence for all the Flyers fans out there.
They lost Jaromir Jagr and Matt Carle, and they traded away James Van Riemsdyk—but the Flyers are still going to be one of the better teams in the NHL, and have last year's breakout superstar in Claude Giroux. Their defensive core is still a work in progress, but even if nothing huge gets done, they can still rest on the fact they have Ilya Bryzgalov in the net.
I know, he had a rough postseason in 2012, but goalies go through shaky streaks, and Bryz can easily turn it on the other direction and be one of the best netminders in the NHL.
That is, if he can get his mind off of the universe.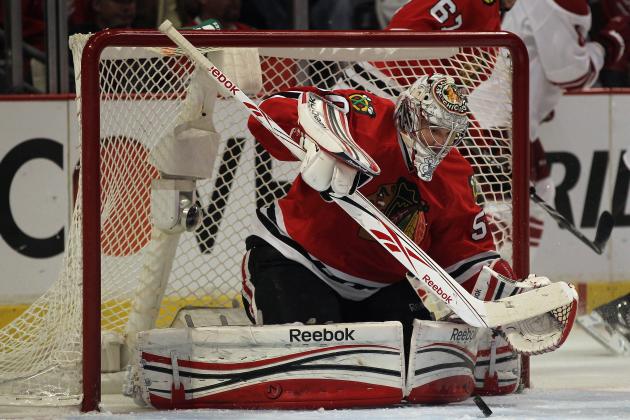 Jonathan Daniel/Getty Images

Record Last Year: 45-26-11 (6th in Western Conference)
2012 Finish: Lost to PHX 2-4 in Western Conference Quarterfinals
I find it interesting that nobody is talking about them this season; and I find it even more interesting that they have not been in hot pursuit of a top named goaltender, because that might be the one thing that is causing them to fall short of the Stanley Cup since winning it in 2010.
Corey Crawford is just not the guy that's going to do it. Antti Niemi was the guy, and even backup Cristobal Huet could have done it back in 2010, but they unloaded both of them immediately after bringing Lord Stanley's Cup to the Windy City.
When you look at their roster, it is so difficult not to like the depth they have on both sides of the puck. Guys like Johnny Toews, Patrick Kane, Marian Hossa, Brent Seabrook and Duncan Keith are all guys that are now-experienced veterans and will continue to lead the Hawks to successful seasons.
Add in guys like Patrick Sharp and Viktor Stalberg and you have to consider Chicago as one of the favorites.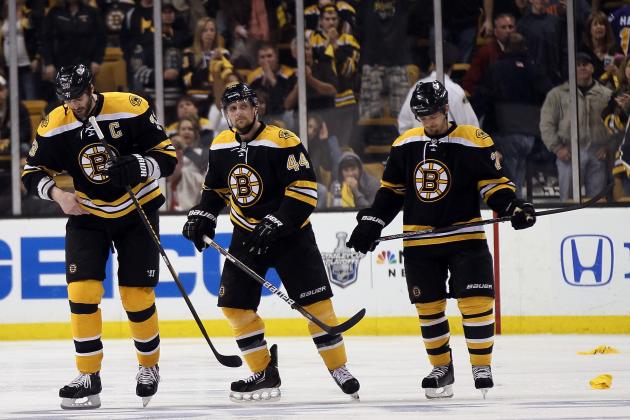 Elsa/Getty Images

Record Last Year: 49-29-4 (2nd in Eastern Conference)
2012 Finish: Lost to WSH 3-4 in Eastern Conference Quarterfinals
The Boston Bruins have had a very quiet offseason thus far, with the only notable loss thus far being Tim Thomas—who decided he would be taking next year off. To be honest though, after his outgoing political views, it might be best that the Bruins decide to move forward with Tuukka Rask.
If Rask can prove himself, there is no reason why the Bruins could not be the team that hoists Lord Stanley's Cup in 2013. The Bruins' 102 points last season were good enough to get them the number two seed in the Eastern Conference, and their +67 goal differential was the best in the entire NHL.
Tyler Seguin has continued to improve as he gets older, Milan Lucic is finding a way to turn his physical presence into a positive on both ends of the ice, and Zdeno Chara is still the biggest man the NHL has ever seen.
As of now, Bruins fans should be excited for the upcoming campaign.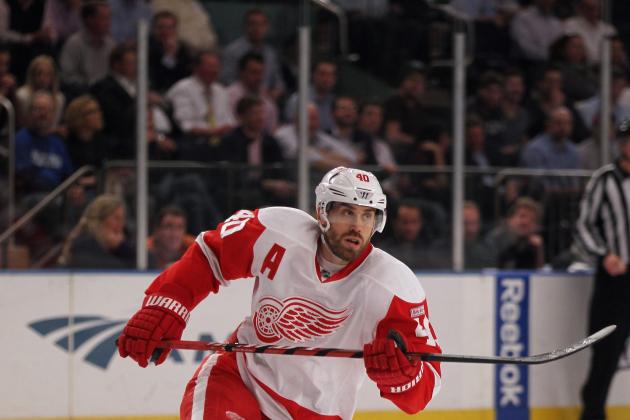 Bruce Bennett/Getty Images

Record Last Year: 48-28-6 (5th in Western Conference)
2012 Finish: Lost to NSH 1-4 in Western Conference Quarterfinals
Are the Detroit Red Wings in dire need of a defensive replacement for Nicklas Lidstrom? Yes. Has Jimmy Howard proven that he is solid enough to take the Wings all the way to Stanley Cup Finals? No.
But are the Red Wings still going to be one of the teams mentioned in the preseason talks for the Stanley Cup? Of course.
Pavel Datsyuk and Henrik Zetterberg and still two superstars in the NHL, and with guys like Nicklas Kronwall and Ian White expected to have huge seasons on the blue line for Hockeytown in 2012-13, there is a possibility that it happens.
I still believe the Red Wings need to make a move or two before the trade deadline of next season in order to become the best team in the NHL—but with this much time before that mark, it's hard not to still like them.
The Red Wings haven't missed the playoffs since 1990, and they will be in there once again this season. Their experience, head coaching and poise could be what carries them all the way.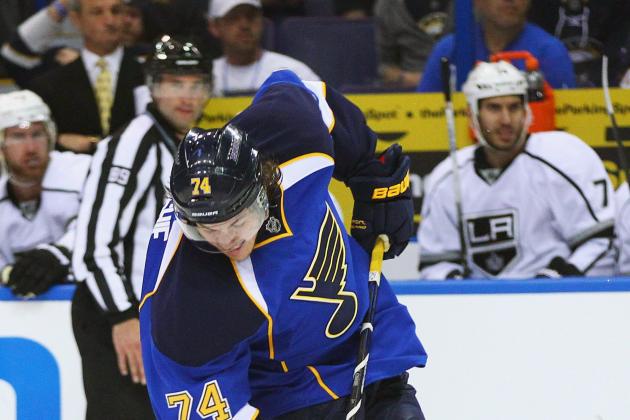 Dilip Vishwanat/Getty Images

Record Last Year: 49-22-11 (2nd in Western Conference)
2012 Finish: Lost 0-4 to LAK in Western Conference Semifinals
To quote the great Coach O'Ryan from D3: The Mighty Ducks, "No lead is safe if you can't play defense. Now get this straight, I don't give a damn how many goals you score, I want one number on your mind: zero, as in shutout."
If there is one thing that the St. Louis Blues had through their mind last year, it was zero. Their defense was incredible, and their goaltending tandem of Brian Elliott and Jaroslav Halak was by far the best in the NHL.
They recently re-signed T.J. Oshie, and David Perron was great last year after finally returning from a concussion.
The Blues only averaged 2.56 goals per game last year, yet they still managed 109 points and the third-best record in the NHL. If their goaltending continues to be outstanding and they find a way to improve their offense, they will be a scary force next year.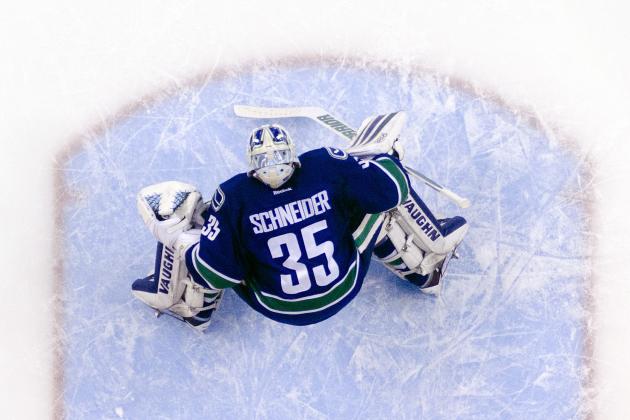 Rich Lam/Getty Images

Record Last Year: 51-22-9 (1st in Western Conference)
2012 Finish: Lost 1-4 to LAK in Western Conference Quarterfinals
The Vancouver Canucks have consistently been one of the best teams in the NHL for the last three or four years, but have failed to find a way to get it done when the playoffs come rolling around.
After winning the Presidents Trophy last year, many put them as the favorites entering the playoffs. But without Daniel Sedin in the lineup for most of the series, they fell into a hole against the L.A. Kings that they couldn't climb out of.
If Daniel Sedin had been healthy for that entire series, who knows what would have happened? Cory Schneider is going to be the starter in Vancouver—and take over for Roberto Luongo, whose future is still yet to be determined.
Either way, the Canucks will once again be a favorite to win it all.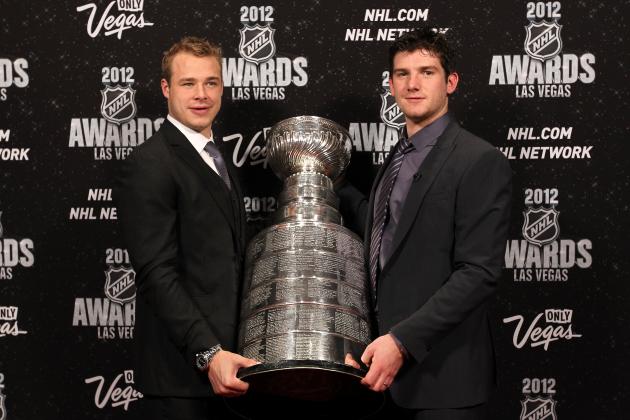 Bruce Bennett/Getty Images

Record Last Year: 40-27-15 (8th in Western Conference)
2012 Finish: Stanley Cup Champions
It would be impossible to make this list without putting the guys who just won the Stanley Cup with an impressive 16-4 record throughout. The Los Angeles Kings lose no key players to their run from last year, and if Jonathan Quick plays like he did in the post-season, there may be no team in the NHL that can stop them.
With scoring threats in Anze Kopitar and Jeff Carter, and defensive weapons like Matt Greene and Rob Scuderi, it's really hard to not like the Kings to repeat. History is standing against them however, as the Stanley Cup hasn't been repeated since the Detroit Red Wings did it in 1997 and '98.
One thing is for sure, the Kings need to have a better regular season than they did last year and give themselves some home ice for the playoffs. I mean winning the Stanley Cup as the eight-seed is one thing, but doing it two years in a row? That might be down right impossible.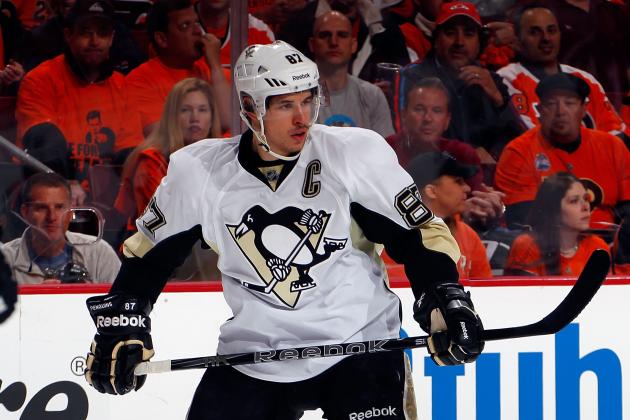 Paul Bereswill/Getty Images

Record Last Year: 51-25-6 (4th in Eastern Conference)
2012 Finish: Lost 2-4 to PHI in Eastern Conference Quarterfinals
While many people have been focused on the arrival of Jordan Staal to Carolina...or Ryan Suter and Zach Parise to Minnesota...or Jaromir Jagr to Dallas...or Rick Nash to New York, many people forget that Sidney Crosby is making a return to the Pittsburgh Penguins. He has only played in 63 games over the last two seasons and finally looks poised to be in shape for a full, 82-game season.
Even though the Penguins did not land Parise in the offseason, they still have one of the most explosive offenses in the NHL and arguably the two best players in the world, in Crosby and last year's Hart Memorial Trophy winner, Evgeni Malkin.
Add in the defensive solidarity of Kris Letang and Brooks Orpik, a proven, goal-scoring winger in James Neal and a Stanley Cup winning goaltender in Marc-Andre Fleury, and it's hard not to like the Pittsburgh Penguins next season.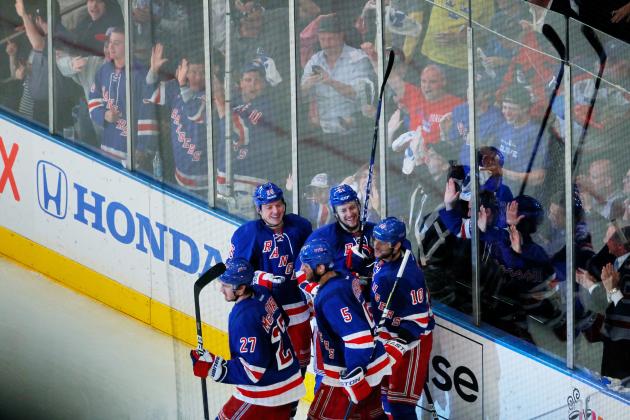 Paul Bereswill/Getty Images

Record Last Year: 51-24-7 (1st in Eastern Conference)
2012 Finish: Lost 2-4 to NJD in Eastern Conference Semifinals
The New York Rangers basically stole Rick Nash from the Columbus Blue Jackets, and they have to now be looked at as the favorites to win the Stanley Cup in 2013. Their offense was already quite solid, with guys like Marian Gaborik, Ryan Callahan, Brad Richards and Derek Stepan all putting up 50+ point seasons last year—and now Nash will be added to the mix.
If Head Coach John Tortorella decides to make the first line the combination of Gaborik-Richard-Nash, it could very easily be the best forward line in the entire league. Their depth on the blue line isn't an issue either. Young guns Michael Del Zotto and Ryan Mcdonagh have been great and will only get better with age, while Dan Girardi is growing into one of the better D-men in the NHL.
Oh, and then there is Henrik Lundqvist, who just won the Vezina Trophy as the league's best goaltender and was a finalist for the Hart Trophy as the NHL MVP. I guess he's pretty good too.