Baltimore Ravens: 1 Burning Question for Every Member of Ravens' Roster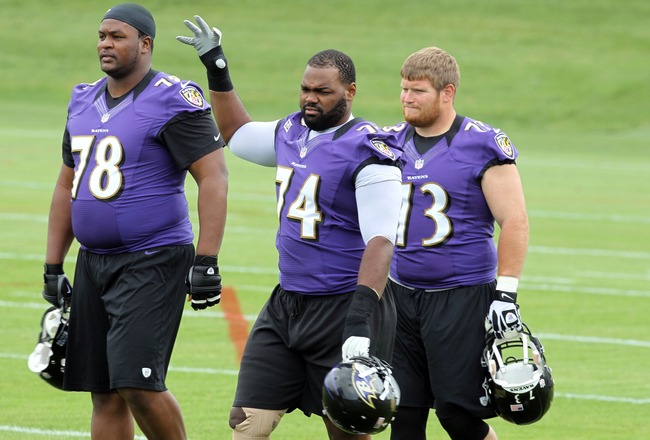 Mitch Stringer-US PRESSWIRE
The Baltimore Ravens have worked hard the past few weeks to begin answering the questions that have plagued them going into the season.
Questions still remain, however, and every player on the roster has something to prove.
Some players need to prove they can still bring it despite their age, while some young players simply need to prove they belong in the NFL.
Whatever the question, every single player on the Ravens has to prove something during training camp.
Here is one burning question for every single Raven.
Do They Have a Future in the NFL?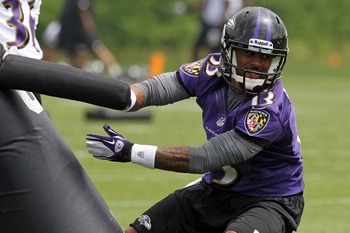 Mitch Stringer-US PRESSWIRE
As much as they'd like to, the Ravens won't be able to keep everyone that is currently on the roster.
Some of these players will find homes elsewhere. These players, though, are fighting for their very careers. Failure to make the team in Baltimore could spell the end of the line for these players.
Stevie Baggs, LB
Matt Balasavage, TE
Omar Brown, S
Josh Bynes, LB
Davon Drew, TE
Bruce Figgins, TE
Devin Goda, WR
Dorian Graham, WR
Cord Howard, G
Nicolas Jean-Baptiste, NT
Addison Lawrence, OL
Jordan Mabin, CB
Antoine McClain, G
Terrence Moore, DE
Cyhl Quarles, S
Bobby Rainey, RB
Chester Stewart, QB
Chavis Williams, OLB
Patrick Williams, WR
Tony Wragge, G
Quarterbacks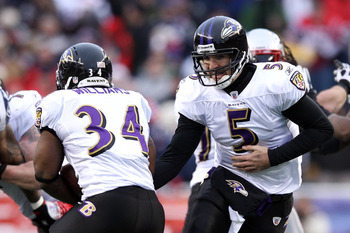 Elsa/Getty Images
Joe Flacco—Is this the year Flacco makes the leap from good to great?
Four years into his career, we still haven't seen how good Flacco can be. He hasn't made visible improvements since his second season, as his stats have hovered around the same marks.
While Flacco certainly has improved certain parts of his game, he has yet to have a premier, breakout season.
Now, in his fifth season, Flacco has increased pressure to do just that.
All indications are that Flacco is having the best camp of his career. If that can translate into regular-season success, the answer to this question will be a resounding yes.
Tyrod Taylor—Is Taylor really a legitimate backup quarterback in the NFL?
The general consensus is that if Flacco goes down, the Ravens' season will go down with him.
Those close to the franchise, though, feel strongly that Taylor is a legitimate backup quarterback who could win games if need be.
Taylor's small sample size makes this question difficult to answer, but another preseason will go a long way in determining how good he really is.
Last preseason, Taylor played like what he was—a very talented rookie. He was wildly inconsistent, but he showed good moxie and playmaking ability.
This preseason, Taylor needs to show real command of the offense. That means stringing together multi-play drives and connecting on consecutive passes.
If he does that, Ravens' fans can rest assured that Taylor can take control if need be.
Curtis Painter—Will Painter make the team?
Curtis Painter will certainly find a home if the Ravens don't retain him, but Baltimore would be a great place for him to learn the game more thoroughly.
To make the team, though, he would either need to beat out Taylor—unlikely—or convince the Ravens to carry three quarterbacks—even more unlikely.
Painter will have to play lights out in camp and in the preseason to make the team. He's a bubble player to watch.
Running Backs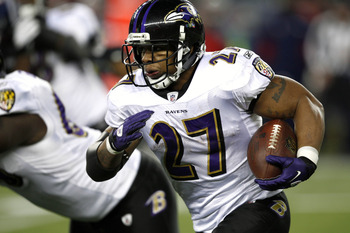 Mark L. Baer-US PRESSWIRE
Ray Rice—Will Rice run as hard after cashing in on a new contract?
One of the reasons Ray Rice has become such a fan favorite is his ability to extend runs and bounce off tackles.
The main question facing Rice is whether that hard-charging style will still be there after he signed his big contract.
A great deal of players have lost their edge after signing big contracts.
Thankfully, Rice is not the type of player to fall victim to this trend. He is a continuous worker who cares more about the team and winning than he does about money. The Ravens can be confident they will get Rice at his best this season.
Bernard Pierce and Anthony Allen—Which runner will be the primary backup?
The Ravens didn't spend a third-round draft pick on Pierce to have him sit on the bench, but he will still have to earn his carries.
To get the ball, he will need to beat out Anthony Allen and demonstrate reliability and explosiveness.
The best-case scenario is that Pierce earns carries as a change-of-pace back. His powerful, slashing style would work well in conjunction with Rice's quickness and elusiveness, so the Ravens have to be hoping Pierce earns some carries.
Allen, meanwhile, should still get carries in short-yardage situations. If the Ravens play this right, they could have a nice three-headed monster in the backfield.
Damien Berry—What can Berry do to earn carries?
Unlike Pierce and Allen, Damien Berry wasn't drafted. That means the Ravens have no incentive to keep him beyond his play on the field.
Berry will need to be significantly better than either Pierce or Allen to make the final roster. He has been solid at camp so far, but he needs to be great to actually make the roster.
Vonta Leach—Will Leach continue his reign as the top fullback in the NFL?
Leach is one of the most consistent, solid players in the entire NFL. There are few questions surrounding him, but maintaining the status of being the best is always difficult.
Barring injury, Leach will still be a great player in 2012. Whether or not he will continue to be the best remains to be seen.
Wide Receivers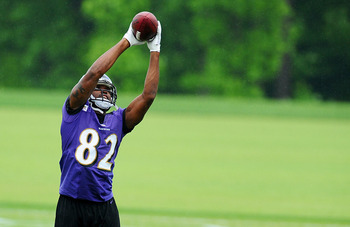 Evan Habeeb-US PRESSWIRE
Anquan Boldin—Is Boldin still the top receiver?
The Ravens' trade for Anquan Boldin has been something of a bust to this point. Boldin hasn't had 1,000 yards as a Raven and he has struggled with drops.
He needs to prove he is the team's top receiver. Expect him to be challenged by Torrey Smith.
Torrey Smith—Will Smith break out in 2012?
Torrey Smith seems poised to make a big statement this season. He seemed to develop great chemistry with Joe Flacco, and his deep-ball ability fits with the Ravens' style of offense perfectly.
With improved route running and hands, Smith should be improved this season. He should be even faster as well, as he has recovered from a hernia that hampered him through the 2011 season.
Smith looks ready to be the first Baltimore Ravens draft pick to have 1,000 receiving yards on a season.
Jacoby Jones—Will Jones finally become a legit threat at wide receiver?
Despite given every opportunity to become the complement to Andre Johnson in Houston, Jones never became a real threat at receiver.
In Baltimore, Jones' expectations are tempered, but he will still be expected to produce. It remains to be seen whether or not he can be an effective receiver.
LaQuan Williams—What can Williams do to earn regular-season reps?
LaQuan Williams is an interesting prospect for the Ravens. An undrafted free agent who spent much of last season as the third receiver, Williams has more game experience than a lot of the young receivers on the roster.
Unfortunately, Williams did nothing with his reps last season, dropping more passes than he caught. To make the team and earn playing time, he needs to display more consistent hands. Whether or not he can prove that remains to be seen.
Tandon Doss—Will Doss live up to where he was drafted?
Despite being a fourth-round pick, Tandon Doss lost reps last year to undrafted free-agent LaQuan Williams.
This year, Doss looks to be in the lead for increased reps, but he will need to actually produce to live up to where he was drafted.
Being a key third-down and red-zone target would go a long way in proving that Doss has a future in Baltimore.
Tommy Streeter—Can the rookie contribute right away?
Tommy Streeter is hyper-talented but incredibly raw. He will need to develop significantly to produce immediately, but he has a chance as a red-zone target.
Deonte Thompson—Can Thompson make the team?
One of the main surprises of minicamp, Deonte Thompson has used his speed to run his way into the discussion of who should make the team.
Thompson would be a great downfield target for Joe Flacco, so the Ravens are likely to keep him if he continues to develop.
Logan Payne—Can Payne's big plays in camp earn him a roster spot?
Payne has made some incredible plays in camp, but he remains a longshot to make the roster. With a good preseason, he could catch on somewhere else, though.
David Reed—Will Reed's kick-return ability be enough to keep him on the roster?
At this point, the Ravens seem convinced that David Reed will never becoming a true receiving threat. He will need to make the roster based on his return ability.
He has the ability, he just needs to be consistent enough to earn a roster spot.
Tight Ends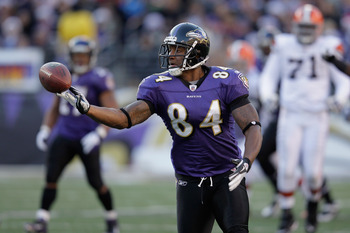 Rob Carr/Getty Images
Ed Dickson—Have Dickson's hands improved?
Ed Dickson was, for the most part, a revelation last year. Unfortunately, there were times that his hands really let him down.
If he cuts down on the drops this year, he could be a special player. Whether that will happen or not remains to be seen.
Dennis Pitta—How will Pitta recover from his broken hand?
Dennis Pitta looked to be in line for an increased role this season before a broken hand robbed him of valuable practice reps.
While Pitta will still play this season, how he recovers from his injury will go a long way into determining what role he plays this season.
Billy Bajema—What can Bajema do to make the team?
If Pitta recovers well, the Ravens are unlikely to keep three tight ends on the roster. Bajema will have to show excellent special teams ability to make the team.
Offensive Tackles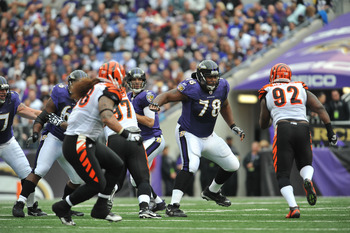 Larry French/Getty Images
Bryant McKinnie—Will McKinnie's weight really be an issue this year?
Much has been made about Bryant McKinnie's lack of weight loss this offseason. Even at 360 pounds, though, McKinnie passed the conditioning test.
Michael Oher—Will Oher cut down on penalties this year?
Michael Oher has developed into a solid right tackle in the NFL, but he still struggles with penalties, some coming at crucial times.
To step into the upper-echelon of NFL tackles, Oher needs to prove that he can play disciplined football.
Jah Reid—Will Reid ever become a starter for the Ravens?
The drafting of Kelechi Osemele has put Jah Reid's future in doubt. The future was presumed to be Oher at left tackle and Reid at right tackle, but Osemele may just be the future at right tackle. Even Jack Cornell looks to be a threat to Reid's status on the team.
Reid will need to demonstrate that he can be a real mauler. If he uses his special size well, he will eventually find his way onto the field.
Jack Cornell—Can the undrafted rookie make the roster?
Jack Cornell has instantly become a coaching staff favorite, even earning first-team reps.
He could be an ideal practice-squad candidate, but he has a very real chance to make the final roster.
Ramon Harewood—Will Harewood finally stay healthy for a full season?
Ramon Harewood has been beset by injuries throughout his career. He has upside if he can stay healthy, but injuries have made him a longshot to make the roster.
Guards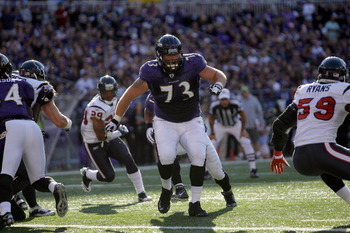 Rob Carr/Getty Images
Marshal Yanda—Will Yanda step into more of a leadership role this season?
Marshal Yanda isn't always considered among the Ravens' leaders, but with Matt Birk aging, the time has come for Yanda to grow as a leader.
The Ravens will need him to instill his toughness on the unit while providing a veteran presence.
Bobbie Williams—Will Williams' age affect his play this season?
By all accounts, Bobbie Williams still looks great, but at age 36, the wheels could fall off at any time.
Watch Williams as the season wears on to see if his age is affecting him at all. The Ravens need him at full strength for the whole season, so they have to hope he can continue to play at a high level.
Kelechi Osemele—How much will Osemele play this year?
Kelechi Osemel has been a monster this year in training camp, but he doesn't look to be an immediate starter.
Injuries could change this, but for now, the Ravens seem likely to bring Osemele along slowly. How fast he develops will be important for next year.
Justin Boren—Does Boren have starter potential?
Justin Boren's versatility is great for the Ravens offensive line, as Boren can play center and guard. He will need to show the ability to stick at one position, though, to show he can be a starter for the team.
Centers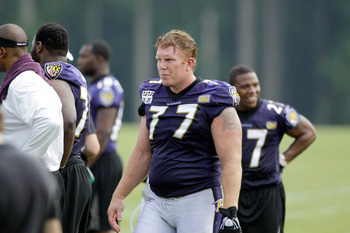 Rob Carr/Getty Images
Matt Birk—Will Birk's knees hold up for one more season?
Matt Birk was ailing last year, and it showed as he got demolished by Vince Wilfork in the AFC Championship game.
This year, Birk is healthy, but his knees could give out at any time. His health will be key to the offensive line's success this year.
Gino Gradkowski—Will Gradkowski earn the role of heir apparent at center?
Gino Gradkowski has looked good so far in his short career, but he'll need to demonstrate that he has the ability to be the center of the future. He will be a player to watch in the preseason.
Cecil Newton—Can Newton give Gradkowski a challenger for the backup center role?
Cecil Newton has the advantage of experience, but little else on Gino Gradkowski. Newton is a nice player who the Ravens like, but he probably doesn't have enough to earn a roster spot.
Defensive Ends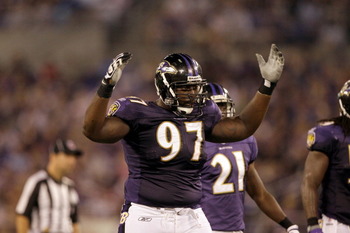 Rob Carr/Getty Images
Art Jones and Pernell McPhee—Who will earn a starting role?
Perhaps the most intense battle for a starting job will be between Art Jones and Pernell McPhee.
Both excel at different things, so who will get the job is anyone's guess. This is a battle to watch throughout training camp.
DeAngelo Tyson—Will the rookie earn a roster spot?
Tyson wasn't who the Ravens really wanted in the seventh round, but a lack of viable options forced their hand. He will struggle to make the roster. With a solid performance in training camp, though, Tyson could be a solid backup lineman.
Defensive Tackles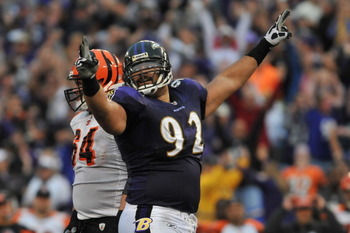 Larry French/Getty Images
Haloti Ngata—Can Ngata boost his pass rush to make up for the loss of Terrell Suggs?
Haloti Ngata might be among the best defensive tackles in the league, but he has yet to truly develop into an impact pass-rusher.
The Ravens need Ngata to step into the role of pass-rusher to make up for the loss of Suggs. His ability to do so will go a long way in deciding how the Ravens defense will play this year.
Terrence Cody—Wlil Cody develop into a star in his second year as a starter?
Terrence Cody was excellent last year in his first year as a starter, and he may be the most underrated player on the Ravens defense.
This year, Cody will look to take the next step as one of the best nose tackles in the league.
Ryan McBean—How will McBean's suspension affect the defense this season?
The Ravens will be without Ryan McBean to start the season. They'll do fine without him, but when he comes back, the defensive line could be special. The level of depth they have along the line is scary.
Bryan Hall—Can Hall earn a roster spot?
Bryan Hall is another player who has been impressive this offseason. He will need to be special, though, to earn a roster spot.
Ma'ake Kemoeatu—Can Kemoeatu still stop the run effectively?
Ma'ake Kemoeatu's calling card has always been run defense, but he's aging fast. If he can effectively spell Terrence Cody, he will need to still stuff the run well.
Ishmaa'ily Kitchen—How good is Kitchen, really?
Ozzie Newsome is enamored with this young man, but he never did anything special in college to indicate why that would be the case. We will see how good he really is during the preseason.
Outside Linebacker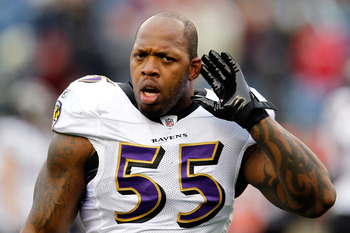 Rob Carr/Getty Images
Terrell Suggs—How soon will Suggs be back?
The return of Terrell Suggs will decide whether this season is a championship-worthy season or not. His pass rush is absolutely necessary for the defense to be special, so the sooner he gets healthy, the better the Ravens' season will be.
Courtney Upshaw, Paul Kruger, Sergio Kindle—Can these guys make up for the loss of Suggs?
Sergio Kindle has some questions to answer about his health, but currently, these three are the ones tasked with making up for the loss of Terrell Suggs.
Kruger has yet to live up to his draft position, while Upshaw and Kindle are unproven. All three are immensely talented, but they will need to live up to that talent for this season to be a success.
Darryl Blackstock—What will Blackstock's role be?
Darryl Blackstock has never been an elite pass-rusher, so where he will fit on the defense is a question. He probably won't play much once Suggs comes back, but in the short term, he could help set the edge in the running game.
Inside Linebackers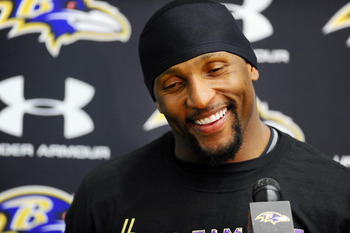 Evan Habeeb-US PRESSWIRE
Ray Lewis, Jameel McClain—Will their weight loss help them or hurt them?
Ray Lewis and Jameel McClain both shed some pounds to get faster this offseason. The move makes sense for Lewis, who has slowed down a bit.
McClain needs his bulk to take on blockers, though, so his weight-loss is a little surprising. How well they handle blockers in the preseason will go a long way in answering this question.
Brendon Ayanbadejo—Will Ayanbadejo's defensive role increase?
We already know Ayanbadejo is an elite special-teamer. He has received more defensive reps with the Ravens than at any point in his career, but he has yet to become a full-time option.
He probably won't change that this year, but his athleticism and strength could be useful.
Dannell Ellerbe, Albert McClellan, Ricky Brown—Who will make the team?
These three will be fighting for a roster spot. McClellan should make the team because of his versatility and upside, while Brown has a good chance as well. Ellerbe could be the odd man out. His time seems to have run out in Baltimore.
Nigel Carr—Will Carr be the hero of camp?
Nigel Carr has been a revelation for the Ravens. With enough big plays in training camp, he could make the team.
Cornerbacks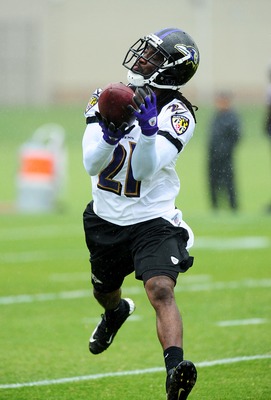 Evan Habeeb-US PRESSWIRE
Lardarius Webb—Will Webb earn his first Pro Bowl berth?
Lardaius Webb became one of the top cornerbacks in the NFL last season. With a repeat performance, he should make the Pro Bowl.
Cary Williams, Jimmy Smith—Who will be the starter?
The other big positional battle has been at cornerback, as Jimmy Smith and Cary Williams fight to be the starter. Williams has the edge right now, but Smith should take the role soon.
Danny Gorrer, Corey Graham—Who will be the fourth cornerback?
Corey Graham has been spectacular in camp, but Danny Gorrer is a talented young player. Both should get reps, but Graham should get the lion's share.
Asa Jackson—Can Jackson be an option on returns?
Asa Jackson probably won't play too much on defense, but he should make an impact as a returner. His speed and quickness are spectacular. If he shows he can handle the ball well, he could be the primary returner.
Chykie Brown—Is there room for Brown?
With the Ravens' depth in the secondary, they will be hard-pressed to find room for Chykie Brown. He has upside, but didn't get to display it much last season.
Safeties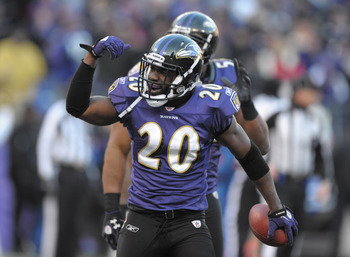 Kirby Lee-US PRESSWIRE
Ed Reed—Can Reed's body hold up?
There was major reason to be concerned after Ed Reed looked so battered in the playoffs last year. This year, though, Reed is healthy and ready to go.
His health is always key for the defense. They will need his playmaking ability without Suggs in the lineup.
Bernard Pollard—How will Pollard hold up in coverage?
Nobody questions Pollard's run-stuffing prowess, but he can be beat in coverage.
The Ravens already have a gambler in Ed Reed, so they need Pollard to exhibit the solid coverage he displayed for most of last year.
Christian Thompson—Will Thompson solidify his role as Reed's heir?
The Ravens surprised a lot of people when they selected Christian Thompson in the fourth round. They picked him because of his upside, so they will be expecting him to become a starter some day.
How he looks in the preseason will help Ravens' fans get a feel for whether or not Thompson is up to the task.
Emmanuel Cook—How does Cook fit in with the Ravens' plans?
Emmanuel Cook has actually been receiving some first team reps, so he clearly has a role with the Ravens. Whether or not he will play in regular-season action remains to be seen, however.
Sean Considine—Will his special teams play be enough to make the team?
Sean Considine doesn't excel as a defender, but he is an elite special-teamer. He will need to prove that his special teams play is enough to warrant a roster spot.
Specialists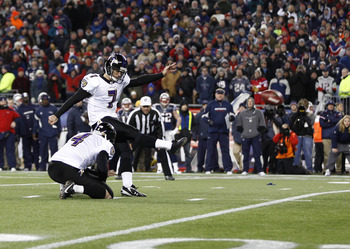 Mark L. Baer-US PRESSWIRE
Billy Cundiff—Can Cundiff put last year behind him?
Lost in the clamor over Billy Cundiff's key miss in the AFC Championship Game was the fact that Cundiff struggled throughout 2011.
He will need to put those struggles behind him to make the team.
Justin Tucker—Can Tucker do enough to beat out Cundiff?
Justin Tucker is working against all odds to take down Cundiff. The Ravens had no intention of making Tucker the starter, but he is forcing their hand with a tremendous camp.
Sam Koch—Can Koch defend his cornhole title?
Sam Koch, the Ravens' defending cornhole champion, will look to defend his title yet again this season.
Seriously, his punting will be as steady as ever. Barring injury, Koch will be his normal solid self.
Morgan Cox—How are Cox's snaps?
Morgan Cox is a great long snapper and, barring injury, should be fine this season. There are no real questions surrounding him.
Keep Reading

Baltimore Ravens: Like this team?