USA vs. Canada Women's Soccer: Epic Battle Was One of the Best Games Ever
Use your ← → (arrow) keys to browse more stories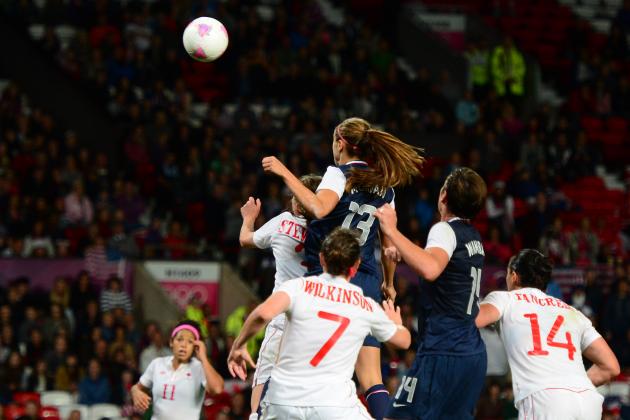 Mark J. Rebilas-US PRESSWIRE
Alex Morgan scores the game-winner of an epic battle.
The United States defeated Canada 4-3 on Monday after 122-plus minutes of thrilling, epic soccer in the semifinals of the women's soccer tournament at the 2012 London Summer Olympics. The United States will now face Japan, who beat France 2-1 in the other semifinal. The match will be for the gold medal, and will be a rematch of the 2011 FIFA Women's World Cup won by Japan 3-2 in a shootout.
For soccer non-believers, the words thrilling and epic shouldn't be in the same sentence together. But, even if you are completely unmoved by soccer, you had to be captivated by this battle at Old Trafford stadium.
It featured great athletes making fantastic, clutch plays in the most crucial moments.
It featured a battle with ebbs and flows of momentum, ups and downs of emotion and demonstrations of incredible will, resolve and durability.
Studio announcer Liam McHugh said during highlights of the game on the NBC Sports Network that the game was "an instant classic soccer game," and "without a doubt one of the highlights of these entire Olympic Games."
I think you could take that one step further and say that it could have been one of the best games ever played. Men. Women. Super Bowls. World Series. Stanley Cups. You can put this game up against all of these staples of American sports, and you could make a great case that U.S.A vs. Canada stacks up against, and maybe even surpasses, the most exciting games ever played.
Admittedly, prior to the match, my knowledge of the players on the teams boiled down to Hope Solo, Alex Morgan and Abby Wambach.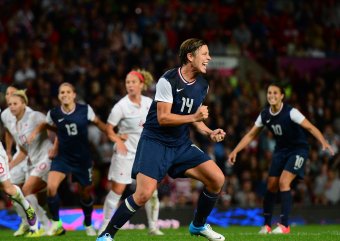 Mark J. Rebilas-US PRESSWIRE
After this match, there are plenty more that I know, and that I will follow post-Olympics.
One of those—from team Canada—is Canada's star forward Christine Sinclair. Despite being on the losing team, Sinclair was easily the best player on the field during this match. Sinclair tallied a hat trick, and displayed ridiculous skill with the ball and in the air in while notching her three goals.
The 29-year-old captain of Canada opened up the scoring in the 22nd minute after receiving a cross by Melissa Tancredi. Sinclair received the pass, eluded two American defenders, slid to the middle of the penalty box just outside the goalie box and beat defenseless U.S.A. goalie Hope Solo for a 1-0 Canada lead.
Team USA's best player on the day, Megan Rapinoe, notched the score at 1-1 when she curled in a corner kick just inside the near post that wiggled just past a Canadian defender and goalkeeper Erin McLeod.
Canada regained the lead in the 67th minute on a Sinclair header just outside the goalie box after a another great feed from Tancredi. Sinclair's shot barely beat Solo just inside the post to Solo's right.
Three minutes later, Rapinoe again tied the tight affair at two with a booming blast from just outside the penalty box that hit the goal post to McLeod's right, and caromed over the line and to the other side of the net.
Mark J. Rebilas-US PRESSWIRE
The precise shot was typical of the goals on the afternoon. Five of the six tallies either glanced off a side post or crossbar, were just inside the goal posts or just under the crossbar.
Sinclair was not to be denied on the afternoon, however, and again retrieved the lead in the 73rd minute after another header, this time on a corner kick from Sophie Schmidt. Her third goal of the day put Canada ahead 3-2
U.S.A.'s third game-tying goal would come as a result of some questionable officiating.
Three minutes after Sinclair's third goal, Canada's goalkeeper McLeod was called for holding the ball for more than six seconds which awarded Team USA an indirect free kick.
It was a call that U.S. coach Pia Sundhage said she had never seen before as reported by the Associated Press via ESPN.com.
Rapinoe took the kick and fired a shot that glanced off the arm of Marie-Eve Nault. Nault was penalized for a hand-ball, thus awarding a questionable penalty kick to the U.S.
Abby Wambach capitalized on the opportunity, and just beat McLeod who had guessed correctly on which side the shot would go. The shot, however, still squeaked just past McLeod's right and inside the goal post to notch the game at 3-3.
As reported by the Associated Press, McLeod expressed her disappointment with the calls. She said:
I think the referee was very one-sided. It was an interesting sequence of events. I think we outplayed the Americans the entire game. I think it's unfortunate the calls went the way that they did. Of course, the Americans are a great soccer team, and today we were better, and the luck went their way.
It's hard to argue McLeod's take on this. The calls that led to the game-tying call were very questionable, and it's unfortunate that the officials decided to take center stage at such a crucial moment in the game.The call on McLeod didn't need to be made, and it appeared that the hand-ball by Nault was unintentional in an effort to protect herself.
In the two 15-minute extra periods, the United States seemed to have the better chances, and a little more energy against a visibly exhausted Canadian squad. Wambach nearly put in the potential game-winner in the 119th minute off a header that hit the crossbar after being slightly deflected off the hand of McLeod on a great save.
After 90 minutes of play in regular time, 30 minutes of play in extra time and at the very end of the three minutes of injury time, Heather O'Reilly made a great feed from inside the right sideline to Alex Morgan, only six yards in front of McLeod.
Morgan out-leaped defenders and deflected an arching header just inside the cross bar, beating McLeod and sending Team USA into a passionate celebration and Team Canada into deep disbelief and disappointment.
How would you evaluate this game?
In an interview with Michele Tafoya on NBC Sports Network after the incredible struggle, Wambach said she was just happy Morgan "figured out how to use her head." In the same interview, Wambach said she told Morgan, in the middle of a celebration scrum, that "she was in love with her."
It was an absolutely incredible game with great players making great plays. Here are my three stars of the game with a few that deserve honorable mention.
Third Star: Alex Morgan
Morgan scored the game-winner, and was dangerous in creating scoring opportunities with her speed down the wings. She wasn't the best player on the field, but she came up huge when it counted.
Second Star: Megan Rapinoe
If it weren't for someone named Sinclair, Rapinoe was the best player on the pitch. She was very strong on the ball, and was great at maintaining possession. Her corner kicks were dangerous, and one went directly in thanks to a tangle of Canadian bodies. Her second goal was a thing of beauty, an absolute rocket off her right foot that stunned team Canada.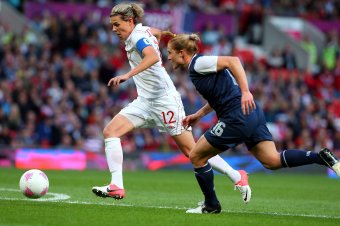 Stanley Chou/Getty Images
First Star: Christine Sinclair
Sinclair showed why she is the current and seven-time Canadian Soccer Player of the Year, and why she has been a five-time nominee as FIFA's World Player of the Year. Sinclair showed world-class skill on her first goal, and showed dominance in the air on headers on her second and third tallies. Sinclair showed serious intensity and desire to win throughout the match.
Honorable Mention: Abby Wambach
Wambach scored the controversial tying goal, and narrowly missed with a header of her own just before Morgan's game-winner. She showed her typical intensity and was a physical force to deal with for Canadian defenders.
Honorable Mention: Melissa Tancredi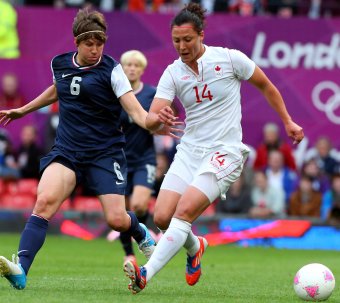 Stanley Chou/Getty Images
Tancredi, Wambaugh's physical counterpart for Team Canada, dished sweet passes to Sinclair for two of Sinclair's goals, and was the physical force for Canada. Most notable was a very sneaky forearm shiver late in the contest that leveled a U.S. player and would have made Troy Polamalu proud.
Summary
It is a overused maxim in sport that says, "There was no loser in this game." This saying is appropriate for this game. Both teams gave it their all, and it really is true that there was no loser. The United States deserved to win this game, but team Canada, without question, did too.
Soccer naysayers, if you get a chance to see this game on replays, tune in to watch an amazing war. You will not be disappointed. This was truly one of the best games I have ever seen.