NASCAR Sprint Cup: 5 Good, 5 Bad at Pocono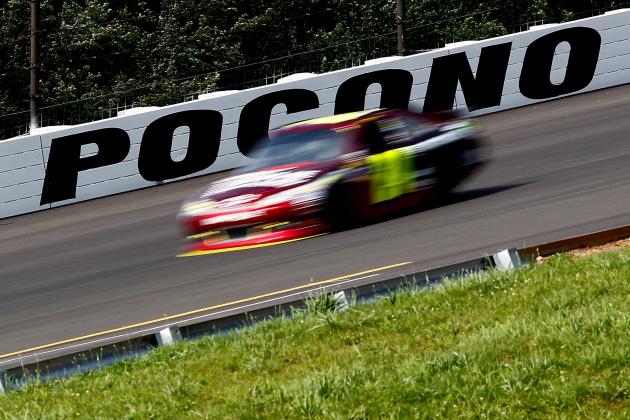 Jeff Zelevansky/Getty Images
The boys of NASCAR took to the tricky triangle in the Poconos this week
The boys of NASCAR took to the tricky triangle in the Pocono mountains this weekend for the Pennsylvania 500 at Pocono Raceway.
Several drivers had a good week as one former champion got back on track and put himself in contention for a Chase Wild Card spot.
Others continued to make ground and put themselves in a good position to make NASCAR's "postseason" as well.
Unfortunately, Pocono brought dark clouds over many others.
One driver fall out of a Wild Card spot and another fall further away from Chase contention. Outside the speedway, tragedy struck as well.
Who was good and who was bad Sunday at Pocono? We've got you covered!
Begin Slideshow

»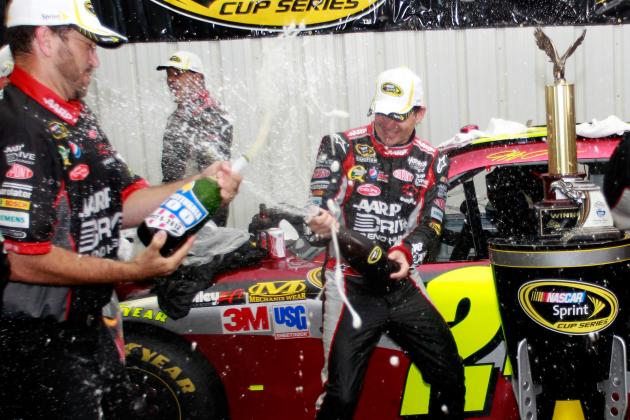 Geoff Burke/Getty Images
Jeff Gordon got to celebrate for the first time in 2012 at Pocono
Sometimes, things just work out.
Up until Sunday's race at Pocono, things hadn't worked out too well for Jeff Gordon.
Driver No. 24 experienced bad luck for much of the first half of the 2012 Sprint Cup season, but, lately, things have been turning around for Gordon.
When the rains came down on him and the rest of the Pennsylvania 400 field, it was Gordon who's luck finally started looking up.
Gordon went from sixth to first on the restart just prior to the thunderstorm that ended Sunday's race—his first win of the 2012 Sprint Cup Series season.
Gordon has finished sixth or better in five of the last six races. He now holds the second and final Wild Card spot by virtue of a tiebreaker over Ryan Newman.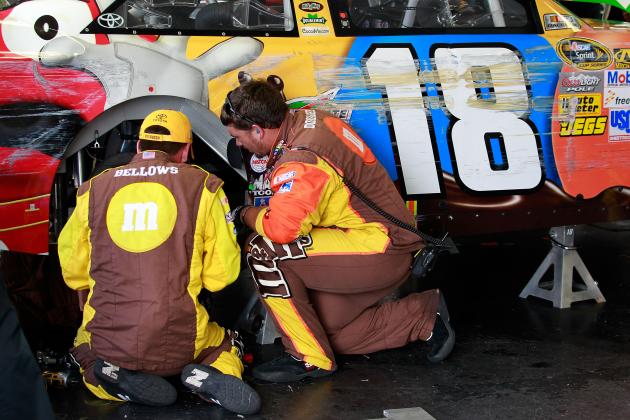 Geoff Burke/Getty Images
Kyle Busch's car and Chase hopes took a hit at Pocono
As Gordon's luck goes up, Kyle Busch's continues to go down.
Busch took a big hit in the standings on Sunday after a flat tire sent his No. 18 car into the Turn 1 fence just 19 laps into the event.
Busch went on to finish in 33rd.
Sunday's result marks the fifth time in the last nine races that Kyle has finished outside the top 20, and the seventh time during that span he has finished outside the top 10.
Things don't look good for Busch right now as he sits 15th in the standings, 12 points out of a Wild Card spot.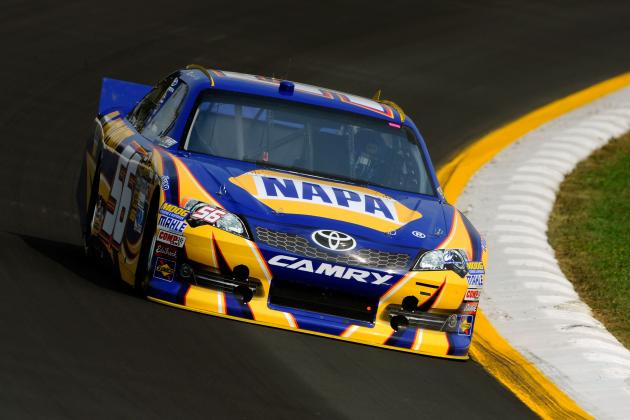 Jared C. Tilton/Getty Images
Martin Truex Jr. notched another impressive finish Sunday at Pocono
If Martin Truex Jr. needed any additional insurance to secure a Chase spot, he earned it at Pocono.
Truex essentially assured himself a spot in NASCAR's version of the playoffs by posting a third-place finish on Sunday, marking his second top-10 finish in a row.
The effort was Truex's best since a runner-up placing at Kansas back in April and catapulted Truex to fifth in the standings.
Truex now has a 72-point gap over 11th-place Kasey Kahne, which should be just about enough to lock him in as one of the 12 championship contenders.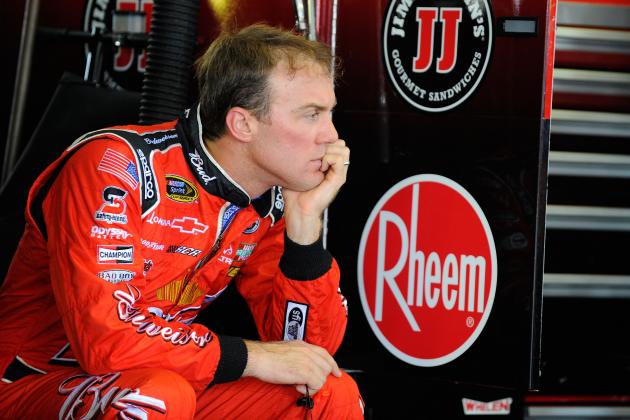 Jared C. Tilton/Getty Images
Kevin Harvick has dropped close to the Chase bubble spot
It's not panic time for Kevin Harvick. At least, not yet.
Harvick put together an uninspired 17th-place finish at Pocono after being a non-factor all afternoon.
All-in-all, the result wasn't terrible. But where he dropped to in the standings may raise a few eyebrows: Harvick now sits ninth after dropping a pair of rungs at Pocono.
He's just two points ahead of 10th-place Clint Bowyer, but does hold a 59-point lead over 11th-place Kasey Kahne.
Harvick likely has enough breathing room to not worry about missing the Chase.
But with no wins on the season and a bad result in the next few weeks, Harvick may start biting his nails.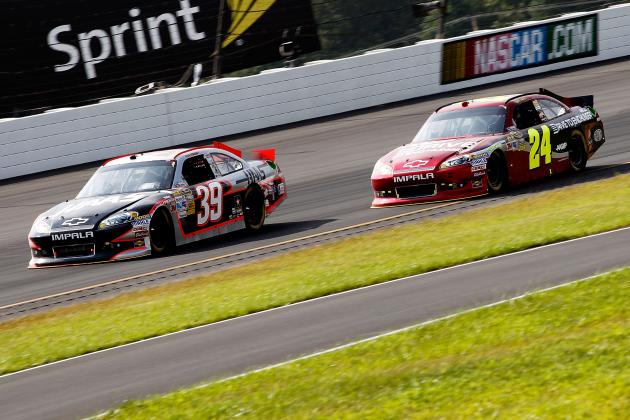 Jeff Zelevansky/Getty Images
Ryan Newman continues to factor into the Chase Wild Card race
Championships are often determined by who makes the fewest mistakes.
Lately, Ryan Newman has made very few mistakes and it shows in the standings.
Rocketman posted a sixth-place finish Sunday at Pocono, marking his fourth-consecutive top-10 finish.
As contenders such as Kyle Busch and Joey Logano have begun to fall by the wayside, Newman has been unbelievably consistent as of late and continues to factor into the Chase Wild Card race.
Newman sits in a tie with Jeff Gordon for the final Wild Card spot, but if he keeps up his recent run he may just edge out the four-time champ.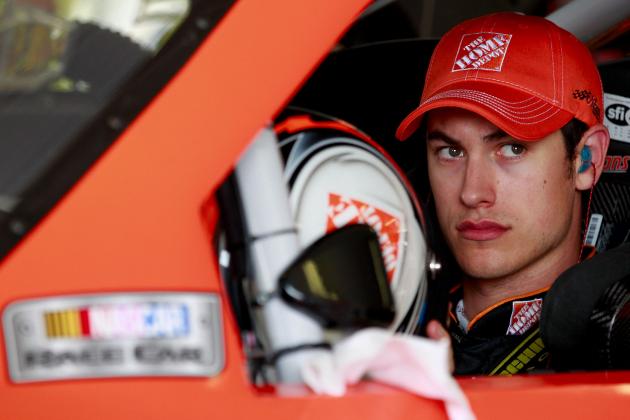 Geoff Burke/Getty Images
Joey Logano all but fell out of Chase contention at Pocono
13th place isn't a terrible result.
That is until you consider that the driver who finished 13th is the same driver who won the race in dominating fashion the last time he was at Pocono in June.
Joey Logano did not factor into Sunday's race at all.
In fact, Logano's 13th-place effort was actually better than where he ran all afternoon, which was about 20th.
For a driver who needs a win to have a shot at making the Chase, Logano squandered his best chance on Sunday and may have just fallen out of Chase contention altogether.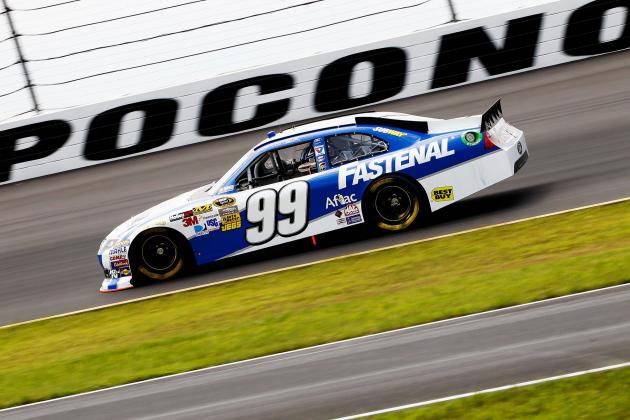 Jeff Zelevansky/Getty Images
Carl Edwards stayed on the Chase map at Pocono
He needs a win, but Carl Edwards' seventh-place finish on Sunday kept the 2011 Sprint Cup runner-up on the Chase map.
Edwards was actually lucky to get out of Pocono with a top-10 finish.
Driver No. 99 suffered a myriad of problems on Sunday, including a broken oil pressure gauge at the beginning of the race.
Still, Edwards soldiered on for his tenth top-10 finish of 2012 and held station at 12th in the standings.
Edwards still needs to win a race or two to make the Chase, but with four of his best tracks—Michigan, Bristol, Atlanta, Richmond—marking the final stretch run to the "postseason," staying in touch with the rest of the Wild Card field is the best thing to do.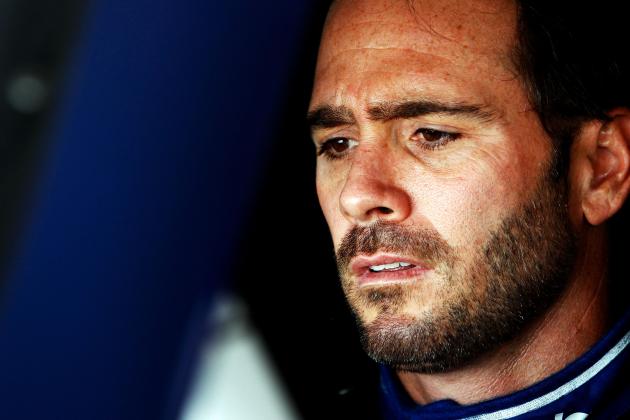 Jeff Zelevansky/Getty Images
J.J. made a few enemies in the closing laps at Pocono
Jimmie Johnson had the best car Sunday at Pocono but finished 14th.
The reason for the poor finish was an ill-timed slip-up on what would be the race's final restart.
Johnson restarted in the lead, but when he got to Turn 1 his car jumped sideways and he slid up into Matt Kenseth, who then hit the wall and was T-boned by Denny Hamlin.
The accident left Kenseth, Hamlin and Greg Biffle, who was also involved, very displeased as all three drivers finished outside the top-10.
Johnson later claimed that the wreck was caused by a flat tire, though I'm sure that matters very little to the other three.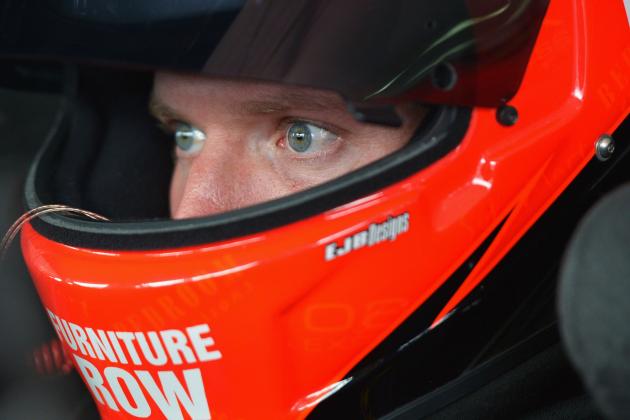 Drew Hallowell/Getty Images
Regan Smith earned an impressive top 10 at Pocono
It's always fun to root for the little guys.
Over the last year-and-a-half, Regan Smith and the No. 78 Furniture Row team have become a sentimental favorite among many NASCAR fans.
On Sunday, Smith and Co. earned their first top-10 finish of the 2012 Sprint Cup Series season: a ninth-place effort at Pocono.
"Atta boy" to Smith and the entire Furniture Row organization. Hopefully, we'll see them up near the front again real soon.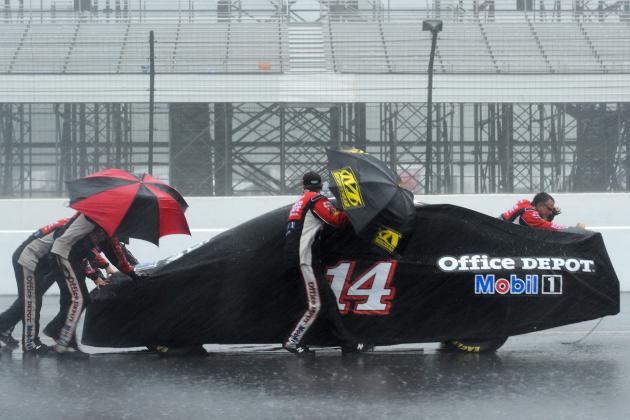 Jared C. Tilton/Getty Images
Weather played havoc at the Pocono Raceway
For the third time in 2012, weather played havoc with a NASCAR Sprint Cup Series race.
Unfortunately, this time it played havoc in a really big way.
The race was stopped for rain at Lap 98 and never resumed as Jeff Gordon was crowned the winner.
Severe thunderstorms pounded the Long Pond race track moments after the race was called. Tragedy struck with a bolt of lightning that injured 10 people and killed one.
Our thoughts and prayers are with the family and friends of the fan that was killed, as well as those who were injured.