Olympics 2012: 10 Most Surprising Moments of the Men's Football Tournament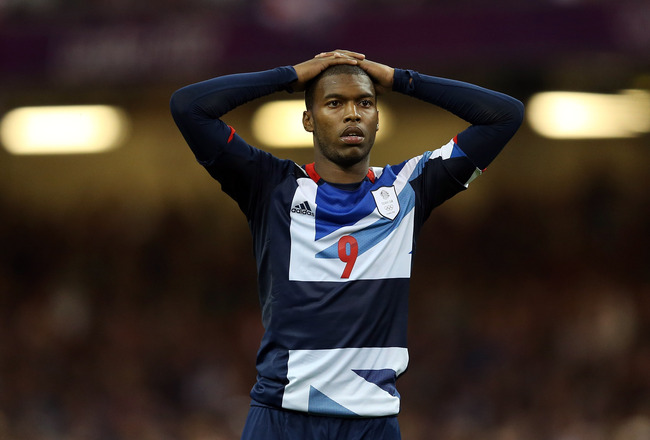 Julian Finney/Getty Images
Throughout the 2012 Olympics, there have been a lot of shocks and surprises on the way to tomorrow's final between Mexico and Brazil.
Eliminations, player exclusions from squads, penalty heartbreak, we've seen it all.
In no particular order, I'm going to look at 10 of the most surprising moments of the men's football tournament.
David Beckham's Exclusion from the Team GB Squad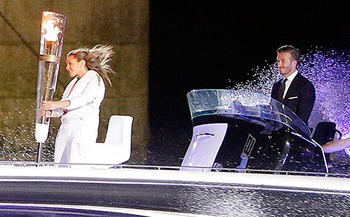 Image courtesy of usmagazine.com
David Beckham was someone who played as much a part as anybody in London being awarded the 2012 Olympic Games.
When the announcement was made in 2005, Beckham was still at the top of his game with Real Madrid.
I know that he moved to LA Galaxy in 2008 and, without being disrespectful to the MLS, the overall standard of football in America isn't as high as it is in Europe, but Beckham is still a tremendous footballer.
If he weren't, he wouldn't have had two loan spells at AC Milan.
I understand that he's a lot older than most of the players named in the squad, but Beckham didn't need to start every game, or even play in each game.
His experience playing at huge clubs like Manchester United, Real Madrid and AC Milan could have been the difference between success and failure.
It just seems such a shame that the closest thing Beckham got to appearing at the Olympics was a James Bond-esque speedboat ride down the Thames.
It's almost the final kick in the teeth for Beckham, who's done so much as a footballer and representative to serve his country.
Spain's Elimination from the Tournament
Stanley Chou/Getty Images
After winning Euro 2012, a lot of people, myself included, fancied Spain to cap off an excellent summer by winning gold at the Olympics.
It all ended in disaster as the Spanish crashed out of the tournament without scoring a single goal in their three matches.
The squad wasn't full of inexperienced, unfancied players.
Players with huge reputations were included in the squad, like David de Gea, Juan Mata and Cristian Tello, but for some reason, it just didn't happen for them at the Olympics.
I think that most of us are guilty of mistaking Spain with Barcelona.
The difference between the two is the sprinkling of South American genius from the likes of Sanchez, Alves, Mascherano and Messi.
Spain aren't the same as Barcelona, and I think that's where a lot of us get carried away sometimes.
Mexico Making the Final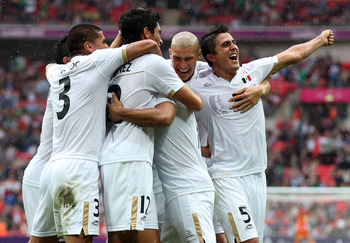 Julian Finney/Getty Images
I'm not being disrespectful, but I didn't think Mexico would reach the final of the tournament.
It isn't because I thought they weren't good enough, but because I thought either Spain or Team GB would make the final.
Spain because of their reputation and Team GB because of their home advantage.
In the end, neither of those teams were good enough, and Mexico have been the surprise package of the men's football tournament.
South Korea Making the Semi-Finals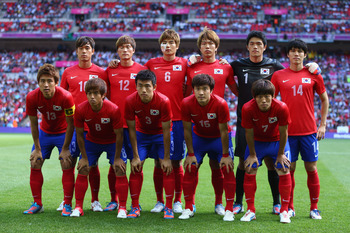 Michael Steele/Getty Images
I'd be lying if I said I thought that South Korea would make the latter stages of the tournament.
I just felt that, on paper, there were stronger teams ahead of them.
I'm glad I was wrong.
Their style of play was good to watch, they were strong defensively and scored goals when they needed to.
Although they ultimately came up short against Brazil in the semi-final, which is nothing to be ashamed of, the South Koreans impressed a lot of people at the Olympics.
Japan Making the Semi-Finals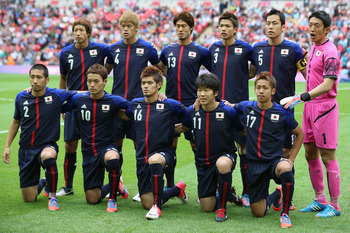 Jeff J Mitchell/Getty Images
Whether it's ignorance on my part or not, I don't know, but Japan didn't scream out to me as a potential semi-finalist in the men's football event.
However, a run of four undefeated games that included draws with Spain and Honduras, as well as wins over Egypt and Morocco, saw them reach the semi-finals.
I thought they'd have more of a chance against Mexico than South Korea did against Brazil, but again, it was just one match too far.
Their performance at the tournament was excellent and it shows how far the game has progressed in Asia that their national teams don't look out of place against the best in world football.
Team GB Getting Two Penalties in Their Quarter-Final Against South Korea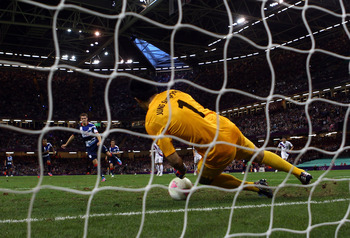 Julian Finney/Getty Images
It's very rare for a team to be awarded two penalty kicks in one match, but that's what happened in the quarter-final between Team GB and South Korea.
Arsenal's Aaron Ramsey took both kicks and had a 50 percent success rate, scoring one before the Korean keeper saved the other.
The Rise and Fall of Daniel Sturridge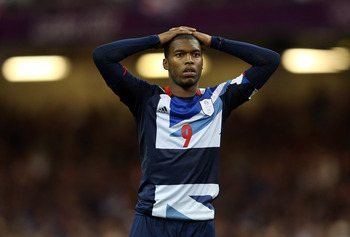 Julian Finney/Getty Images
The day after being named in the Team GB squad, Daniel Sturridge had to undergo treatment for a case of meningitis, which almost ruled him out of the tournament.
However, he overcame his illness, regained his fitness and scored two goals as Team GB comfortably made their way to the latter stages.
Football is a funny old game, and that was never more obvious than during the quarter-final between South Korea and Team GB.
After his heroics in the group stages, Sturridge was tasked with taking a decisive penalty kick in the shoot-out.
Unfortunately, he came up short and fluffed his lines, to become the latest in a long-line of shoot-out sinners for his country.
Leandro Damiao Outshining His Brazilian Team-Mates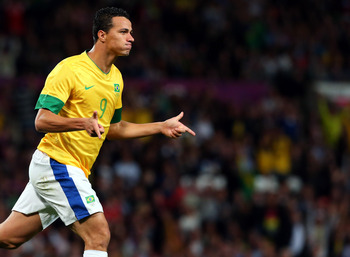 Stanley Chou/Getty Images
From the outside looking in, most people would have thought either Hulk, Alexandre Pato or Neymar would be the top Brazilian goal scorer in the men's football event heading into the final.
That's not been the case, as Leandro Damiao has set the tournament alight with a scintillating display of finishing.
I'm not going to pretend that I know a lot about Brazilian football because I don't, but from what I've seen of Damiao at the Olympics, he's going to attract interest from some of the world's biggest teams.
The Failure of the European Nations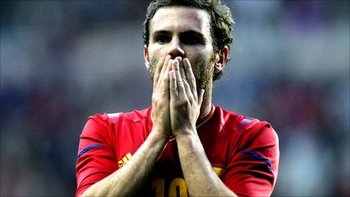 Image courtesy of www.bbc.co.uk
With the 2012 Olympics being based in London, you'd have thought that the European nations would have the advantage in terms of climate, time zones and experience.
That wasn't the case as the four European nations failed to shine on the Olympic stage.
Switzerland, Spain and Belarus all failed to get past the group stage and Team GB were knocked out in the quarter-finals.
Teams that have all had to acclimatise to the European culture all performed better than the Europeans, which is something that surprised me.
More Penalty Heartache for the British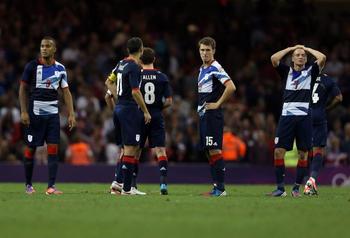 Image courtesy of talksport.co.uk
Over the years, British football teams, as well as the English national team, have suffered their fair share of penalty shoot-out heartache, and the same thing happened at the 2012 Olympics.
This summer alone, both the English national team and Team GB have been undefeated in normal play, but come unstuck in penalty shoot-outs.
It's also surprising when you look at how many left-footed players seem to miss penalties.
Whether it's pressure from the media or the fans, something has to change to stop the British from suffering heartbreaking defeats like these.
Keep Reading