A Training Camp Check-in on the Cleveland Browns' Rookies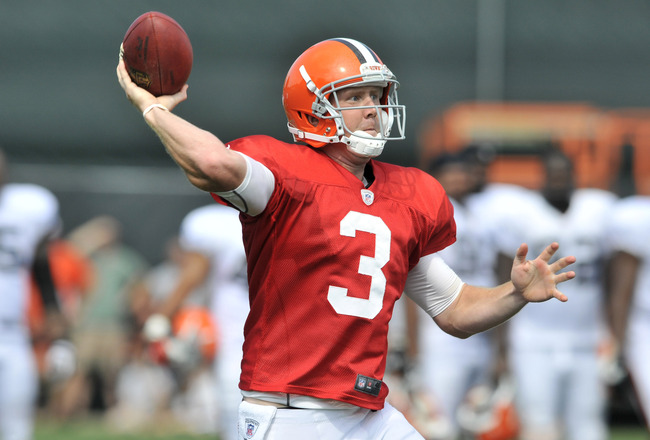 Brandon Weeden has just been named the Browns' starting QB.
David Richard-US PRESSWIRE
Cleveland Browns training camp is reaching its halfway point, so it's a good time to see how their 2012 draft class is faring.
Whose stock is rising and falling? Who has secured a starting job, and who will be lucky to earn himself a roster spot? Read on for the latest updates on the 11 rookies the Browns acquired via the draft.
RB Trent Richardson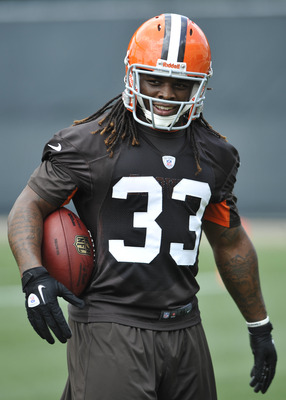 It's almost as though there's nothing Richardson can't do.
David Richard-US PRESSWIRE
In a surprise to no one, first-round pick Trent Richardson is as advertised. He's tough, can find the hole, make defenders miss—he's the entire package the Browns thought he was when they drafted him.
Richardson is going to play a major role in the Browns offense this year. More than a running back, he's a capable blocker for other backs and in the passing game, and is a solid receiver in his own right.
With a first-year quarterback under center, expect Richardson's workload to be quite heavy but also one that he can easily handle if his numbers from Alabama last year are any indication.
QB Brandon Weeden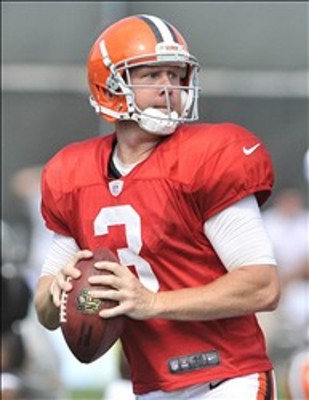 Brandon Weeden: starting quarterback.
David Richard-US PRESSWIRE
It was considered just a matter of time before the Browns formally announced rookie Brandon Weeden as their starting quarterback, and they did so on Monday, with head coach Pat Shurmur adding that "there's no looking back."
Like any rookie quarterback, there will be rough patches in Weeden's season. But he does possess traits that the Browns' other quarterbacks (Colt McCoy and Seneca Wallace) don't, such as leadership, maturity and a strong, accurate arm. Though Weeden will turn 29 in October, it's not an issue—he still could have 10 years in the league ahead of him.
Weeden has been aggressive in camp, trying for the longer, more difficult throws rather than consistently checking down. At the very least, this is an improvement over the situation they were in last season.
RT Mitchell Schwartz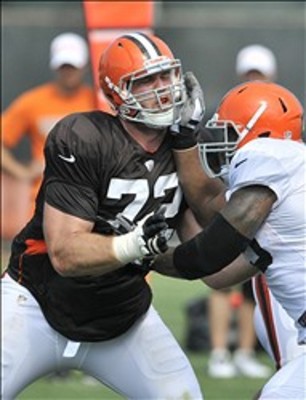 Three draft picks, three starters so far.
David Richard-US PRESSWIRE
In another unsurprising move, the Browns also announced Aug. 6 that second-round right tackle Mitchell Schwartz would be the starter in the team's first preseason game, scheduled for Aug. 10 against the Detroit Lions.
The Browns took Schwartz in anticipation that he'd be the starter immediately, and after splitting early camp reps with veteran Oniel Cousins, Schwartz has been exclusively working with the first team over the past few days.
The Browns need two major improvements on their offensive line—better run-blocking and better quarterback protection. Clearly the team thinks Schwartz can provide both, consistently, in his first season.
DT John Hughes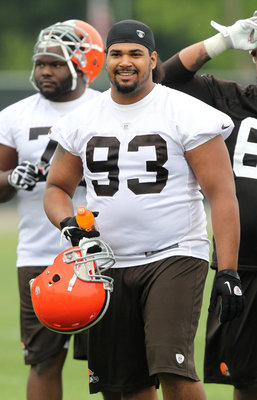 (Photo: John Kuntz, Cleveland Plain Dealer)
The Browns received some draft-day criticism for using a high third-round pick on defensive tackle John Hughes. Hughes was thought by some to have a suspect work ethic and very little overall upside.
However, in Hughes the Browns saw a good-sized run-stopper who could be developed into an eventual starter, and now that star defensive tackle Phil Taylor will miss at least part of the season, he's able to compete for that job as a rookie.
Of course, Hughes will have to beat out veterans Scott Paxson and Brian Schaefering as well as fellow rookie Billy Winn, but as of now, it appears as though a Winn-Hughes combo could end up being the solution while Taylor recovers from his torn pectoral.
WR Travis Benjamin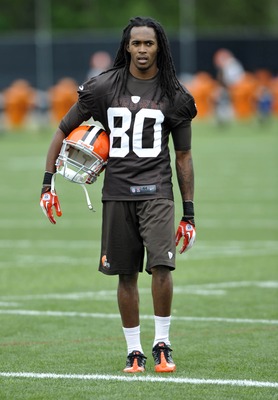 Travis Benjamin has used training camp to improve his hands.
David Richard-US PRESSWIRE
Travis Benjamin had a shaky start to his time with the Browns, being plagued by drops during OTAs and minicamps. Since then, however, he's been working on his timing and has been constantly improving during training camp.
Though Benjamin may not be a starter this year, head coach Pat Shurmur believes he'll get playing time once the regular season begins. Benjamin is a smaller receiver, but doesn't have any hesitation when targeted in traffic during practices, and that kind of tenacity and willingness to make the tough catch are but two of the reasons he's begun to stand out.
LB James-Michael Johnson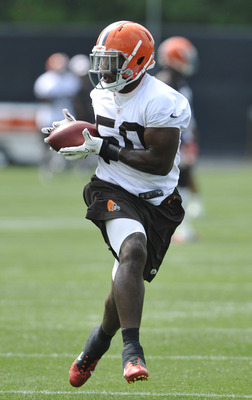 James-Michael Johnson will get a lot of playing time this season.
David Richard-US PRESSWIRE
When the Browns took linebacker James-Michael Johnson in the fourth round of the draft, it seemed that, at best, he'd be competing to start during the first three games of the season at the strong-side position belonging to Scott Fujita while Fujita served his New Orleans Saints bounty scandal-related suspension.
But now that weak-side starter Chris Gocong is out for the season with a torn Achilles' tendon, it looks like Johnson is the front-runner to take his spot for the year.
Johnson, like Gocong, is a capable run-stopper, even more so than veteran Kaluka Maiava, who is now projected to start in Fujita's spot. It's going to be quite the test for the rookie, but he's consistently been looking sharp since the team began practicing in pads and should do enough to earn himself that job in the coming weeks.
OG Ryan Miller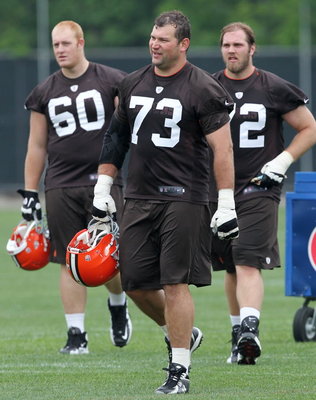 Miller (No. 60) is a second-teamer (Photo: John Kuntz/Plain Dealer).
Offensive guard Ryan Miller has spent most of camp with the second-team offense and isn't likely to get starting playing time this season unless injury dictates it is so.
Regardless, Miller does supply solid depth and has the requisite mean streak that coaches love in their offensive linemen. With time and development, he could be a useful starter for the Browns.
LB Emmanuel Acho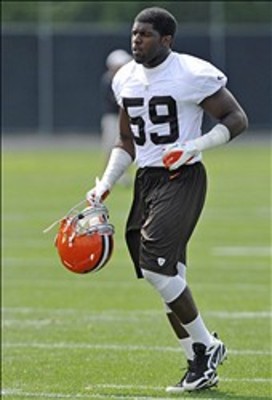 Emmanuel Acho should at least see situational work this year.
David Richard-US PRESSWIRE
James-Michael Johnson isn't the only rookie Browns linebacker who has turned some heads during training camp. Emmanuel Acho also has proven himself an effective outside backer and, as such, could be used in certain situations throughout the regular season.
Acho, a sixth-round pick, was practically a steal. However, he'll be more of a specialist for the Browns this year than an every-down player. His speed and his experience in coverage almost make him a lock in blitz, nickel and dime packages.
Acho does have a chance to beat out Kaluka Maiava for the starting job in the three games Scott Fujita is slated to miss; he's better on the strong side than the weak.
DT Billy Winn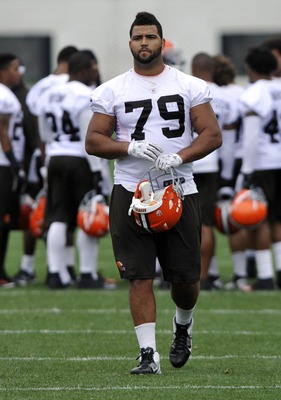 Can Billy Winn win time with the starters?
David Richard-US PRESSWIRE
Billy Winn is a versatile defensive lineman, which makes him highly valuable to a Browns defense that is trying to work out the best formula to both effectively get to the quarterback and stop the run.
Though veterans Scott Paxson and Brian Schaefering seem, on paper, to have a better chance to take over for the injured Phil Taylor while he's out, it seems even more likely that a combination of Winn and fellow rookie John Hughes as well as Paxson and Schaefering should fill in rotationally.
Winn is more of a pass-rusher, while the other three are better at run defense. This rotational, committee-style approach to the defensive line is already something that's been working with great success in Cincinnati, so the Browns also may flourish using this formula.
CB Trevin Wade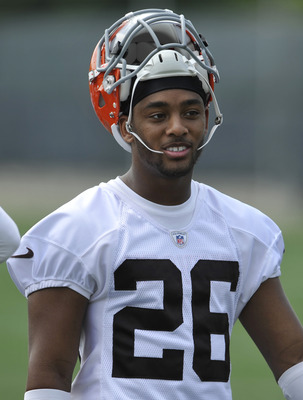 Trevin Wade has a lot to prove right now.
David Richard-US PRESSWIRE
Not much has been said about seventh-round pick Trevin Wade since the Browns selected him, considering it seemed like the starting cornerback jobs had been all but spoken for well before camp began.
While Joe Haden's in no danger of losing his starting spot, Sheldon Brown is close to being edged out. Though Dimitri Patterson or Buster Skrine have a better shot at winning the job than the rookie, Wade also is in the mix.
His seventh-round pedigree doesn't matter when it comes to playmaking ability. If the Browns keep five corners on the roster, one spot likely will be saved for Wade. That becomes doubly true if he can shine on special teams.
FB Brad Smelley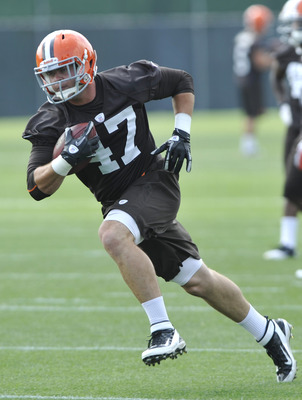 It's Smelley vs. Marecic at Browns' camp this year.
David Richard-US PRESSWIRE
No matter the team, it is always hard for a seventh-round pick to make the 53-man roster. The same can certainly be said for Browns fullback Brad Smelley, their final 2012 draft selection.
Smelley does have a lot going in his favor, however. He's extremely versatile, having played tight end, fullback and H-back in the past. He's done special teams work, knows how to block as well as catch passes and has even been working on his long-snapping at Browns camp.
Smelley has just one player in his way if he wants to make the roster—Owen Marecic, who doesn't have as much talent catching passes and who also suffered two concussions last season.
Though Nate Ulrich of the Akron Beacon-Journal doesn't think Smelley will supplant Marecic, the fact that he's so multi-talented and also has experience working with running back Trent Richardson (albeit not in a traditional fullback capacity as a blocker) does help him considerably. This is an under-the-radar camp battle to watch.
Keep Reading