Denver Broncos: Who Will Emerge as Denver's Top Receiver?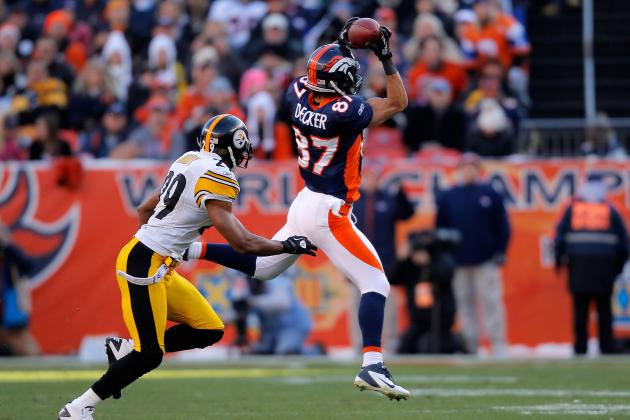 Justin Edmonds/Getty Images

The major story of the Denver Broncos' offseason has obviously been Peyton Manning. The quarterback has taken the majority of the headlines and will likely continue to do so throughout the season.

The key to success for the new quarterback will be largely on the shoulder of his receiving core. The top receivers the Broncos have are Eric Decker, Demaryius Thomas, Andre Caldwell and Brandon Stokley.

Who will step up and be Manning's go-to man? Lets look at these receivers and rank them. I'll also add my prediction for their statistics.
Begin Slideshow

»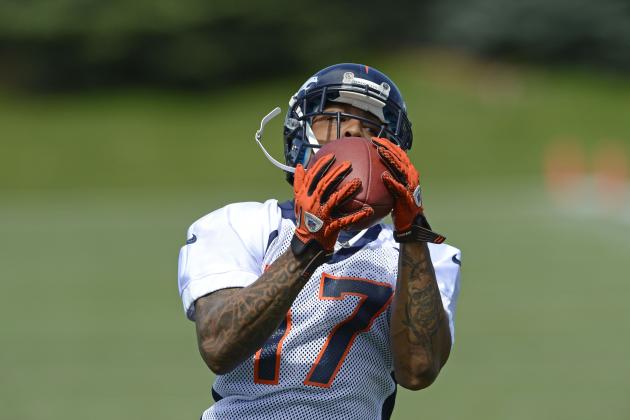 Ron Chenoy-US PRESSWIRE

Andre Caldwell is coming over from the Cincinnati Bengals. He played four seasons for the Bengals and has accumulated 1,172 yard over his career. Caldwell is stepping into a young receiving core and has a chance to play with one of the greatest quarterbacks in the history of the NFL.
According to denverbroncos.com, Caldwell is currently behind Eric Decker on the depth chart, but I expect a good amount of playing time for the young receiver.

Look for Caldwell to deliver in small ways with timely receptions. He most likely won't put up a 1,000-yard season but should be a solid target for Manning.
Stats: 40 catches, 450 yards, four touchdowns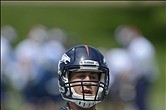 Ron Chenoy-US PRESSWIRE

Brandon Stokley was acquired by the Denver Broncos shortly after Peyton Manning signed with them. Stokley was a favorite target of Manning during his tenure with Indianapolis Colts.
Stokley, a 14th-year veteran, should expect a decent amount of playing time based on his familiarity with Manning.

After only playing two games with the New York Giants in 2011, rust may be a factor for the veteran. I predict a slow start for Stokley, but I think he will deliver solid play over the course of 2012. He also provides a veteran influence for the young Denver receivers.
Stats: 45 catches, 580 yards, five touchdowns
Ron Chenoy-US PRESSWIRE

By most accounts, Eric Decker had a breakout season for Denver in 2011. Decker was the main target for Tim Tebow. Decker ended 2011 with 44 receptions and 612 yards. He also added eight touchdowns.
With Manning under center, I predict these statistics will increase for the third-year player in 2012.
Decker has great size and speed, which is what every receiver needs. Look for him to be a deep threat and a consistent target on short yardage and third down situations.
Stats: 60 catches, 900 yards, 10 touchdowns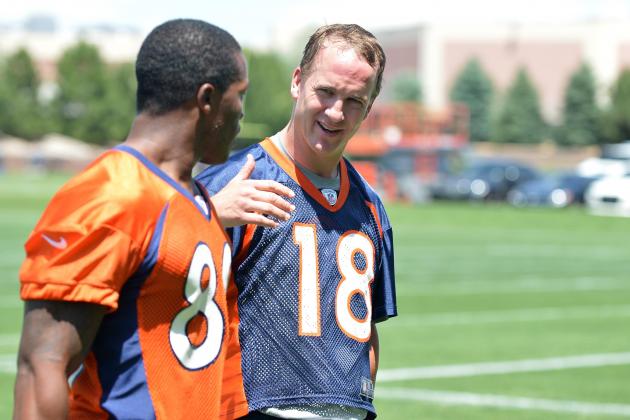 Ron Chenoy-US PRESSWIRE

In 2011, Demaryius Thomas, like Eric Decker, made a huge impact for the Denver Broncos.
Thomas showed the NFL world that he possess great talent and feel for the receiver position. In only 11 games, Thomas had 32 catches and racked up 551 yards with four touchdowns.

How good can he be with Manning and playing a full schedule?

I think he will exceed all expectations in 2012. I predict that the third-year pro Thomas will take a step towards being an elite receiver in the NFL. I think Manning will use Thomas as his top target and utilize Thomas' abilities to open up the passing game in Denver.
Stats: 70 receptions, 1,050 yards, 12 Touchdowns