Argentina vs. USA: Live Score, Stats & Recap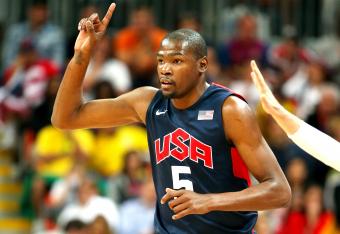 Despite coming out of the first half with a narrow one-point lead, Team USA once again found its stride and decided to play some defense.
On the back of a 42-17 third quarter, the United States went on to win 126-97 and secure an undefeated record in preliminary round play. Argentina, meanwhile, fell to 3-2 after losing this game and an earlier contest to France.
Kevin Durant led all scorers with 28 points and made eight of his 10 three-point attempts in the process. LeBron James added 18 points before taking a seat in the third quarter with four fouls, and Chris Paul added 17 points.
Manu Ginobili led Argentina with 16 points in just over 25 minutes of action.
While Argentina was red hot from beyond the arc early on, the United States' perimeter pressure showed up in the third quarter, and so did the game's tempo. From there, the game was a series of highlights and garbage time, just like most of Team USA's games in this tournament.
The United States will face off against Australia in the first elimination round, and Argentina meets Brazil.
Final Score: USA 126, Argentina 97
Thanks for following! The United States goes undefeated in preliminary play, and Argentina winds up 3-2 after losses to Team USA and France.
USA 120, Argentina 95 1:59 left 4th Q
In case you were wondering, Team USA will play Australia in the first elimination round. It probably won't be an especially close game, but never count out Patty Mills. This guy can shoot. The San Antonio Spurs were wise to bring him back.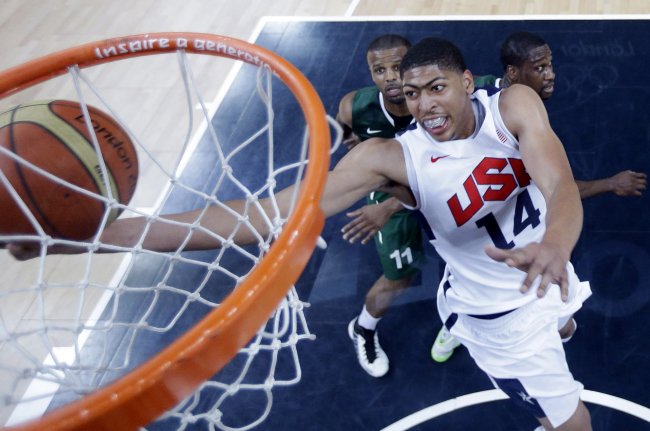 Pool/Getty Images
USA 116, Argentina 91 3:44 left 4th Q
Well, Davis almost got an alley-oop. Ended up more of just an oops.
He'll get it next time.
USA 116, Argentina 89 4:25 left 4th Q
It didn't take Anthony Davis long to get a block. This guy is going to turn the Hornets around in short order. It's hard to understand why Eric Gordon wanted out of New Orleans so bad. Just give this team another year or two.
Davis is a beast. What do you bet we see him throw down an alley-opp before this game is over?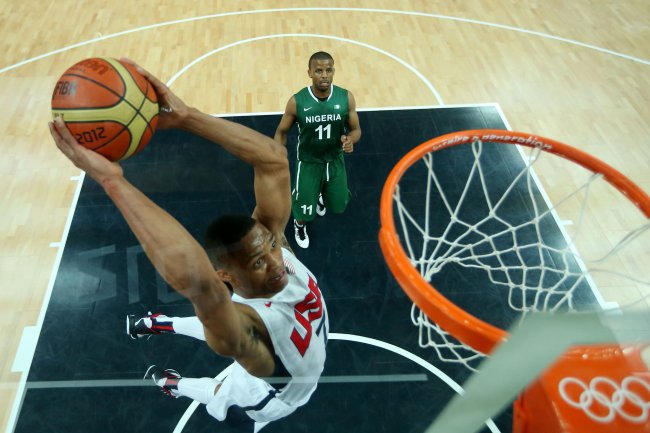 Christian Petersen/Getty Images
USA 107, Argentina 83 7:48 left 4th Q
So much for a close game. At least we had a close half.
Maybe if Coach K ran a few more isolations for Kobe, we'd have a closer contest. That third-quarter ball movement put this one out of reach though.
By the way, is there anything more exciting to watch than a Russell Westbrook dunk? This guy is fearless. He doesn't care who's in front of him.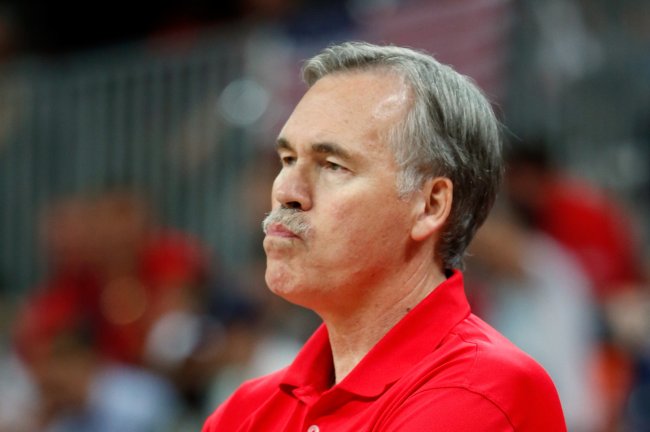 Jamie Squire/Getty Images
USA 105, Argentina 78 9:09 left 4th Q
If you're wondering why Team USA goes for such long stretches without playing any defense, it's worth remembering Mike D'Antoni IS on the bench in an assistant capacity. His presence alone has to make the defense soften up.
USA 102, Argentina 76 End of 3rd Q
KD is doing his best Carmelo impersonation tonight. He already has 28 points and eight threes.
That third quarter wasn't even close. Team USA always seems to find a run in them, and they sure did just now.
Apparently, Facundo Campazzo hit Carmelo in the stomach on his way back down the court after a made three. Bizarre. There's feisty, and then there's bushleague.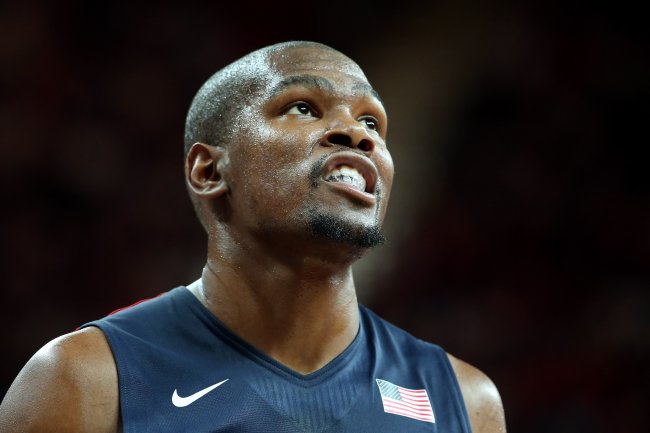 Christian Petersen/Getty Images
And just like that, the lead is up to 19.
Sure is nice to have Kevin Durant on your team. He just hit back-to-back treys, and the second one was well beyond the NBA arc.
A 17-point lead is now just 11. The US leads 85-74 with under 3 minutes to go in the 3rd.
James has to sit down with four fouls.
Fortunately, there are a few other All-Stars on this team who should be able to make up the difference.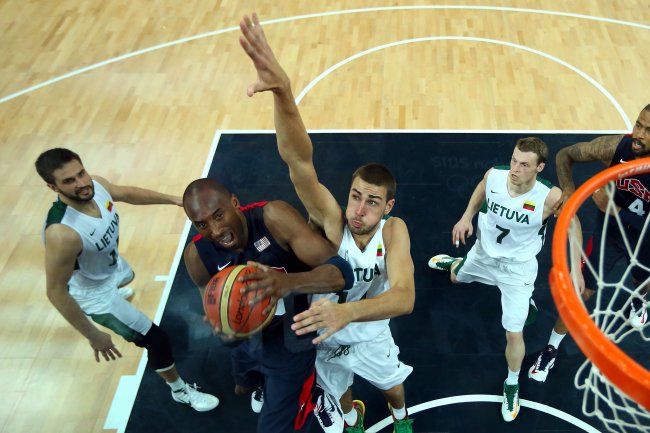 Christian Petersen/Getty Images
That's the second time Kobe has pushed the pace only to ram into the paint and look for his own shot. It's actually getting a little awkward. He's the guy you never want on your team for a pick-up game. You'd think he was on the floor with L.A.'s bench right now.
Give up the rock!
LeBron now has 18 points and five assists.
And plenty of style points after that pass to KD on the break. That's USA basketball at its finest.
Team USA looks to be getting back on track. They have a 73-66 lead 6:33 left in the third.
This is an important sequence. The game could either get out of hand for Argentina, but if they hit a couple of threes, they're right back in it.
There ya go Tyson Chandler.
I'd like to see some more of Anthony Davis. He's done nothing good things every opportunity he's had. It might send a message to the vets, too. Play some D!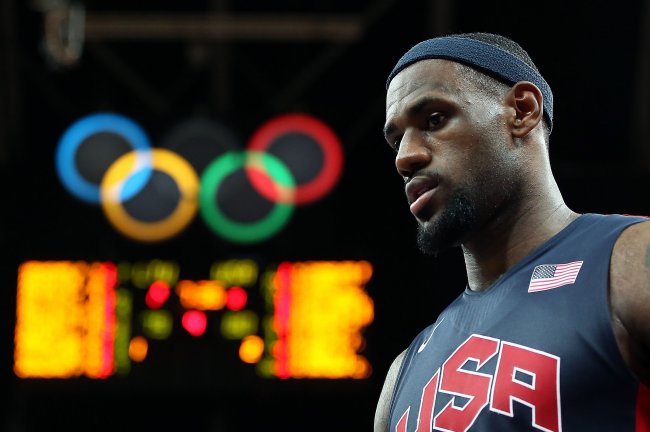 Christian Petersen/Getty Images
Seven points for LeBron already. That's a good sign. The even better sign is that we're starting to move the ball around.
The second half is underway. We're all tied up with less than a minute gone.
Time to highlight some of your comments...
Bobby Pheonix writes, "Kobe needs to be benched, he's an all time great but he's not helping anything at the moment, on both sides."
To which, TA AD responds, "Can't bench Kobe. He dropped 81 back in 2006."
So hilarious, yet so true.
Also, Cj Huff writes, "Does the Dream Team know that defense is part of the game? Argentina is driving at will and getting most of their points in the paint."
I have a feeling Coach K will be talking about that at halftime. The defense has been embarrassing. They need to get Lindsay Whalen on the floor.
So technically speaking, this game won't really mean much to Team USA. But the bigger question is what it means to this team's confidence. The United States isn't supposed to lose.
Ever.
This could be a blow to their sense of invincibility. Even if they win, two consecutive close games would be more than a little disconcerting.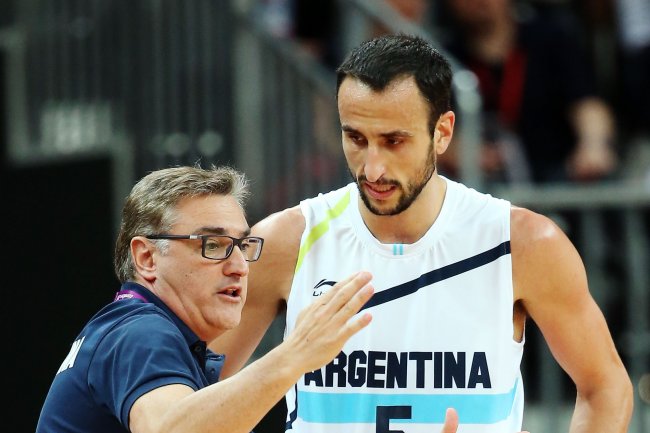 Christian Petersen/Getty Images
Team USA leads by just ONE point at halftime. They're ahead 60-59 in a game with little to no defense being played.
Looks like we won't be seeing an 83-point blowout this time. Argentina came ready to play, as we've come to expect from them. Ginobili has 14 points, four rebounds and three assists.
Chris Paul leads Team USA with 14. Durant has 11 and LeBron has 9.
Too bad Team USA forgot how to play defense... Argentina has 57 points in this half! Yikes.
Make that 14 points and 4 treys for Paul. He's lighting it up.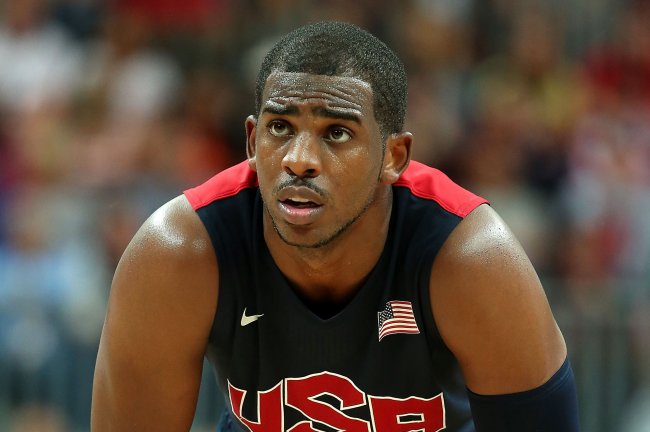 Christian Petersen/Getty Images
OK, looks like Chris Paul checked B/R and heard I said Deron was showing him up. Paul now has three treys and nine points.
He's given the United States a four-point lead with 2:30 left to go in the half.
And right on cue, Kobe posts up against Manu and forces a shot. There have to be better looks than that one. Someone should let Kobe know who else is on his team. If they're indeed good enough to beat the '92 Dream Team, they might be worth passing to.
That's at least the second time Kobe's gotten the ball and NO ONE on his team moves. It's like he's on the Lakers all over again.
As Doug Collins has noted a couple of times now, Team USA hasn't extended the lead at all with Argentina's starters on the bench. In fact, Manu is entering a tied game with 5:13 remaining in the half.
Didn't see this coming...
This article is
What is the duplicate article?
Why is this article offensive?
Where is this article plagiarized from?
Why is this article poorly edited?