Which Is Greater, Kobe Bryant's Past or LeBron James' Future?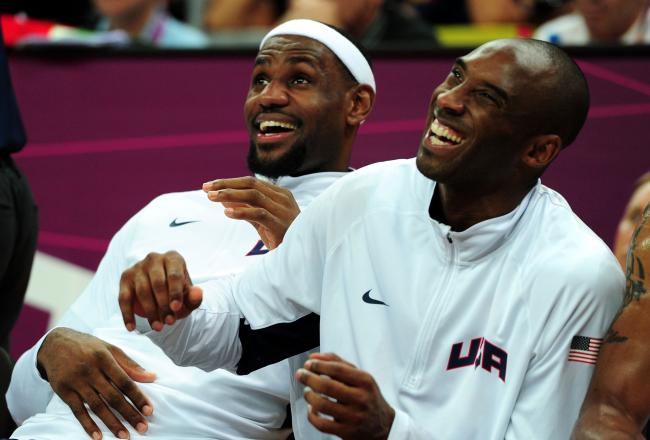 Mike Hewitt/Getty Images
It's never easy to compare careers, because there isn't just one measure of success.
We can, however, say this about what Kobe Bryant has done and what LeBron James will continue to do.
In terms of individual accolades and achievements, chances are that LeBron will come out on top. In terms of titles, Bryant will almost certainly have the edge. In fact, he may not be finished racking those up now that Steve Nash has joined the fray in Los Angeles.
Those blinded by a season of dominant play will protest and quickly remind us that no one can stop the Miami Heat.
However, they forget just how difficult it is to sustain a dynasty. They forget that the first of what they imagine to be many rings came within an Eastern Conference Finals Game 7 of not even happening.
They forget that, even if James is the best player in the world, his supporting cast is both overrated and on the decline. Perhaps they have what it takes to win another title or two, but it's hard to see this group winning four more.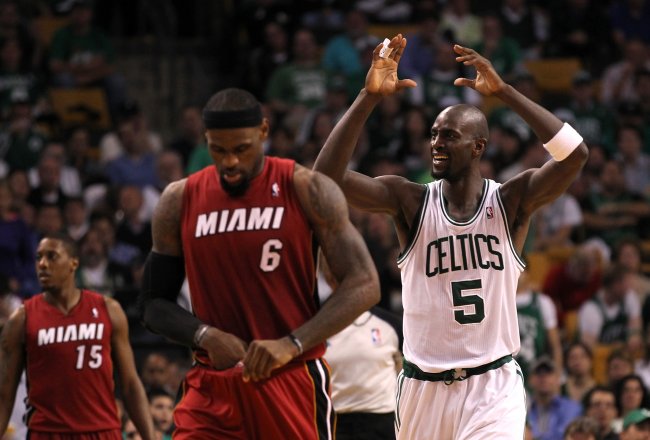 Jim Rogash/Getty Images
Of course, there's nothing stopping the front office from creatively reloading as the Lakers have done over the course of the last decade, but that's not easy.
And, nor is it ever a sure thing to produce another round of championships.
LeBron James will probably never play with a frontline as good as the one currently in Los Angeles, and it goes without saying he'll never have the opportunity to play with a big man as dominant as Shaquille O'Neal was in his prime.
The version that showed up in Cleveland doesn't count.
None of that should detract from what LeBron has done and will do as an individual. Though the ring may not be as plentiful as he'd like, he's already more multidimensional than Bryant ever was.
That's saying something, too. It's not as if Kobe was ever just a scorer.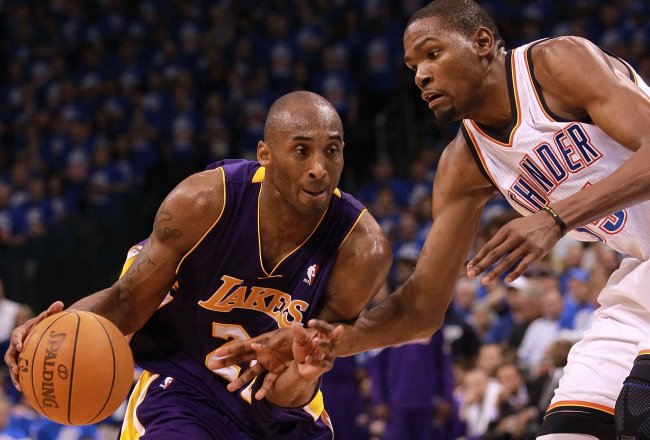 Ronald Martinez/Getty Images
But he never had the size and rebounding ability that allow James to be so effective at both forward positions. He never had the floor vision and passing instincts that make James a floor general at any position.
You could make a good argument for Bryant's defensive ability in his prime. There's a reason he was selected to the All-NBA Defensive First Team nine times, after all. Still, James has already been selected to that same team four times, and it would be somewhat shocking if he weren't a fixture for the foreseeable future.
There is at least one respect in which Bryant could wind up having the better career on an individual level. He's a much better shooter, and it's that shooting ability that's made him such a dangerous weapon even as his athletic ability loses something to age.
It's uncertain that James will be so lucky. Will be remain so versatile and productive when he's 33?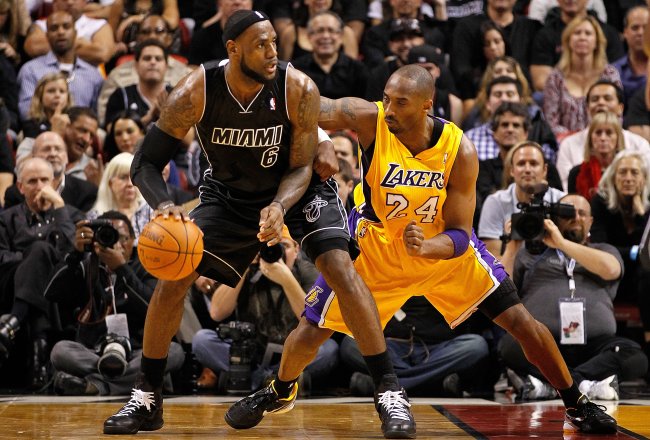 Mike Ehrmann/Getty Images
Maybe.
If not, though, Bryant may have the edge both in terms of his team's success and his personal success. He'll certainly benefit from playing out his career with the Lakers rather than pursuing rings with a mid-career change of scenery.
For all the accomplishments that will define James, he'll also be remembered as another big name who needed to form a superteam to have a chance at a title. He'll also be remembered as one of the few big names in Miami's comparatively short and undistinguished franchise history.
Kobe will instead be remembered as one of the all-time greats on one of the league's most iconic franchises. However they compare on paper, we know how they'll compare in historical terms.
This article is
What is the duplicate article?
Why is this article offensive?
Where is this article plagiarized from?
Why is this article poorly edited?