The Top 10 Heavyweights in MMA: B/R Official MMA Rankings for August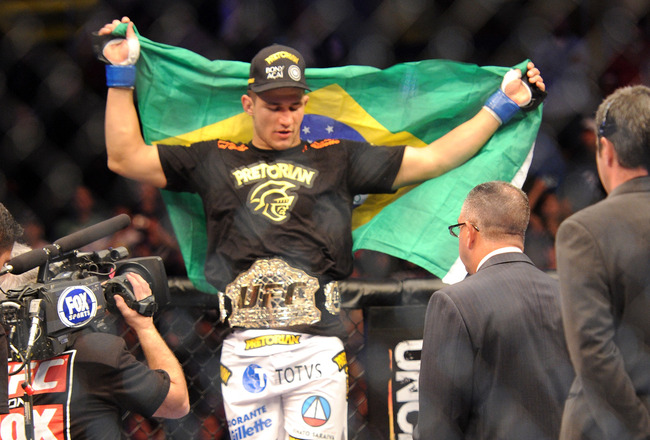 Jason Merritt/Getty Images
Ah, the heavyweights. The biggest, baddest men on the planet, without exception. Athletes at the pinnacle of this division can walk through this world with an air of invincibility.
And with good reason—no one will mess with a heavyweight fighter..
With the division the most stacked it's been in MMA history, the following rankings contain some of the highest caliber athletes you'll find in any sport.
However, July has been a quiet month for the heavyweights. Strikerforce's marquee tournament concluded in May and the finalists await their next matches for the promotion. UFC 146 came and went in the same month and, despite suspensions and injuries, delivered the best all-heavyweight fight card we've seen in years.
So the rankings that follow remain unchanged from last month, but, with most top fighters now knowing their next opponents, this is a perfect opportunity for reflection.
10. Roy Nelson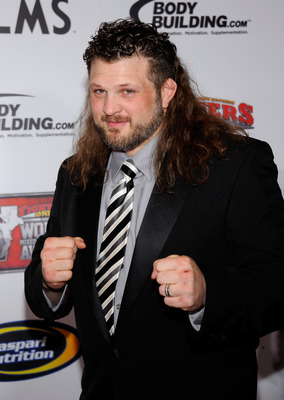 Ethan Miller/Getty Images
Promotion: UFC
Record: 17-7
Most Recent Fight: Win vs. Dave Herman at UFC 146
Next Fight: Shane Carwin
Previous Ranking: 10
A cult hero and the unlikeliest top 10 athlete in MMA, Roy "Big Country" Nelson brings up the rear in this month's heavyweight rankings.
He made it onto the list for the first time last month following a first round KO victory over Dave Herman. That win came on the back of three losses in his last four matches, leaving us questioning what potential there really was in this big-bellied mullet-monster.
He has unquestionable knockout power and the best chin in MMA, allowing him to go the distance with some of the most dangerous heavyweights out there, including Junior Dos Santos, Frank Mir and Fabricio Werdum.
A win over any one of these men could have seen him shoot into the top five, but he lost in a decision in each match.
Still, KO wins over Stefan Struve, Mirko Filipovic and the aforementioned Herman make him a force to be reckoned with.
He is tipped to coach the next The Ultimate Fighter series alongside former interim heavyweight champion, Shane Carwin. That's a big name opponent that will help him climb further up the rankings where he belongs.
9. Travis Browne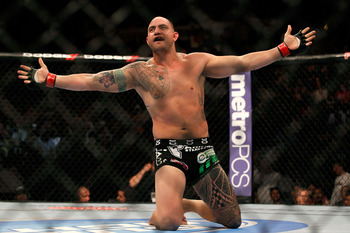 Kevin C. Cox/Getty Images
Promotion: UFC
Record: 13-0-1
Most Recent Fight: Win vs. Chad Griggs at UFC 145
Next Fight: vs. Antonio Silva at UFC on FX 5
Previous Ranking: 9
Without much fanfare, Travis Browne has blazed a trail through the heavyweight division that has landed him as Bleacher Report's No. 9 ranked fighter.
He's gone undefeated in 14 fights with one unfortunate draw to Cheick Kongo and a highlight reel first round knockout of Stefan Struve.
In April, he finished UFC newcomer Chad Griggs with a sublime first round submission, staking his claim as a big timer in the process.
The UFC has been reluctant to throw him into the deep end and he's been lined up with one more opponent before being given a top 10 contender.
That opponent was set to be Ben Rothwell, who suffered an injury prior to the match, ending that hope.
Instead Browne has to wait until October to face Antonio Silva.
Silva is coming off two losses, but is still the biggest name Browne has faced. The Brazilian has wins over former UFC heavyweight champion Andrei Arlovski and the legend, Fedor Emelianenko.
If he can get past Silva, surely another top 10, or even a top five opponent awaits him.
8. Mark Hunt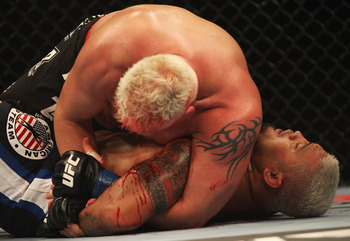 Mark Kolbe/Getty Images
Promotion: UFC
Record: 8-7
Most Recent Fight: Win vs. Cheick Kongo at UFC 144
Next Fight: TBD
Previous Ranking: 8
He's known as "the Super Samoan" but the nickname "Cinderella Man" might be more apt for Mark Hunt. Once a washed-up heavyweight, Hunt has rebounded into the top eight in our heavyweight rankings.
He came into the UFC on a five fight losing streak and suffered another embarrassing submission loss to Sean McCorkle in his debut for the promotion. Hunt has managed a spectacular career turn-around, winning three straight matches and becoming a fan favourite in the process. He was even mentioned as a possible contender to replace the disgraced Alistair Overeem at UFC 146.
Such talk was quickly dismissed by Dana White, and rightly so. Hunt has much to prove before being considered a true contender. However, at 38, he's re-established his winning ways and his spot among the heavyweight division's elite.
He was slated to face Stefan Struve in May in what would have been the beginning of a clear title run, but injury dashed such hopes and Hunt continues to wait on the sidelines, wondering who he'll be matched up against next.
7. Josh Barnett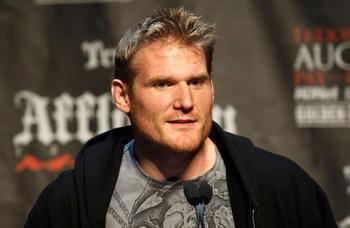 Source: mmafrenzy.com
Promotion: Strikeforce
Record: 31-6
Most Recent Fight: Loss vs. Daniel Cormier at Strikeforce: Barnett vs. Cormier
Next Fight: TBD
Previous Ranking: 7
Holding firm at number seven is Josh Barnett, who is coming off a loss to rising heavyweight sensation, Daniel Cormier.
Barnett had no answer for Cormier's raw athleticism and was out-wrestled and out-manoeuvred in every aspect of their Strikefore tournament final. Nevertheless, he has an impressive resume, with eight straight wins prior to his meeting with Cormier, and he looked unassailable before he was stopped by the Louisiana native.
Barnett has one fight left on his Strikefore contract, but the promotion seems to be in no rush to line up an opponent for him. That leaves his future hanging in limbo as there has been no indication the UFC wants him once Strikeforce's heavyweights are officially disbanded.
6. Antonio "Minotauro" Nogueira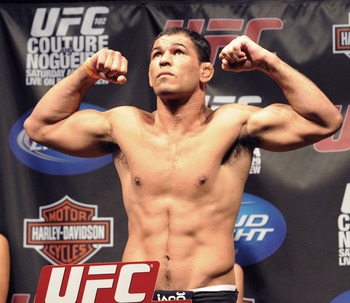 Jon Kopaloff/Getty Images
Promotion: UFC
Record: 33-7
Most Recent Fight: Loss vs. Frank Mir at UFC 140
Next Fight: TBD
Previous Ranking: 6
A former Pride and UFC heavyweight champion, Antonio "Minotauro" Nogueira is the most decorated athlete still fighting in the division. This fact keeps him at No. 6 in our rankings, despite some recent inconsistent performances.
In his last five matches, he was beaten twice by Frank Mir and once by Cain Velasquez, but can also count dominant performances against Randy Couture and Brendan Schaub.
Minotauro was scheduled to fight Cheick Kongo at UFC 149 but the arm injury he suffered at the hands of Frank Mir continues to keep him on the side lines.
5. Frank Mir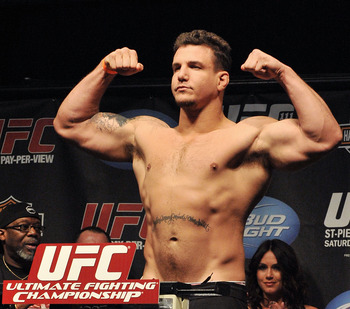 Jon Kopaloff/Getty Images
Promotion: UFC
Record: 16-6
Most Recent Fight: Loss vs. Junior dos Santos at UFC 146
Next Fight: Daniel Cormier
Previous Ranking: 5
Little over two months ago, Frank Mir was on the cusp of greatness as he faced Junior Dos Santos for the heavyweight title, in a match that, had we won, would have surely secured him a place in the UFC Hall of Fame.
Instead, Dos Santos finished him in the second round, exposing the gulf that remains between the former champion and the current heavyweight elites.
Still, recent wins over Minotauro Nogueira and Roy Nelson keep him in the top five—just barely.
That may all change if he's victorious in his forthcoming Strikeforce match against Daniel Cormier. A win there will put him squarely in the top three, but a loss could see him fade out.
4. Fabricio Werdum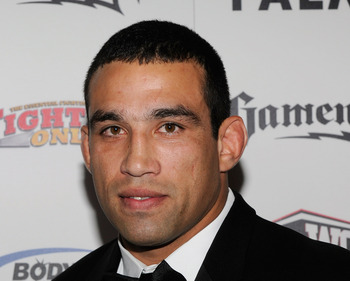 Ethan Miller/Getty Images
Promotion: UFC
Record: 16-5-1
Most Recent Fight: Win vs. Mike Russow at UFC 147
Next Fight: TBD
Previous Ranking: 4
Brazilian Fabricio Werdum has hit the ground running in his return to the UFC, with two victories over Roy Nelson and Mike Russow.
No longer just a one dimensional Brazilian Jiu Jitsu fighter, Werdum demonstrated exceptional stand-up skills against Nelson and Russow, earning him a top four place in our rankings last month, where he remains.
He's now worked his way back into title contention and is only one big fight away from earning a much anticipated rematch against Junior Dos Santos.
3. Daniel Cormier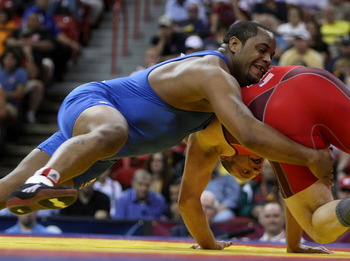 Jonathan Ferrey/Getty Images
Promotion: Strikeforce
Record: 10-0
Most Recent Fight: Win vs. Josh Barnett at Strikeforce: Barnett vs. Cormier
Next Fight: Frank Mir
Previous Ranking: 3
He has yet to fight a single match in the UFC or match up against anyone in our top five, but Daniel Cormier's blistering 10-fight undefeated run, which included him winning the Strikeforce heavyweight tournament in May, puts him as our third-ranked heavyweight.
But we're waiting with baited breath to see how he'd fare against a UFC fighter and there is still no date or venue for his recently announced match against Frank Mir.
That fight will be one of his biggest tests so far and would make him a definite title contender, if he isn't already.
There's only one catch. The number one contender right now is Cain Velasquez, his teammate and a man he refuses to fight. Should Velasquez win his rematch against Junior Dos Santos, there's a possibility that Cormier will drop down to light heavyweight where a mouthwatering encounter with Jon Jones awaits.
Either way, Cormier is the most enthralling prospect we've seen in the heavyweight division for years and he rightfully remains in our top three.
Cain Velasquez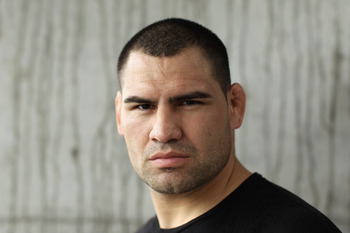 Cameron Spencer/Getty Images
Promotion: UFC
Record: 10-1
Most Recent Fight: Win vs. Antonio Silva at UFC 146
Next Fight: vs. Junior dos Santos
Previous Ranking: 2
Cain Velasquez is a violent man. He demonstrated his brutality against Antonio Silva in his last match—leaving the Brazilian a bloody mess after only one round.
That was a statement match if there ever was one. Velasquez wants his belt back and the UFC has made it happen with a rematch against Junior Dos Santos, scheduled for late September at UFC 152.
As the number one contender he's deservedly number two in our rankings until we see the outcome of his match against Dos Santos.
In his last match, an injured Velasquez was caught by a well-timed punch which put him on the canvas, but expect him to come in with a different strategy next time. That means he'll utilise his wrestling and should attempt a takedown against the heavy-hitting Brazilian.
If the strategy proves successful, we could see a decidedly different result the second time round with Velasquez avenging his only loss.
1. Junior Dos Santos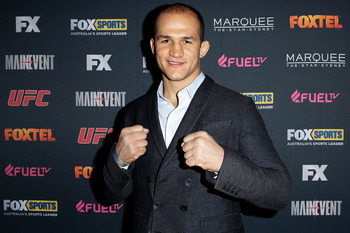 Brendon Thorne/Getty Images
Promotion: UFC
Record: 15-1
Most Recent Fight: Win vs. Frank Mir at UFC 146
Next Fight: vs. Cain Velasquez
Previous Ranking: 1
He's one of the most likable men in MMA and stands on top of the division as the heavyweight champion, having vanquished every opponent the UFC has thrown his way.
Dos Santos made short work of Cain Velasquez to win the title, which he then defended in a similar fashion against Frank Mir.
With ferocious boxing skills and impeccable takedown defence, the Brazilian has seemed unbeatable thus far, but don't expect his reign to be as lengthy as past UFC champs.
Velasquez and Alistair Overeem are waiting in the wings and both fighters present different challenges to the incumbent champion.
First, Dos Santos faces a rematch against Velasquez, who he beat in one round last time out, but this time we're promised a much tougher contest. Expect the Mexican-American to utilize his wrestling to truly test the Brazilian's takedown defence.
After him, Overeem has been making noise, calling the champion out and sparking a personal feud in what could be one of the best striker vs.striker matches the heavyweight division has ever seen.
All these potential fights demonstrate just how tasty the heavyweight division remains and our rankings shouldn't stay static for long.
Keep Reading