A Training Camp Check-in on the Cincinnati Bengals' Rookies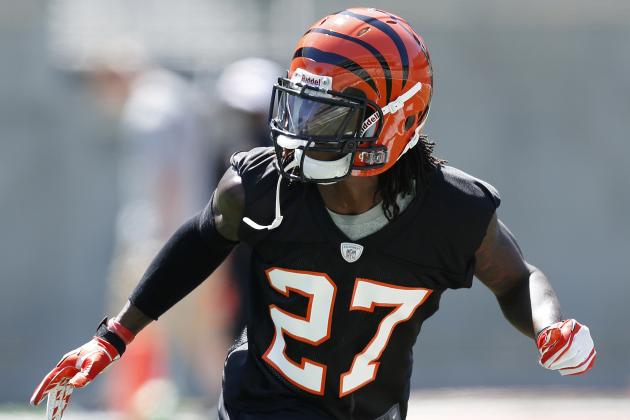 Joe Robbins/Getty Images
What does the future hold for Bengals' rookie cornerback Dre Kirkpatrick now that camps are underway?
We're just about at the half-way point for the Cincinnati Bengals' training camp, so what better time to check in on their draft class and see how they're faring?
Whose stock has risen? Who will be a starter come Week 1? Who is in danger of not making the roster? Let's take a closer look at the 10 players the Bengals drafted back in April and how they're holding up now that the real work has begun in earnest.
Begin Slideshow

»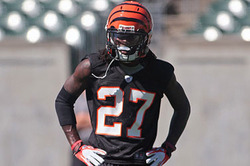 (Photo: Bengals.com).
First-round draft pick Dre Kirkpatrick had some trouble adapting from the man coverage he played in college at Alabama to the off-coverage of the Bengals' scheme in OTAs and minicamps.
The hope was that with extended practice in training camp, he'd come along enough to be one of the players competing for a starting job or, at the very least, earn himself some early-season playing time.
Instead, in preparation for camp, Kirkpatrick injured his knee and will miss up to the entirety of the preseason, making his odds to take the field in Week 1 exceedingly low.
Not all hope is lost, however. Kirkpatrick's slow transition to his new defensive scheme may have held up his chances to get significant playing time at the early part of the season, regardless, and as such the team may not have been looking for him to play right away.
Either way, Kirkpatrick could very easily contribute in the second half of the season; though the injury has forced this situation, it also may have been the Bengals' plan all along.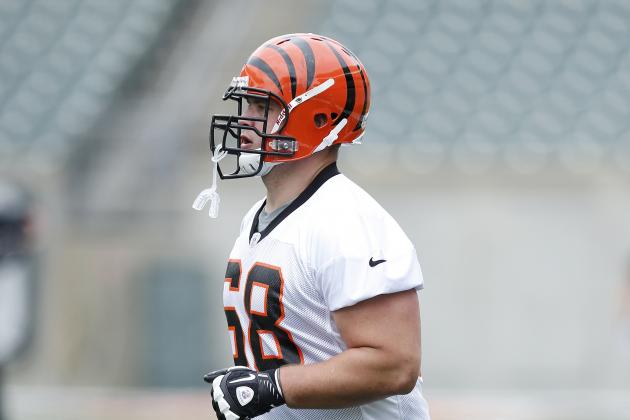 Joe Robbins/Getty Images
Rookie right guard Kevin Zeitler is already a starter.
Many fans balked when the Cincinnati Bengals chose not to grab guard David DeCastro in April's draft and instead select another guard, Kevin Zeitler, with their second of two first-round picks.
However, Zeitler is better-suited to the Bengals' zone-blocking running scheme and it's clear he's thriving in it, with the first depth chart of the year listing him as their starting right guard.
It's no surprise Zeitler won a starting spot; he's a first-round pick, after all, and went to college at Wisconsin, a school known for producing top-notch offensive line talent. The Bengals may not run the ball more often this year but they need to do so more efficiently and effectively, which means Zeitler will play a major role as a key starter in his first season.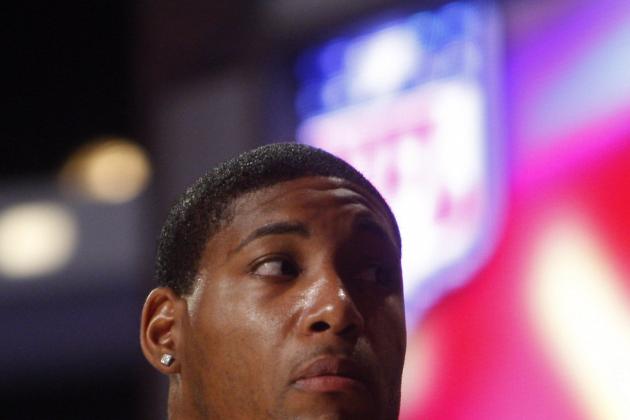 Jerry Lai-US PRESSWIRE
Devon Still's versatility is the perfect match for the Bengals.
Devon Still is one of two defensive tackles the Bengals selected in the first three rounds of the draft, and his presence has certainly been felt in training camp thus far.
Defensive linemen are of the utmost importance to the Bengals. Not only did they need to make acquisitions in the draft to boost their overall depth, their constantly-rotating scheme of linemen requires certain, specialized players, which explains why they took two defensive tackles so early this year.
Still can play either defensive tackle or end, which makes him perfect for the Bengals' rotational approach. And with Pat Sims still out with an ankle injury, he's getting more snaps with the first team in training camp, which bodes well for him being involved in the regular season.
As of now, Still is listed on the depth chart behind tackle Geno Atkins, but considering how often every defensive linemen gets used in the Bengal's system, that's merely a formality and not an indictment of his talent.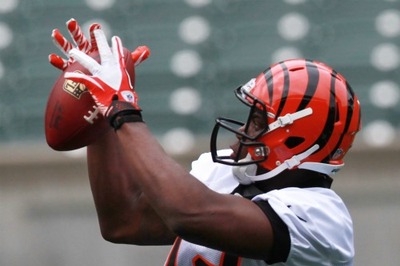 (Photo: Cincinnati Enquirer)
Mohamed Sanu is but one of a group of receivers vying for the starting "Z" spot alongside A.J. Green in this year's training camp. This battle is one that won't be won until the preseason games have wrapped, which means we're heading into the prime time of seeing just what Sanu can do.
As a possession receiver, Sanu is exceptionally talented, with good hands and no fear of contact. But the field is crowded in Cincinnati right now; at the very least, he'll have to beat out Armon Binns and Brandon Tate for the No. 2 spot, as they're currently ahead of him on the depth chart.
He'll get ample opportunity to do so, no doubt, and even if he doesn't jump up the roster, he'll still have his uses this year in particular packages as well as potentially in the slot.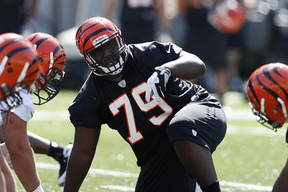 (Photo: Joe Robbins/Getty)
Just as with Devon Still, Brandon Thompson is fighting for time in the Bengals' defensive line rotation. Currently he is third on the chart behind starter Geno Atkins and backup Pat Sims, but the latter has yet to practice in training camp and as such, is on the roster bubble.
Thompson is a run defense specialist and will be used as such in the rotation this year. If Sims is released—or if he opens the regular season on the PUP list—expect to see more of Thompson than you would have otherwise.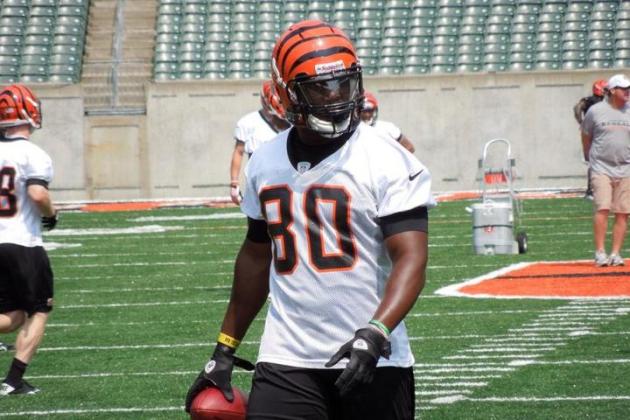 (Photo: Bengals.com)
One of the more unheralded battles of this year's Bengals training camp is for the No. 2 tight end spot behind Jermaine Gresham. In competition for the job are Donald Lee, Colin Cochart and rookie Orson Charles, and they currently appear on the depth chart in that order.
Charles is strong—he impressed in the Oklahoma Drill that kicked off camp—and athletic, with good hands and a similar style to the starter, Gresham. However, offensive coordinator Jay Gruden says that Charles has a ways to go when it comes to lining up on the outside, a la Gresham, noting that "He's got to get his standard tight end stuff down first."
It sounds like Charles has a steep learning curve to overcome, but that's fine. He'll work his way up the depth chart as he gets more familiar with what he's being asked to do and should become a force in his sophomore season.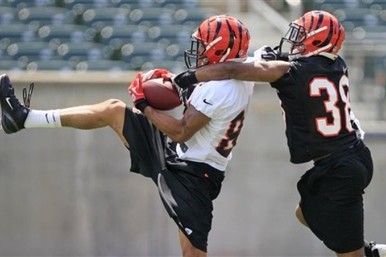 Shaun Prater will miss the entire 2012 season with a knee injury (Photo: Associated Press).
Iowa is known for their cornerback products, so it was an exciting addition the Bengals made when they selected alum Shaun Prater in the fifth round of this year's draft.
While the Bengals have a number of more experienced corners on their roster with better draft pedigrees, Prater was still firmly in the mix to get significant playing time this year, if not as a starter, then as a situational nickel— or dime—package player.
But for now, Prater's contributions will have to wait, as he suffered a season-ending patella injury in training camp on Saturday. As such, he will spend his rookie season on injured reserve.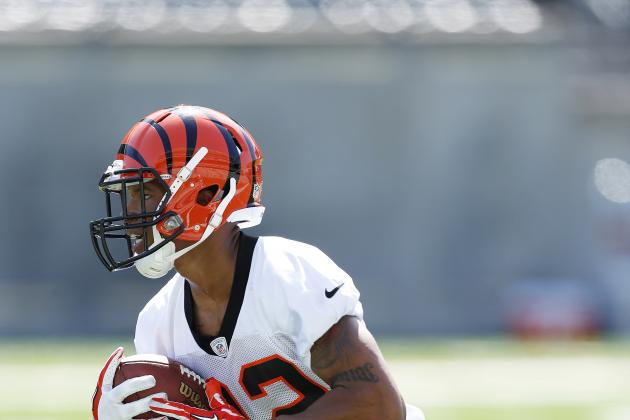 Joe Robbins/Getty Images
Marvin Jones is showing improvement.
Fifth-round pick Marvin Jones is squarely in the mix for either the No. 2 receiver job or some slot work, however, it's a long-shot that he becomes a full-time starter this year. Regardless, Bengals.com's Geoff Hobson believes Jones is a lock to make the final 53-man roster after observing his improvements thus far in training camp.
He's been solid in the past few days of practices, according to Joe Reedy of the Cincinnati Enquirer, but the ultimate goal for the Bengals' receiving corps is to show consistency, and Jones hasn't reached that point yet as camp is halfway through.
Jones' role is likely to develop as he does and he'll likely get a good workload as the preseason games begin, starting this Friday against the New York Jets.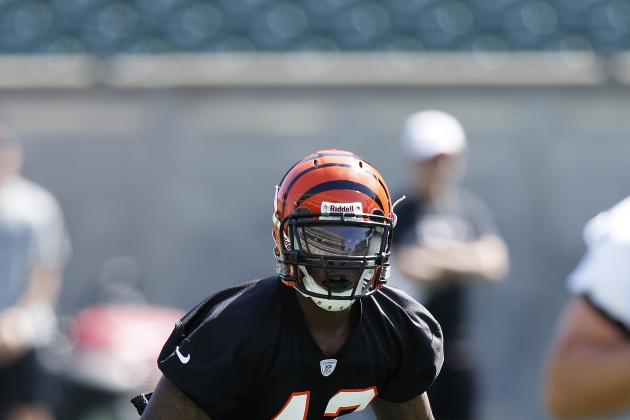 Joe Robbins/Getty Images
The nickel may be in George Iloka's future.
Though Taylor Mays currently holds the top spot on the Bengals' depth chart at strong safety, the Cincinnati Enquirer's Joe Reedy thinks that fifth-round pick George Iloka could be a "dark horse" competing for the job.
Iloka was considered a developmental prospect when he was drafted, but he also exhibits strong speed that makes him an ideal safety in the Bengals' system. So far, he's been getting first-team reps primarily in the nickel, which does make sense; the Bengals plan to do more "big nickel" packages this year, with the typical nickel corner replaced by a safety.
Ultimately, this may be where Iloka shines brightest in his rookie season. However, with Mays having a tenuous grasp on the starting job at present, there's no telling just how often Iloka could end up seeing the field as the season progresses.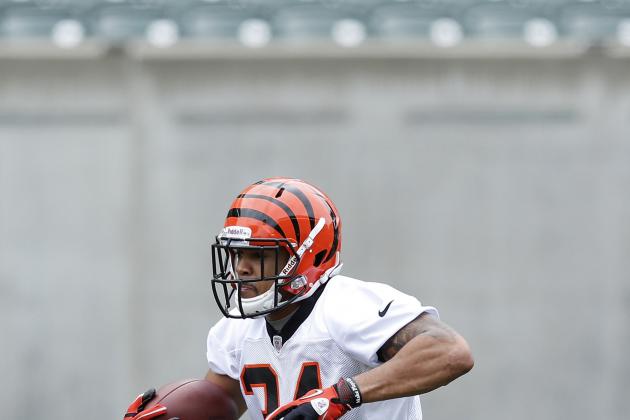 Joe Robbins/Getty Images
It'll come down to special teams for Dan Herron.
If there's any member of the Bengals' 2012 draft class firmly on the roster bubble now that camp is underway, it's sixth round running back Dan Herron. Currently, the battle for one remaining running back spot is between Herron and Cedric Peerman; the rest belong to BenJarvus Green-Ellis, Bernard Scott and Brian Leonard.
The final spot will likely come down to which of the two can contribute more on special teams, and considering that's an area in which Peerman has shined in the past, it's going to be an uphill battle for Herron to remain on the team.
Herron will simply have to continue to grind it out in training camp, hope for impressive showings in the preseason and to outperform Peerman on special teams to retain a roster spot.