Why 2012 Is Atlanta Braves' Best Chance for a Playoff Run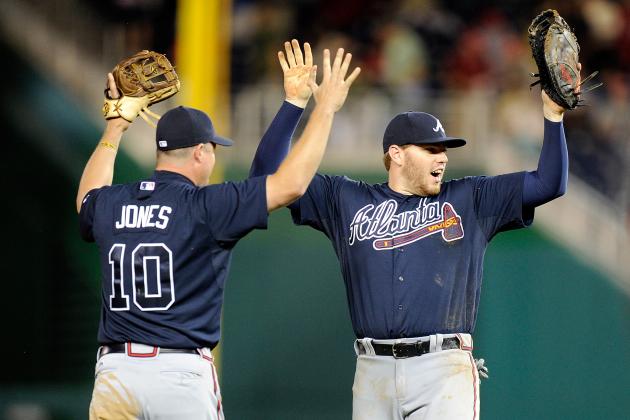 Greg Fiume/Getty Images

I've written extensively on the misfortunes that have befallen the 2012 Braves. Injuries to Brandon Beachy and Andrelton Simmons, poor seasons from Brian McCann and Dan Uggla, and regression from Tommy Hanson have contributed to putting a dent into the Braves win total.
And yet, the Braves sit just three games back of the Washington Nationals with over a month and a half to go.
Actually, I like this Braves team a lot. I think it's the best collection of talent the Braves have assembled since the 2005 version that featured vintage Andruw Jones, Chipper Jones, Rafael Furcal, and Marcus Giles putting runs on the board for a pitching staff led by John Smoltz, Tim Hudson, and a devastating back end of the rotation that featured (I dare you not to laugh) Jorge Sosa and Horacio Ramirez.
I'm not even kidding (mostly). Sosa posted a 2.55 ERA and Ramirez, the team's fourth best pitcher, tossed nearly 203 innings.
But this team is better. Playing behind a true five-man rotation is perhaps the best outfield in the national league, featuring two of the most dynamic talents in all of baseball (Heyward and Bourn) and the game's most underrated player (Prado), a shortstop that turns everything hit at him into an out, a first baseman that has stepped into his own offensively, and a Hall of Fame third baseman that is turning back the clock (when healthy).
I'll even go so far as to announce that 2012 is Atlanta's best chance at a playoff run since those 2005 Braves, and it will be their best chance at a playoff run for a few more years. Here's why.
Begin Slideshow

»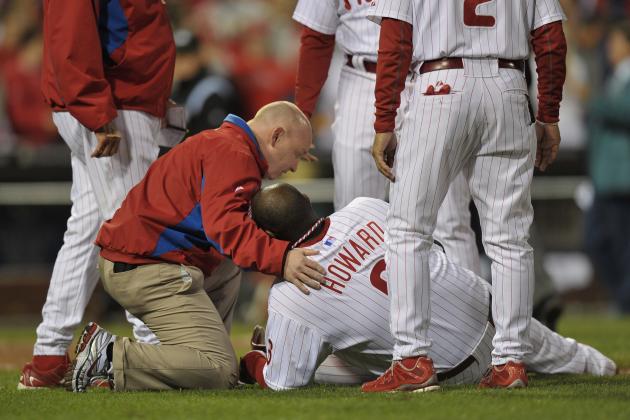 Drew Hallowell/Getty Images

The Phillies were supposed to win the division.
Hold on.
The Phillies were expected to go to the World Series.
That's more like it.
The so-called "experts" (myself included) believed that when Ryan Howard and Chase Utley returned from injury, the Phillies would be able to turn an above-average team into a World Series contending team, led by a dominant pitching staff that went five-deep, three of which could contend for a Cy Young Award.
That didn't exactly happen, and the team that had been the thorn in Atlanta's side the past few years unloaded star outfielders Shane Victorino and Hunter Pence at the trade deadline. They currently sit ten games under .500.
I don't know if Philadelphia will have enough offensive firepower to slide into the 2013 playoffs, but anytime Atlanta can avoid facing two Cy Young Award winners and a devastating southpaw who just signed a $144 million deal, it needs to capitalize on it.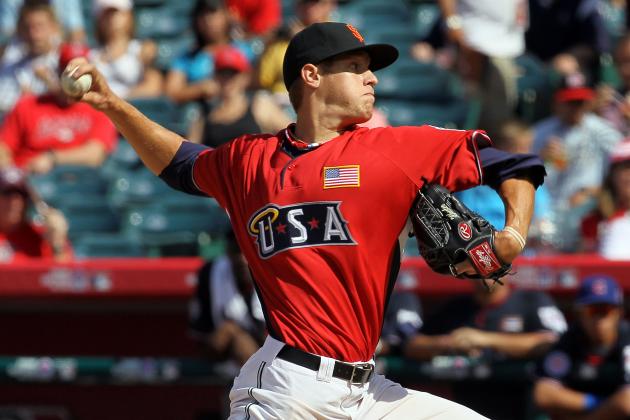 Stephen Dunn/Getty Images

In case you didn't know, that's a picture of Zack Wheeler, perhaps the best pitching prospect in baseball. And he's pretty close to the big leagues.
When he arrives, he'll join a rotation anchored by R.A. Dickey, but trailed by the up-and-coming Dillon Gee, Matt Harvey, and Jon Niese. Behind him plays an infield that sports the best third baseman in baseball, a double play combination that do nothing but tear the cover off the ball, and a first baseman that, should he find his stroke, can display some pretty prodigious power.
If the Mets can put an outfield together, their possibilities are limitless.
However, they're still a couple years away; I'll put it at two.
But the Mets are definitely coming.
Atlanta needs to strike now before New York returns to prominence.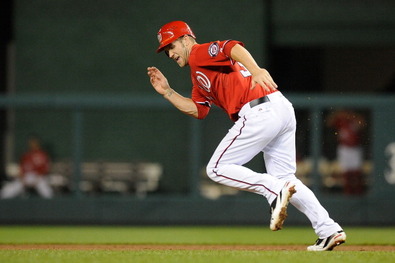 Patrick McDermott/Getty Images

The man in this photo needs no introduction.
The Nationals have arrived. The top three men in their rotation can beat anyone on any given night. Edwin Jackson, when on, can shut down offenses with ease. The lineup is without a hole.
And everyone is getting better.
Their brightest star, Ryan Zimmerman, is in his prime. The chosen one, Bryce Harper, has yet to begin to scratch the surface of his endless potential. The heralded leaders of their pitching staff (Strasburg, Gonzalez, and Zimmermann) don't feature anyone over 26.
Indeed, the Nationals have arrived.
But there is still the question of Stephen Strasburg and his apparent innings limit of 160. The Washington brass has been adamant that he will be shut down after hitting that limit, but atop the National League East in mid-August, they could be rethinking their stance.
At 127 innings already, Strasburg is mighty close to getting shut down. And if he does, Atlanta can pounce.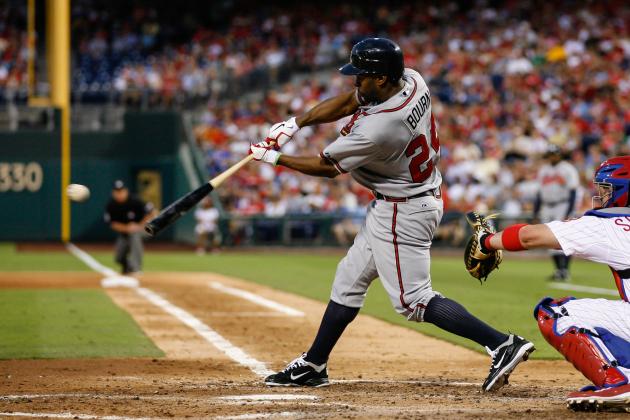 Brian Garfinkel/Getty Images

It's time Braves Country accept this impending reality.
Carl Crawford's agent is Scott Boras.
Crawford got a $142 million deal when he hit free agency.
Michael Bourn's agent is Scott Boras.
You do the math.
Not since the days of Rafael Furcal has Atlanta had a reliable and dynamic leadoff hitter. Bourn has undoubtedly added an incredible dynamic element to the Atlanta lineup, and has certainly been invaluable to the Braves in the field and on the basepaths.
I just don't see Atlanta keeping him. The Braves will most likely go into the 2013 season with Todd Cunningham in center field.
Atlanta must strike while Bourn is still wearing a tomahawk across his chest.
Scott Cunningham/Getty Images

I love Tim Hudson.
I think he's the most underrated frontline starter in baseball.
But the truth is he's 37.
Maybe his style of pitching keeps him effective for a handful of years longer. But Hudson is Atlanta's ace, and as Atlanta's ace, he needs to be more than simply effective. Because Atlanta did not go out and get a frontline starter, Hudson needs to toe the rubber and hold his own against Matt Cain, Johnny Cueto, and Stephen Strasburg.
There hasn't been a clear regression in Hudson's performance, but as he ages, the question of how much longer he can pitch like this only gets louder and louder.
The time is now for Tim Hudson to lead Atlanta to the promised land.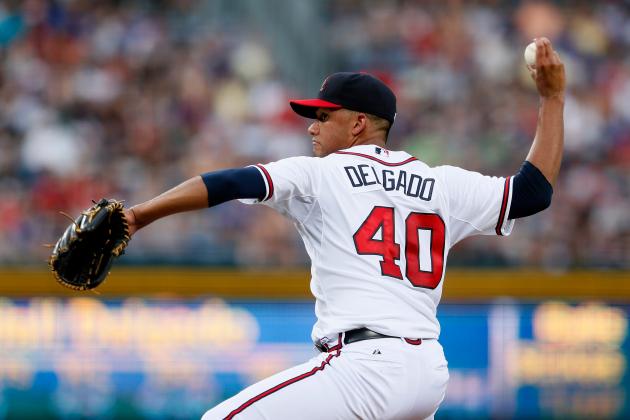 Kevin C. Cox/Getty Images

The Braves do not have much longer with this core group of players.
Michael Bourn and Chipper Jones will be gone this winter. I'm afraid we've begun to see the regression of Dan Uggla. Tim Hudson and Ben Sheets, while pitching spectacularly, are 37 and 34. Brian McCann is by no means long in the tooth, but as a catcher, one has to wonder how many years he has left before his offensive skills erode.
Meanwhile, Julio Teheran, Randall Delgado, J.R. Graham, and Sean Gilmartin are trying to pitch themselves into the Atlanta rotation, and Todd Cunningham leads a crew of minor league bats attempting to play their ways into the Atlanta lineup.
Very soon, there will be a youth infusion in Atlanta. The team is beginning to see the new wave of players, the movement led by Brandon Beachy, Jason Heyward, and Freddie Freeman. But again, very soon, there will be more.
Maybe by then a new ace (Beachy) will have emerged, and Heyward and Freeman will be perennial All-Stars. If not though, it will take a few more years for the Braves to develop their youngsters and make another run at the playoffs.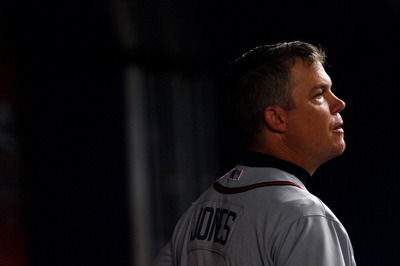 Sarah Glenn/Getty Images

It's clichéd, I know. You're probably sick of hearing about it.
But there really is something to 2012 being Chipper's final season.
It's not very often a first-ballot Hall of Famer plays his entire career for one franchise, in one city. And I believe that Chipper's impending retirement will give the Braves an emotional boost—a type of inspiration that the Braves may not ever experience ever again.
Even Chipper is feeling reinvigorated. He's experiencing his best season since 2008, in which he hit .364. He's not hitting quite that (.320), but he's already compiled nearly a win more WAR in 278 at bats this year than he did in 512 at-bats last year.
He's been hurt a fair amount this year, reinforcing the fact that it may indeed be his time to hang his spikes up for good. Nevertheless, the Braves will receive a lift down the stretch from the Hall of Famer who spent his entire career with a red Atlanta emblazoned across his chest will cause them to play with urgency, inspiration, and passion.
Expect the Braves to make a playoff run, and don't be surprised if they find themselves playing on the final day of the 2012 playoffs, sending Chipper out the right way.