WWE: Randy Orton Accomplished Too Much Too Quick—Who Cares Anymore?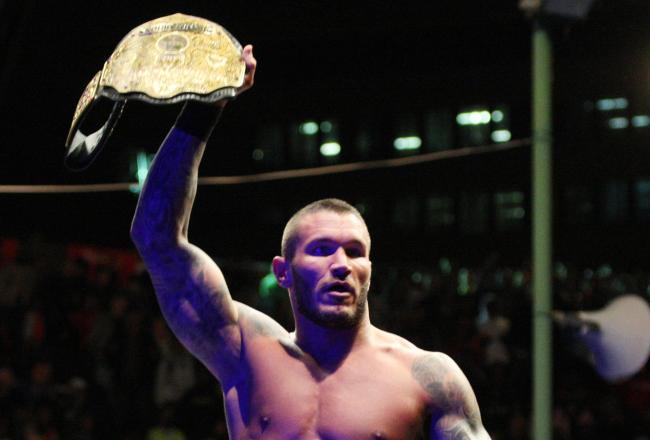 Gallo Images/Getty Images
Randy Orton climbed the mountain quickly, got to the top quickly―is he going of out sight quickly?
The 32-year-old has been in the WWE for 10 years and was the youngest world champion at 24. Between the two world championships in WWE, Orton has held them nine times.
Nobody could ever realistically deny the talent, look and total package Orton possessed. With so much accomplished, what do you do next with Orton?
Triple H has held the world championships a combined 13 times, but is 11 years older and has been in the WWE for nearly twice as long. Triple H's character is at a point where he has become a successful novelty act. He can have five matches in a year against other novelty acts, such as the Undertaker or Brock Lesnar and it does justice for his legacy.
Oh, and of course there is the fact that Triple H has a never-ending future with the company as the heir apparent to the throne.
John Cena has won the world titles a combined 12 times, is three years older than Orton and has been in the WWE for the same amount of time. Cena, possesses the drawing power that comes along once in an era where he will forever be a draw due to the polarizing and dynamic reaction he gets from the audience.
Randy Orton was the rookie stud, the benefactor to the Evolution legacy, youngest world champ, legend killer and won a lot of titles during it all. He did it all in a short amount of time.
Orton recently returned to WWE after serving a suspension with two strikes on his wellness policy record, one more resulting in termination. He gets a babyface pop, as he appeals to the demographics of the Smackdown audience.
This makes Orton valuable as a steady draw, but as each year goes on, it seems to tread water in the same spot in the pool. Orton was the leader of the Legacy faction, which was his last true time of being a top guy.
Leading the Legacy faction was a top story that allowed Orton to be the most compelling character true to himself and be unpredictable in booking.
The worst part about Legacy, he came out of it turning into a babyface who ultimately beat the two guys he was trying to build up. I never understood why either Rhodes or DiBiase wouldn't beat him and get that rub at WrestleMania.
Since Legacy, Orton has lost his true attitude. He can no longer punt people in the head due to WWE eliminating head shots. He's billed as a face with the "can't be trusted" attitude who can strike at anytime. He speaks slow and methodical. He carries an "actions speak louder than words" tone, but often, I find myself becoming uninterested in what he's saying or fighting about.
Despite efforts or comparisons, Orton isn't Austin. Stone Cold was the rebel tough guy while rallying every person in the building behind him. Stone Cold didn't hear boos.
Orton is billed as an unpredictable snake who will strike at any time. He walks the part. He talks the part. I continue to doubt if I care about the part.
Orton still has a lot of time remaining on his contract; it's been rumored that he's signed until 2018 or 2019. At 32 years old, it appears his best purpose served is to be stepping stone to create new stars to fill out the companies roster for the future.
Ryback, Ziggler, Sandow or even Tensai―all characters who would benefit from proper booking with Orton.
Do you consider Randy Orton one of the top WWE guys who draws you in to watching the program?
There is no shame in putting over talent. It's what you're supposed to do in the wrestling business to keep it going.
He will continue to get stable television time because, as noted before, he is one of the most effective draws to the Smackdown tour audience. He seems like the cool tough guy to the younger kids, and it seems likely he's the most popular superstar among the female audience.
However, the more and more television time it seems he gets, the more and more I notice, this isn't the future of the business that was once promised to me in Evolution―or the future has already come and gone.
This article is
What is the duplicate article?
Why is this article offensive?
Where is this article plagiarized from?
Why is this article poorly edited?