TNA Live in Tulsa: A Fan's Perspective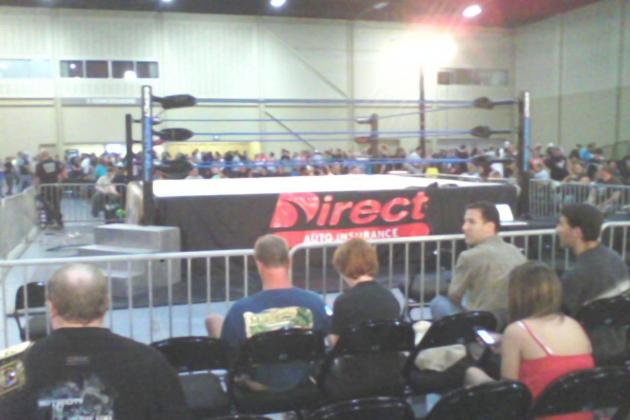 photo by Jeremiah Allan
Sunday night, August 5th, was TNA's first show in Tulsa, Oklahoma in the company's 10-year history.
My friends and family (particularly my nine-year-old stepson, a huge Jeff Hardy fan) had been looking forward to the event for months as we'd been to TNA before and had a wonderful time.
(We once drove 150 miles from Bartlesville to Oklahoma City to see Samoa Joe vs. A.J. Styles, the Machine Guns vs. Beer Money and Ric Flair vs. Kurt Angle in the main event. Other than floor seats at WrestleMania 28, that show is my favorite live wrestling experience, and we had equally high hopes for this card.)
As with most things in modern wrestling, though, what we got was a mixed bag.
Begin Slideshow

»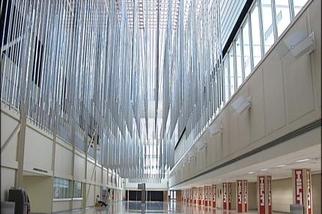 photo from KOTV.com
The Tulsa Convention Center has some age to it, highlighted by the relatively new BOK Center across the street. It's a more intimate setting, though, and the staff is always friendly. (We sometimes go there for arena football games.)
We'd bought Meet and Greet tickets but were somewhat worried about a possible cut-off time, having arrived 30 minutes late and missing our opportunity to get autographs—a fear inspired by a nightmarish Meet and Greet in Oklahoma City.
A TNA staffer assured us that "you paid for it, so you're gonna get it," which was in stark contrast to previously being herded through the line like cattle because they'd ran out of time. (More on the autograph tables later.)
If you've never been to a TNA event, they have the best merchandise stand in wrestling, not necessarily in quality or quantity, but in sheer economic accessibility.
Their signature deal, "the Brown Bag Special," included four DVDs, an Impact Wrestling t-shirt, a random action figure, a program and a tote for $30. (Programs are normally $20 each.)
If you bought a championship replica belt, you're guaranteed backstage access and other goodies for life. (Life!)
Being a small venue, too, the kids could get right up next to the guard rail during entrances and get high fives from the good guys, a certified life-altering event for a nine-year-old boy.
"Sign Guy" Rick Achberger, perhaps the most legendary super fan of all time, sat four rows in front of me and really became part of the attraction. Between matches he'd pose for photographs with fans and many of the wrestlers who walked by had an extra word or two. Jeremy Borash and Mr. Anderson pointed him out. Chris Daniels ripped up a sign (a piece of which my son picked up and somehow cherishes).
Speaking of Borash, though, it amazes me how far he's come from his early days in WCW. He's a member of TNA Creative now. As a host and ring announcer, J.B. works the mic with confidence and ease. No slight to Don West, but he's got to be TNA's best pitch-man.
They said D'Lo Brown was in the back, but he never came out.
From an athletic standpoint, Douglas Williams was the M.V.P. of the evening. He chain wrestled Zima Ion in a failed bid for the X Division Championship (no thanks to a certain spray can) and knew how to get cheers from a Midwestern crowd that could have easily chanted "U-S-A!" and been done with it. (I've seen Williams twice, and he was equally impressive last time against Eric Young—a true spot artist who deserves more than he's getting.)
Mr. Anderson played nice with his "assholes." (He didn't forget his "little buttholes," either.) The ceiling wasn't rigged to lower an old-timey microphone, so referee Brian Hebner grabbed a chair from ringside, stood on it and pretended to lower one down into Anderson's hand. His best moment came after defeating Kazarian, when Anderson allowed a young fan at ringside to complete his outro.
Tessmacher and Gail Kim were incredibly entertaining, and I'd be remiss if I didn't give them a "best" for working hard and being outrageously, indescribably feminine. There were a couple of points during that match where I turned to my buddy and said, "It's a good match, you know, but I feel kind of dirty—in a good way." (My ex-wife kept covering my stepson's eyes, which was a gas.)
The show was good, don't get me wrong, but I kept scratching my head at the botches, weird booking and the lone Bound For Glory Series match being treated like an afterthought.
Samoa Joe and Austin Aries both worked as bad guys against James Storm and Jeff Hardy respectively. It was clear the crowd wanted to cheer for them both but couldn't as one of their opponents had a cowboy gimmick in Oklahoma, and the other is one of the most over faces in wrestling history. As such, these matches felt out of place and messed with the show's rhythm.
I'm also giving TNA a huge thumbs down for the way they handled the Meet and Greet I mentioned before. It was cool they weren't going to cut us off, but when we finally reached the tables, only five of the wrestlers on the show were signing and, even then, barely engaging the fans. (There were at least double that signing at the Meet and Greet in Oklahoma City.)
We paid $50 for Meet and Greet privileges; they let us down then expected us to buy James Storm or Miss Tessmacher merchandise (and stand in two additional lines) to meet them; then buy a Joe action figure (and stand in a fourth line) to meet him; pay another $50 (and wait in a fifth line) for a backstage pass to get Austin Aries' and Jeff Hardy's autograph; then pay another $20 to get a picture with Jeff.
I know TNA needs extra cash bumps at house shows. I understand that Tulsa is a new market, and they were hedging their bets. I dumped almost $400 on six tickets and another $120 in merchandise, and I was glad to do that, but when the show turns from Wrestleville, USA into Grubby Hands, Minnesota, the people in charge should reevaluate a few of their methods.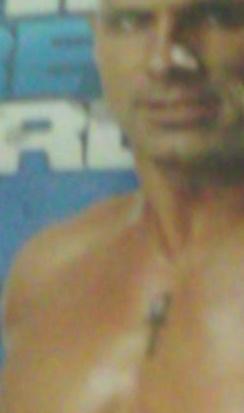 photo by Jeremiah Allan
The one thing that really ground my gears that night was the way my friend was treated at the autograph tables.
When we went to TNA in Oklahoma City, James had bought a Ric Flair shirt and all the guys there autographed it. He wanted all the guys at this show to autograph it, too—in the instance of Kazarian and Douglas Williams, autograph it again.
He wasn't looking to sell the shirt; he just wanted the memento. But the wrestlers who had signed once refused to sign it again, even on the reverse side, even though he (just like the rest of us) had paid his hard-earned $50 for their signatures (twice). They should have been happy to indulge such a small request.
They didn't care to ask for something else to sign, just shunted him down the line. The event staffer had promised us what we'd paid for, but that didn't happen. He couldn't afford a backstage pass or other merchandise, so that was it for him in terms of a disappointing pre-show.
Lesson learned, I guess: Never take something to a Meet and Greet that already has signatures on it because you might get cheated out of new signatures you paid for.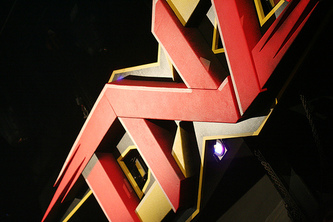 photo from lawwestar.blogspot.com
Jeff Hardy won a five-minute over-the-top battle royal against James Storm, Kazarian, Christopher Daniels, Douglas Williams, Samoa Joe, Zema Ion and Mr. Anderson for a shot at the TNA Heavyweight Championship later that evening.
Brooke Tessmacher defeated Gail Kim to retain the Knockouts Championship.
Zema Ion defeated Douglas Williams with a Dirty Low Blow and a Roll-Up to retain the X Division Championship.
Christopher Daniels (accompanied by Kazarian) defeated the Pope to earn seven points in a Bound For Glory Series Match after a heel tirade against the Oklahoma City Thunder and "Tulsa Twats" (and an immense volume of crotch thrusts).
Mr. Anderson defeated Kazarian (accompanied by Christopher Daniels) via Mic Check after Daniels was ejected for cheating.
Samoa Joe defeated James Storm with a Roll-Over after blocking a Code Breaker from Storm. There was a lot of miscommunication in this match, and the crowd wasn't sure how to cheer.
Austin Aries defeated Jeff Hardy to retain the TNA Championship. Hardy missed a Swanton, went for a Twist of Fate, but Aries held onto the top rope for a slam. He then used the ropes for leverage for the win. Trainers immediately came out and iced Hardy's lower back.
None of the matches ran longer than 10 minutes. The show was approximately 180 minute in length (not counting Meet and Greet), so there was only about 70 minutes of actual wrestling.