Power Ranking NBA's Top 10 International Players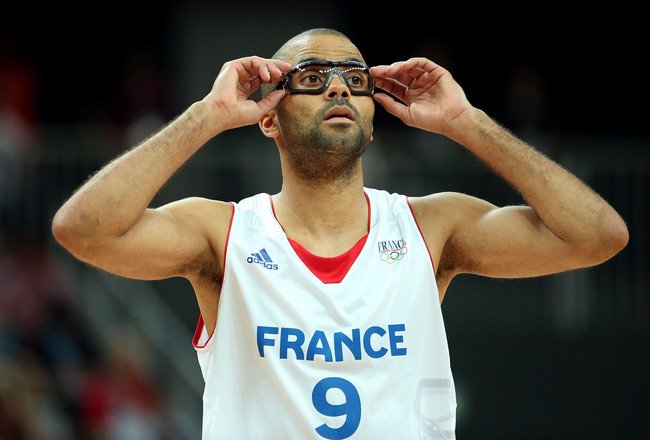 Christian Petersen/Getty Images
At this time of year, the sport of basketball blossoms from an American-centric one into an international game.
It's only natural that we take some time to rank the best 10 international players in the NBA, but with one very important caveat: Players are only eligible for this list if they're competing in the London Olympics. Dirk Nowitzki will not be here. Neither will Steve Nash, Roy Hibbert or the other non-Americans who are staying at home during this competition.
Moreover, the players here are not being ranked for their performances in London, but rather how they stack up back in the NBA.
If that wasn't the case, you'd be seeing a lot more of Patty Mills and Yi Jianlian than you will in the next 10 slides.
Honorable Mention: Andrei Kirilenko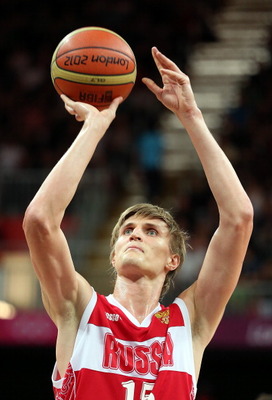 Christian Petersen/Getty Images
The versatile Russian has been tearing it up at the Olympics, using his London experience as a possible springboard to a bigger role with the Minnesota Timberwolves.
Through the group stage, Andrei Kirilenko paced his squad with 18.2 points and added 6.2 rebounds, 1.0 assists, 1.2 blocks and 2.0 steals per game.
Stat-stuffing has always been AK47's primary calling, and that hasn't changed as his age has advanced.
10. Luis Scola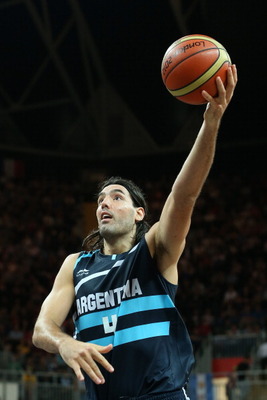 Christian Petersen/Getty Images
The Russell Brand lookalike has used his toughness and hard-nosed nature to put up solid numbers for Argentina during the Olympics.
Luis Scola has played great, well-rounded basketball for his team, and the result has been a solid showing in London.
Despite the presence of a player who ranks above him in this article, Scola has paced his team with 22.5 points per game. He's also put up 5.8 rebounds, 3.5 assists, 1.0 blocks and 0.8 steals per game.
9. Nicolas Batum
Christian Petersen/Getty Images
A defensive ace whose career defensive numbers have always looked slightly worse than they should because he chooses to guard the other team's best player, Nicolas Batum has been up to his old tricks in London.
The Portland Trail Blazer has been a tenacious player on the less glamorous end of the court, but he's also shown off his athleticism and length on offense as well.
Averaging 15.3 points, 5.8 rebounds, 1.5 assists, 1.8 blocks and 0.8 steals per game, Batum has contributed in almost every area on the basketball court.
8. Anderson Varejao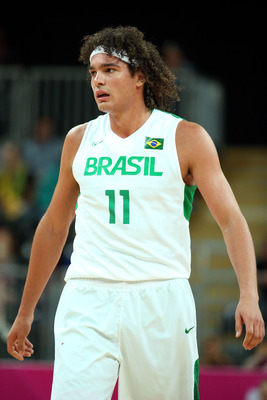 Christian Petersen/Getty Images
Anderson Varejao has struggled with foul trouble throughout the Olympics, but he's been able to record solid numbers all the same.
He hasn't stood out as much as his frontcourt mates, but the Cleveland Cavalier with the floppy hair has still been more than solid.
Through Brasil's first four games, the undersized center has averaged 8.3 points and 7.5 rebounds per game.
He trails Tiago Splitter, Leandro Barbosa and Marcelo Huertas in the scoring column, but his defensive impact has been felt as well.
7. Nene Hilario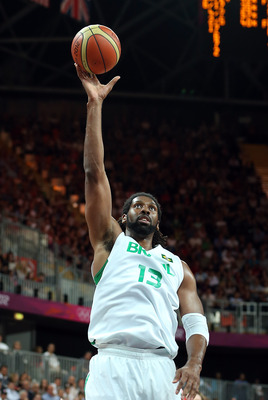 Christian Petersen/Getty Images
Nene Hilario hasn't started a game yet for Brasil, but he's been a valuable veteran presence for the team, as he's come off the bench to play effective and efficient minutes.
The big man's numbers don't look as solid as Anderson Varejao's, but remember that this is a ranking of NBA players, not Olympic performances. Otherwise, both would be behind China's Yi Jianlian.
Through four games, Nene has averaged a perfectly symmetrical 7.0 points and 7.0 rebounds in the crowded Brazilian frontcourt.
6. Luol Deng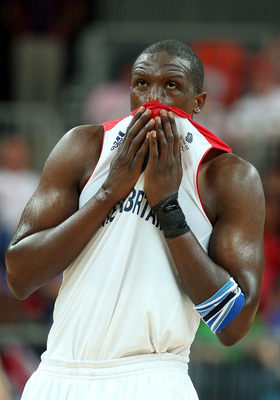 Christian Petersen/Getty Images
The versatile small forward has been quite impressive for Great Britain, especially since he's been the only elite option on the squad.
Luol Deng hit big shot after big shot against Spain, even if he wasn't able to pull off the upset, and has averaged 18.3 points, 7.5 rebounds, 4.8 assists and 1.5 steals per game.
He's been active throughout the game, whether he's bringing the ball up the court, playing defense or crashing the boards with patriotic ferocity.
5. Serge Ibaka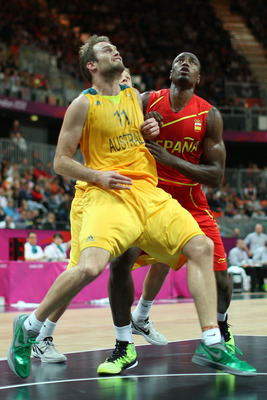 Christian Petersen/Getty Images
The shot-blocking Congolese forward has been playing for Spain during international competition, and he's struggled a bit to assert himself in the NBA frontcourt employed by the Spanish team.
Ibaka has only averaged 8.0 points and 3.3 rebounds per game while swatting away six shots through the first four games of the competition.
Although he's failed to make a huge impact for Spain, we all know what he can do with the Oklahoma City Thunder.
4. Marc Gasol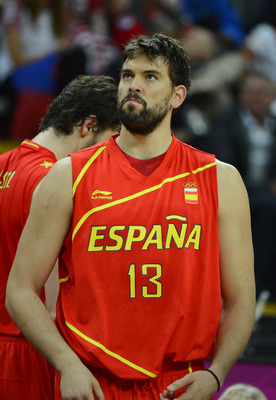 Christopher Hanewinckel-US PRESSWIRE
The younger of the two Gasol brothers, Marc Gasol also lags behind in terms of production as well.
His game isn't as well-suited for the international competition as his brother's, lacking the trademark Pau versatility.
Gasol has a ton of size, and he has used it effectively on both ends of the court, averaging 9.8 points, 5.3 rebounds and 0.8 blocks per game.
Until he develops a shot from the perimeter, Marc is going to be stuck in this tier of NBA players.
3. Manu Ginobili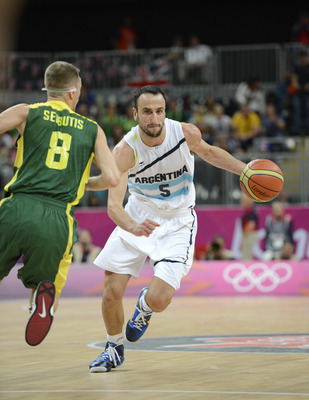 Bob Donnan-USPRESSWIRE
Manu Ginobili has been the best international NBA player during the Olympics, but he's still not one of the top two players in this article once play resumes for The Association's 2012-2013 season.
Remember, that's what these rankings are based on, not production in London.
Using his Eurostep and shiftiness when attacking the basket, the lefty shooting guard has been absolutely sensational for Argentina.
Ginobili has averaged the third-most points at the Olympics, trailing only his teammate Luis Scola and Australia's Patty Mills. In addition to those 21 points per game on 50.9 percent shooting from the field, Manu is also putting up 6.3 rebounds, 4.5 assists and 2.5 steals per game.
He's come up big in big moments and has performed at a high level throughout the competition.
2. Pau Gasol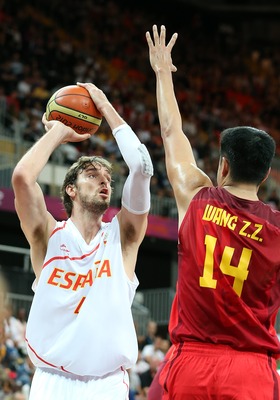 Christian Petersen/Getty Images
Pau Gasol has been sensational for the Spanish national team, as expected.
The Los Angeles Lakers power forward has averaged 19.5 points, 5.8 rebounds, 2.8 assists and 1.3 blocks per game, contributing across the board for his country.
What makes Gasol so impressive is his ability to make plays from anywhere on the court. He's a good enough passer to find any cutter, and he can step back and call his own number from behind the three-point arc.
Stopping Pau is always priority No. 1 for any team playing Spain.
1. Tony Parker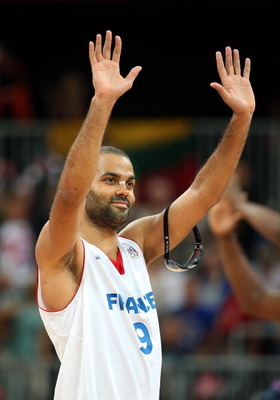 Christian Petersen/Getty Images
The French point guard has struggled to adjust to his goggles at times, but he remains one of the best point guards in the world and the only player in this article who can make an argument for an inclusion in the top 10 players in all of basketball.
Tony Parker has averaged 19.0 points, 2.3 rebounds, 2.8 assists and 1.0 steals per game, but he hasn't quite looked like his old self.
He struggled to get back into playing shape during France's opening game against the United States, but he's rebounded nicely since then. That said, Parker has uncharacteristically turned the ball over at inopportune times for the French team.
After a surprising win over Argentina and a sparkling 3-1 record so far, France and Parker will have an opportunity to impress once more in the elimination rounds.
Keep Reading