Toronto Blue Jays: Predicting Every Remaining Series in 2012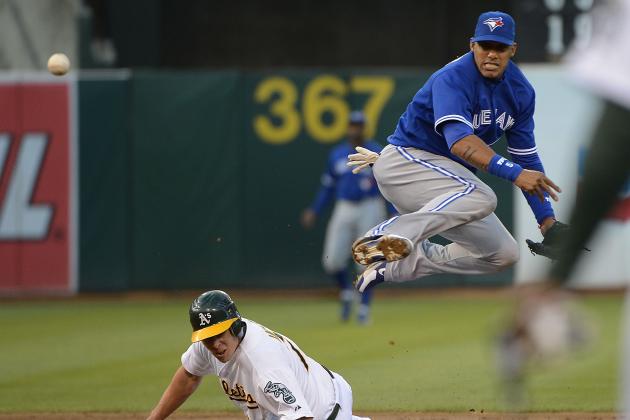 Thearon W. Henderson/Getty Images

The Toronto Blue Jays aren't where they want to be right now. Prior to the season, there were high hopes that Toronto could compete for the A.L. East pennant, or potentially a wild-card position.
It's early August, and the Jays are sitting dead last in their division, 10.5 games back of the leading Yankees, five games back in the wild card and playing sub .500 baseball.
For Jays fans, it's difficult to see a bright spot besides what will occur in 2013 and beyond, regardless of success stories such as the 2007 Colorado Rockies, who won 21 of 22 games in September.
Or more recently, the 2011 St. Louis Cardinals, who erased a 10.5-game deficit (ironic?), going 23-9 in their last 32 games.
I'm not going to sit here and tell you Toronto is the new Colorado or St. Louis, because they aren't. Or that they're going to win every game in September, because they won't.
The reality is Toronto's chances are beyond slim. Mix in their string of constant injuries and their chances turn into a size 0.
What I will tell you in this article is what Toronto should be able to do for the remainder of the season in every series left in 2012.
Furthermore, I'll leave it up to you to decide whether they still have a shot or not.
Begin Slideshow

»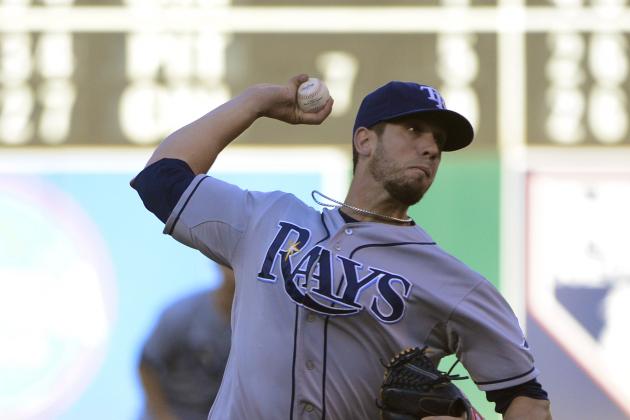 Thearon W. Henderson/Getty Images

The Blue Jays are 2-6 versus the Tampa Bay Rays this season, who are sporting a 56-52 record.
This will be a tough, but winnable, series for Toronto. That being said, the Rays have owned the Jays in 2012, outscoring them 50-32, many of them lopsided victories.
That being said, Toronto will be sending lefties J.A. Happ (making his first Blue Jay start), youngster Henderson Alvarez and Ricky Romero, who is coming off a stellar performance in Oakland.
Happ has only faced Rays hitters nine times in his career. He won't be too familiar with their batting order, so throwing strikes and making good pitches is a must.
Alvarez is young and he's developing. That being said, he's having a mild 7-8 season, reflecting the Blue Jays' .500 season. He isn't a strikeout pitcher, so that shouldn't be his focus. If he keeps the ball down and uses his sinker, he'll get a lot of ground ball outs.
Romero is coming off his best start in recent memory, having pitched a seven-inning gem in Oakland and looking like the Ricky of old. Romero is very familiar with the Tampa lineup, so making quality pitches and getting ahead in the count will be his strong point.
Prediction: 2-1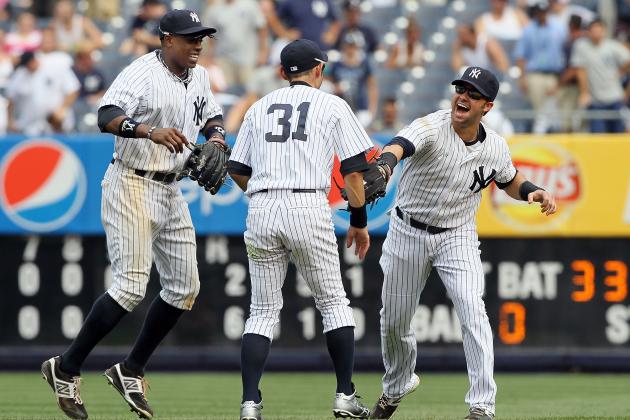 Jim McIsaac/Getty Images

The Blue Jays are 2-3 versus the New York Yankees this season, but they won't be squaring off against the same team they'd seen earlier in 2012.
Since the first time they met (when Toronto swept the two-game series), the Yankees have been obliterating everything in their path. Their pitching has been stellar, their offense has been great and they've added more depth to their ball club.
Not to mention they're running away with the A.L. East pennant
The second time these two teams met, the Yankees blew them out 18-4 in the three-game set. Toronto isn't going to catch up to NY in the division race, but if they want to make a statement they'll have to play some great baseball in order to compete in this series.
Also note that this will be a slugfest, as the Yankees sit first in the majors with 168 long balls, while Toronto sits in second with 151.
Prediction: 1-2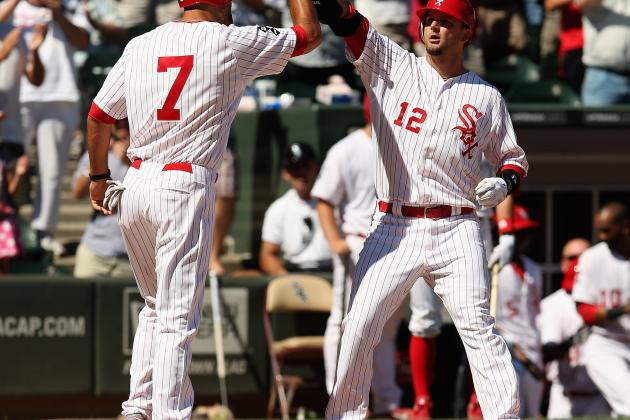 Jonathan Daniel/Getty Images

Another series versus a division leader, the Jays are an even 3-3 against the Chicago White Sox.
Toronto should be able to compete in this series, mainly because none of their previous matchups have been blowouts, having scored 24 runs to the Sox 23.
Although Chicago is ahead in their division, they don't have the advantage coming into Toronto against a team they haven't dominated. Toronto will do really well in this regard, so their chances are very good going into this four-game home stand.
Prediction: 3-1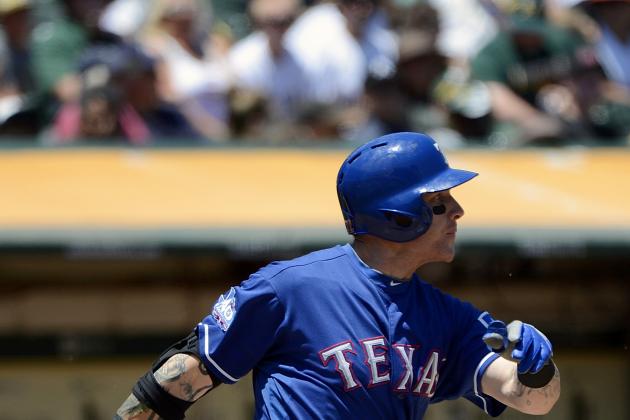 Thearon W. Henderson/Getty Images

This will be the toughest challenge for Toronto, but if they play their cards right they might pull away with this one.
The Blue Jays are sporting a 2-4 against the Texas Rangers, but if they're going to win, now's the time.
With Josh Hamilton's July struggles on and off the field, the Rangers are as vulnerable as they come. On top of that, they'll be coming into Toronto, where they're 1-2 and getting outscored 20-16 in 2012.
Toronto will have to give them their best stuff, because you don't get a break with the Texas batting order, who just added highly-touted prospect Mike Olt to it's list.
Prediction: 2-1
Leon Halip/Getty Images

The Detroit Tigers aren't division leaders, but they are in fact on top of the wild-card race, so Toronto isn't getting any help.
That being said, Toronto is coming off a series win versus the Tigers in late July, so don't rule this one out.
These two teams have only squared off three times this season, so anything is possible. But as of now Detroit is riding a five-game win streak and nipping at the heels of the division-leading White Sox.
Toronto seemed to get the best of Detroit when they came to town, and that was with a lot of rookies in the lineup. For that reason, Toronto will fare well when they visit Comerica Park.
Prediction: 2-1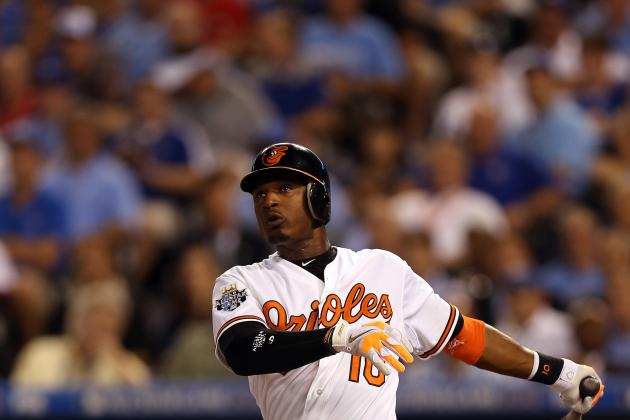 Jonathan Daniel/Getty Images

The Baltimore Orioles have been one of the surprise teams of 2012, sitting in second place in the A.L. East standings and one game back of the wild card.
The O's have made it clear that this isn't a fluke season, and they've done so against the Blue Jays, leading the season series 5-4.
But again, they haven't dominated Toronto, as every game has been close this season. Unfortunately for the Blue Jays, they're 0-3 going into Camden Yards, getting outscored 10-3 in the process.
Toronto is going to have to cool the Baltimore bats and use the speed at the top of the lineup if they want to win this series—otherwise, the Orioles will run away with this one.
Prediction: 1-2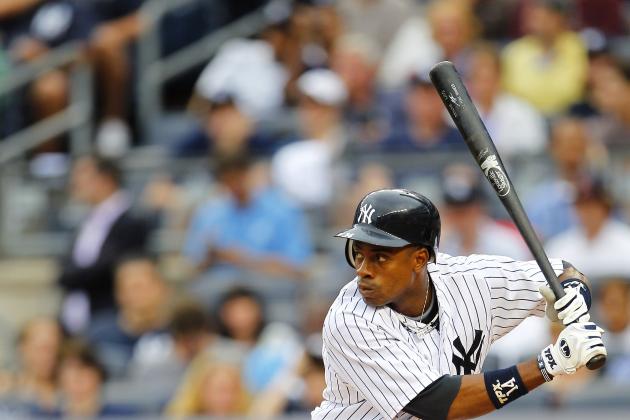 Rich Schultz/Getty Images

The Blue Jays will make their way back to New York after having faced the Yankees a couple weeks prior at home.
The bad news is this: Toronto is 0-3 in Yankee Stadium this year. In fact they haven't come close to winning, losing 6-3, 6-1 and 6-0. In order to win this series, they'll need to take control of the game to try and score early and often.
Prediction: 1-2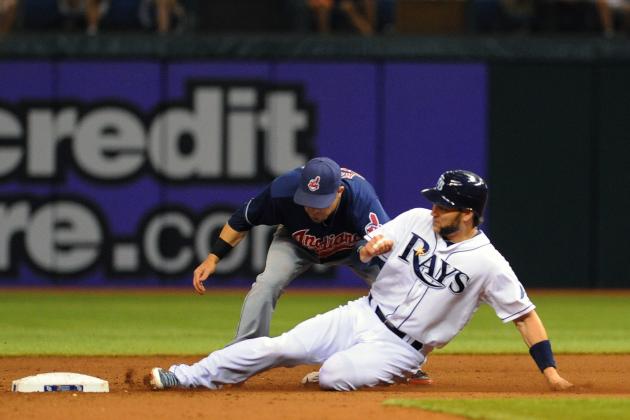 Al Messerschmidt/Getty Images

The Toronto Blue Jays will begin September against three division rivals, the first being the Tampa Bay Rays.
Tampa plays a fast game, and you'll notice it when you see them running the bases, butting bunts down and sacrificing guys over.
It's essential for Toronto to limit the number of Tampa players on the base paths (third in the majors in stolen bases with 93), because most all of them will steal on you.
On that note, Toronto catchers will have to be quick on their feet, because stealing third is never out of the question when it comes to the Rays.
Prediction: 2-2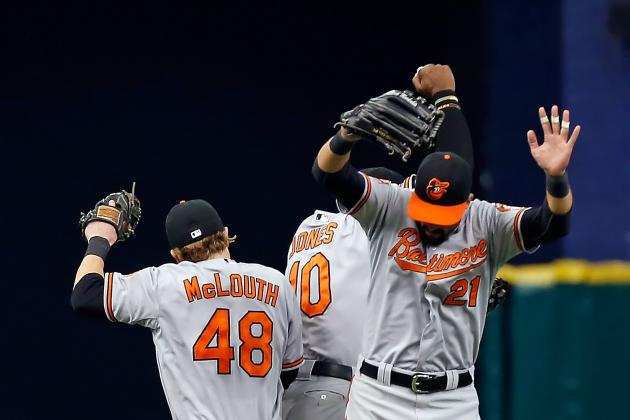 J. Meric/Getty Images

The Baltimore Orioles will be coming to town in what's sure to be a slugfest.
As aforementioned, the Jays sit second in the majors with 151 homers, but the Orioles aren't too far behind with 131, good enough for fourth.
The Blue Jays have had the upper hand on the O's this season in the Rogers Centre, sporting a 4-2 record, including a series sweep in May.
This should be a great series, as both teams are battling in the A.L. East for what now looks like second place.
Prediction: 2-1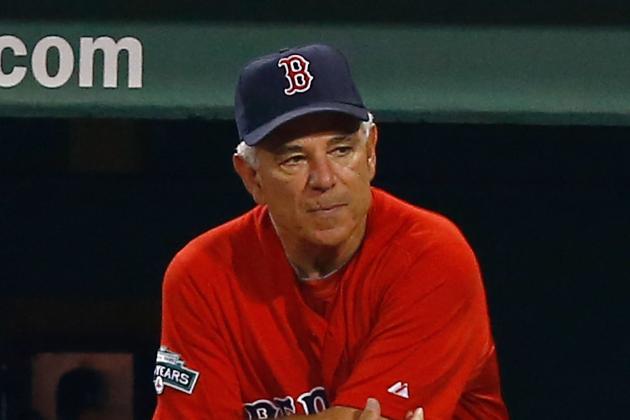 Jared Wickerham/Getty Images

The Boston Red Sox in 2012 aren't the same threat as they were in past years.
They aren't even close.
A miserable season at best, the Red Sox have a 54-55 record and aren't faring very well against the Toronto Blue Jays thus far in the season.
These two team have met up a lot in 2012, and the Jays lead the series 7-5, most recently coming off a series sweep against Boston in their own hometown in July.
The Blue Jays are a better ball club than the Red Sox, and they seem to be comfortable at Fenway Park this season as well, with four wins and two losses on the season.
If Toronto can put the ball in play, make the easy outs and move runners on, they should have no problem sweeping their second series in a row against Boston.
Prediction: 3-0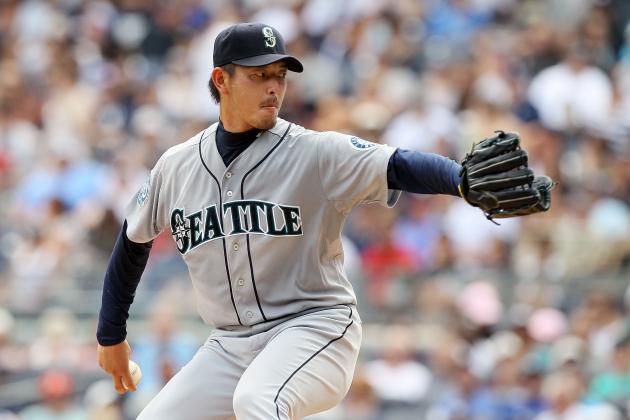 Jim McIsaac/Getty Images

The first few headlines that will come out of this series will be the return of outfielder Eric Thames, who was traded for pitcher Steve Delabar at the trade deadline.
The Seattle Mariners aren't having a great season. That being said, they play in arguably the toughest division in the majors, with the Oakland Athletics, Los Angeles Angels and Texas Rangers, all of whom are serious playoff contenders, if not World Series contenders.
But beyond that, Seattle has been playing great baseball, especially against the Blue Jays, leading the season series 4-2 and most recently sweeping them at home in late July.
The Blue Jays have the ability to beat the Mariners, if not sweep them at home. But in order to do that, they need to limit the number of errors they make, because Seattle is known to capitalize on mistakes.
Don't be surprised if Seattle comes into Toronto with a hot streak, either.
Prediction: 2-1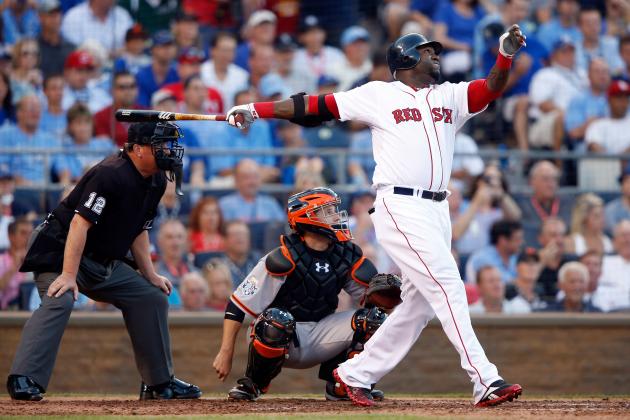 Jamie Squire/Getty Images

Another matchup against the division rivals in a matter of one week, this series will be a backlash of what happens in the two teams' previous matchup in Boston.
The Red Sox are 3-3 at the Rogers Centre this season and haven't been overmatched. Boston has a lot to prove coming into Toronto, as they need to redeem themselves for what has been a mediocre season.
Toronto can pound on Boston, as we've seen in the past, but it won't be with the long ball. With so many rookies in the lineup, Toronto is depending on speed to win games these days. Guys like Rajai Davis and Anthony Gose will need to pick up some more hits, get on base and cause a stir if they want to be effective.
Prediction: 1-2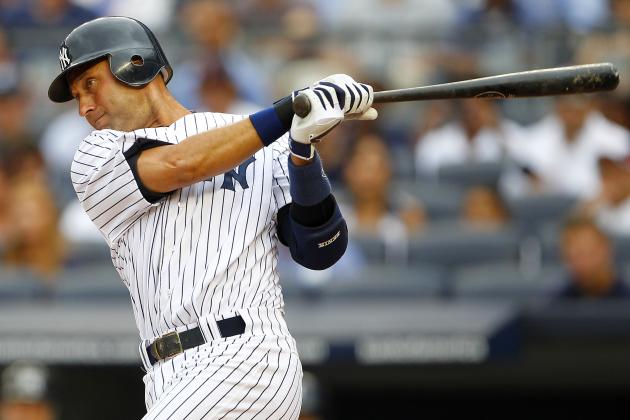 Rich Schultz/Getty Images

This will be the Blue Jays' final trip to Yankee Stadium in 2012 (assuming they don't make the postseason).
There's no better way to leave a town than to come out with a series win. By this time, The Jays will be a lot healthier than they are now, regaining the presence of Jose Bautista and Brandon Morrow—two key players in their everyday lineup.
Playing in New York, the Yankees and Jays will likely be hitting the ball out of the yard again, and at a tremendous rate. Yankee stadium is known to be a sandbox, and these two teams are known to swing for the fences.
But alas, it's pitching that will win games and unless Toronto's starters can keep up with the likes with C.C. Sabathia, Phil Hughes and Hiroki Kuroda, this could be a landslide.
Prediction: 1-2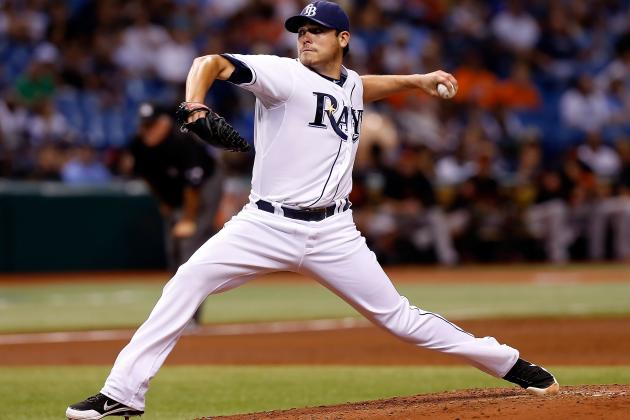 J. Meric/Getty Images

The Jays are again facing a string of teams within their own division, making this series against the Tampa Bay Rays that much more critical.
Toronto has always had the ability to beat Tampa Bay, but a few mistakes here and there tend to get the best of them.
This should be an interesting series given the numbers each team possesses and how late in the season it is. One or both of these team will be fighting for a playoff spot, and Toronto's home runs mixed with Tampa's stolen bases will make for a high-paced matchup.
Prediction: 2-1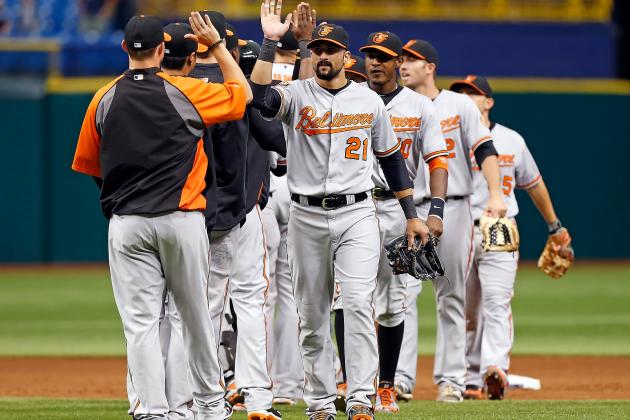 J. Meric/Getty Images

For the Baltimore Orioles, this will be a key matchup. As the case may be, the Jays will either play the role of spoiler or contender, and regardless of which one it is, division games are always important.
The Toronto Blue Jays will be playing a three-game set in Baltimore just before traveling to New York to play the Yankees. For that reason, this series is critical.
Toronto can't let this series get away from them, because it'll likely dictate how they finish off their season. They'll be starting a home stretch after this final road trip and grabbing a few wins on the road will be instrumental for Toronto.
Prediction: 2-1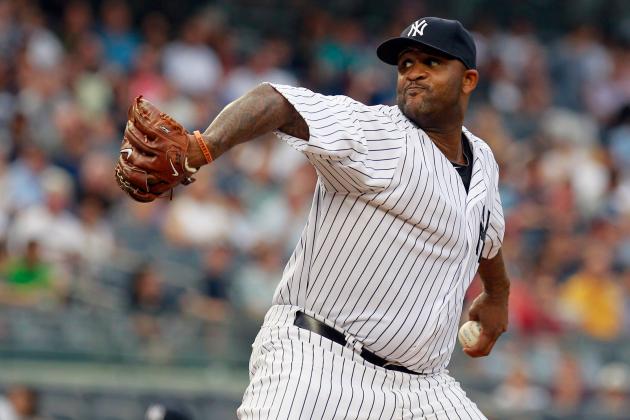 Mike Stobe/Getty Images

This is it, the final home stand—and who else to kick it off with than the perennial division champs, the New York Yankees.
This is going to be a long four-game set, with what is sure to attract a big crowd in Toronto.
The Yankees will likely have clinched at this point, so it's tough to say what this series will bring forward. The Blue Jays on the other hand will be in a position where they can't take this series lightly, because they will either go into the postseason strong, but are more likely to miss out.
For that reason, they need to bring their A-game if they want to make a point of not being bullied around in the A.L. East. The series will be a close one, but I think these two teams will play down to the wire.
Prediction: 2-2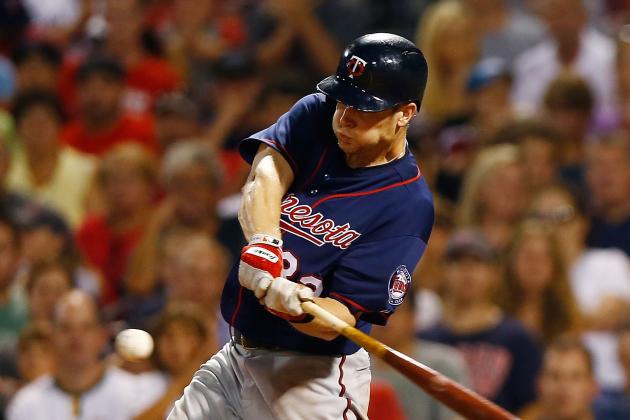 Jared Wickerham/Getty Images

Who says the Toronto Blue Jays won't be playing October baseball? Well, they will be against the visiting Minnesota Twins.
The Twins have been absolutely abysmal in 2012. Nothing has been working for them. From injuries to trading players away, they've thrown in the towel weeks (or maybe months) ago.
Toronto should be able to make quick work of the Twins at home, but surprisingly these teams are 2-2 on the season, so this final series will be the deciding factor on who wins it.
The Blue Jays will have the home crowd advantage, but they will have played in their previous 13 days, so that could prove to be costly.
Nonetheless, nothing more than a series sweep will be accepted here.
Prediction: 3-0