Blaine Gabbert and Training Camp Busts on Thin Ice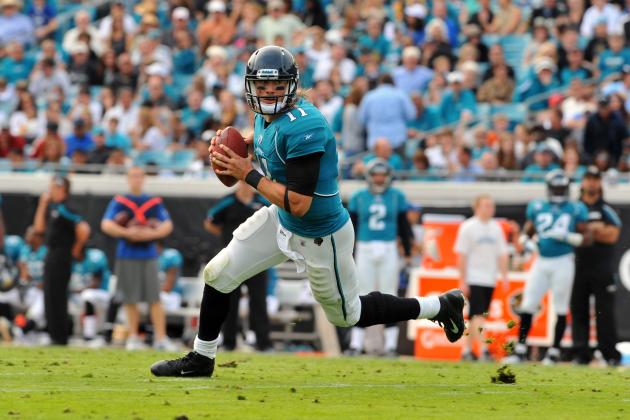 Al Messerschmidt/Getty Images

NFL training camps are in full swing, and several big-name players are in precarious situations. Guys like Blaine Gabbert and Mark Sanchez have been busts so far and must step up in training camp or risk losing their starting spots.
Here is a look at five players who need to improve dramatically during training camp and the preseason.
Begin Slideshow

»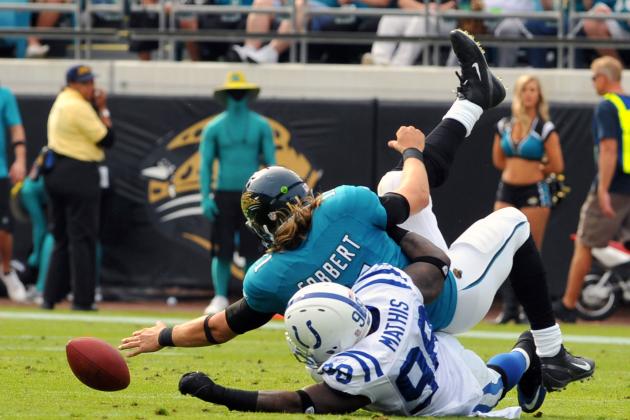 Al Messerschmidt/Getty Images

As a rookie in 2011, Blaine Gabbert wasn't exactly all that was expected. The Missouri product completed just 50.8 percent of his passes for 2,214 yards, with 12 touchdowns and 11 interceptions. His quarterback rating was a dismal 65.4. On top of that, his yards-per-attempt average of 5.36 was the worst in the NFL.
The sad part is, I am not optimistic that Gabbert can improve in 2012.
The Jacksonville Jaguars selected Gabbert with the 10th pick in the 2011 NFL draft. And by adding Laurent Robinson through free agency and drafting Justin Blackmon this year, they have tried to surround him with talent. But Gabbert is incredibly inconsistent and hasn't shown the ability to stand tall against a pass rush and complete passes.
There is a real possibility that Gabbert won't be any better in 2012. If that's the case, he could turn out to be a huge bust. He's under a lot of pressure to perform this season.
Jeff Zelevansky/Getty Images

Mark Sanchez has every tool needed to become an elite NFL quarterback. But the 25-year-old has yet to put it all together and perform to the level he's capable of.
So far in his career, Sanchez has completed 55.3 percent of his passes for 9,209 yards, with 55 touchdowns and 51 interceptions. His career quarterback rating of 73.2 is terrible for an NFL starting quarterback.
This offseason the New York Jets brought Tim Tebow to town, and as a result, Sanchez will likely find himself right smack in the middle of an incredibly hot quarterback controversy.
It's fairly easy to imagine the Jets' fanbase calling for Tebow the first time Sanchez tosses an interception.
Sanchez must completely outperform Tebow in training camp and in the preseason to put considerable distance between the two. If that doesn't happen, it could be a really long season for the USC product and Jets fans.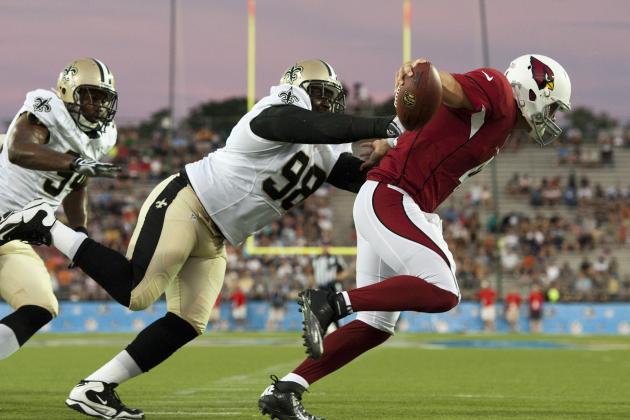 Jason Miller/Getty Images

Kevin Kolb signed a six-year, $65 million deal with the Arizona Cardinals after being traded over from the Philadelphia Eagles last offseason. He has yet to come close to living up to that contract.
In 2012, Kolb played in nine games and completed 57.7 percent of his passes for 1,955 yards, nine touchdowns and eight interceptions. His quarterback rating was a pedestrian 81.1. That led to a battle under center with John Skelton, who appeared to overtake Kolb as the season progressed.
Now, the two guys are battling for the job in training camp, and things haven't started well for Kolb. In the Hall of Fame game on Sunday night, he completed just one out of four passes for four yards and an interception. He was also forced from the game with a bruised rib.
Meanwhile, Skelton went 4-of-6 for 32 yards and looked far more comfortable under center.
The pressure is on Kolb to turn things around quickly.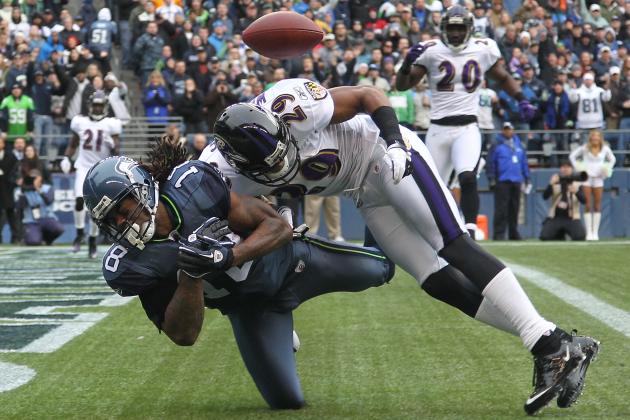 Otto Greule Jr/Getty Images

Sidney Rice was supposed to be a savior at wide receiver for the Seattle Seahawks when he signed a five-year, $41 million deal last offseason. Thanks to injuries, that didn't happen.
Rice played in just nine games in 2011 and caught 32 passes for 484 yards and two touchdowns. He was beset by shoulder and concussion problems that shortened his campaign. In November, he sustained his third concussion in 12 months, then underwent surgeries on both of his shoulders in January.
As of now, the Seahawks are taking things slowly with Rice in the preseason. That makes sense, since the 25-year-old has only played 15 games over the past two seasons. But if Rice doesn't figure out a way to stay on the field, he may not be around much longer.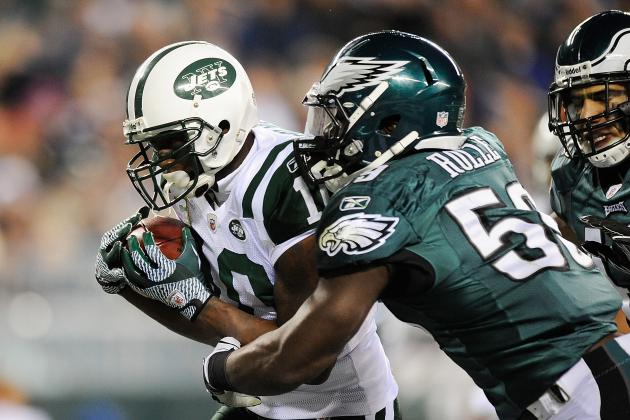 Patrick McDermott/Getty Images

Santonio Holmes had a rough offseason, as he was essentially singled out as the reason for the turmoil in the New York Jets' locker room. Now, he has to perform at an elite level worthy of the five-year, $45.25 million deal he signed in 2011.
Holmes bruised some ribs early in training camp and is expected to sit out a week. When he gets back he has to turn into the No. 1 receiver the Jets paid for when they signed him to that big contract. So far, he hasn't lived up to that deal.
In two years with the Jets, Holmes has 103 receptions for 1,400 yards and 14 touchdowns. Those are not the numbers of a dominant No. 1 wideout.
Something has to change, and Holmes must improve, or he could find himself elsewhere eventually.