Sunrise in the NFC East: The Division's Top Links on August 6, 2012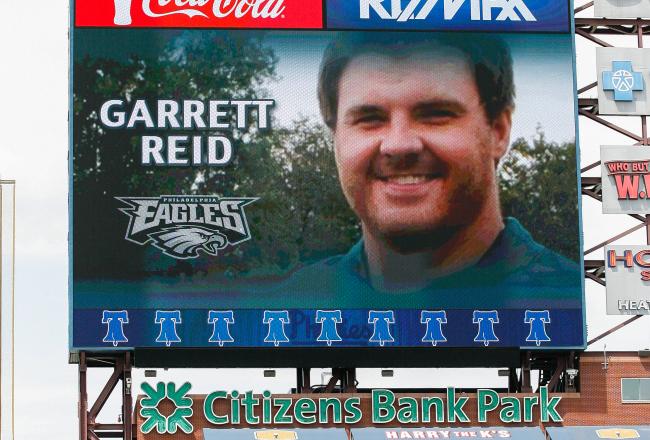 Brian Garfinkel/Getty Images
In today's top NFC East links: Tragedy in Philadelphia, and a bunch of stories out of Dallas, New York and Washington that suddenly feel a lot less important.
There's quite a lot going on with the Cowboys, so let's touch on three different links pertaining to three different injuries.
First, Rainer Sabin of the Dallas Morning News has the details on Morris Claiborne's knee injury, which was suffered late last week and is expected to keep him out about a week:
Morris Claiborne was disappointed — even angry — after spraining the MCL in his left knee. But he was also relieved that the injury, which occurred Wednesday, wasn't more serious. Claiborne, who recalled that "he couldn't hardly walk when I woke up the next day," said Saturday he expects to be sidelined for "about a week or so."

"I know it's something I can come back from," said Claiborne.
Sure, it could've been a lot worse, but this could hurt badly. Claiborne didn't exactly have a sparkling start to camp and now he's going to fall further behind.
Making matters worse, Todd Archer of ESPNDallas.com has the latest on Mike Jenkins, who would be first in line to replace Claiborne. The veteran cornerback is in Florida having his surgically-repaired shoulder looked at by Dr. James Andrews.
Right now, Brandon Carr and Orlando Scandrick are the only healthy corners Dallas can rely on.
And a final link comes from David Moore of the Dallas Morning News, who wonders if the Cowboys should be concerned that Miles Austin tweaked his hamstring in Saturday's practice.
Austin is only expected to miss about a week, but the concern is that he also had quite a lot of trouble with his hammy last season. The Cowboys can't afford to lose Austin long-term again.
From Paul Schwartz of the New York Post: It's possible the void left by Brandon Jacobs could simply be filled by the man who's been starting all along, Ahmad Bradshaw.
Justin Tuck didn't fully emerge as a player and a Giants leader until after Michael Strahan retired. Can a similar metamorphosis be taking place with Ahmad Bradshaw now that Brandon Jacobs is no longer on the scene?

"It's probably a good analogy,'' Tuck said yesterday. "I never had Ahmad without Jacobs so I don't know what the real Ahmad is in that light. I know he probably has the biggest heart of anybody on this football team and we know what to expect from him when he steps on the football field, banged up or not. We didn't necessarily need him to say anything, we didn't necessarily need him to be vocal."
A more natural assumption might be that such a void can or will be filled by rookie first-round pick David Wilson, but Ebenezer Samuel of the New York Daily News notes that Bradshaw and the team want Wilson to slow it down a bit.
Jeff McLane of the Philadelphia Inquirer has an up-close-and-personal look at how Andy Reid is coping with the loss of his son, Garrett. Reid is expected to return to the team this week, which we can only hope helps him with the pain.
For the first time since the winter of 2007, when he took a leave to tend to his sons' plight, Reid left the Eagles on Sunday to be with his family. It would be completely understandable if he never returns.

Football, though, is Reid's addiction. If anyone thought for a second that he would call it quits - and, really, those close to him never thought he would - owner Jeffrey Lurie dispelled the idea when he said that Reid already was talking about returning this week.

Grief is handled in many different ways, and Reid apparently will channel his into coaching the Eagles for his 14th season.
I chose not to write on Garrett's death this weekend because it's too early to turn this into a football story. McLane spends most days around Reid and the team, though, so his view on what's happening is quite valuable.
From Mike Jones of the Washington Post: This is the most important season of Fred Davis' career.
He knows that with another failed drug test, he will be suspended from the NFL for an entire year. He also knows that if he wants a long-term contract, he must not only stay out of trouble, but also perform on the field.

Davis has said repeatedly that his marijuana use is a thing of the past. And this week he said that although he's well aware that he is under scrutiny for several reasons, he is blocking that out.
It's easy to see Davis' career going either way now. He either kills it and earns that long-term deal or he screws up off the field and goes down the opposite path. Neither would surprise me. The guy could become an All-Pro, but he could also be out of the game in two years.
This article is
What is the duplicate article?
Why is this article offensive?
Where is this article plagiarized from?
Why is this article poorly edited?