5 Overrated College Football Programs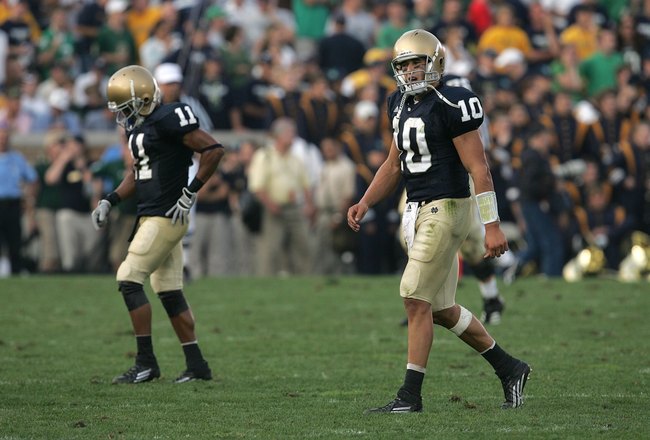 Jonathan Daniel/Getty Images
College football, perhaps more than any other sport, lends itself to great debate. Some teams always seem to be ranked higher than they should, or garner recognition undeserved based on their performance.
The teams on this list are undeniably loaded with rich tradition that dates back for decades. These teams boast previous championships, Heisman Trophy candidates and passionate fans. It is for these reasons that the programs continue to draw top recruits, fill stadiums and rule the TV ratings.
Unfortunately, some could say that the notoriety is unwarranted because these same teams have struggled in recent years. While winning games still happen, there have been a lack of championships and major bowl victories for these teams in recent years.
College football fans are among the most passionate of any sport. They show their team spirit and pride regardless of on-field results. Each new season brings renewed hope of success. "This is our year" is a popular statement from many fans.
Far too often, fans base their pride and optimism on past victories. They ignore recent struggles and continue to think their team is the top program in the land.
Remember, this overrated list is based on lack of recent success and fan perception of the team.
Schools that almost made the list: Texas A&M, Pittsburgh, Penn State
Florida State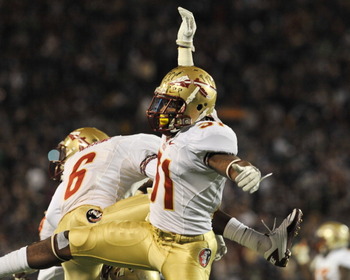 Al Messerschmidt/Getty Images
The Florida State Seminoles have a rich tradition that dates back to the Bobby Bowden era. The Seminoles were one of the dominate teams of the 1990s, winning two national championships and producing numerous NFL players.
FSU went through some lean years at the end of the previous decade. Bowden's last year was 2009. The team finished with a 7-6 record.
Things have started to turn back around for Florida State. They have still been able to bring in top recruits maintain their large fan base.
However, FSU is not the dominate team that most fans probably remember. Fans expect to be ranked in the top 25 each year, whether the victories are there or not. Their last ACC conference championship came in 2005.
While the record has continued to improve under head coach Jimbo Fisher, the championships have yet to come.
If the winning trend continues they would easily be replaced on this list, but let's not go there yet.
Tennessee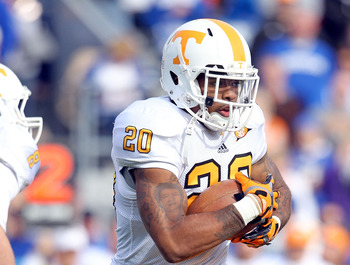 Andy Lyons/Getty Images
The Tennessee Volunteers have not enjoyed great success since 1998. That was the last time they won a conference championship or a national championship.
Things have been declining for the Volunteers for the last number of years. They are a combined 23-27 since 2008.
Despite losing, fans continue to fill Neyland Stadium on a regular basis. The Volunteers also continue to land top recruiting classes each year.
While the lure of Tennessee football still remains, the reality is that they have not been relevant in the SEC for a number of years.
UCLA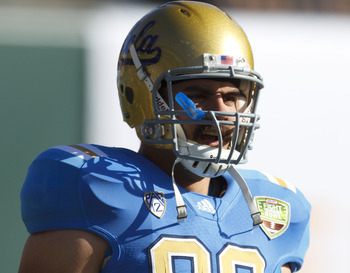 Jason O. Watson-US PRESSWIRE
How can a teams whose best record since 2006 is 7-6 still be relevant in college football?
Easy.
Just boast a winning tradition from decades past and a prime location. That's what UCLA has going for itself.
The fact that UCLA continues to successfully recruit is amazing. This team has been downright terrible for a long time now. Their last conference championship was in 1998.
Regardless, UCLA fans continue to think of their team as a top-level program.
Overrated.
Miami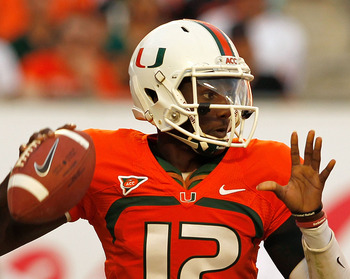 Mike Ehrmann/Getty Images
No college football team was more feared in the 1980s than the Miami Hurricanes. The 'Canes won four national championships from 1983-1991. They added a fifth title in 2001.
There is no denying that the Miami teams of the past were great. Just look at the roster of the 2001 team—it's loaded with NFL stars.
The current group of Hurricanes leave a lot to be desired. They finished the 2011 season with a modest record of 6-6. In fact, Miami has been in a decline since the mid-2000s.
Yet still, Miami merchandise continues to rank among the top sellers in college football. Despite the record, the Hurricanes also continue to be a top recruiter. (I'm sure that South Beach has nothing to do with players going there.)
Miami is now a middle-of-the-road team in the ACC. They should not currently be considered a top college football program.
Notre Dame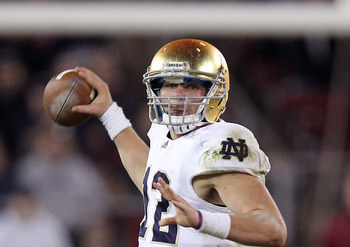 Ezra Shaw/Getty Images
Perhaps no college football program is as overrated at the present time as Notre Dame. The Fighting Irish have arguably the richest football tradition of any program. They also have one of the largest and most loyal fan bases in the country. Not to mention their own exclusive television deal with NBC.
That being said, the Irish have not been performing up to the standards of typical Notre Dame football as of late.
The Irish lay claim to 11 national championships. However, fans have to think back to 1988 to remember the last one.
Since Notre Dame does not play in a conference, they have no conference championships to show. They must therefore be judged on national championships and quality bowl victories—the last one being the 1994 Cotton Bowl against No. 6 Texas A&M.
To that point, they have only two total bowl victories since 1994: The 2008 Hawaii Bowl over Hawaii and the 2010 Sun Bowl over Miami.
Unimpressive results for a team held on such a high pedestal.
Keep Reading

Penn State Football: Like this team?