One Burning Question for Every Member of the Dallas Cowboys' Roster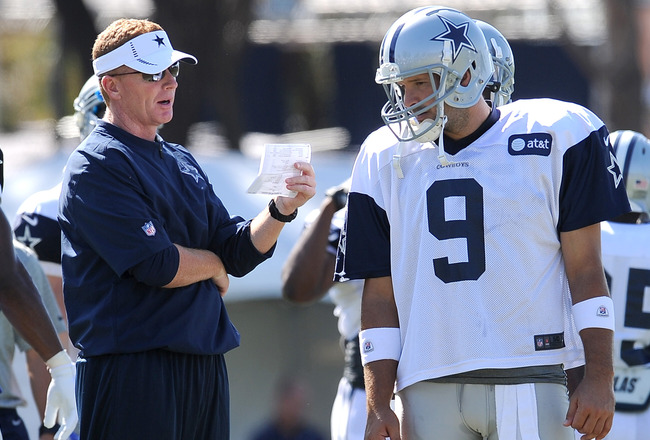 Jayne Kamin-Oncea-US PRESSWIRE
The Dallas Cowboys are going through change. They signed cornerback Brandon Carr in the offseason to a $50 million deal. Team owner Jerry Jones moved up in the draft to grab corner Morris Claiborne, and the offensive line has an influx of new players.
"Old" stalwarts are still there, such as quarterback Tony Romo and wide receiver Miles Austin.
The defensive front and linebacking corps is under going change as well, with Bruce Carter and Dan Connor battling for a starting spot.
But change doesn't happen without controversy. Running back Felix Jones failed his conditioning test along with a few other Cowboys players.
So while training camp is going on and the 'Boys are strategizing for the season, there are a few areas where fans and pundits have concerns.
Here is one question regarding each player on the Cowboys' roster.
Quarterbacks
Jayne Kamin-Oncea-US PRESSWIRE
Tony Romo
Can Romo rid himself of the early season mistakes? Last year, he threw a very costly interception against the Jets that led to the Cowboys dropping one in the loss column.
He practically threw the Lions game away and lost the trust of many outside of the organization.
Like, you know, fans.
If he can remove the mistakes, he can place at least two more wins on the schedule for Dallas.
Kyle Orton
Orton will be the clipboard holder but he's more than capable of leading the Cowboys if Romo were to go down.
But can he pick up on head coach Jason Garrett's offense?
Orton is an upgrade over the retired Jon Kitna, but if he stumbles with picking up the offense, the team could be in trouble if Romo is injured.
Stephen McGee
This is it for Mr. McGee. I believe that Carpenter will beat him out for the third quarterback spot, but if not, he'll get another opportunity to show and prove.
He's been in the offense enough time to make an impact, and he hasn't so far.
Honestly, it's time to move on.
Rudy Carpenter
This is Carpenter's second go-round with Dallas, so he has to make it count.
Pick up on the offense and show that he's ready to take over for McGee. He'll receive his fair share of looks, but if he can't keep up, then he'll more than likely be let go.
Carpenter isn't a better quarterback than McGee; it's just a matter of change and what he may do a little better than McGee.
Running Backs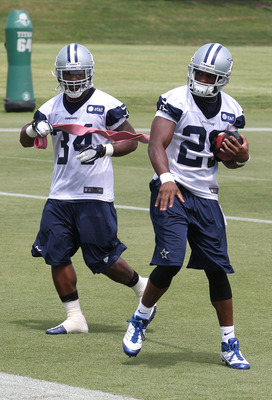 Matthew Emmons-US PRESSWIRE
DeMarco Murray
Murray is fully recovered from his fractured ankle. He's looked good in camp but can he regain his form from 2011?
It is kind of a crazy question to ask because Murray is just in his second season, but he took his opportunity and literally ran with it.
No one is expecting Murray to have another 253-yard rushing game, but if he can lead the way with consistent rushing performances, the Cowboys' offense will run well.
Felix Jones
Mr. Jones failed his conditioning test, and he's in the last year of his contract. Which Felix Jones will we see? Will he be plagued with injuries?
Because he is in need of a new deal, will Jones step his game up?
He's too fragile for Garrett to feed him the ball over 20 times per game so being a change -of-pace back is what fans should expect. But will he be on the field to make an impact?
Phillip Tanner
Tanner is hurt and will need surgery to repair his broken hand. He'll be out long enough to give other rookies a chance to shine.
But will his injury make him expendable or strengthen his position on the roster?
Lance Dunbar
Dunbar will help take over for the injured Phillip Tanner. He will get his opportunity to show that he deserves the third running back spot or at least a special teams position.
Because of Tanner's injury, there is an opening. Will he take advantage?
Ed Wesley
Wesley is another rookie running back who will receive an opportunity to show why he deserves a roster spot.
Will he do enough in training camp to show that he should receive another look in the preseason?
Jamize Olawale
The Cowboys are stocked full of rookie running backs. He's from North Texas, as is Wesley, and they'll compete for time on the field.
He has the same question as Wesley and Dunbar. Can he do enough to show that he's better than Tanner?
Lawrence Vickers
Vickers is the new fullback as the team allowed Tony Fiammetta to get in the wind in the offseason.
The only question that he faces is can he open enough holes for Murray?
Wide Receivers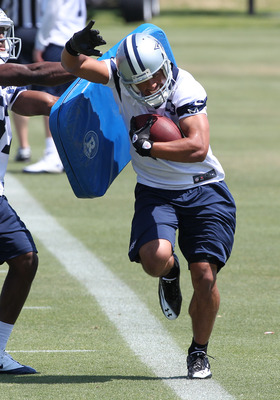 Matthew Emmons-US PRESSWIRE
Miles Austin
Austin was out of shape and out of sorts last year. That very large contract that he was awarded a couple of season ago does not look like a good investment now.
He'll have to prove that he's worth the money and he's serious about redeeming himself from last year's terrible showing.
Plus, can he hold off a serious push from Dez Bryant to become the top-dog receiver?
Dez Bryant
This one is short and sweet: Can Bryant avoid suspension due to his off-the-field troubles?
If he can't, the Cowboys may be in a little trouble.
Not only that, has Bryant learned the entire playbook?
Kevin Ogletree
This one is pretty easy, yeah?
Will Ogletree survive training camp? If he does, will he survive the preseason?
He's not high on the list of men who will occupy the slot receiver position. Dallas had a great receiver in Laurent Robinson last year, but he ended up costing too much money.
Can Ogletree step his game up to renew Garrett's trust in him?
Saalim Hakim
I actually believe he will not make the team. Shows how much faith I have in him.
At any rate, Hakim will have to prove that he can catch the ball and make a few plays on special teams.
Can he show enough to warrant consideration for the practice squad?
Dwayne Harris
I liked Harris coming out of ECU last season. He's tall and has the body to bang against smaller cornerbacks.
He'll compete for the slot position job, but like last season, he'll probably return kicks and go back and forth between the practice squad.
Mainly, can he make the team or will he be released?
Cole Beasley
Dallas has a ton of rookies to deal with, but it is a good opportunity to see just what type of talent the team has on its hands.
Beasley will make a strong push for the slot, but he's another special team's guy. He's only 5'8" and will have to fight for special teams' consideration.
Will he do enough in training camp for coaches to take another look at him?
Andre Holmes
He failed his conditioning test, which put him behind the eight ball.
This one is pretty simple. By failing the conditioning test, did he lose too much ground to make the team?
Raymond Radway
He's a two-year veteran and he stands 6'3". He has the body to make plays in the NFL, and according to Tim MacMahon of ESPNDallas.com, he's turning a few heads in training camp.
"He has really good speed and can get on top of the defense," passing game coordinator John Garrett said. "As you can see, he's made some big plays. He just needs to be consistent and keep learning all the positions so we can insert him anywhere and he can become reliable and dependable."
Will he make enough plays to make the final roster?
Tim Benford
Benford has caught a few eyes in training camp, but he's another small receiver who will have to make a few extra plays to catch the attention of coaches.
This all boils down to the slot receiver position. Is Benford athletic enough to make a move inside to the slot?
Donavon Kemp
A rookie receiver out of Texas-El Paso, he stands at 6'1."
With all of the young talent the Cowboys have amassed, will they show enough to earn coaches' trust?
Kemp will battle for the slot position, like every other receiver, but will he show enough to at least get a look for special teams?
Danny Coale
Coale is my dark horse to eventually win the slot receiver position. It may not be this season, but I believe he'll grab it.
He's a rookie out of Virginia Tech who has yet to step foot on the field due to an injury.
When he does, can he show the team that he's ready to step into the slot to start?
Tight Ends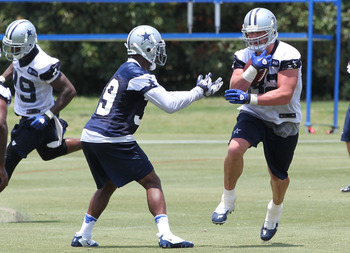 Matthew Emmons-US PRESSWIRE
Jason Witten
My only fear with Witten is, will there be a falloff in 2012?
He's the All-Pro, All-World tight end. But will this finally be the year that we see a tail off from Witten?
John Phillips
Phillips is a better pass catching tight end than Martellus Bennett, who was allowed to walk in the offseason.
But can he provide the run-block support that Bennett gave the team?
James Hanna
Hanna is an inconsistent pass catcher with a very high level of potential. He will not ascend to the second tight end position this year because he has to learn the offense and his blocking must get better.
Will he make a large enough stride to make John Phillips expendable after this season?
John Nalbone
He was signed this offseason as another tight end option. Dallas will only keep three tight ends so he's going to battle with Hanna for the last position.
Will he do enough to earn a practice squad position?
Andrew Szczerba
A rookie out of Penn State with a large frame, he's 6'6" and stands at 256 pounds.
Sounds like a blocking tight end who can make up for what the team misses with Martellus Bennett.
If he can add a few caught passes and seal the end of the line with Free or Smith, he may show enough for the team to keep him.
Will this rookie block well enough to make the final roster?
Offensive Tackles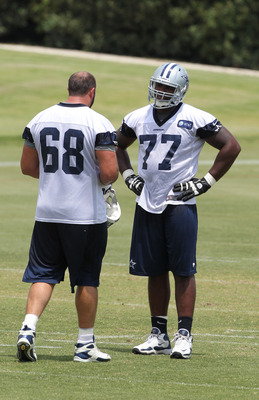 Matthew Emmons-US PRESSWIRE
Pat McQuistan
McQuistan is a seven-year veteran out of Weber State. He's 317 pounds and will look to serve as a backup to Smith and Free.
Are his feet quick enough to keep up to protect Romo and open holes for Murray?
Tyrone Novikoff
A rookie out of Idaho, he'll look to use his size as leverage in an effort to make the team.
Dallas is looking for reserves in this capacity as Tyron Smith and Doug Free are the starters.
If he's able to move fast enough and keep the quarterback upright, he'll have a chance.
But does he have enough to prove that he's worthy as a reserve?
Jeff Adams
Adams was drafted by the Cowboys out of Columbia. He's smaller, only weighing 305 compared to 320 plus for most of the linemen.
Can he show that his small size can be utilized as a weapon as opposed to a weakness? He will have to use his feet and hands as a means to stop ends from getting around on him.
Jermey Parnell
He has the height to make the team but his weight may be a little low. He's only 311 lbs.
He's been in the league for three seasons, which gives him a let up on the other rookies.
I believe that Jeff Adams will beat him out, but if he can seal the edge, he's golden.
Tyron Smith
The only question many want to know is can he protect Romo's blindside? He has the skill and ability, but is he good enough to work the left side?
Doug Free
He tailed off last season, so Dallas moved him to the right side. He may have more of a natural fit on that side of the line as he seemed overwhelmed protecting the blind side.
Can he re-gain his form from 2010?
Guards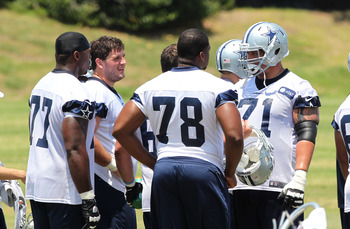 Matthew Emmons-US PRESSWIRE
Phil Costa
Costa is really the team's center and will get every opportunity to show that he's worthy of starting.
He had his communication issues last season with Romo, and let's hope that all is fixed.
My question for him is direct and simple: Can he stop the bad snapping problems he had in 2011?
Bill Nagy
I really like Nagy and I see him as a starter very soon. He's young, has potential and is still learning.
He'll get time at center as well, but guard is a more natural fit.
Does he have enough to beat out Nate Livings and Mackenzy Bernadeau for the starting guard spot?
Mackenzy Bernadeau
He'll start when he can get on the field. He's injured and cannot show the Cowboys much right now.
If this is what Dallas has to look forward to from him, their investment was wasted.
Can he stay healthy?
Nate Livings
An LSU Tiger, he was signed in the offseason to compete for a starting guard position.
Even with Livings and Bernadeau, Dallas is still weak in that area.
Will Livings show that he's not a liability in the passing game?
Defensive Tackles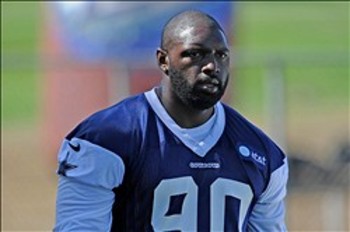 Jayne Kamin-Oncea-US PRESSWIRE
Jay Ratliff
The three-technique nose tackle remains despite talk that he may have been moved to end during the offseason.
He can be swallowed by larger centers and is often double-teamed because he's so good at slipping in between the gaps.
I don't for see a drop off from him, but can he remain healthy and continue to prove that Dallas isn't in need of a larger nose tackle?
Josh Brent
He'll remain as Ratliff's backup and the bigger option at nose.
He's 320 lbs compared to Jay's 305 and can serve as the plug if need be. Unless he takes a giant leap forward this season, he'll continue to play a reserve role.
Can he take a step forward so that defensive coordinator Rob Ryan can add variety to the defensive line by moving Ratliff around?
Rob Callaway
He'll look to take over for Brent. He's in his second year from Saginaw Valley State and weighs 324 pounds.
His main job will be to show that Ryan can trust him when Ratliff is on the bench.
Can he prove that he's worthy of replacing Josh Brent?
Defensive Ends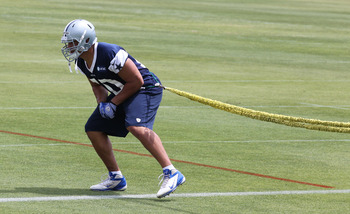 Matthew Emmons-US PRESSWIRE
Tyrone Crawford
The rook out of Boise State is here to stay. He's tall and lean and will try to speed rush from the edge.
I wasn't really high on him because I did not think he showed enough in college to warrant being drafted as a pass-rush specialist, but I've been wrong many times before.
Will Crawford add enough pressure to the opposing quarterback to take pressure off of DeMarcus Ware?
Clifton Geathers
What I really like about Geathers is that he's 6'7" and weighs 325 pounds. I know that size doesn't always mean anything and that it may be a liability for him, but that should be good for something, shouldn't it?
He has potential, and the Cowboys obviously see that. With Marcus Spears and Kenyon Coleman almost on their way out, Geathers has to earn the trust of Rob Ryan.
But can he show enough in training camp to warrant the team releasing Spears or Coleman?
Baraka Atkins
He's listed as a defensive end on NFL.com but I still see him as a linebacker. He's from "The U" and may be used as a hybrid.
Atkins will have to show that he can rush the passer and play the run well enough to warrant a second look. If not, he's gone.
Jason Hatcher
Hatch is a savvy veteran now. He's in his seventh year out of Grambling State and has a really good chance of making the team.
His question is the same as Geathers: Can he move Spears and Coleman out of the way to make the final roster?
Ben Bass
A rookie looking to catch on with the special teams unit or the practice squad, Bass will need some time to grow.
Will he do enough in training camp for the team to give him a practice-squad nod?
Marcus Spears
He has become expendable with the emergence of Sean Lissemore. He had a drop-off last season, and if Lissemore continues to impress in camp, Spears may be released.
He'll have to take a big leap forward before preseason to keep his job.
Kenyon Coleman
He's in the same boat as Spears as he's almost a liability now. He's scheduled to make $1.9 million this year, and Lissemore's number is at least $500,000 cheaper.
Coleman is old and in his twelfth year and does not provide enough on the pass-rushing end for Dallas to miss him if he's gone.
Linebackers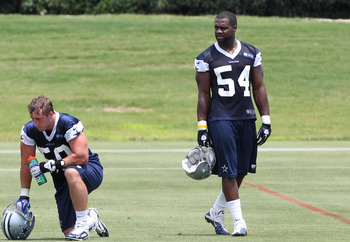 Matthew Emmons-US PRESSWIRE
DeMarcus Ware
He's the standard for pass-rushers in this league now. He's the heart and soul of the Cowboys' defensive unit.
Can Ware sustain his high sack numbers going into 2012? He had 19.5 in 2011. Will we see another high-double-digit number this season?
Dan Connor
He's newly signed and competing with Bruce Carter for the starting job. He'll have it at first because Carter is learning the playbook and is really in the second half of his rookie season due to injury last year.
Can Connor keep the job once Carter is comfortable enough in Ryan's defense?
Bruce Carter
He has Sean Lee-type expectations.
The team believes that he'll develop into a really good linebacker this season or next and brought Connor in as a stop gap.
But he's gaining confidence by the day.
Can he beat Connor out for the starting job before the season starts?
Sean Lee
If Ware is the heart and soul, Lee is the pulse.
He has turned into an almost great linebacker during his short time in the NFL. His coming-out party was against the Colts a couple of seasons ago, and he hasn't looked back.
Lee needs to work on strength as he let go of his fair share of tackles last season.
Can he stay healthy, and will he have a presence in every single game this season?
Kyle Wilber
I have high expectations for Wilber. I believe he'll make Anthony Spencer expendable by season's end.
He seems to be the pass-rushing player the team has been looking for. Spencer isn't that, and if Wilber can show enough aggressiveness and knowledge of the playbook, Spencer's gone in the offseason.
Anthony Spencer
He has to step his game up this year. I understand that it isn't all about sacks, and Spencer does provide a lot of run stopping support.
But he has to get better at pressuring the quarterback.
If he cannot provide that service this year, he may as well pack his locker right now.
Orie Lemon
Orie is in his second year out of Oklahoma State. Dallas needs depth at all positions, but linebacker, particularly inside linebacker, is of concern for them.
How much of a drop off happens when Lee and Ware are on the bench?
Has Lemon grown enough for the team to trust him in nickel situations?
Aston Whiteside
Here is a rookie looking to make the team.
For depth purposes, he'll get a fair look from the coaches.
But, again, will he show enough to warrant a reserve spot?
Adrian Hamilton
Another rookie looking to make the final roster. The first preseason game will be vital for him because that will be his in-game experience.
Hamilton will have carve a niche for himself in either run defense or rushing the passer. If he gets lost in the pack, he's gone.
Alex Albright
Alex has a chance of making the final roster as he's big and seems to have what the coaches like.
He'll compete with rookies and other players for a final position, but he's another one that will either have to prove himself on special teams or in nickel packages.
Isaiah Greenhouse
He's in his second season and I fully expect to see his name on the practice squad list.
I believe he's a special teams player who will have to grow more before he's given a position on the final depth chart.
Caleb McSurdy
Playing linebacker in the 3-4 can be tough. It's a lot to learn, and he'll have to pick it up really quickly.
Can McSurdy earn the trust of the coaches, show that he has a high football IQ and possibly prove enough on special teams for the final roster?
Victor Butler
Is this the year that he finally breaks loose? He had a great training camp last season that did not translate over to the regular season.
He has to show that he has grown since then.
Will Butler prove to be the second pass-rusher the team has been looking for or just another depth linebacker?
Cornerbacks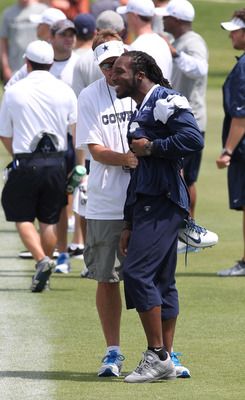 Matthew Emmons-US PRESSWIRE
Mike Jenkins
He wants a new contract and was demoted during the offseason. Yeah, he's bitter, but he has to get over it.
Will his attitude get in the way of his play in 2012? If it does, Dallas will let him go and his prospects next season won't be as vast.
Brandon Carr
The only question facing Carr is this: Is he worth the $50 million the Cowboys paid him?
Morris Claiborne
Can he learn the defense, and how good is he, really?
Claiborne has a lot of talent and athletic ability, but many are waiting to see how quickly he'll pick up on Ryan's complicated defense.
Will skill lead him, or will that turn into a liability as the season progresses?
Isaac Madison
A rookie from Arkansas who has a great chance of making the team. Dallas is light on depth in the defensive backfield, and Madison will get a great opportunity to show that he's capable.
If anything, Dallas doesn't have a choice as their options are limited.
A question for all rookies on the team goes for Madison as well: Can he show enough to warrant a roster spot?
Danny McCray
He's in his third year out of LSU and will look to show the Cowboys that he's ready to take a giant leap forward.
This again goes back to depth: Is he good enough to serve as a reserve?
Akwasi Owusu-Ansah
He's a special-teamer in my eyes.
Can he show in training camp that he's worthy of returning punts and possibly getting work in the secondary?
Eddie Whitley
A rookie out of Virginia Tech will look to show that he's not just another face in the crowd.
He's small, only 188 pounds, but typical for a cornerback.
Will he stand out or get lost in the sea of new faces in Dallas?
Brodney Pool
He failed his conditioning test, and he was supposed to start at safety.
Can he make it out of training camp?
C.J. Wilson
Wilson is out of Baylor and will probably make the final roster. He'll get his chances to play some in the slot, but more than anything, he'll have to be consistent.
If he can't show that he's reliable, he'll be cut.
Orlando Scandrick
He's competing with Mike Jenkins for the "starting" slot corner position.
Jenkins is a much better corner than Scandrick, but Mike is disgruntled. Can Scandrick use that in his favor to win the job?
Gerald Sensabaugh
He's getting older, and he was injured last season.
Will he remain healthy in 2012, and will there be a steep drop-off in play?
Mario Butler
He's growing, and the Cowboys see something in him to keep him around.
This is the year that he shows he can pick up the playbook and make a few players to turn the coaches' heads.
Mana Silva
He has nice size for a cornerback as he's 6'1" and 214 pounds.
I say that any corner on the roster has an equal chance of making the team because the Cowboys' defensive secondary looked so bad at times last season.
But will he get lost in the crowd or show that he can make a move on special teams?
Lionel Smith
Another rookie who's looking to make an impact. He's small but quick and will have to carve a niche for himself.
I think he'll make it, but it depends on the amount of plays he makes on the field.
Barry Church
This is his opportunity to grab a starting job. He has the potential and skill; he'll just have to remain consistent and stable.
With Pool failing his conditioning test, that opening the door for Church to take advantage.
The question is will he?
Justin Taplin-Ross
Another rookie but this one is out of Utah and has great size. He weighs 225 pounds and stands at 6'3."
So he has an advantage because he can match well with most receivers. But does he have enough skill and polish to show that he can make enough plays on the field?
Specialists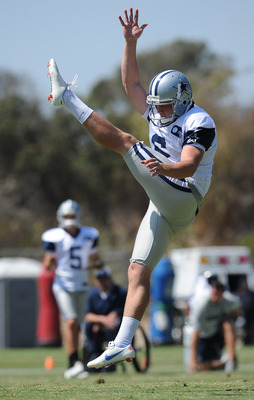 Jayne Kamin-Oncea-US PRESSWIRE
Chris Jones
Dallas had a great punter in Mat McBriar for many years. He had a golden foot and did his job in the battle of field position.
Jones has proven that Dallas may have made a mistake in letting McBriar go.
So will Jones' foot show enough to calm fears in Dallas over the team's punting game?
Dan Bailey
Can he do it again?
Will he remain consistent and did the success of 2011 go to his head?
Delbert Alvarado
Dallas has a punter competing with Jones, and the battle may be closer than many think.
Jones still has a leg up on Alvarado, but there is a window for him to sneak up on Jones.
Will he take advantage?
L.P LaDouceur
He's the long snapper, and Dallas hasn't had many issues with him. It is the center position that concerns people.
Will he remain consistent?
Charley Hughlett
Charley is a rookie out of University of Central Florida looking to un-seat LaDouceur.
Maybe Dallas should work him at center as they've have their fair share of issues there.
But will many remember his name if LaDouceur remains consistent?
Keep Reading

Dallas Cowboys: Like this team?