Seattle Seahawks' Sleepers to Watch in Training Camp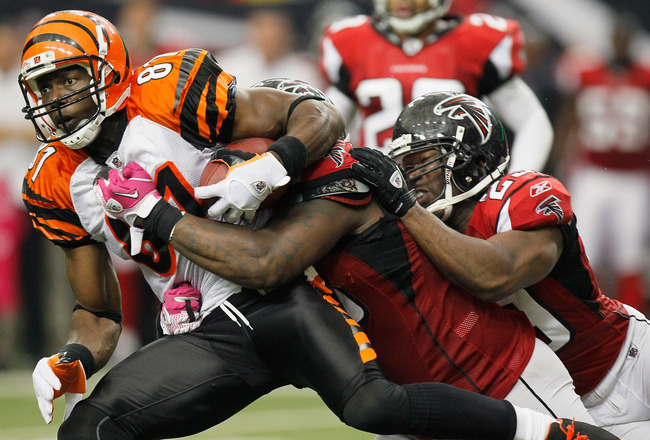 Kevin C. Cox/Getty Images
The Seattle Seahawks opened the 2012 training camp full of optimism. In August there is still time to overlook issues with the offense, which happens to be the biggest layer of uncertainty.
Things look much different on the defensive side of the ball. Seattle returned 10 starters and believe they have a solid upgrade at middle linebacker.
Both units have players that have largely been under the radar. Is it a surprise that most of them are on offense?
The following is five guys who not many people are talking about now, but should be.
WR: Antonio Bryant Out, Terrell Owens In?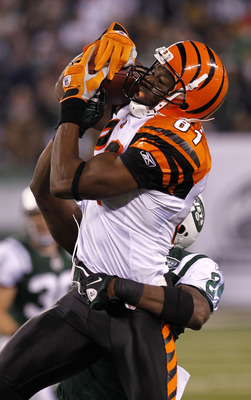 Chris Trotman/Getty Images
Antonio Bryant didn't have much of a chance to make this team, as they value youth and speed and Bryant has neither.
But Seattle needs a little experience to blend with their youth.
If Braylon Edwards has his speed back and can get open he could be a surprise on the final roster.
Reports are circulating, such as the one from Dave "Softy" Mahler on Twitter, that Terrell Owens is headed to Seattle. It isn't clear if it is for a tryout or a visit, but it is clear that Pete Carroll is willing to turn over every possible stone to find talent.
Owens' last season yielded 983 yards on 72 catches in 14 games. He also added nine touchdown receptions.
The last season the Seahawks had that kind of production from a receiver was 2007.
Owens has avoided the locker room issues that followed him up to his days in Dallas. He's looking for a final opportunity to play and if he still has his speed don't be surprised to see Carroll give him a chance.
#NFL League source told me tonight that WR Terrell Owens is on his way to Seattle to visit with the #Seahawks. No word on tryout/contract

— Dave Softy Mahler (@Softykjr) August 6, 2012
WR: Phil Bates
Mark A. Cunningham/Getty Images
Phil Bates is working on a transition from college quarterback to NFL receiver. Reports have been positive on the transition.
He has looked very good in drills and his work against the defense, running crisp routes and showing he's getting accustomed to the position.
He was a solid runner in college with the ability to bounce off tacklers and maintain his balance. With his ability to throw, Bates could also provide options for trick plays.
Aaron Levine, sports director for Fox in Seattle, is one of the many sets of eyes that have been impressed by Bates.
My WR predictions could change throughout camp, of course. And I really like Phil Bates. Should be practice squad guy at worst IMO

— Aaron Levine (@AaronQ13Fox) August 2, 2012
DE: Pierre Allen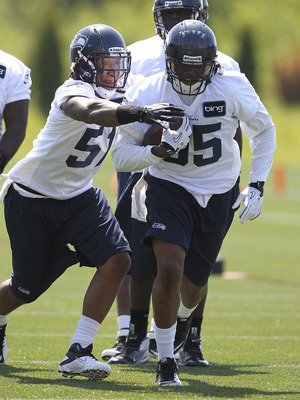 Otto Greule Jr/Getty Images
Pierre Allen had a very good training camp in 2011 after not being drafted out of Nebraska. Unfortunately, he was injured before the season began and didn't make much of an impact on the team.
Allen is again showing the skills needed to get the quarterback, while his size makes him a threat in run defense.
The defensive line is very competitive, but Allen could be one of the few surprise roster members.
OG: Rishaw Johnson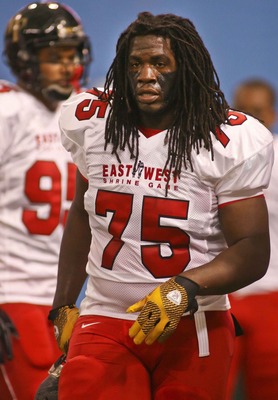 Phil Sears-US PRESSWIRE
Rishaw Johnson went undrafted in April.
While he has ample talent and promise, he also has a history of getting into trouble off the field: he was involved in a fraud scheme and forced to leave Mississippi.
He has the talent to be a starting guard in the NFL.
It will just take time to see if he also has the right frame of mind.
OT: Alex Barron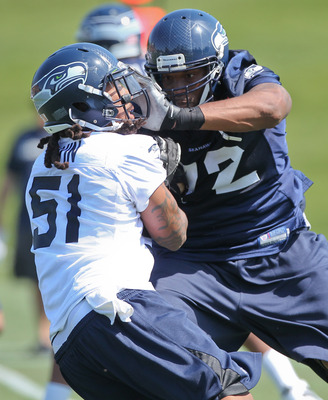 Otto Greule Jr/Getty Images
Alex Barron has basically been an afterthought in Seattle's camp.
He's one of several offensive linemen the Seahawks signed in free agency to provide depth and improve the starting unit.
Barron has been getting some reps in at right tackle after spending the start of camp as the third-string left tackle. He's using his long arms and athletic frame to fend off pass rushers and open holes.
He isn't likely going to to unseat Breno Giacomini, but it is good to know they have options.
Keep Reading

Seattle Seahawks: Like this team?