WWE: Predicting the Major Title Holders in 1, 5 and 10 Years Time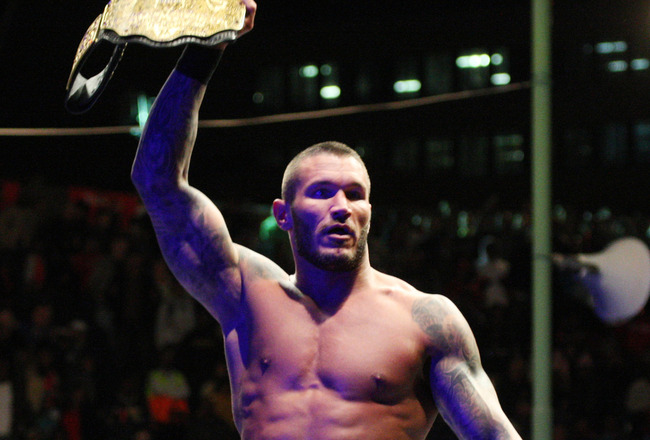 Gallo Images/Getty Images
Everyone likes to play Nostradamus now and again, and I am no different.
This slideshow will present my best guesses regarding the future of the company and its potential title-holders for one, five and 10 years down the track.
You may agree, you may not, just make sure to sound off on your thoughts below.
One Year: Daniel Bryan, WWE Champion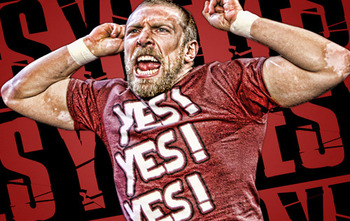 Image via beneaththemat.com
As good as Daniel Bryan is at playing the comedian, I've not been a fan of his developing angle with Kane and Charlie Sheen (yes, Charlie Sheen!).
The last few Raws have at least given him decent chances to shine in his matches with John Cena and Sheamus, but the laughs were never far away.
Perhaps this is how best to utilise one of, if not the best technical wrestler in the business—a 20- minute match that showcases his ability, followed by an entertaining, humorous skit, that showcases his developing mic skills.
His time to challenge for gold will come again, too, although perhaps it will be quite a few months before this happens.
Maybe even 12 months.
One Year: Randy Orton, World Heavyweight Champion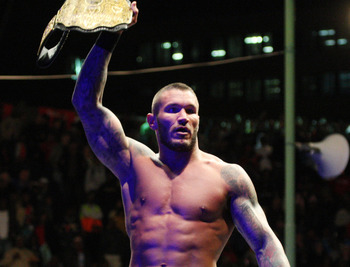 Gallo Images/Getty Images
If his recent Raw comeback has taught us anything, its that Randy Orton is still up there with John Cena at the summit of WWE popularity.
Of course, Orton once more challenging for the Heavyweight Championship will depend on his discipline backstage, and the necessity of him avoiding violating the company's Wellness Policy for a third time.
But certainly, Randy Orton is an asset to the WWE more than a hindrance.
And in a year's time, when Sheamus' long reign has begun to fade from the memory, I see Orton holding that belt high above his head yet again.
One Year: Prime Time Players, Tag Team Champions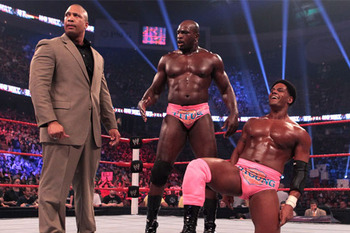 Image via WWE.com
Let's get one thing out of the way quickly—I am no fan of the Prime Time Players.
But it is impossible to ignore the fact that, with the WWE's attempted rebuild of the tag team division, Darren Young and Titus O'Neil have seemed to benefit the most.
Granted, they are two loose ends shoved together with the intention of providing relevance to a struggling section of the company.
But with the lack of depth, they aren't going anywhere, and I would be shocked if in the future, they do not hold the tag team belts.
Whether this is in one month, or one year's time.
Five Years: Dolph Ziggler, WWE Champion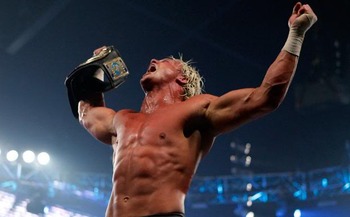 Image via itswilltime.com
With the Money in the Bank briefcase currently burning a hole in the palm of his hand, Dolph Ziggler will no doubt cash in soon, and quite possibly be successful.
But in terms of a lengthy title run, I don't hold out much hope for Ziggler, as good as he is.
The WWE Creative Team will not give him the same opportunities as they have given Sheamus this year, and he may just have to wait patiently for his turn at the top.
And whilst five years seems like a long time for a guy who is arguably good enough right now, fans shouldn't worry, because the "Show Off" isn't going anywhere.
Five Years: Wade Barrett, World Heavyweight Champion
Gallo Images/Getty Images
Like Ziggler, Wade Barrett is another guy who has the potential to get top billing somewhere down the track.
The former bare-knuckle boxer is due to return from an elbow injury that has sidelined him since February, and barring any future mishaps, he should receive a nice heel push later this year.
With Ziggler as a possible future babyface champion, Barrett has always performed best as a heel, something which is unlikely to change, even over a five-year span.
Let the Barrett Barrage commence!
Five Years: The Ascension, Tag Team Champions
The Ascension are a tag team partnership that has only recently begun to appear on the WWE's development show NXT.
But with the few opportunities they have been given, they have certainly maximised their time.
The duo consists of Brit Kenneth Cameron, and Conor O'Brian, who appeared on the fourth season of NXT.
Their promos consist of dark, heavy music with an impressive impeding air of doom (even if the point they're trying to make isn't quite made clear).
But as they say themselves, they will rise.
Ten Years: Cody Rhodes, WWE Champion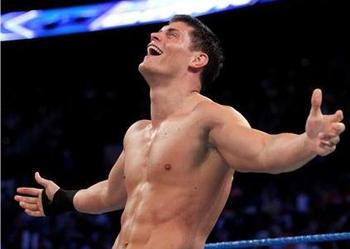 Image via allwrestlingsuperstars.com
For obvious reasons, these last three picks proved the most difficult to make.
There are no certainties over who on the current roster will still be competing in 10 years time, but to pick a potential champ is even harder.
For WWE Champion, I'm tempted to go with Cody Rhodes, who would be the top babyface of the company.
He has a good look, his technical abilities are excellent and his mic skills have come a long way.
And yet there is still room to grow.
Ten Years: Dean Ambrose, World Heavyweight Champion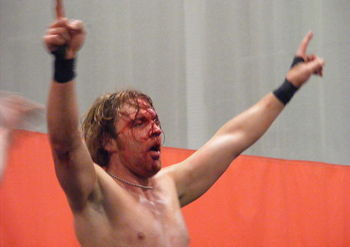 Image via ring-rap.com
Although it may seem like I'm drinking the Kool-Aid with this one, I've been a fan of Dean Ambrose ever since his epic FCW bout with Seth Rollins last year.
I was so impressed, I later wrote a piece purely to express my admiration for the fight.
And although Ambrose currently seems to be in no-man's-land, stuck somewhere between NXT and the big leagues, his time will undoubtedly come.
And if his in-ring ability can come anywhere close to matching his X-factor personality, he will be a star in future years.
Maybe 10 years down the track, he and Rollins will put on a similar show.
Ten Years: Seth Rollins & Bo Dallas, Tag Team Champions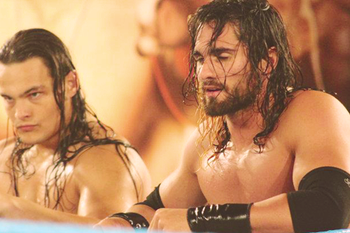 Image via tumblr.com
Again drawing from the well of talent in NXT, Bo Dallas and Seth Rollins are two guys who may struggle to make an impact on their own, but together could form a top-draw tag team partnership.
Both wrestle with incredible enthusiasm and energy, and whilst I wouldn't want to tempt fate, they could almost become a Hardy Boyz-esque duo.
But as previously mentioned, anything can happen in the next 10 years, and your best guess is as good as mine.
I guess we'll just have to wait and see.
Keep Reading