Football season is here, folks. After a long wait through the spring and summer months, the 2012 NFL preseason kicked off with the Arizona Cardinals taking on the New Orleans Saints in Canton, Ohio at the annual NFL Hall of Fame Game.
Preseason games can be a glorified scrimmage at times, but with most of the depth chart seeing live duty on the field, preseason games are a great chance to evaluate the entire roster. What did we learn from the first game?
10. The Saints Offense Looks Different
Jason Miller/Getty Images
The New Orleans Saints' first-team offense came out and rolled to an opening-drive touchdown, but they did it on the strength of a strong run game. Pierre Thomas and Darren Sproles were featured heavily in the first drive, with Mark Ingram cleaning things up in the red zone with two big runs. The Saints of years past threw the ball to set up the run, but without Sean Payton calling the shots, we may see an offense that relies more on the run with the strength of their talented stable of running backs.
With Joe Vitt and Pete Carmichael running the ship, the Saints offense could revert back to a safer, more conservative offense that allows Brees to pick his spots. The loss of Robert Meachem at wide receiver could also play a part in the move to a more run-based offense.
9. William Gay Needs to Step Up
Whether it was a block by a wide receiver or just a missed tackle, William Gay did not have a good first look. The Cardinals signed Gay to be their No. 2 cornerback opposite Patrick Peterson. Gay didn't get many opportunities in coverage, but in a division that loves to run the rock, Gay has to be better on first and second down in the NFC West. The early grade on his play so far isn't good.
The Cardinals don't have great depth at corner, and if Gay's struggles continue the team needs to make a quick decision on whether they have a legitimate contender on the roster or if they need to make a move to add help at the position. There are some who have mentioned Greg Toler as an option there, but based on previous seasons, he's not much of an upgrade and coming back from a major knee injury.
8. Where is Michael Floyd?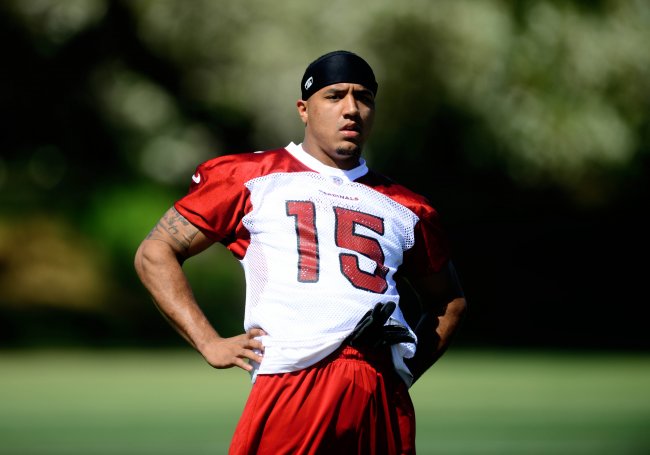 Mark J. Rebilas-US PRESSWIRE
The Cardinals spent a first-rounder on wide receiver Michael Floyd, and he wasn't part of the team's first offense or seen in trips sets early on. The absence of Floyd from early action indicates that he's not ready to go. Playing behind Andre Roberts and Early Doucet isn't where the Cardinals or their fans wanted him to be after investing a 13th overall pick for the wideout
You never want to jump to conclusions too fast, but this game is definitely reason for concern for those who expected him to be the threat who could draw defenses away from Larry Fitzgerald. The fact that we didn't see Floyd until late in the second quarter is questionable, and he did come in and make a nice grab from Richard Bartel, but Floyd was a non-factor with the first- and second-team offense.
Bottom line, when you draft a wide receiver within the top 15 picks, you expect him on the field with your top three wide receivers.
7. Replacement Refs Were a Non-Story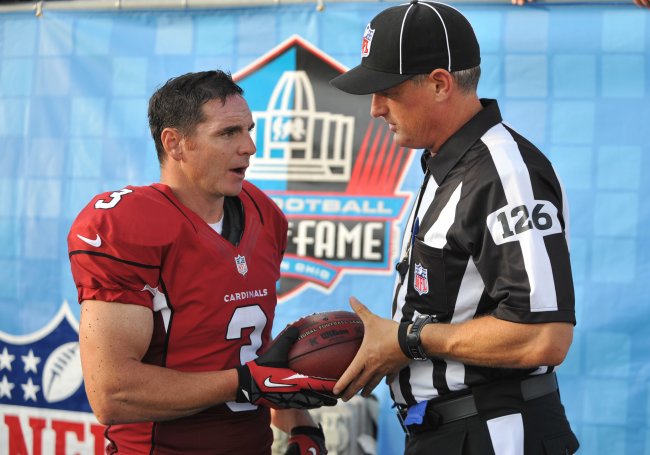 David Richard-US PRESSWIRE
There weren't many penalties called, but there weren't many reasons to be either. This was a clean NFL game, more than you would normally expect in preseason. The replacement referees were one of the storylines of the week, but the on-field product looked no different.
The only example of a missed call from the first half was a hold in the end zone on the play when Kevin Kolb was injured, but officials miss a holding call on virtually every down. One missed holding call is simply a non-story.
6. Chris Ivory Needs More Carries, Somewhere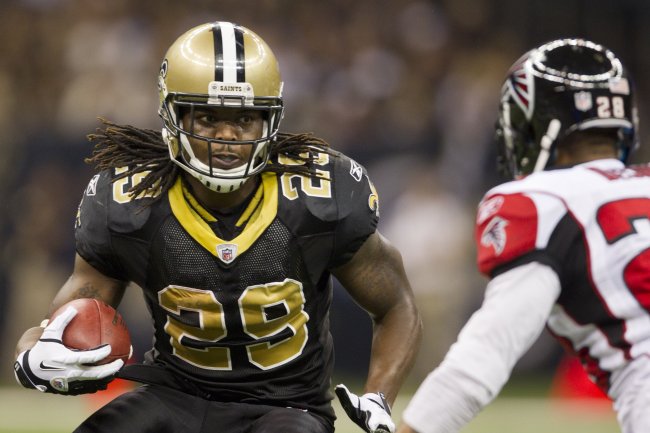 Wesley Hitt/Getty Images
A running back with Chris Ivory's level of burst, power and vision needs more carries than he'll see as the No. 4 back in New Orleans. Some NFL team needs to pick up the phone this week and make a call about Ivory.
Ivory saw extensive time in the second quarter after Pierre Thomas, Mark Ingram and Darren Sproles went to the sidelines. Ivory impressed with his vision and quick feet on cutbacks, but he also showed the power to run between the tackles.
Ivory may not be a starting running back elsewhere, but if you're the Green Bay Packers or Detroit Lions, for example, you could do much worse than sending a late-round draft pick to the Saints for this hard-running back.
5. Curtis Lofton is Making a Big Impact
Derick E. Hingle-US PRESSWIRE
With Jonathan Vilma out for the season with suspension due to his part in Bountygate, Curtis Lofton will be asked to step in and fill shoes as a tackler, captain and leader on the defense.
It's just one game, but Lofton looked incredible. His reads were quick and accurate, and with his athleticism and speed he's able to quickly shoot through gaps to make tackles. Lofton was solid as a pass-rusher, too, when the team chose to use him as a blitzer through the A-gap.
Lofton was an underrated stud in the Atlanta Falcons defense, and if this HOF opener is any indicator, Lofton will be even better in this defensive scheme.
4. Chase Daniel Might Be a No. 2 Quarterback, but Nothing More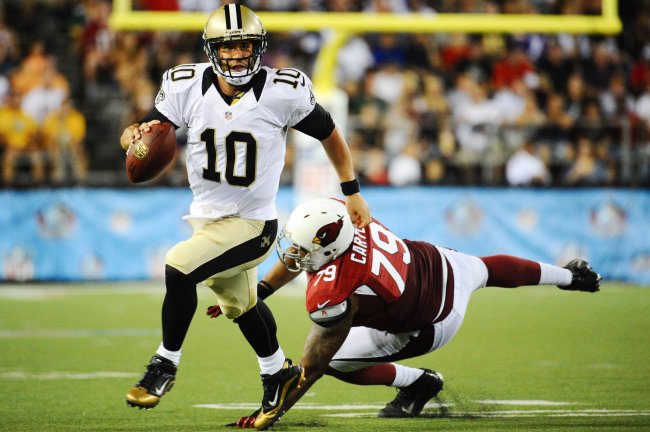 Tim Fuller-US PRESSWIRE
Batted passes were the story for Chase Daniel, who had two passes batted down on the team's third offensive drive. As a six-foot tall QB, Daniel's height has always been an issue. But his struggles to find passing lanes against the Arizona defense further solidified doubts about his ability to get the job done at the NFL level.
Saints fans may believe in Daniel should Brees go down, but, along with the other dozen or so disparities, Daniel doesn't show the same acumen to slide in the pocket and find passing windows like Brees. Daniel was holding the ball far too long—something he could do against a third-team defense but not against a first-team unit.
The Mizzou product settled down some as the game went on, but he was consistently high on his passes when throwing to the sidelines. Daniel is supposed to be a smart, accurate quarterback who can pick defenses apart, but we didn't see that from the Saints' No. 2 signal-caller in this first look. While Daniel is a good scrambler, should Brees ever go down, they'll need someone who can throw the ball.
Keys for Daniel would be to work on and mitigate telegraphing throws, working on that awkward across-the-body shovel pass, and settling down in the pocket to properly plant his feet and make throws.
3. The Arizona Offensive Line is Still an Issue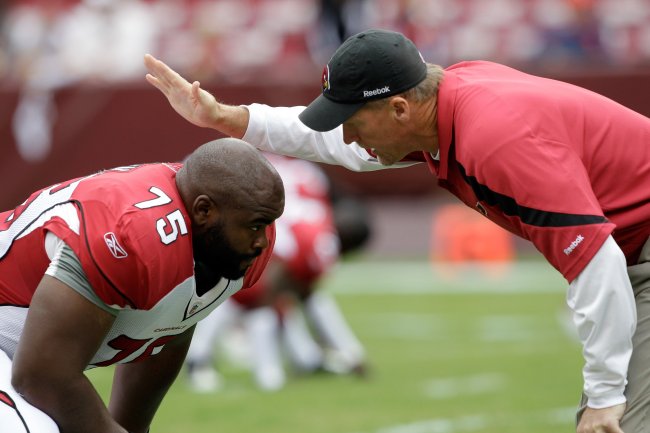 Rob Carr/Getty Images
Even before Kevin Kolb went out with a rib injury, the offensive line was doing a terrible job protecting their quarterback. Kolb wasn't holding the ball too long, either; New Orleans' front four was absolutely obliterating the Arizona O-line. The team rolled the dice on keeping their line intact with Levi Brown and Daryn Colledge on the left side. Judging by the first game, they aren't ready to protect the backfield.
The Arizona offensive line settled down and played better as the second quarter got going, with decent gains moving left and right, but we saw fewer blitzes from the Saints defense by that time and the pass protection was a major concern anytime the first-team offense was on the field.
John Skelton is the bigger and stronger passer, but he's also less mobile. There were many times when he was still pressured after three or four seconds in the pocket.
2. The Saints Defense is For Real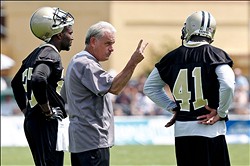 Derick E. Hingle-US PRESSWIRE
Anyone who worried about the transition from Gregg Williams to Steve Spagnuolo should rest easy now.
The Saints defense was much more aggressive in the preseason opener, and much of it came from the front four. Spagnuolo's trademark defense generates pressure from the front four—and the Saints executed beautifully versus the Cards. Cameron Jordan, Sedrick Ellis and Will Smith were all generating consistent pressure from the base defensive line.
Another nice wrinkle was the A-gap blitz. With big Brodrick Bunkley taking up space in the middle of the line, MLB Curtis Lofton was able to shoot through gaps to make plays in the backfield.
If the Saints defense looks this good in the regular season, they'll be a very tough team to contend with in the NFC.
1. The Arizona Cardinals Don't Have a Starting Quarterback...Yet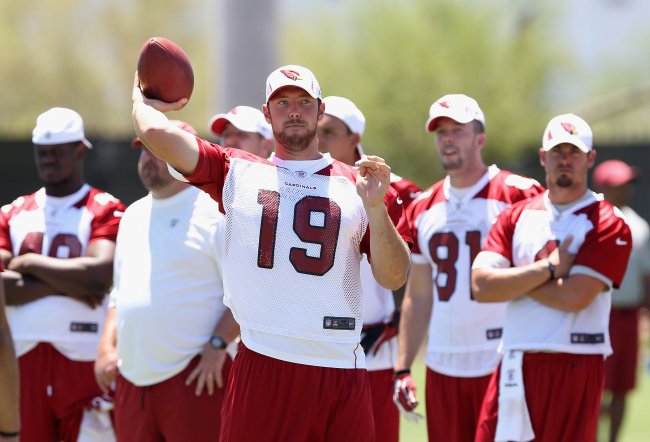 Christian Petersen/Getty Images
Anyone know if Kurt Warner is in NFL shape?
The Arizona Cardinals cannot feel better today about their quarterback situation after watching Kolb, Skelton and Ryan Lindley in live action. At all.
Consider that the Saints were playing without both starting cornerbacks in their first preseason game. Neither Kolb nor Skelton generated positive reviews from their ability to throw the ball, read the defense and navigate the pass rush. Especially Kolb, who came into the game atop the depth chart. Kolb was running scared before the rib contusion. He had limited time to find targets, but when he did have time, throws were off, including one interception.
Skelton is bigger and stronger, so he gives the offense a few more options, but he's also inexperienced. He makes questionable decisions—like shovel-passing the ball across his body. Skelton looked better than Kolb based on this preseason evaluation of the two QBs.