WWE: Why Randy Orton vs. Sheamus Will Be the Next Big Rivalry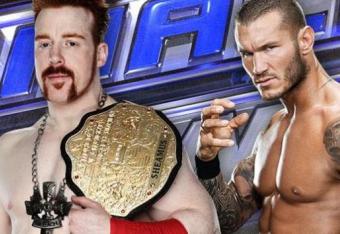 Photo courtesy of WWE.com

Sheamus has held the World Heavyweight Championship since WrestleMania 28, and during his title reign, he's crossed paths with everyone from Chris Jericho to Daniel Bryan to Alberto Del Rio.
Another man that's gotten in "The Great White's" way more than once is none other than "The Viper," Randy Orton.
And I'm willing to bet that will happen again. Soon.
Going back to before the Over the Limit pay-per-view and Orton's suspension, Orton and Sheamus had developed a rather intense rivalry stemming from their desires to be (and maintain) the World Heavyweight Championship.
Though we never got a full-fledged rivalry from the two, there was indeed a lot of animosity between SmackDown's two top baby faces.
Orton and Sheamus faced off in that fantastic SmackDown match that lasted nearly 30 minutes, and then once again in a Fatal 4-Way for the World Heavyweight title at Over the Limit.
Both of those bouts were won by Sheamus, but Orton looked strong in defeat on both occasions, and it seemed like an absolute certainty that these two would be headed for a feud over the World title.
Instead, Orton's suspension threw a wrench in what appeared to be the WWE's plans, and Del Rio then stepped up to become the No. 1 contender (on multiple occasions) and continue to deliver a rather lackluster feud with Sheamus.
Dolph Ziggler also seems to be "feuding" with Sheamus at the moment, but it's not so much a feud as it is Ziggler teasing that he will cash in his Money in the Bank briefcase.
Sheamus is, in fact, still feuding with Del Rio, even though the vast majority of fans don't seem to take ADR very seriously as a World title threat anymore. After all, who would after the way that Sheamus has owned him so far?
But now with Ziggler holding the MITB briefcase and Sheamus likely heading for a successful title defense against ADR at SummerSlam, the dominoes certainly appear to be falling in place for a major rivalry between Orton and Sheamus.
As mentioned before, it looked like the WWE was building up to a feud between the two earlier this year, but Orton's suspension prevented that from happening then.
That doesn't mean it can't still happen in the near future, though.
The WWE obviously hasn't shied away from face/face rivalries recently, and after seeing the tremendous chemistry that Orton and Sheamus had in that big SmackDown match earlier this year, company officials have to feel confident that Orton/Sheamus is one of only a handful of face/face feuds that the WWE could pull off.
Despite that Wellness-related suspension, it's apparent that Orton is going to be booked as a top star going forward. Meanwhile, Sheamus continues to roll over every opponent that gets in his way.
The creative team has made a recent habit out of booking its top faces so strongly that the fans cannot view the majority of the heel contenders as legitimate threats to their World title runs.
Who will Sheamus' next major feud be with?
But Orton? He actually poses a viable threat to Sheamus' World title run.
While Sheamus has had virtually no problem beating the likes of Jericho, Bryan and Del Rio, one would assume that it wouldn't be that way with Orton.
Even though Orton isn't quite protected like he once was, he is still a baby face, and when you're a top good guy in the WWE, you're going to be booked in a way that almost always makes you look good.
That, in turn, makes Orton the perfect opponent for Sheamus. And vice versa.
Orton has already feuded with Cody Rhodes, Wade Barrett and a majority of the WWE's other top heels in recent years. So has Sheamus.
So, if you can't find someone fresh for either guy to feud with, then why not put these two against one another and see what happens?
The fans were really into this rivalry when it was first ignited earlier this year, and with the excitement surrounding Orton's return, it makes sense to capitalize on that and put him in a major angle as soon as possible.
Once Sheamus is done mopping the floor with Del Rio, it's time for him to get his first legitimate challenge of his World Heavyweight Championship run.
It's time for him to go one-on-one with The Viper.
Drake Oz is a WWE Featured Columnist for Bleacher Report. You can follow him on Twitter and ask him any wrestling-related questions on Formspring
This article is
What is the duplicate article?
Why is this article offensive?
Where is this article plagiarized from?
Why is this article poorly edited?