WWE: Could Daniel Bryan Eventually Return to Mid-Card Status?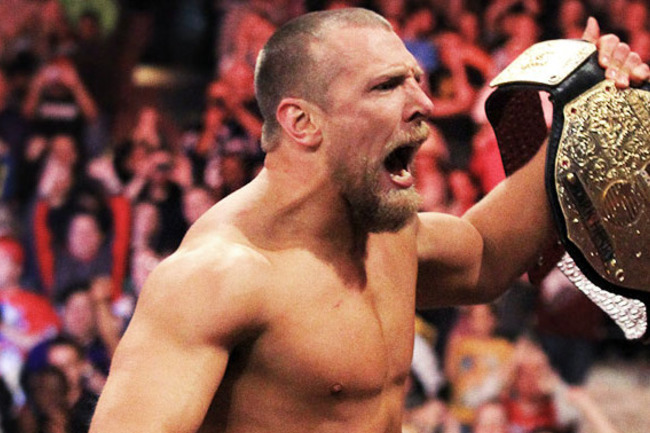 Photo courtesy of WWE.com

Daniel Bryan won the World Heavyweight Championship at WWE TLC in December 2011—he's been in the main event scene ever since.
He initially feuded with Big Show and Mark Henry over the World title before moving on to a WrestleMania feud with Sheamus, where he would drop the belt, only to immediately move on to what would turn out to be a lengthy WWE Championship feud with CM Punk.
While Bryan's no longer challenging for or holding a World title for the first time in 2012, he's still as big a part of Raw as just about any other superstar and is now in the midst of a high-profile feud with Kane.
At this time last year, Bryan had just shockingly won Smackdown's Money in the Bank match and was in the process of being booked pretty badly.
Now, you could certainly make a case that he's the best overall performer and hottest act in pro wrestling as a whole.
Crazy, huh?
Well, it doesn't seem all that crazy to those fans who knew that Bryan had this in him all along—that all he needed was an opportunity to become one of the biggest stars in the industry.
Bryan got that opportunity, and he's seized it better than anyone in recent memory.
But being that he's now been at the very tip top of the WWE for about nine straight months now, you have to wonder if his hot streak will continue or if the only way for him to go is down.
When wrestlers rise to the pinnacle of the WWE and are so hot for an extended period like Bryan has been, it's generally hit or miss for their future prospects.
Some will continue to dominate the main event scene for years to come, while others will fade away into oblivion.
For instance, you've got a guy like John Cena, who made it to the main event roughly seven years ago and has remained a constant there ever since then.
Then, on the other end of the spectrum, you've got a guy like The Miz, who main evented WrestleMania 27 but then found himself relegated to jobber status earlier this year.
So where will Bryan fall?
Although he's not currently challenging for either the WWE or World Heavyweight titles, he's getting more air time than any other superstar, and he still finds himself involved in a big angle with Kane and (perhaps) Charlie Sheen.
Oh yeah, he's still massively over too.
The "Yes!" chants still echo throughout the arenas and are a huge part of Bryan's character. Meanwhile, the "No!" chants are becoming just as big.
Bryan has been going strong for all of 2012, and he's shown absolutely no signs of slowing up. At the same time, the creative team has shown no signs of derailing or slowing down his push, even if he's not currently a World title contender.
There's no doubt that Bryan will remain over and continue to be a huge part of the WWE, but it would be silly to think that he won't spend any time in the mid-card for the remainder of his career.
Judging by all of his recent success (on the mic, in the ring and as a character) in 2012, he's got an extremely bright future and should spend most of his time from this point forward in the main event picture.
Where will Daniel Bryan spend the majority of the remainder of his career?
But it seems like Bryan's push as one of the top three or four guys in the company is destined to hit a minor snag soon, and that's through no fault of his own.
It's simply because the main event and World title scenes are suddenly getting a bit crowded.
Randy Orton just returned from a two-month absence and appears to be in line for a big push, Dolph Ziggler is currently getting a big push as well and should continue to do so whenever he's got that Money in the Bank briefcase (and afterward), and Wade Barrett's likely upcoming return could lead him to the main event as well.
That doesn't even take into consideration CM Punk's slowly-evolving heel turn, the pushes of top stars like John Cena, Sheamus and Triple H or potential wild cards breaking through to the main event, like Damien Sandow or Cody Rhodes.
The bottom line is that as great as Bryan has been and will continue to be, he's been on fire for so long that it seems like a classic case of "what goes up must come down."
I hope Bryan proves me wrong and certainly think he could if the WWE chooses to continue pushing him based on his tremendous talents.
But he's now in an upper mid-card rivalry with Kane, and with all of the recent events that have transpired on TV, he figures to remain there for the foreseeable future until he's called back to the main event.
Drake Oz is a WWE Featured Columnist for Bleacher Report. You can follow him on Twitter and ask him any wrestling-related questions on Formspring
This article is
What is the duplicate article?
Why is this article offensive?
Where is this article plagiarized from?
Why is this article poorly edited?