Big Ten Football Preview 2012: Top 10 Offensive Linemen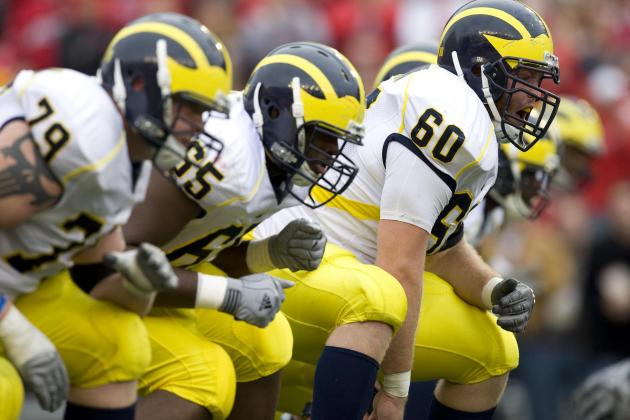 Jeff Hanisch-US PRESSWIRE

This is the latest in a series of articles previewing Big Ten football in 2012. A rough schedule of previous and upcoming preview articles is provided at the end of this article.
----------------
They are the anchors of good offensive performance and the unsung heroes of offense: the offensive line. However, many football fans know that the difference between a successful touchdown drive and a quick punt is whether the line pushes back the defense and opens holes for the running backs.
In a tough running conference like the Big Ten, having a strong and deep offensive line is key to winning a division title and going to Indianapolis. The difference between the perennial contenders and the usual teams at the bottom of the conference race is usually not star power, but toughness along the lines.
However, having a superstar performer on the line is still critical despite the importance of having depth. A superstar can draw double teams and other attention away from other solid linemen who can then dominate weaker opposition.
Each of the following ten linemen are just that type of difference maker. For their teams, the road to offensive efficiency starts with these guys.
Begin Slideshow

»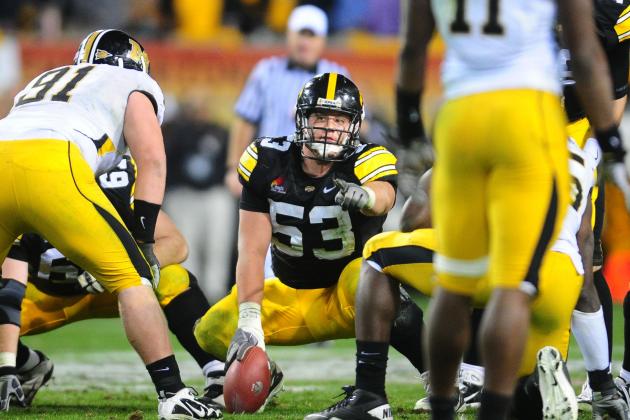 Mark J. Rebilas-US PRESSWIRE

Ferentz will take over as the unquestioned leader of an Iowa line losing three great starters from 2011. The offensive line is a Ferentz family affair, with brother Brian Ferentz coaching this line and father Kirk Ferentz always pitching in with his expertise at the position.
James Ferentz has been training for this position probably since being born into the Ferentz family. Iowa does not have many timing errors, and that stems from the steady play of Ferentz.
One would be surprised if he does not continue the great tradition of offensive linemen that do well at Iowa and beyond.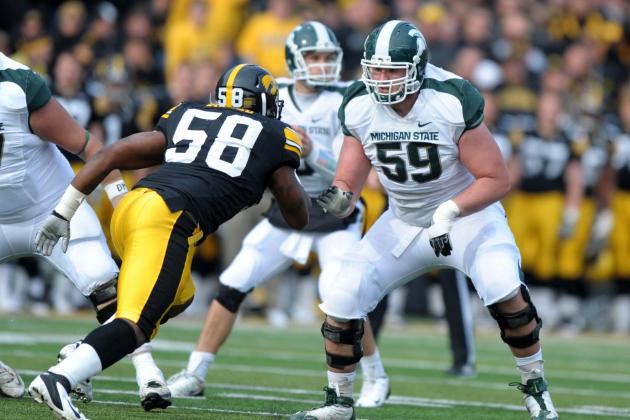 Kirby Lee-US PRESSWIRE

France came over from the defensive line after playing on the other side of the ball in his freshman season. Last season he learned the art of playing offense quickly by playing alongside four year starter Joel Foreman.
Now France will need to anchor the left hand side of the Spartan offensive line with Blake Treadwell coming over from center to fill in the spot left by Foreman. France showed a ton of potential last year and is not one to get beat by defensive linemen coming into the middle of the line on a stunt.
Assuming Michigan State succeeds in protecting a new quarterback this season, France will be one of the leaders that gets it done.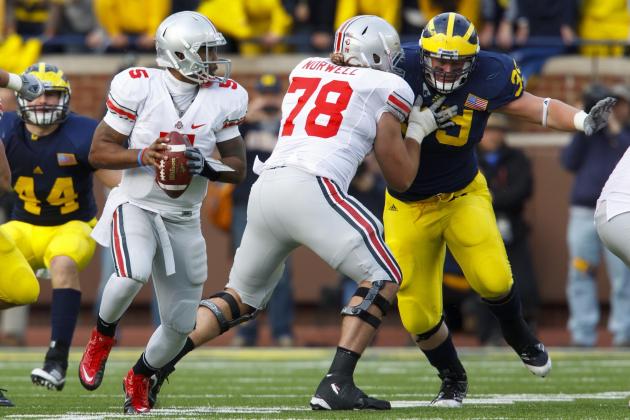 Rick Osentoski-US PRESSWIRE

Norwell moved into the critical left tackle position during the first five games in 2011 thanks to the suspension of Mike Adams. Adams took his starting job back like one of the best players in the conference should, but Norwell did not struggle to protect true freshman quarterback Braxton Miller in the mop up duty.
Norwell also played well when he moved to the inside of the line for the remainder of 2011. He will remain at left guard again this season, but it has to be comforting to know he can fill in at multiple spots if that becomes necessary.
Norwell was honorable mention last year, but expect higher all-conference honors this time around.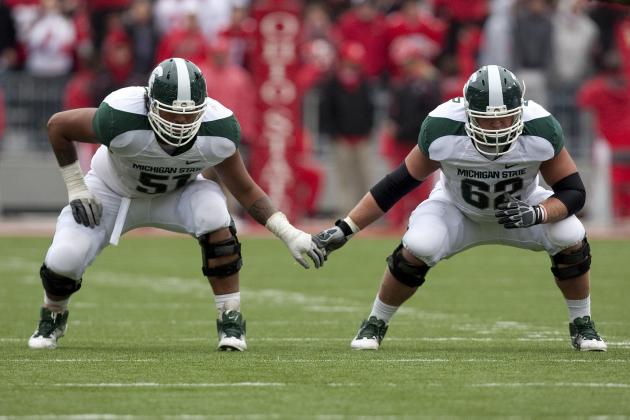 Greg Bartram-US PRESSWIRE

Fonoti joined Chris McDonald (coming up on this list) as the new players locking down the right side of the line for Kirk Cousins and Le'Veon Bell in 2011. Bell nearly achieved a 1000 yard season with many runs coming through the right side of the line.
With France and McDonald back again, Bell will now continue to look to have holes opened up on the right side to keep the Spartans moving down the field. Of course, pass protection will also need to be sparkling with a new quarterback coming in, but all the pieces are in place for the Spartans to have the best line in the conference.
The only thing that may stop Fonoti from getting a bunch of accolades is the great players on the same line as him.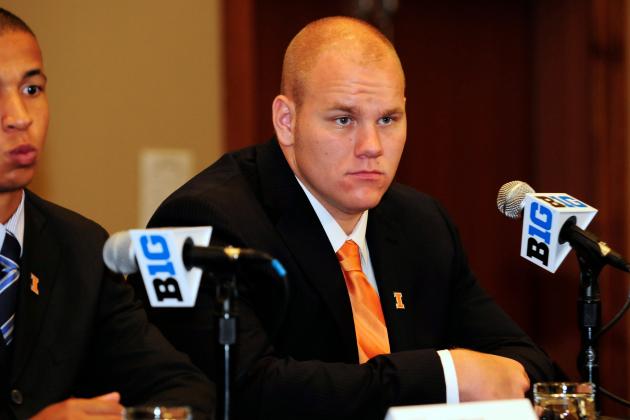 Reid Compton-US PRESSWIRE

Pocic earned second team all-conference honors as a redshirt sophomore two seasons ago, but then he suffered a junior slump along with other members of the Illini offensive line. Despite this setback, the Illini still proved effective at times thanks to the legs of QB Nathan Scheelhaase.
With a new running back and Scheelhaase continuing to become more and more of a passer, the line will need to come back to the 2010 production for the Illini to compete for a Leaders Division championship. Pocic will need to lead the line with two new starters on his right hand side. The Illini have a small margin for error with new schemes under new head coach Tim Beckman, and Pocic must start every play correctly.
Look for Pocic to steady the Illini and keep the team in the running much longer than the six games from a season ago.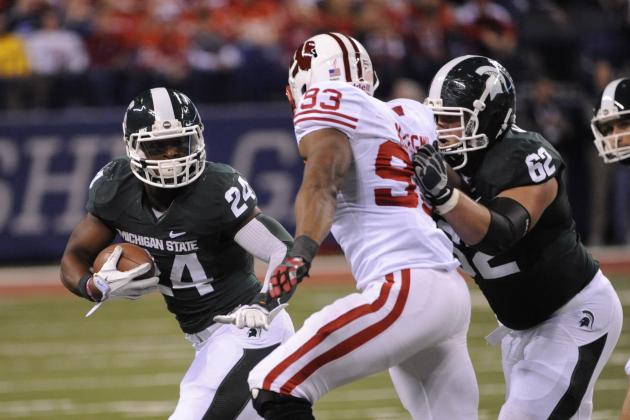 Richard Mackson-US PRESSWIRE

McDonald is the third and final Spartan lineman to make this Top 10 list, which is a good sign for the hopes for MSU to repeat as division champions. McDonald is entering his third year of starting at right guard, a position that allows McDonald to be the most experienced player up front for the Spartans.
McDonald shares the same side of the line as Fou Fonoti, which means that Le'Veon Bell will probably find a lot of running room along the right side in 2012. McDonald was another honorable mention for all-conference honors a season ago, but that may not be the case this year.
Look for McDonald to be the best performing player on a line full of pro level talent.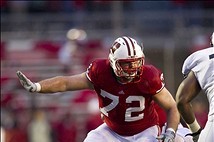 Jeff Hanisch-US PRESSWIRE

Frederick started four games as a true freshman three seasons ago, but then used a redshirt in 2012 thanks to the ridiculous depth the Badgers have had the past two years along the offensive line. Last year Frederick spent most of his time at left guard, but he does have four starts at center where he will play this season.
Frederick did earn second team all-conference honors for left guard a season ago. Even with two other centers previously listed on the Top 10 offensive linemen, Frederick has to be considered the favorite to make all-conference once again following his first full season at center.
As long as Frederick gets Danny O'Brien and Montee Ball started on the right foot, the Wisconsin offense will stroll to some easy victories in the easier Leaders Division.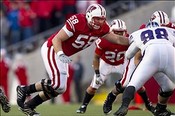 Jeff Hanisch-US PRESSWIRE

Wagner and Travis Frederick (No. 4 on this list) both came into Wisconsin as the stereotypical recruit with not much fanfare. However, both now must be considered among the conference elite. Wagner earned honorable mention all-conference honors a season ago and should be on first-team this time around.
With Montee Ball in the backfield, Wagner will not have to be perfect on every play. However, Ball will break some big plays coming through the left side of this strong Wisconsin offensive line thanks to Wagner and his solid consistency.
Wagner will be the only senior on a line full of new starters, and he would love to go out with a third straight conference title. He should take home individual and team hardware on the way out of his college career.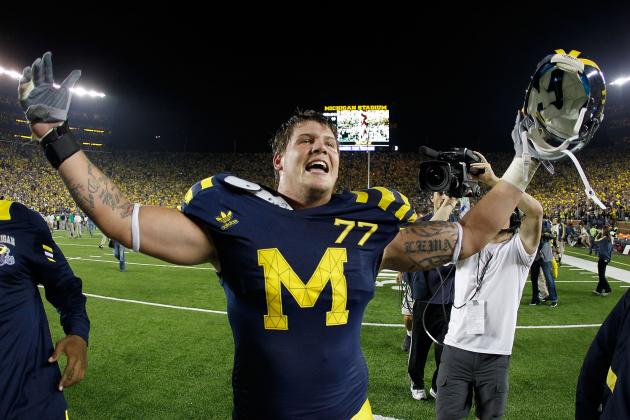 Gregory Shamus/Getty Images

Lewan came into the Michigan football program at a low time, with Rich Rodriguez playing out the end of his short tenure in Ann Arbor. However, strong players like Lewan and his fellow tackle Michael Schofield kept coming to play for the Maize and Blue, and that has paid off quickly with the new schemes of Brady Hoke.
That being said, Lewan is possibly the only upperclassman offensive lineman who is safe in his job with all the young stars coming in with the recruiting classes. For example, true freshman Kyle Kalis may be starting alongside Lewan, and he will need to mentor the young Kalis to keep Denard Robinson and Fitzgerald Toussaint moving the chains.
Lewan has the size and the talent to be an all-American this year and a high draft choice with a solid season. Don't expect him to miss this opportunity to shine on a national stage.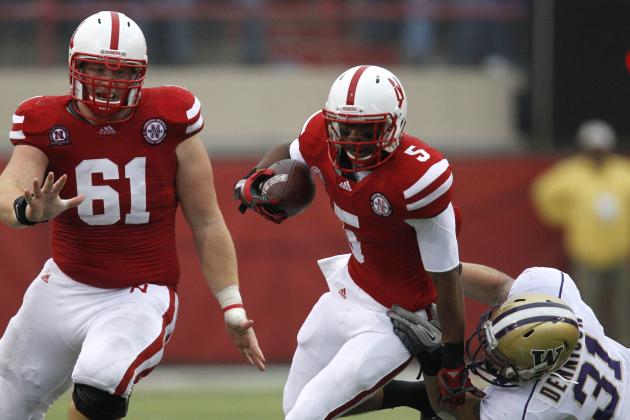 Bruce Thorson-US PRESSWIRE

Long takes home top honors on the preseason offensive line Top 10 list after earning second team all-conference honors in 2011. Long is similar to others on this list in that Nebraska found a diamond in the rough who has turned out to be a great play maker.
Although perhaps not having as much upward potential as Taylor Lewan, Long does have the advantage of having Rex Burkhead and Taylor Martinez both being hard-nosed runners willing to break through small spaces when necessary. Despite welcoming three new starters in 2012, the Nebraska line may improve the rushing numbers thanks to the leadership of Long.
Congratulations to Nebraska and Spencer Long on taking home the preseason top spot for the offensive line. Will others take over Long at the end of the season? Only time will tell, but all of these players listed here are serious contenders for first team all-conference.
---------------------
Thanks for reading! If you have any comments or questions about this or other articles in the 2012 Big Ten football preview series, please contact David on Twitter.
Big Ten Season Preview 2012 Recap/Summary
Previous Team Previews: Minnesota preview; Indiana preview; Northwestern preview
Previous B1G Scouting Reports: Sun Belt/WAC report;
Previous Top 10 Position Rankings: N/A
Coming soon: Illinois team preview; Top 10 linebackers; Scouting Report on the MAC and Independents
More to come throughout August!