San Francisco Giants: 7 Recent Hilarious Commercials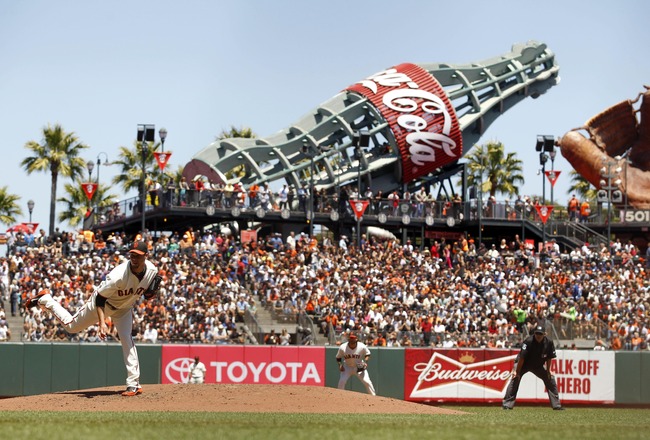 Cary Edmondson-US PRESSWIRE
The San Francisco Giants are one of baseball's most popular teams right now. Their rabid fan base is at an all-time high. Everywhere the Giants go, you see orange in the stands. Whether these are bandwagon fans or legitimate die-hard is irrelevant. All I know is that the Giants are enjoying a degree of popularity and it shows.
With this in mind, I compiled a handful of recent commercials that showcase the colorful Giants players of the future and the recent past. With characters such as The Beard, The Freak and The Panda, Giants players have plenty to offer in front of the camera.
Barry Bonds: Conservationist

Conserving Barry

What happens when you have to conserve Barry Bonds' energy for the plate?
Marquis Grissom and Jose Cruz have to play a two-man outfield that's what!
Umpires Love Buster

You Gotta Love Buster If You're An Ump

Buster Posey was voted in as the 2012 All-Star National League starting catcher. He's much loved. We get it.
But is he as loved by umpires? Or are umpires just attracted to any catcher in the office?
The Freak and the Beard and the Meat

The Freak and the Beard

When you think you've got what it takes to swing the bat, stand in front of primed and seasoned rawhide pitches thrown by Tim Lincecum and Brian Wilson. If you survive, we'll talk.
Till then—grab some pine, meat.
Matt Cain Does Not Like a Swooper

Cainer Says Don't Swoop

Someone swooping on your girl? Enlist Matt Cain for some relationship help!
Fear the Beard...Literally

Run Scared

B-Wiz is missed. But at least we still have these scary beard commercials that capitalize on an outrageous piece of facial hair.
Pablo-Head
Even in slow motion Pablo Sandoval can get you to come to the yard.
How does his head do that?!
The Beard Likes Your Girlfriend
How magic was the 2010 season?
How magic is this commercial?
Brian: Is that your girlfriend?
Fan Dude: Yeah.
Brian: Haha.
Keep Reading

San Francisco Giants: Like this team?