Fantasy Football 2012: Running Back Rankings by Tier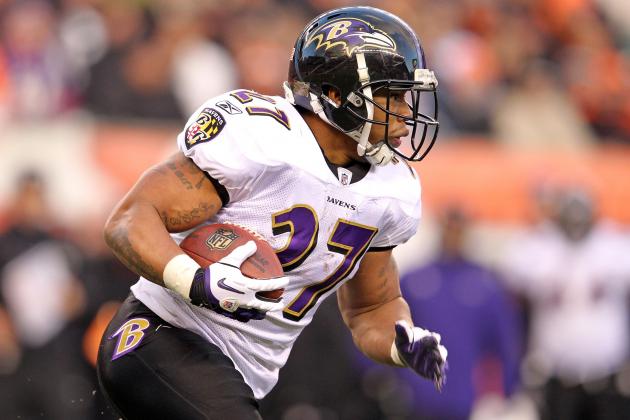 Andy Lyons/Getty Images

The running back position used to be the easy first-round pick in fantasy football. Maybe a quarterback or wide receiver would sneak in there, but for the most part, running back was the safest pick you could make.
But times have changed, and the landscape of fantasy football looks different in today's pass-heavy NFL. Not as many teams have feature backs anymore, with most offenses opting to platoon two and sometimes three backs.
This year in particular, the running back position is relatively weak and unstable. There is a startling number of players coming into the season with question marks, making their fantasy value drop.
Here, I'll break players into tiers, because I think individual rankings are often misleading. In many cases, the difference between the 6th and 10th, or 15th and 20th player is not very significant, so putting them into tiers helps showcase the major gaps between groups of players.
Begin Slideshow

»
Ronald Martinez/Getty Images

Ray Rice, Arian Foster, LeSean McCoy
This slide needs the least validation, because these three backs are head and shoulders above the rest of the pack. They will be the first three players taken in every fantasy draft, with the order varying.
Foster will go first overall the most often, and for good reason: In the past two seasons, he has rushed for just under 3,000 yards to go along with 26 touchdowns.
McCoy had a breakout year last season, scoring 20 total touchdowns, and could very well end up with 2,000 total yards and 18 touchdowns this year.
Rice is probably the quietest of the three, but he is an absolute machine. In the last three seasons, he has been the epitome of consistency, racking up 1,339 yards in '09, 1,220 yards in '10 and 1,364 yards last season. Last season he had 15 total touchdowns, and he will make his fantasy owners very happy if he can do that again.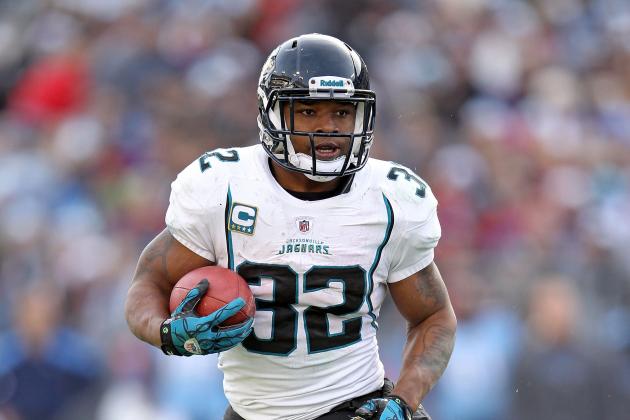 Andy Lyons/Getty Images

Ryan Mathews, Chris Johnson, Maurice Jones-Drew, Darren McFadden, Matt Forte
This is probably the toughest tier to draft. If you have the fourth pick, you are probably safer taking either Aaron Rodgers or Calvin Johnson than one of these backs.
Mathews, McFadden and Forte have injury concerns, and MJD is pulling a CJ2K, currently holding out from training camp, which does not bode well for his fantasy stock. Speaking of CJ2K, nobody is sure what to expect of him this year. Will he be dominating like in 2010 when he rushed for 2,006 yards or mediocre like last season, when he was almost released by Tennessee?
Heading into his third year, Mathews did not even play in 15 games in either of his first two seasons and was in a car crash last week. McFadden, a four-year veteran, has never played in more than 13 games in a season and only played in seven last year. Forte can put up big numbers but had knee problems last season and was placed on injured reserve after spraining his MCL during Week 12.
If you take one of these guys with the fourth or fifth pick, you're taking a pretty big risk. Out of all of them, MJD is probably the safest bet, assuming he reports to training camp reasonably soon.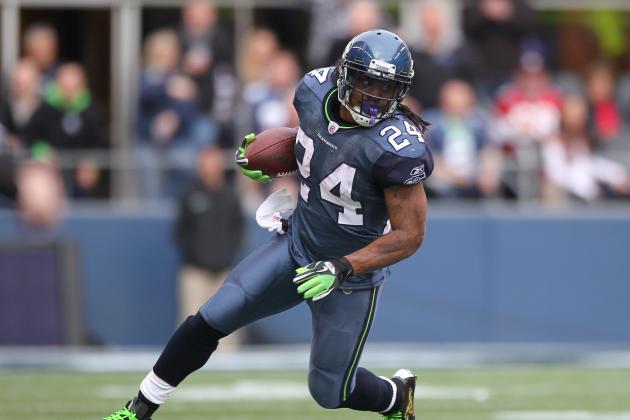 Otto Greule Jr/Getty Images

DeMarco Murray, Fred Jackson, Adrian Peterson, Marshawn Lynch
Much like the second tier, these players all have question marks. The thing that keeps these players in the third tier is the fact that these players have lower ceilings than the backs in the third tier.
AP is coming off a torn ACL that he suffered in the last week of the regular season. There's no way he'll be 100 percent at the start of the season, so you're only looking at a max of 9-10 games with him being fully productive.
Even when he gets fully healthy, there's no telling how the injury may impact his game. Toby Gerhart should get a lot of touches at the start of the season, and if he excels, he could steal carries from AP throughout the entire season.
Jackson, Lynch and Murray are all somewhat similar fantasy-wise to me. They have all shown flashes of brilliance, but Jackson has only rushed for 1,000 yards once, Murray is young and unproven and you never know what you're going to get from Lynch.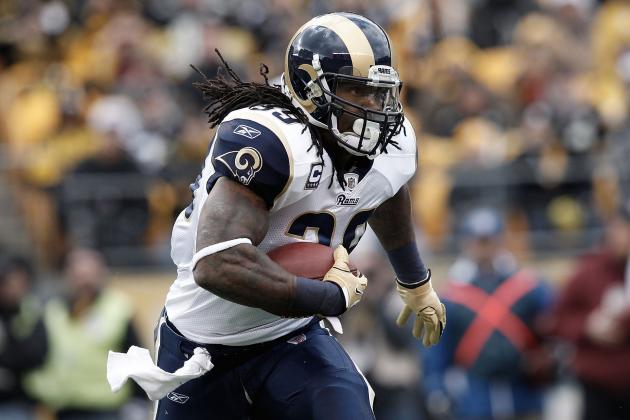 Jason Miller/Getty Images

Michael Turner, Trent Richardson, Jamaal Charles, Steven Jackson
Since signing with the Falcons in 2008, Turner has been one of the most reliable rushers in the league. Even with an injury shortened 2009 campaign, Turner has averaged 1,320 yards over his four seasons in Atlanta.
But the former fifth-round draft pick is 30 years old and saw his carries decrease from 2010 to 2011. Add in the presence of speedster Jacquizz Rodgers, and Turner will most likely have less than 300 carries this year.
Charles tore his ACL in Week 1 of last season, so he has had plenty of time to recover. Charles is massively talented, but Matt Cassel is a very average quarterback, and other than Dwayne Bowe, the Chiefs don't have much offensive firepower. Peyton Hillis could also pose a bit of a threat as well.
Jackson has seven consecutive 1,000-yard rushing seasons. Say what you want about the rest of the Rams offense, Jackson finds a way to get it done. Even though his carries decreased from 330 in 2010 to 260 in 2011, he gained just 96 less yards. Count on Jackson to produce as usual.
Richardson is pretty much going to be the main focus of Cleveland's offense. People who rank Richardson highly think that all those touches will amount to lots of yards and touchdowns because he's all the Brown have. But others feel that the rookie may be a bit overmatched when opposing defenses spend all their time preparing to stop him.
Your value on Richardson will just be a matter of figuring out which argument you buy into. For myself, I guess I'm somewhere in the middle, leaning towards the cautionary side.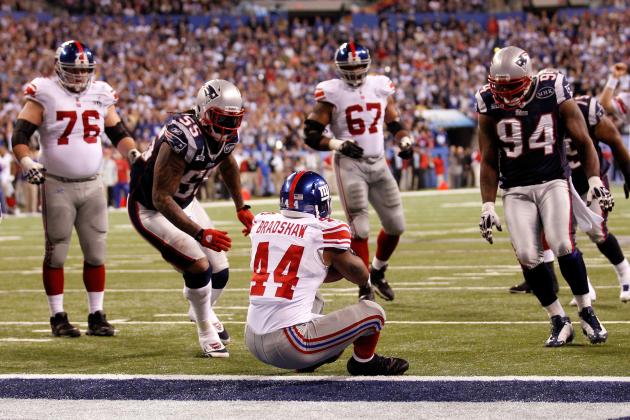 Rob Carr/Getty Images

Darren Sproles, Ahmad Bradshaw, Reggie Bush, Frank Gore
Personally, I'm banking on Bradshaw coming out of this tier with the most points. He doesn't have to worry about Brandon Jacobs behind him anymore, which should both increase his workload and confidence. If he can stay healthy, 1,250 yards and 14 touchdowns is a possibility.
In 2011, Sproles went to New Orleans as Bush left the Big Easy, and both enjoyed career years. Sproles averaged a ridiculous 6.9 YPC and 86 catches for 1,313 total yards. Bush became the feature back in Miami, rushing for 1,086 yards and six touchdowns.
Gore is one of the most frustrating backs for fantasy owners. He didn't play a full season from 2007-2010, but still put up good stats and showed his potential worth. Finally, in 2011 he played all 16 games, rushing for a solid 1,211 yards, but saw his role in the passing game diminish greatly.
In 2010, Gore played in only 11 games but caught 46 passes for 452 yards and two touchdowns. In 16 games in 2011, Gore caught only 17 passes for 114 yards and no touchdowns. If Gore can stay healthy and become a weapon catching the ball again, he should finish as a top-eight running back.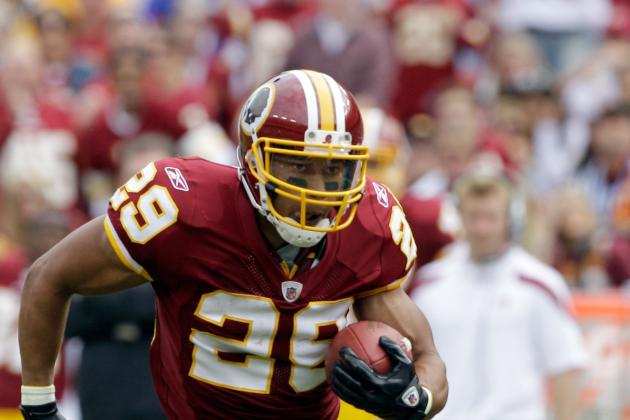 Rob Carr/Getty Images

Doug Martin, BenJarvus Green-Ellis, Willis McGahee, Shonn Greene, Roy Helu, Beanie Wells
This last tier really all comes down to value. At this stage in the draft, you're looking at a low end RB2 or a solid flex pick. In terms of value though, these players are all over the board.
According to Fantasy Football Calculator, Martin is going 33rd overall. Personally, I would rather wait a couple rounds and take Greene, who's going 55th, or even wait longer and pick up Wells or Helu, who are going 70th and 73rd, respectively. Martin should be a good player, but 33rd is too high for my liking, especially with all the quality backs who will still be available a few rounds later.
Green-Ellis is one of my personal favorites for this year's draft. He's going somewhere in the middle rounds, but could end up being a to-10 back. He will be the feature back for the Bengals this year, a team who is always good on the ground. According to Matthew Berry, Marvin Lewis' lead running backs have averaged 1,124 yards, eight touchdowns and 282 carries a season since Lewis took over as head coach in 2003. "The Law Firm" could be the steal of this year's draft.