6 Biggest Takeaways from the Cincinnati Bengals' 1st Week of Camp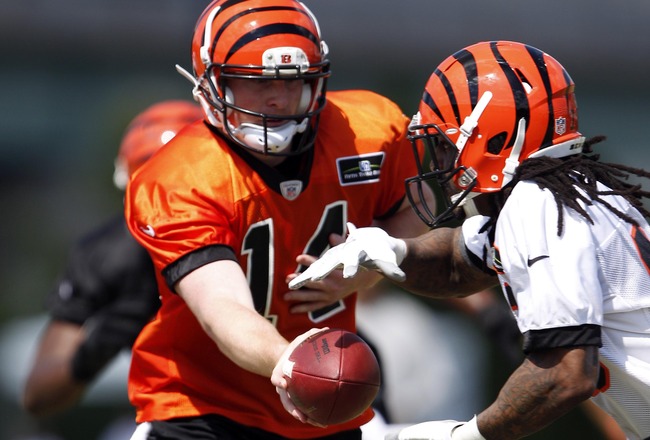 Frank Victores-US PRESSWIRE
Cincinnati Bengals training camp has been going strong for a week now, and there are a few critical things to take notice of, even if it is early in the preseason process.
There has been a flurry of injuries already that will have a massive impact on the final look of the roster when the regular season begins. A large amount of lesser-known players have stepped up and also threatened to change the complexion of the final roster.
It is still very early in the preseason for the Bengals, but there are things transpiring at Paul Brown Stadium that hint at how the final roster, and quality of the roster, will turn out.
Here are the six biggest takeaways from the Cincinnati Bengals' first week of camp:
Cornerback Health Is a Major Issue Once Again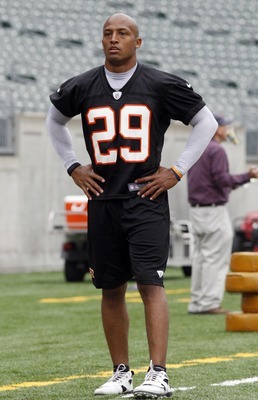 David Kohl-US PRESSWIRE
The Cincinnati Bengals were crippled by injuries in the secondary last year. To prevent a repeat, the Bengals added two veteran cornerbacks and two rookies to deepen the position.
It hasn't helped.
Leon Hall is back and healthy, but rookie Dre Kirkpatrick is out for some time with a knee issue. Rookie Shaun Prater is now out for the year and the promising Brandon Ghee is now out for the preseason and possibly more.
What was once considered a new-found strength is now a weakness yet again. The Bengals could be entering the 2012 season with two cornerbacks that are not ready to play in Kirkpatrick and Ghee.
If every corner can get healthy at once, this weakness will once again switch to a strength. However, recent history says that won't happen.
Running Back by Committee Could Have Unfamiliar Faces
Frank Victores-US PRESSWIRE
The Bengals' running back committee was thought to be manned by free-agent pickup BenJarvus Green-Ellis, Bernard Scott and Brian Leonard, but that may not be the case.
Scott could miss some time with an injury, which opens the door for players like Cedric Peerman, Dan Herron and Aaron Brown.
Peerman was a special teams star last year who could benefit from more reps. Herron is a rookie who was doubtful to make the final roster in the first place, but that could change if he takes advantage of the situation.
For now, the biggest beneficiary of the Scott in injury has been Brown. As noted by CBS Sports, Brown is making a big push for the final roster:
The big play of the day came from RB Aaron Brown , cut by Detroit this offseason. He broke containment around the left side and cutback for a 33-yard touchdown run.

While the TD was nice, perhaps his most important moment in practice came during punt return when he dove to tap a bouncing punt back over the goal line to the 2-yard line. Brown can break all the long runs he'd like, but in a crowded backfield with few spots available, his ticket to making the 53-man roster will be special teams.
Brown is quietly making the most of his opportunity, and has a real chance to steal carries from other running backs on the roster.
Goal Line Scenarios Are Focal Point of Camp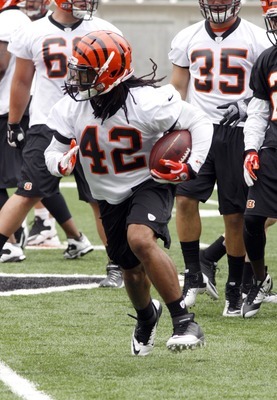 David Kohl-US PRESSWIRE
So far in Bengals camp, the coaches have made it known that they consider goal line situations to be a key element this year.
Last season the Bengals were mediocre in the red zone, more often than not settling for field goals instead of scoring touchdowns, which would often come back to hurt the team in the end.
Last year's starting back Cedric Benson struggled in short-yardage situations. New running back BenJarvus Green-Ellis has been practicing in that aspect, but is finding little success against the Bengals' stout defensive unit.
If the Bengals are to win more games than last year and make a repeat trip to the postseason, this is the one area that is going to need to take a massive leap.
Wide Receiver Battle Is Wide Open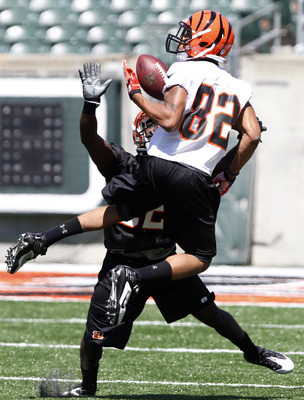 Frank Victores-US PRESSWIRE
Behind A.J. Green, it has been hard to predict exactly who would win the No. 2 receiver job, but it was easier to get an idea of what receivers would make the final roster.
Now, both may be just as difficult to figure out.
At one point it was a foregone conclusion that Jordan Shipley, returning from a serious injury, would easily take back the slot receiver role. That may not be the case considering Shipley is behind the curve and has yet to play a significant amount in Jay Gruden's new offense.
There are only so many spots for wide receivers. Armon Binns has looked great in camp so far, as has the little playmaker known as Andrew Hawkins. Marvin Jones is considered a lock to make the final roster as well.
This just goes to show that Gruden and company don't care about name recognition and that whoever performs the most consistently will win a final roster spot.
Defensive Line Positions Are Not Guaranteed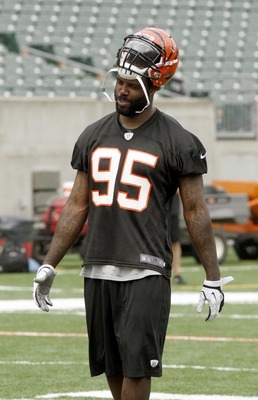 David Kohl-US PRESSWIRE
With the issues the Bengals are once again having at cornerback, other spots on the roster are bound to suffer. Defensive line appears to be one of those positions.
The Bengals released Derrick Harvey early on in camp, despite picking him up in free agency for depth purposes.
As Geoff Hobson points out, there is little room for error for any of the players on the defensive line. It may be the best unit on the entire roster, which only ups the pressure for those competing in camp.
Guys like Pat Sims and Jamaal Anderson could find themselves without a job if camp concludes with the way things have been progressing so far.
Unexpected Names Could Steal Final Roster Spots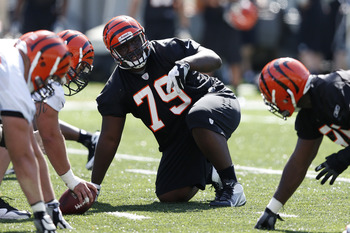 Joe Robbins/Getty Images
In what has now become a recurring theme early on in Bengals camp, there are a variety of young players who do not have a recognizable name that could end up stealing roster spots from fan favorites.
One unknown making a name for himself is undrafted free-agent linebacker Emmanuel Lamur. The most important man to Lamur's success, Marvin Lewis, has taken notice:
"He's what they're supposed to look like," Lewis said of Lamur. "He's doing a good job on the field mentally. That's what you like about him. Linebackers that develop in the NFL have that kind of stature. They can turn into that 6-3, 250-pound guy that can really run. He can run and understand ... he's a great prospect."
Lamur joins the frenzied linebacker battle, and has a chance to make the final roster. He will compete with the likes of Vincent Rey, Roddrick Muckelroy and Vontaze Burfict for a spot in the linebacker depth chart.
Lamur is but one example of young players turning heads in Bengals' camp, and as we inch closer toward the regular season, more and more will follow suit.
Keep Reading

Cincinnati Bengals: Like this team?