Hockey's Filthiest One-on-One Moves Ever Caught on Video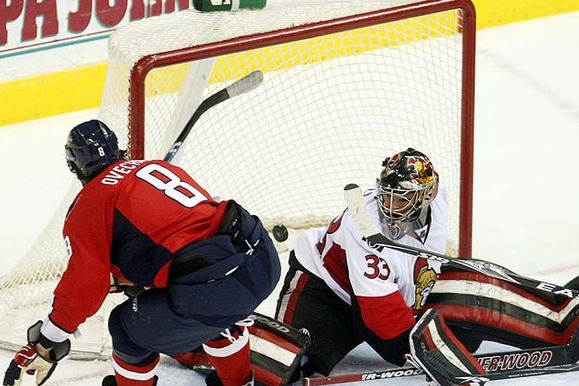 Every hockey fan loves to take control of their favorite player in EA Sports' NHL 12 in order to pull off slick moves against the computer that are seemingly unbelievable and down right filthy.
However, in the history of the NHL, there have been some players that have accomplished the un-accomplishable and they have made the impossible possible.
These players include puck wizards like Jaromir Jagr, Mario Lemieux, Sidney Crosby, Steve Yzerman, Pavel Datsyuk and assorted others.
Sit back, relax and prepare to enjoy hockey's filthiest one-on-one moves caught on camera.
Begin Slideshow

»
This is one of Mario Lemieux's most iconic goals ever. This goal came during Game 2 of the 1991 Stanley Cup Final. Lemieux skates up the ice and turns on the jets as he weaves in and out past two defenders.
Lemieux really sent a message during this game and he went on to have an explosive series.
Pavel Datsyuk is the best puck-handler in the NHL today. He has amazing dekes that can make goaltenders twist and turn and he is a magician with the puck when he goes to weave in and out past defenders.
In this clip, Datsyuk undresses the defender by picking his pocket and then he dekes out Dan Ellis.
Pavel Datsyuk really is a wizard with the puck. There is no reason why he should be able to make moves like this now because you would think that defenses scout this man out. Nonetheless Datsyuk continues to make defenders look foolish.
Pavel Dastyuk is a beast and I think after watching the past few clips, it is hard to find a Dastyuk goal that will trump the awesomeness of this snipe against the Edmonton Oilers.
You get the point by now, Pavel Datsyuk is a skilled puck-handler and markman that is not to be trifled with under any circumstances.
Spekaing of Pavels, Pavel Bure is one of the greatest puck-handlers and danglers in the history of the NHL. The Hall of Famer scored tons of highlight reel goals during his shortened NHL career, and this highlight reel has a ton of interesting goals in which Bure undresses defenders in a one-on-one situation.
Pay attention to goal No. 3 on this list in particular because Bure makes mincemeat out of the New Jersey Devils.
Maxim Afinogenov was one of the most dynamic puck-handlers during his NHL playing career. He had amazing speed, soft hands and a knack for scoring highlight reel goals night after night. Afinogenov was a former Buffalo Sabres fan favorite and he dazzled the fans even though he entered the building as the enemy.
In this video, Rick Jeanneret is a bit happier because he is announcing a goal scored by Maxim Afinogenov while he was a member of the Buffalo Sabres.
This goal was so slick because Afinogenov not only undressed a defender, but he did a 360 degree spin before slipping the puck past Tampa Bay goaltender John Grahame.
Mr. Jeanneret does a great job describing this goal, so it's worth watching and listening to the entire video.
Jaromir Jagr gets downright nasty during this video when he puts the moves on multiple Chicago Blackhawks players. Jagr steals the puck and he dekes, dangles and spins past the opposition to score a turning-point goal for the Pittsburgh Penguins.
The Pens had trailed 4-1 at one point in this game, but Jagr scored to force a tie. The Penguins went on to win this game.
Rick Nash has been known to have some sick and slick moves throughout is career. Nash is a prototypical power forward with solid size and hands, and he absolutely undresses the Phoenix Coyotes here, scoring this goal with seconds remaining in regulation time.
This type of creativity will definitely benefit the New York Rangers in the upcoming NHL season.
This goal was just downright filthy. Alex Ovechkin uses the boards as an outlet to bank the puck past a defender and then he jukes in while falling down to beat Carey Price. This goal by Ovechkin was one of the most creative goals from the 2008-09 season.
There are too many amazing goals that were scored by Wayne Gretzky throughout his career, so instead of limiting him to one or two amazing goals, here is an amazing compilation that features "The Great One" and his amazing moves.
Sidney Crosby only needed one hand to score when he gained the zone, juked between two defenders and slid the puck past Toronto Maple Leafs netminder Jonas Gustavsson. Crosby is often thought of as a skilled playmaker, but from time to time he will score a goal like this.
Marian Gaborik is one of the fastest skaters in the game today, and he showcases his speed here.
Gaborik is able to skate up the ice and he controls the puck as he crosses into the offensive zone. The Slovak Sniper then uses the defender he beat as a screen to score a sweet wrist shot against Erik Ersberg.
It didn't take very long for Sidney Crosby to make an impact when he returned from injury against the New York Islanders. Crosby made a good defensive play in his own zone to set up the rush and then he capitalized on the play as he moved past three Islander players before beating rookie goaltender Anders Nilsson.
Alex Ovechkin scored a sweet goal in this video against the Chicago Blackhawks. He uses an in-and-out deke move that is very popular in EA Sports' NHL 12 video game.
Oveckhin is able to set this goal up by using his blistering speed and then he make the defenders look inadequate en route to scoring this nasty goal.
Steven Stamkos really knows how to turn on the jets when necessary. Stamkos is playing his man at the point when he pokes the puck loose and then it is off the to the races.
With his high-octane speed, Stamkos has no problem capitalizing on this breakaway goal.
Viktor Stalberg is a young forward for the Chicago Blackhawks who has a lot of skill and talent. He made his mark early on with the Blackhawks when he scored this filthy goal by bypassing two Columbus Blue Jacket players.
This goal really does a good job of showcasing Stalberg's speed and skilled hands.
Alexei Kovalev is a player who had tons of dekes, dangles and snipes early on during his NHL career. He was one of the most talented and enigmatic Russian players in the early '90s and he was known as AK-27, a reference to the AK-47 assault rifle.
In this clip, Kovalev is nearing the tail end of his career with the Montreal Canadiens, but that doesn't prevent him from putting the moves on three Boston Bruins players. Kovalev deked, dangled and sniped home a great goal and proved that he still had the moves.
Bobby Ryan is a talented young forward for the Anaheim Ducks. He has the size, speed and hands to be an effective goal scorer, and he really illustrated that during his infamous goal against the Nashville Predators.
Ryan stole the puck and weaved in and out before finally putting the puck past Predators netminder Pekka Rinne. It is a goal that required a ton of patience and skill.
Matt Duchene is a player that has not had the best of luck so far in his career. He is a very talented center who has battled through injuries and has tried his best to make a positive impact for the Colorado Avalanche. This goal against the Pittsburgh Penguins was filthy.
Duchene put the puck from his forehand, between his legs and it ended up on his backhand before he roofed it past Marc-Andre Fleury.
Claude Giroux is an amazing playmaking center for the Philadelphia Flyers, but he also can score amazing goals like this.
Giroux pulled out all the stops out from his bag of tricks and capitalized on a bad defensive breakdown by the Colorado Avalanche defense.
This goal may not seem like a whole lot, but take a good look of where Teemu Selanne starts and where his defender is. Then watch and marvel at how much ground Selanne covers before eventually blowing past him en route to scoring his 54th goal of the season.

That goal enabled Selanne to claim the NHL record for goals scored by a rookie in a single season. Selanne would end the season by scoring 76 total goals.
Steve Yzerman was one of the greatest centers of his era, but he was often overshadowed by players like Wayne Gretzky and Mario Lemieux. Make no mistake, Stevie Y had the skills, dedication and the leadership abilities to turn around the Detroit Red Wings franchise.
During he tenure as a Red Wing, Yzerman hoisted the Stanley Cup three times as a player and one time as a team executive. While this highlight package features many great goals scored by Yzerman, the No.1 goal against the Philadelphia Flyers was most impressive.
Joe Sakic—like Steve Yzerman—spent his Hall of Fame career with one team. Sakic was the face of the Quebec Nordiques/Colorado Avalanche and hoisted the Stanley Cup twice.
"Burnaby Joe" was one of the game's greatest players and leaders, and he really showcased all of his skills during this shorthanded goal.
This goal was absolutely filthy. Evgeni Malkin motors on through the zone and just about beats every Tampa Bay Lightning player en route to scoring one of the most electrifying goals of the 2011-12 season.
This was an amazing goal by superstar Senator center Jason Spezza. Spezza used his speed and his hands to out-work Sheldon Souray and then beat goaltender Jose Theodore with relative ease.
Jason Spezza is a player who doesn't get enough credit for the talent and moves he has.
David Perron did an amazing job undressing the New York Islanders defense on this goal. Perron with a head full of steam accelerates through the zone and pots one past the goaltender for an amazing highlight reel goal.
Ilya Kovalchuk is one of the NHL's top snipers today and this coast-to-coast move was something very special. Kovy uses his full bag-of-tricks in order to juke out the Carolina Hurricanes defense before he beats the goaltender top shelf.
This may be the greatest and filthiest goal scored in NHL history. Dennis Savard worked pure magic when he deked in and out past defenders and at the last second, he put the puck between another defender's legs before beating the goaltender with a bullet.
This type of goal is not scored often, so sometimes you just need to sit in awe and marvel at the work of art.
When you watch Peter Forsberg highlights like this, you almost want to feel sorry for him. Had Forsberg been healthy his entire career, what type of career would he have had?
Forsberg is still considered one of the best players of his generation but with moves like this, he could have been one of the all-time greats if he had a lengthy, healthy career.
Some of the goals displayed in this video do not exist individually, so here is the compilation of many amazing moves.
Some of these goals include Jaromir Jagr undressing Joe Juneau and Wayne Primeau making moves against the Philadelphia Flyers.
If anyone can locate individual clips for the above videos, leave a comment below.
This is another example in which a playmaker displays some serious puck handling skills. Derek Stepan takes the puck coast-to-coast and is able to out deke a few defenders on the way before he pulled up for a solid wrist shot that ended in the back of the net.
This goal is probably one of the most iconic goals in NHL history. There is even a statue depicting this goal outside of the Consol Energy Arena in Pittsburgh, Pa.
This goal feature Mario Lemieux splitting the gap to beat two New York Islanders defenders en route to scoring an amazing goal.
This is one of the best goals that Mario Lemieux has ever scored, but was this goal better than the one he scored against the Minnesota North Stars during the 1991 Stanley Cup Final?