NFL Fantasy Football: All-Time Team by Individual Seasons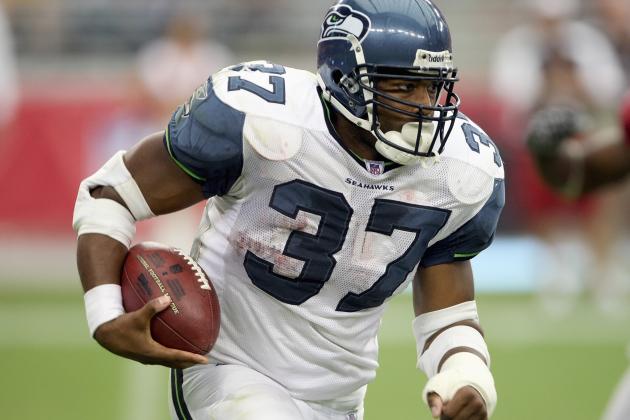 Stephen Dunn/Getty Images

This list is the making of an all-time fantasy football team lineup. The lineup consists of one quarterback, two running backs, two wide receivers, one tight end, one kicker and a defense.
If a player qualifies for the list, it is based on his best fantasy season, thus making a "dream team" of fantasy football.
All players and seasons included are from the 2000 season to the present day.
Here is the best fantasy football team ever assembled.
Begin Slideshow

»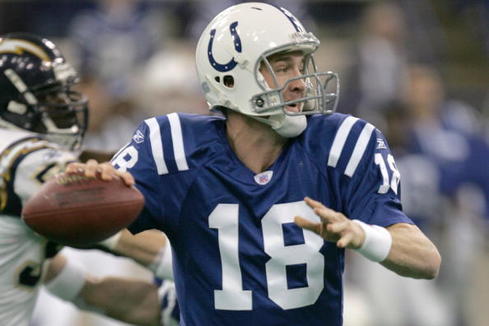 Jonathan Daniel/Getty Images

2004 Stats: 4,557 yards, 49 touchdowns, 10 interceptions, 121.1 passer rating
Peyton Manning's 2004 season was arguably the most magical season a quarterback has ever had. He threw for a then-record 49 touchdowns, breaking Dan Marino's 20-year-old streak of 48 tosses.
Before Manning's 2004 season, his quarterback production had been unseen. Since that year, Tom Brady has thrown for 50 touchdowns, and a few quarterbacks have consistently passed for over 4,000 yards.
But what sets Manning apart was his ability to spread the ball. He had three receivers—Marvin Harrison, Reggie Wayne and Brandon Stokley—with 1,000-plus yards and 10-plus touchdown receptions. Unlike Brady, Manning did not favor one receiver and throw 23 touchdowns to one guy. He spread the field, killed the clock and dazzled defenses.
His '04 season was a shocker, and his quarterback play was like a machine. Due to the fact that his production was unprecedented and that he got everybody heavily involved in the offense, he edges out Brady's 2007.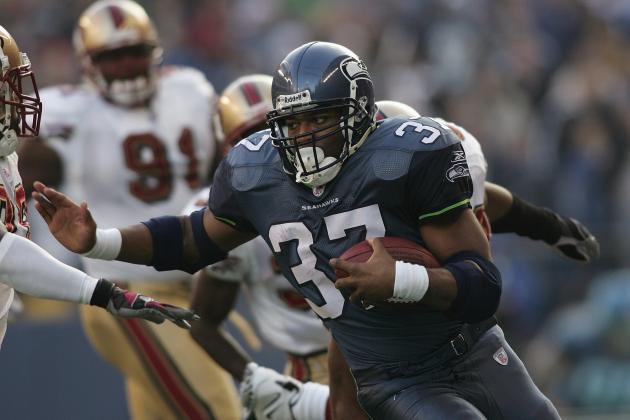 Jonathan Ferrey/Getty Images

2005 Stats: 1,880 rushing yards, 5.1 yards per carry, 27 rushing touchdowns, 15 receptions, 78 receiving yards, one receiving touchdown
Shaun Alexander's MVP performance in 2005 gives him a position in a very tight race for the two running back spots.
In 2005, Alexander led the NFL in rushing yards, rushing touchdowns, total points and Pro Bowl votes. He had two four-touchdown games and had 10 100-plus yard rushing games. His 27 rushing touchdowns tied him with Priest Holmes, while his 28 total touchdowns was a then-NFL record.
His season helped the Seahawks reach the Super Bowl and earned Alexander the cover of Madden NFL 2007.
His very high totals in both rushing yards and rushing touchdowns make him a must-have on this team, though there were several other backs with a strong case themselves.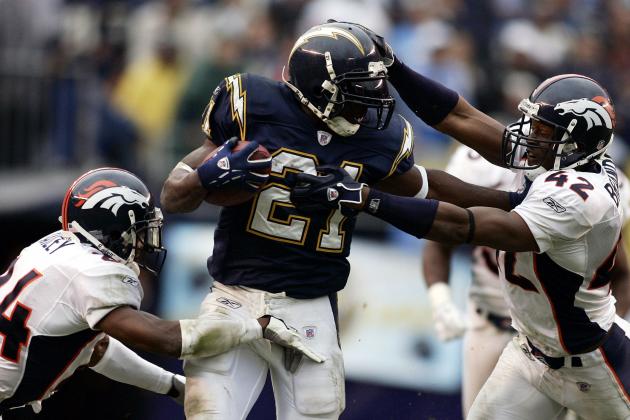 Donald Miralle/Getty Images

2006 Stats: 1,815 rushing yards, 5.2 yards per carry, 28 rushing touchdowns, 56 receptions, 508 yards, three touchdowns
LaDainian Tomlinson had an amazing 2006 season, earning himself the MVP that year.
His 28 rushing touchdowns and 31 total touchdowns are both NFL records. He scored three touchdowns in four consecutive weeks and had 19 touchdowns in a span of six games—both NFL records.
In 2006, Tomlinson had 2,323 yards from scrimmage and 31 total touchdowns. He even threw for two scores that season!
Tomlinson could not be contained that season, resulting in him breaking the league's 46-year-old scoring record. His '06 was simply too brilliant to keep him off of this list and off of this team.
Jim McIsaac/Getty Images

2007 Stats: 98 receptions, 1,493 yards, 15.2 yards per reception, 23 touchdowns
Randy Moss wasn't even in his prime in 2007, but he had a monster year in his first season in New England.
His 23 receiving touchdowns were an NFL record, catching 46 percent of his quarterback's touchdowns. He also showed he could be a possession type of receiver, with 98 catches.
The 2007 Randy Moss was able to make crazy plays downfield. Tom Brady would simply flick the football 50 yards, and Moss would come up with a ridiculous catch. He made several highlight-reel catches and even fought through double coverage to make plays happen.
Moss' 23 touchdowns are simply too good to keep him off this team. His 98 receptions and near 1,500 yards are not too shabby either, showing that he was a well-rounded player in 2007.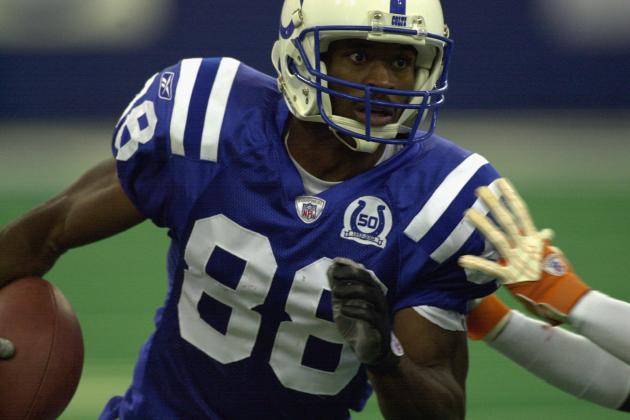 Jonathan Daniel/Getty Images

2002 Stats: 143 receptions, 1,722 yards, 12.0 yards per reception, 11 touchdowns
What sets Marvin Harrison apart in a very tight competition for this last wide receiver spot is his NFL-record 143 receptions.
When there are PPR fantasy football leagues, how can his 143 catches be overlooked? His 143 receptions broke Herman Moore's reception record by 20 catches. He averaged nearly nine catches per game, but amazingly still put up 1,700 receiving yards.
Harrison was more than a quick-catch, dump-out receiver. He was dynamic, catching lots of short passes then exploding downfield. He also recorded double-digit touchdowns, just enough to give him an edge over his competition for this No. 2 wideout spot.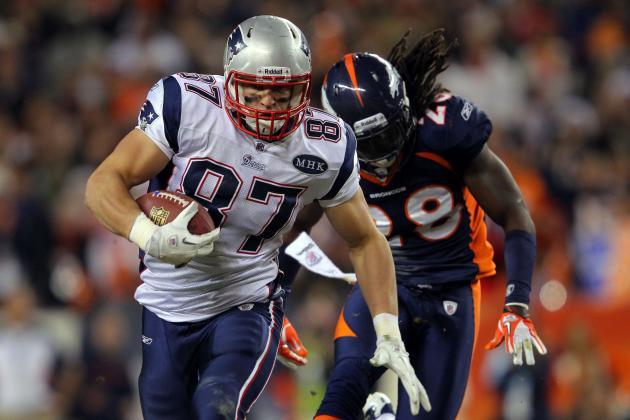 Doug Pensinger/Getty Images

2011 Stats: 90 receptions, 1,327 yards, 14.7 yards per catch, 17 touchdowns
Forget all of the crazy off-the-field stories; Rob Gronkowski set the NFL on fire in 2011.
In an offense with so many different options—including fellow tight end Aaron Hernandez—Gronkowski was still able to set records. His 17 touchdowns were the most ever for a tight end in a single season. His size, speed and pass-catching ability made him nearly impossible to cover.
He was named All-Pro and revolutionized the tight end position. The game will never be the same due to his 2011 season, earning him the spot on the team.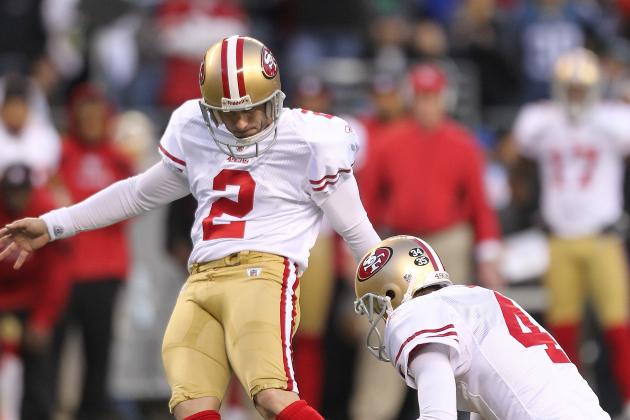 Otto Greule Jr/Getty Images

2011 Stats: Field Goals Attempted-52, Field Goals Made-44, Field Goal Percentage-84.6, Longest-55 yards, Extra Points- 34/34
Though 36 for the majority of the 2011 season, David Akers was able to play as young as a kicker could.
Well, in the wonderful world of NFL kicking, there are very few heroes and plenty of goats. Fortunately for Akers, he was a major stud in 2011.
The lefty set NFL records with 166 points and 44 field goals made. The All-Pro player even threw a touchdown pass. He was consistent and broke scoring records, earning himself the kicking spot on this team.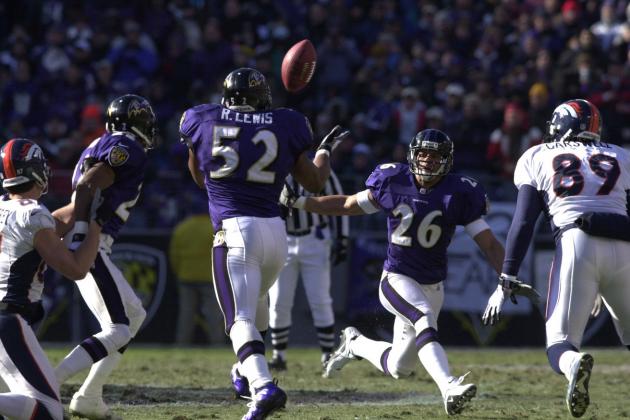 Doug Pensinger/Getty Images

The 2000 Baltimore Ravens were led by linebacker Ray Lewis and crushed the Giants on the game's biggest stage, earning a Super Bowl crown. The defense was unreal and responsible for the glory that comes with the Lombardi Trophy.
The team only allowed 970 rushing yards, or 60.6 yards per game—an NFL record. Their rushing record was 186 yards lower than the next lowest team. They only allowed five rushing touchdowns and 2.7 yards per carry.The Ravens also recovered a ridiculous 26 fumbles, leading the league.
In the secondary, Hall of Famer Rod Woodson was a force. The team had many great players and is considered legendary. Fantasy owners could be confident that the Ravens' defense would never have a miserable week, and they rarely did.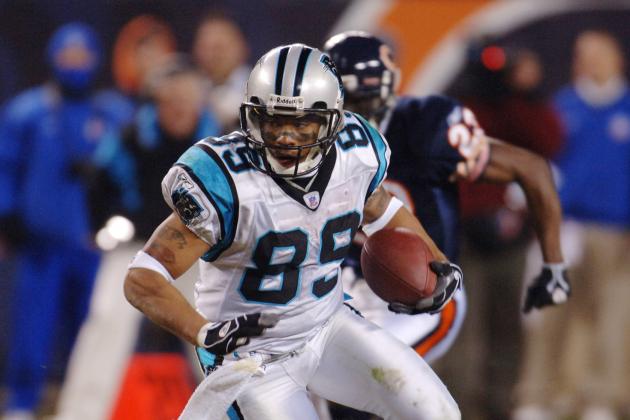 A. Messerschmidt/Getty Images

Here is a quick look at individual seasons that were impressive, but fell just short of this list.
Quarterback:
2007, Tom Brady
2011, Cam Newton
Running Back:
2003, Priest Holmes
2009, Chris Johnson
Wide Receiver:
2011, Calvin Johnson
2005, Steve Smith
Tight End:
2011, Jimmy Graham
2010, Dallas Clark
Kicker:
2005, Neil Rackers
Defense:
2010, Pittsburgh Steelers