USA vs. Canada: Women's Olympic Soccer Live Score, Highlights, Stats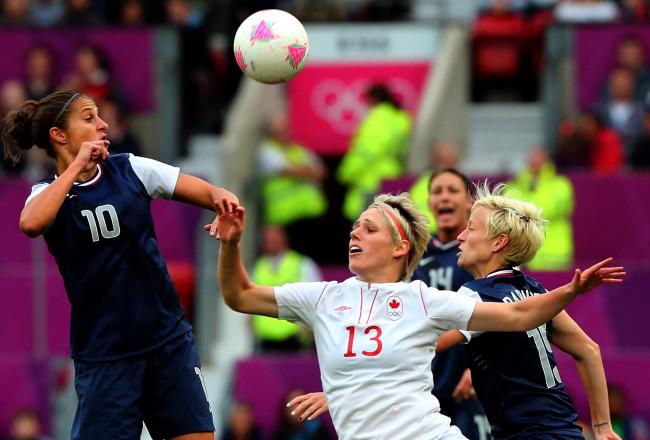 Stanley Chou/Getty Images
2012 Summer Olympics—women's soccer tournament, semifinals; Old Trafford, Manchester, England

United States 4-3 Canada (after extra time)
Goals: Sinclair (CAN) 22', 67', 73'; Rapinoe (USA) 54', 70', Wambach (USA) 80' (pen), Morgan (USA) 120'+3'

LINEUPS
USA: Hope Solo; Christie Rampone (c), Kelley O'Hara, Amy LePeilbet, Rachel Buehler; Carli Lloyd, Tobin Heath, Megan Rapinoe, Lauren Cheney; Alex Morgan, Abby Wambach
Canada: Erin McLeod; Carmelina Moscato, Rhian Wilkinson, Lauren Sesselmann, Marie Eve Nault; Diana Matheson, Desiree Scott, Sophie Schmidt; Christine Sinclair (c), Melissa Tancredi, Jonelle Filigno
USA 4, CANADA 3 (AFTER EXTRA TIME)
Smiles and hugs for the Americans. Tears and frowns for Canada's players.
What a great game! Easily the best of the tournament so far, in either the men's or women's side.
Team USA will play for the gold medal, and they'll have a chance at redemption against Japan on Thursday.
We'll see you then. First, though, make sure you stick around B/R for full reaction from this amazing match.
FINAL WHISTLE!
That's it! Team USA wins 4-3 and chaos reigns at Old Trafford!
Alex Morgan scores the winner in the third minute of stoppage time in the second half of extra time!
You couldn't make this stuff up.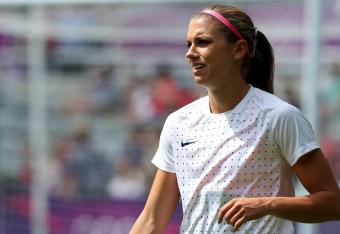 GOAL! USA!
I don't believe it!
Alex Morgan scores with a header!
120'—USA 3, CAN 3
Canada attacks, but the US defense holds firm, despite allowing the ball to bounce in the box.
Can't be long now.
120'—USA 3, CAN 3
Only moments left now. Will we have penalties?
119'—OFF THE BAR!
Alex Morgan crosses from the left again. Abby Wambach sends a looping header toward the Canada goal.
Erin McLeod gets the slightest touch on the ball before it bounces off the crossbar!
So close!
117'—CHANCE!
Alex Morgan crosses from the left. Canada keeper Erin McLeod whiffs on the ball and it falls to the feet of a US attacker.
Can't see who that was, but it doesn't matter. The ball trickles away without a shot!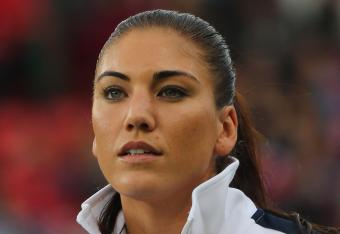 117'—USA 3, CAN 3
Free kick for Canada on the left.
Solo collects it easily and starts a counter.
115'—OUCH!
Canada's Desiree Scott collides with US midfielder Heather O'Reilly.
Scott's knee bends backwards. Yikes, that has to hurt.
114'—USA 3, CAN 3
Erin McLeod comes off her line to collect a high cross in the Canada box.
112'—USA 3, CAN 3
Rapinoe takes yet another corner for the US. It's over everyone, but Tobin Heath chases down the ball and reloads.
She plays in another ball, but Canada's defense clears it too.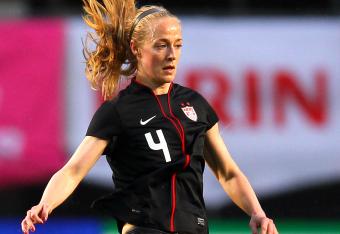 110'—USA SUB
Becky Sauerbrunn replaces Rachel Buehler. That's a defender for a defender, and Buehler looked hurt.
109'—USA 3, CAN 3
The pace of the match has dropped significantly. These players are exhausted.
107'—INJURY
US defender Rachel Buehler—known as "The Buehldozer"—is lying on the pitch injured. Looked like she landed badly on after an aerial challenge moments ago.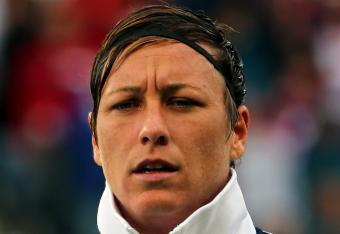 106'—USA 3, CAN 3
Here we go, 15 more minutes.
Abby Wambach was pumping her teammates up during the break. She looked intense. Gotta love that.
BREAK
There's the whistle. We're halfway through extra time.
Moments ago, Canada keeper Erin McLeod came off her line and whiffed on a cross. It looked promising for the US for a moment, but the ref called a foul.
No women's Olympic match has ever gone to penalties. Will that change today?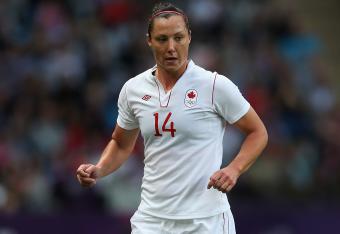 105'—USA 3, CAN 3
Canada's Melissa Tancredi is whistled for a foul inside the US box. That was during a Canada corner.
Nervous moments for the US defense.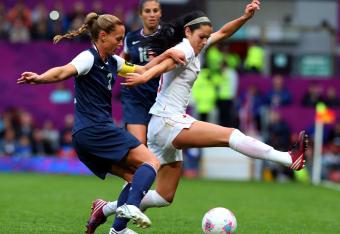 103'—USA 3, CAN 3
…and the free kick sails over everyone. Goal kick to Team USA.
103'—FREE KICK!
Kelley O'Hara fouls Canada's Diana Matheson right on the edge of the US box. That was very nearly a penalty.
Instead it's a free kick…
102'—USA 3, CAN 3
That sub means Rapinoe will switch sides. Will that work?
101'—SUBS
Heather O'Relly replaces Lauren Cheney in the US midfield. Cheney looked absolutely gassed.
For Canada, Chelsea Stewart replaces Marie Eve Nault.
100'—HEADER!
Abby Wambach turns a header on goal, but Erin McLeod saves comfortably.
This is good stuff for Team USA.
99'—SHOT!
Sydney Leroux redirects a cross towards goal, but he sliding shot sails over the bar!
Great defensive pressure from Kaylyn Kyle.
95'—SHOT
Hope Solo collects a shot by Melissa Tancredi.
94'—USA 3, CAN 3
The teams have pulled back the throttle just a bit. Rapinoe shot over the bar right after the start of extra time, but there have been no other chances.
This article is
What is the duplicate article?
Why is this article offensive?
Where is this article plagiarized from?
Why is this article poorly edited?