UFC 150 Fight Card: Donald Cerrone vs. Melvin Guillard Head-to-Toe Breakdown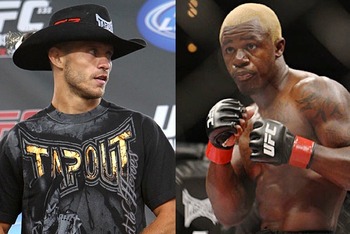 Photo credit: MMA Weekly
UFC 150 goes down this Saturday, August 11 from the Pepsi Center in beautiful Denver, Colorado, one of the crown jewels of the wild American west. So it's fitting, then, that the co-main event features two of the biggest gunslingers in the lightweight division: Donald "Cowboy" Cerrone and Melvin "The Young Assassin" Guillard.
They should bolt a pair of those swinging saloon gates onto the cage door for the occasion. Replace Josh Rosenthal with Lee Marvin. These are the kinds of touches that will really help set the mood for a matchup with all the makings of a good, old-fashioned shootout.
In the unlikely event this wasn't enough hardcore fight information for you, what follows is a head-to-toe breakdown of Cerrone and Guillard. With a Western theme, of course.
On the Feet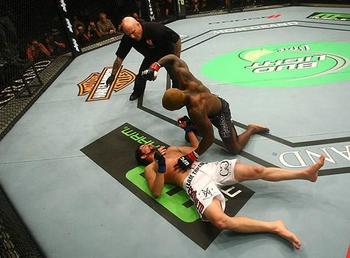 Photo credit Donald Miralle/Zuffa LLC via Getty Images
When it comes to the stand-up phase, both these men are locked and loaded. If the fight stays upright for any length of time, this could become the O.K. Corral real quick-like.
That's what happens when you've got a well-rounded Muay Thai punisher on one side in Cerrone, and a thunder-fisted boxer on the other side in Guillard.
Cerrone mixes lots of kicks and knees into his attack; that and his footwork should enable him to dictate the distance at which the fight takes place. He's a banger, but he does it with finesse.
Guillard does not do it with finesse. He beats your teeth in. As always, he'll be spoiling for that one big shot, and Cerrone's affinity for striking battles may give Guillard the opening he needs.
Cerrone probably wins a 15-minute marathon, but Guillard can end it in seconds. I'll take the power.
Advantage: Guillard
On the Ground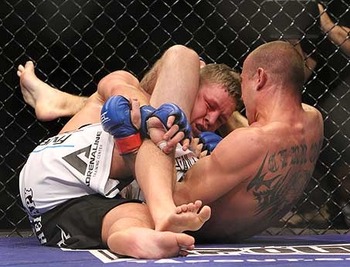 Photo credit: Scott Petersen/MMA Weekly
Cerrone's stand-up wins him fans, but his ground game wins him fights.
Cerrone can't seem to resist a good brawl, and may have an even harder time in front of a hometown crowd (he's from Colorado Springs). But eventually, Cerrone will acknowledge reality. He may not be an Abu Dhabi champion, but compared to Guillard he's Demian Maia.
Advantage: Cerrone
Submissions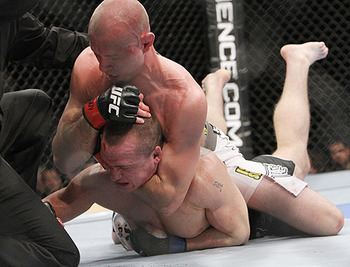 Photo credit: Scott Petersen/MMA Weekly
Cerrone only has one T/KO win on his resume, but 13 by submission (granted, a lot of them were set up by knockdowns, but still). He blends the horizontal and the vertical seamlessly for a true mixed martial arts experience.
There is some humor in the fact that Cerrone is training away from his usual Greg Jackson team for this fight in part because he didn't want to give his good friend and former Jackson teammate Guillard any reason to believe he was digging for extra, you know, buried treasure, or whatever (sorry, I kind of petered out on this Western theme). But Guillard's big weakness may be the worst-kept secret in the UFC. Nine of his 10 career losses came by tapout.
Advantage: Cerrone. Big advantage.
Between the Ears/Intangibles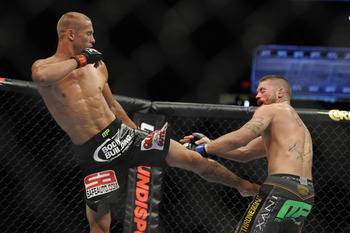 Rafael Suanes-US PRESSWIRE
There was another reason Cerrone moved his camp. Part of it was the history with Guillard, but the other part was because he wanted to train high in the Colorado Rockies.
Cerrone's getting ready for the altitude. I'm definitely happy with that, and a little relieved to be honest. I'm still traumatized by visions of Mark Hunt-Ben Rothwell. I don't know if I could live through that kind of thing again.
In any event, after his training camp and before a hometown crowd, Cerrone will have the wind at his back.
Advantage: Cerrone
Bottom Line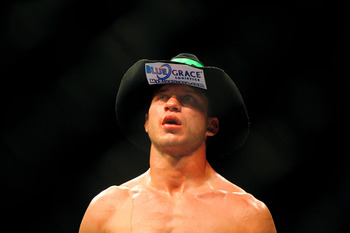 Mark J. Rebilas-US PRESSWIRE
It's impossible to ignore the nose in front of your face on this one. Guillard's been choked out eight times. Cerrone has 10 wins by chokeout.
Guillard's power is to be respected, but if you throw in the intangibles along with the submissions thing you've got a no-brainer, at least until Guillard proves he can stop what everyone knows is coming.
So, you know. Yee-ha.
Prediction: Cerrone, submission, Round 2

Scott Harris is a featured columnist for Bleacher Report MMA and a regular contributor to the site's Caged In blog. He also has a new and reasonably entertaining Twitter account; follow along at @ScottHarrisMMA.
Keep Reading