Fantasy Baseball 2012: Top 10 2-Start Pitchers for Aug. 6-12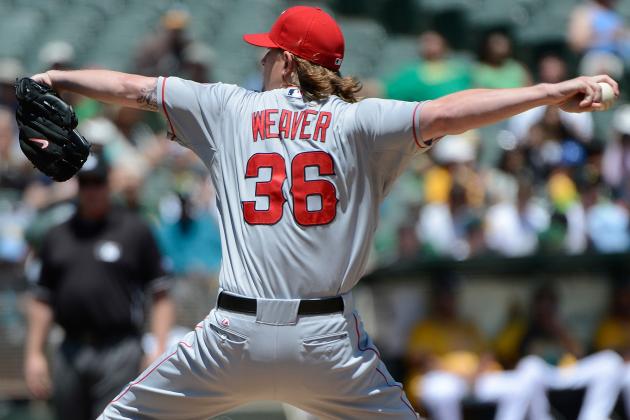 Thearon W. Henderson/Getty Images
Angels ace Jered Weaver (14-1, 2.29 ERA), a leader in the race for American League Cy Young, tallied six wins, a 2.23 ERA and 1.02 WHIP for the month of July.
The following slideshow is a top-10 ranking of two-start pitchers for the week of Aug. 6-12.

The listing does not necessarily account for a pitcher's season-long prospects, nor does it promise sustained dominance from this point forward. It's merely an educated guess of which starters will shine the brightest over the next seven days.

For a full listing of two-start pitchers, click here.

Enjoy the show!
Begin Slideshow

»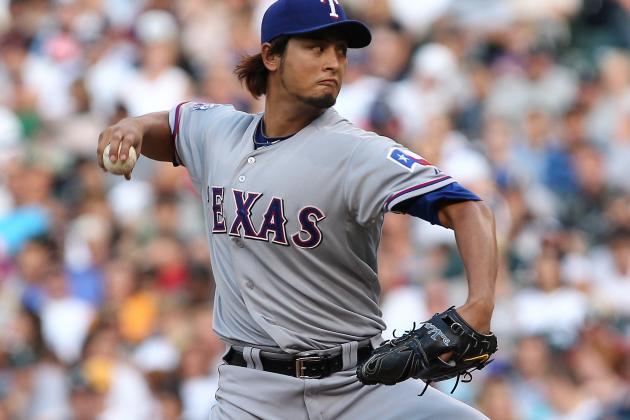 Otto Greule Jr/Getty Images

From most vantage points, Yu Darvish (11-7, 4.38 ERA, 1.41 WHIP) would not warrant a spot in this countdown.

That's a harsh reality for a pitcher who's allowed 28 earned runs in his last six outings (spanning 38.2 innings). He's also been way too forgiving with walks, handing out 17 free passes since July 14.

But Darvish still has great mass appeal in strikeouts, especially when tabbed for two starts in weekly leagues. In his last eight appearances, Yu has racked up seven-plus strikeouts seven times, including four double-digit efforts in that time frame.

Fingers crossed on Darvish reversing the trend of ugly starts against the Red Sox (away) or Tigers (home) this week.

Targets: one win, 3.20 ERA and 15 strikeouts.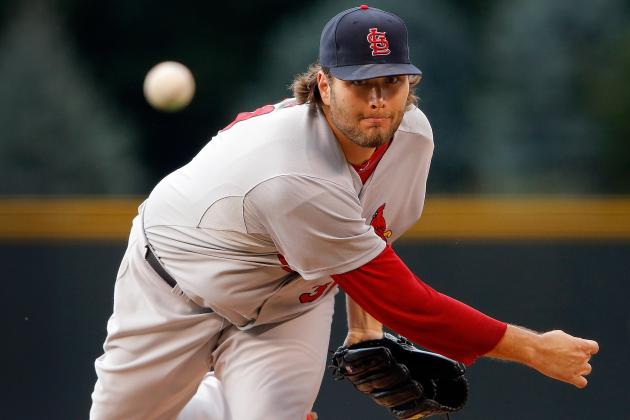 Doug Pensinger/Getty Images

Say hello to the Yu Darvish of the National League...and that's not necessarily a good thing.

Of his last eight outings, Lance Lynn has surrendered five-plus runs four times, and in that span, he posted a game WHIP of 1.30 or higher five times.

But just like Darvish, Lynn (13-4, 3.40 ERA, 1.27 WHIP) has earned the right to dig out of a short-term hole through the magical equalizer of strikeouts.

After all, Lynn has five games of eight-plus strikeouts in his first MLB season as a starter, and from June 7-July 16 (spanning seven starts), he racked up double-digit punch-outs three separate times.

It also helps that Lynn has a manageable docket this week, taking on the Giants (home) and Phillies (road).

Targets: one win, 3.10 ERA and 14 strikeouts.
Josh Hedges/Getty Images

So much for Wade Miley (12-6, 2.98 ERA, 1.08 WHIP) incurring a slump after his first All-Star Game appearance.

In his four starts since the midseason break (spanning 26 innings), Miley has three wins, a 2.77 ERA, 1.04 WHIP and a superb 25/3 strikeout-to-walk ratio. Of equal importance, he's yielded only three walks in that span.

Wiley has a similarly stellar track record since June 6 (10 starts): six wins, six outings of six-plus strikeouts and a perfect 10-for-10 in surrendering two walks or less.

Targets against the Pirates and Nationals: one win, 3.05 ERA and 13 strikeouts.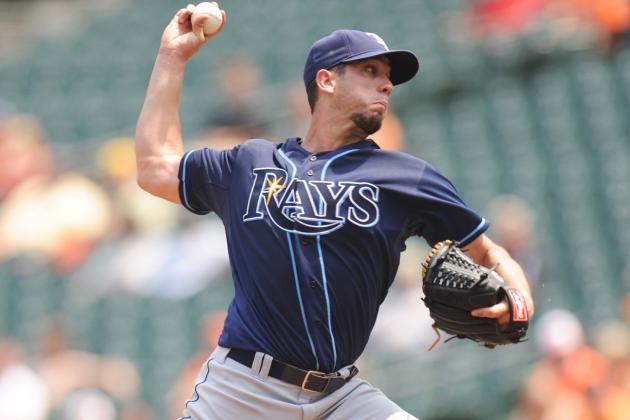 Mitchell Layton/Getty Images

From my research, James Shields is the first MLB pitcher to notch double-digit strikeouts in back-to-back-to-back starts this season.

That alone guarantees the powerful right-hander a spot in this countdown, even if he allowed four or more runs six times from June 23-July 26.

Of course, you're only as good as your last outing, and on July 31, Shields stifled the A's with a three-hit, 11-strikeout shutout victory. It was the kind of gem start that reminded fantasy owners of why he was a top-15 pitcher coming out of spring training.

It also reinforced why the savvy Rays didn't deal Shields before the MLB trade deadline.

Bottom line: Shields (9-7, 4.24 ERA) only needs a little bit of luck or momentum to initiate another sustained period of fantasy dominance. Let's get the ball rolling this week (vs. Toronto, at Minnesota).

Targets: one win, 3.30 ERA and 17 strikeouts.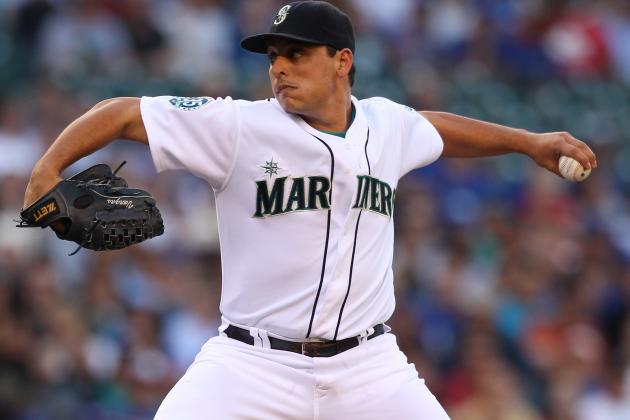 Otto Greule Jr/Getty Images

Elite starting pitchers are routinely forgiven for the occasional clunker start.

But I can only imagine the visceral reaction of fantasy owners everywhere on the morning of June 21, just hours after Jason Vargas got shelled for nine hits and 10 runs against the Diamondbacks.

The cacophonous clicking noise of GMs heartlessly dumping Vargas would have made for a great Kit-Kat commercial. But for those who rode out the bad times, they were rewarded with a seven-start flurry that yielded five victories, a 1.79 ERA, 0.98 WHIP and 32 strikeouts.

To say Vargas (12-7, 3.71 ERA, 1.14 WHIP) has been a sweet fantasy surprise would be something of an understatement.

To say that he was on equal or better footing with teammate Felix Hernandez throughout the month of July (5-0, 1.64 ERA,1.02 WHIP) would be absolutely based in fact.

Targets: one win, 3.00 ERA and 15 strikeouts.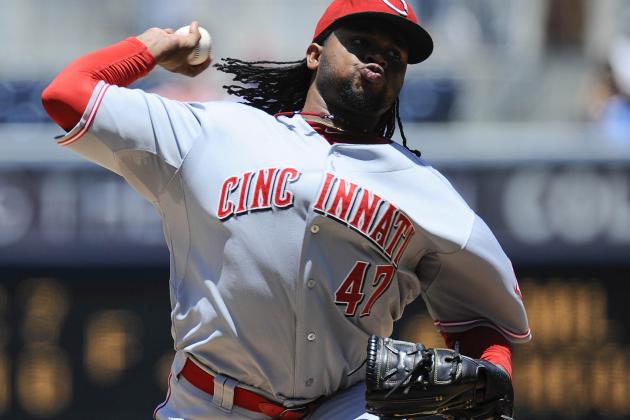 Denis Poroy/Getty Images

Johnny Cueto (14-5, 2.52 ERA) garners an easy spot here for four reasons:

1. Incredibly, Cueto has been credited with either a victory or loss in his last 15 outings (10-5 in that span). And yes, I'm dying to know if that's anything close to a major league record for most consecutive games with a decision.

2. The Reds are easily the hottest team in baseball right now, winning 22 of 26 games since July 6 and cruising to a hefty lead in the National League Central (4.5 games). In that stretch, Cueto posted a 5-0 record and 3.01 ERA.

3. Even with two shaky outings on July 28 and Aug. 2, allowing eight combined runs, Cueto still collected a victory each time.

4. In the previous eight outings, Cueto resembled that of a fantasy ace, tallying six wins and going a perfect 8-for-8 in allowing just three runs or less.

Weekly targets against the Brewers and Cubs: one win, 2.95 ERA and 14 strikeouts.
Mike Stobe/Getty Images

Forget about Yovani Gallardo's ERA (4.04) or the outing of only one strikeout against Cincy on July 21.

In the last 30 days (spanning four starts and 24.2 innings), Gallardo has posted elite-level numbers in strikeout-to-walk ratio (26/3) and WHIP (1.05), indicating he'll have little difficulty finishing the season strong as the Brewers' new ace—just like the old days before Zack Greinke was traded to Milwaukee.

And this week should be a good litmus test for that statement, spectrum-wise, with Gallardo battling the white-hot Reds (and Johnny Cueto) before getting a de facto breather against the anemic Astros in Houston.

Targets: one win, 2.90 ERA and 16 strikeouts.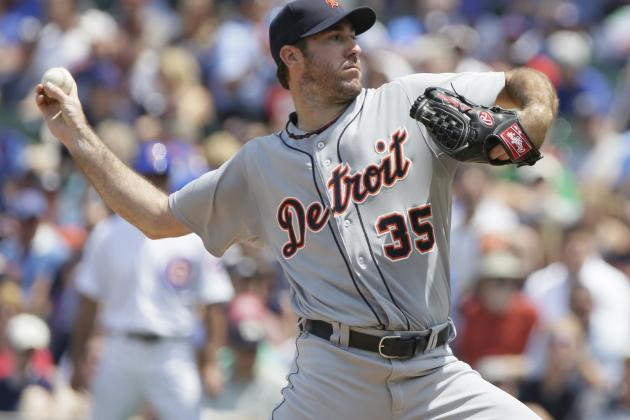 John Gress/Getty Images

As a Detroit native and unabashed Tigers fan, I've had to endure a handful of nights this season when Justin Verlander was either far from razor-sharp or had the unfortunate honor of pitching before, after or during rainstorms.

As a consequence, I simply figured that Verlander's seasonal numbers had been stellar, but not elite.

Apparently, I was wrong.

For four straight months, Verlander has registered ERAs below 3.00, and for April, May and July, his WHIP was comfortably below 1.00 each time.

Regarding strikeouts, Verlander (142 strikeouts in 160.2 innings) has a ratio of 0.89 strikeouts per inning.

Regarding victories, the reigning Cy Young and MVP (American League) has an over/under of 7.5 wins from this point forward, starting with two interesting matchups against the Yankees (home) and Rangers (away) this week.

Targets: two wins, 2.80 ERA and 15 strikeouts.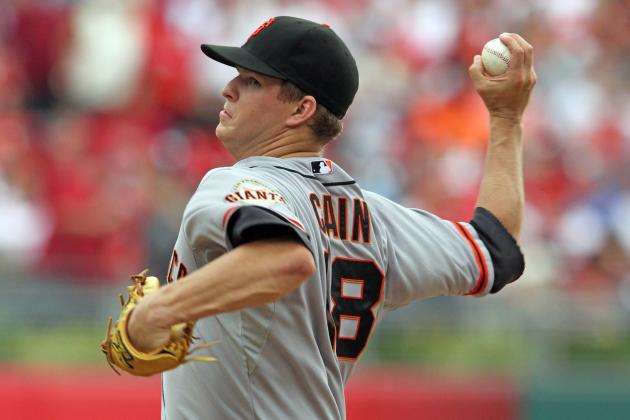 Hunter Martin/Getty Images

It's worth nothing that Matt Cain (10-4, 2.82 ERA, 1.00 WHIP, 135/30 K-BB) has struggled a bit since he tossed the 29th perfect game in major league history on June 13.

In the eight outings following that night of immortality, Cain has collected only two wins and 43 strikeouts.

But even the most dynamic of fantasy assets are prone to a few peaks and valleys over the course of a long season, and Cain has a real opportunity for growth against the Cardinals (away) and Rockies (home) this week.

The Giants, who stand only a half-game ahead of the Dodgers in the National League West, need their high-profile (and high-salaried) anchor to up the ante with strikeouts and runs allowed.

For fantasy owners, thank goodness Cain has had little trouble with walks. Since June 7 (covering 10 starts), he's surrendered just three walks or less nine times.

Targets: two wins, 2.70 ERA and 15 strikeouts.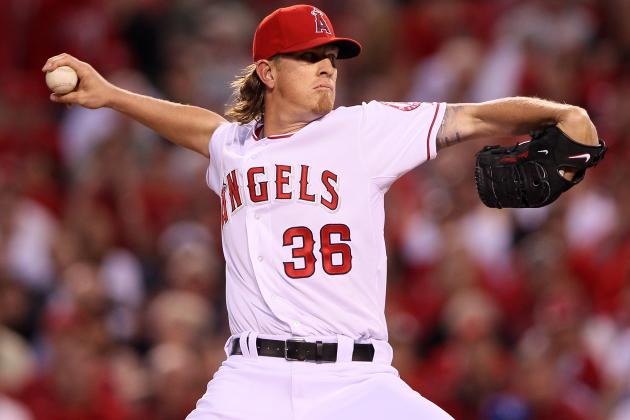 Jeff Gross/Getty Images

Jered Weaver was a perfect 6-for-6 in matching victories with July starts.

In that span, he also surrendered two walks or less five times and just two runs or less five times (including two scoreless efforts).

For the stretch drive, it would be a minor upset if Weaver (6-0, 2.23 ERA, 1.02 WHIP in July) didn't win his first American League Cy Young; it would also be a surprise if he didn't raise the stakes—strikeout-wise—with his next five opponents (Athletics, Mariners, Rays, Tigers, Red Sox).

Elite-level strikeouts are the only thing keeping Weaver from being the No. 1 overall pitching asset.

Targets: two wins, 2.65 ERA and 16 strikeouts.