One Burning Question for Every Member of the Miami Dolphins' Roster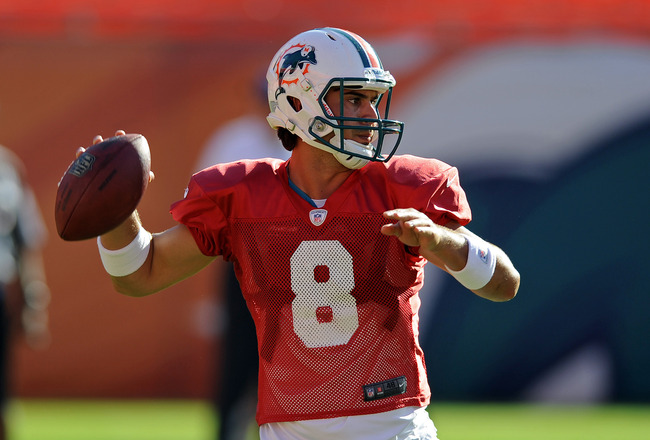 Steve Mitchell-US PRESSWIRE
The Miami Dolphins will utilize this preseason to hash out positional battles at quarterback wide receiver and safety, but that doesn't mean everybody else can get comfortable.
Every single player—yes, even Reggie Bush and Paul Soliai—have questions to answer during training camp.
Remember, Joe Philbin doesn't have an ounce of loyalty to any of the players he inherited. In order for these carryovers to make the team this year and secure long-term roles, they have to answer the outstanding questions that Philbin and his staff may have regarding their prospectus.
And, if you're wondering what to watch for during Friday's game versus the Tampa Bay Bucs, this is your resource.
Quarterbacks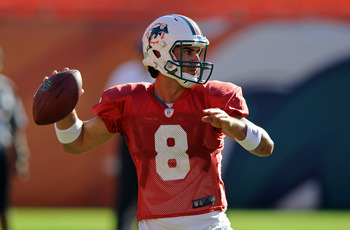 Steve Mitchell-US PRESSWIRE
David Garrard: Can he regain form after a year away from football?
People are quick to forget that Garrard was a Pro Bowler in 2009. And, in 2010, he posted career highs in touchdown passes (23) and completion percentage (64.5). But, after sitting out the 2011 season, is this 34-year-old quarterback capable of having a Chad Pennington-esque season? Because, that's what the Dolphins need from him in order to make a playoff run.
Matt Moore: Can he turn it on before it's too late?
If David Garrard wins the quarterback competition and Ryan Tannehill proves that he's a viable No. 2 quarterback, then where does that leave Matt Moore?
He's a notoriously inconsistent practice performer who's been billed as a "gamer," but there's little room for error under a new coaching staff. Moore needs to impress during preseason game action, or he could play elsewhere in 2012.
Ryan Tannehill: When will he be ready to start?
Tannehill looked far better than anticipated last week. He completed 10-of-13 passes for 114 yards and a touchdown during Saturday's scrimmage. At this rate, he could enter the regular season as the Dolphins' No. 2 quarterback, but the question on everybody's mind is: when will he be ready to start?
It might not be a question of when he's ready but rather when the Dolphins are ready. Once and if they're out of contention in 2012, then we'll see him under center.
Pat Devlin: Has he developed enough to stay on the practice squad?
The Dolphins signed Devlin as an undrafted free agent last year, and he spent the entire season on the practice squad. Will he warrant an extended stay with the Phins?
He's making a strong case, according to a tweet by Omar Kelly of the Sun-Sentinel, so far. Devlin was a prolific passer at both the high school and collegiate levels, and though he may never be one in the NFL, he could be a solid No. 3 or No. 2 quarterback for Miami in the future.
Running Backs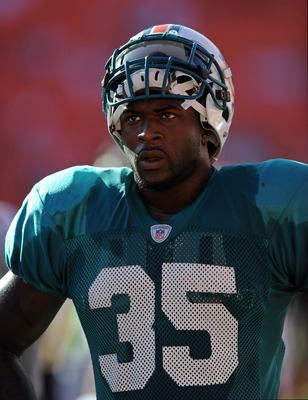 Jerome Messam
Steve Mitchell-US PRESSWIRE
Reggie Bush: Can he stay healthy for another full season?
There's no doubt Reggie is capable of having another stellar season, but there is doubt that he can stay healthy. After all, he's missed 21 games in the last five years. Plus, he registered a career-high 216 carries in 2011, which is more than he accrued in the prior three seasons combined.
Bush will be the focal point of Miami's offense, but can his 200-pound frame handle another full season of punishment?
Daniel Thomas: Will he rebound from a disappointing rookie season?
Thomas averaged just 3.5 yards per carry last season, casting doubt about his future prospectus. He could be a dynamic, multi-purpose back who can pound the ball between the tackles with his 230-pound frame or swing out of the backfield and catch passes with his soft hands.
If Thomas doesn't turn it around this season, his roster spot will be in jeopardy in 2013.
Lamar Miller: How much can he contribute in 2012?
Miller is a hometown hero whom fans will clamor to see early and often, but you may want to tame your expectations for this fourth-round pick.
He's behind Bush and Thomas in the pecking order, and concerns about his durability linger. However, Miller is a home run threat, so the Phins can't keep him on the sideline, can they?
Steve Slaton: Does he offer anything distinct from Reggie Bush and Lamar Miller?
Slaton is a one-cut runner who can thrive in Miami's zone-blocking scheme, but he's doesn't have anything Bush and Miller don't. If the Dolphins decide to keep four running backs, then they may opt to dedicate that last spot to a runner who offers something the running back corps doesn't already have.
Jerome Messam: How will he adapt to the NFL?
One player who does offer something distinct is Jerome Messam. He's a 6'4", 248-pound back who became the second Canadian-born CFL player to rush for more than 1,000 yards since 2000. Messam can be Miami's fullback, short-yardage back, and more, but he has to prove that he can adapt to NFL speed and recover from knee surgery he underwent in May.
Jorvorskie Lane: Can he fend off Messam and secure a roster spot?
Lane is a 5'11", 258-pound fullback who played one season under Mike Sherman at Texas A&M. Since graduating in 2008, he's bounced around the Indoor Football League and the Arena Football League, but now appears to be making a strong case for a roster spot.
The preseason is still young, and the battle between Lane and Messam will intensify.
Marcus Thigpen: Can he capitalize on special teams opportunities?
Thigpen is another CFL import whose athleticism and versatility make him a dark horse for a roster spot. He's a shifty, multi-purpose running back who's competing for kick and punt-return duties.
Thigpen is also competing with Slaton for the No. 4 running back spot. He'll have to impress as both a running back and a return man in order to make the 53-man roster, but he definitely has a chance.
Jonas Gray: How quickly can he return to full health?
Gray is still recovering from an ACL tear he suffered back in November, so his chances of making the 53-man roster are slim. However, he's a 5'9", 223-pound bowling ball with deceptive speed, and he could make a run at the No. 4 running back spot...if he gets healthy in time. Otherwise, he'll likely land on the practice squad.
Ryan Mahaffey: Is he anything more than a camp body?
Mahaffey's two NFL seasons have been mostly uneventful, but he will be afforded an opportunity to compete for the fullback job. The odds of him earning a spot on the 53-man roster are quite thin, but Messam and Gray's injury issues could open the door for Mahaffey.
Wide Receivers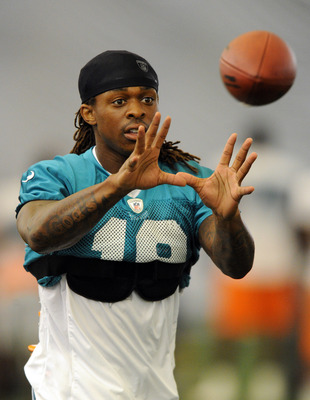 Legedu Naanee
Steve Mitchell-US PRESSWIRE
Chad Johnson: How will he respond to a 15-reception season with the Patriots?
Johnson has questions to answer following a failed one-year stint with the Pats, primarily whether or not he still has gas left in the tank. He's shown signs of reinvigoration in camp, enough to make him a likely Week 1 starter.
But, Chad needs to prove he can still compete with the NFL's best cornerbacks before reestablishing himself as a noteworthy NFL wide receiver.
Davone Bess: How will he respond to the worst statistical season of his career?
Bess quietly posted career lows in receptions and receiving yards in 2011. The West Coast offense suits Bess' skill set extraordinarily well, and he's looked good as ever in camp. If anything, he's in line to post career highs this year, but last season's numbers are reason to be slightly worried.
Legedu Naanee: Can he finally put it all together with his third team in three years?
Naanee, at 6'2", 225 pounds, most definitely has the ability to be a productive NFL wideout. He's failed to harness his physical tools after five seasons, and the Dolphins might be the last team that will give him such a big opportunity. Naanee has looked solid in camp so far, and he'll be a boom-or-bust player in 2012.
Brian Hartline: Can he get healthy before he loses out on a starting job?
Miami's switch to the West Coast offense is good news for Brian Hartline, whose football acumen, speed and discipline route running make him a picturesque fit for the system. But, he missed minicamp with an appendectomy and has been sidelined by a leg injury throughout training camp.
This has opened the door for others players to move up the depth chart. The longer Hartline stays on the sidelines, the likelier he's to spend time there in the regular season.
Roberto Wallace: Is this the year he finally breaks through?
Wallace is a physical clone of Brandon Marshall who's spent the last two seasons on the practice squad. Time is running out for him to establish himself as a viable NFL wideout, but he's played extremely well throughout the offseason.
The Dolphins can use Wallace's size and top-end speed as a weapon, especially in the red zone, but the key for him is displaying some consistency.
Marlon Moore: Can he break through, too?
While Wallace looks like he'll earn a roster spot, Moore is competing for the No. 6 job (as are all receivers from here on out). He's a speedy wideout whom the Dolphins have developed for the last two years. If he can improve his consistency and curb his drops, he could be a valuable backup wide receiver and special teams contributor.
Clyde Gates: Will he show enough growth to warrant a roster spot?
The Phins drafted Gates in the fourth round of the 2011 NFL draft, but he's already on the roster bubble. He's struggled to make the leap from Division II college ball to the pros. Although he has special vertical speed, it can't compensate for what he lacks mentally.
The Dolphins could use a deep threat on the roster, and Gates can be that guy if he plays well in camp.
Julius Pruitt: Can this dark horse really win a roster spot?
Pruitt has just recently surfaced on the radar. He played nine games with the Dolphins in 2011 and thrived as a special teamer. Now, he's vying for a roster spot, and he has to show he can contribute as a wide receiver and special teams ace in order to solidify a spot. He's atop the list of Dolphins' breakout candidates as well.
B.J. Cunningham: Will we see him at all in 2012?
Cunningham is a sixth-round pick who's well-rounded but doesn't do one thing particularly well. He definitely doesn't offer more value than these aforementioned names, but there's always a chance he'll turn heads at training camp. His best shot at a roster spot is through the practice squad.
Rishard Matthews: Will he be cut as a rookie?
Matthews is competing for kick-return duties, and if he wins that job, we'll see him around this season. But, there's a very real chance he won't make the team. Yes, the Dolphins just drafted Matthews, but their surplus of wideouts means some quality or valuable players have to go.
Jeff Fuller: Can he curb his drops?
Dropped passes knocked Fuller all the way out of a draft position. If they persist, then they could knock him off Miami's roster. Fuller's connection with Ryan Tannehill, productivity at Texas A&M and 6'4" frame make him a valuable developmental project—one who should land on the practice squad unless drops become an issue during camp.
Chris Hogan: Does he have any chance of making the roster?
The second-year wideout from Monmouth is facing an uphill battle to secure a roster spot, but he can make a case with an outstanding preseason. Hogan can potentially knock Cunningham or Matthews off the roster and land on the practice squad. Special teams performance will be key for him.
Tight Ends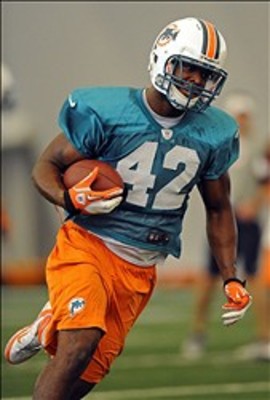 Charles Clay
Steve Mitchell-US PRESSWIRE
Anthony Fasano: How will he fit into Joe Philbin's West Coast offense?
Fasano has been a symbol of consistency for the Phins, reeling in 18 touchdowns since he joined the team in 2008. But, he's a limited athlete who may not fit in to Philbin's fast-paced, uptempo system. With Charles Clay and Michael Egnew factoring into the tight end corps, Fasano could see a diminished role in 2012.
Charles Clay: Will he live up to the hype?
Few players have generated more buzz this offseason than Charles Clay, whose transition from fullback to tight end could translate to a significant increase in production. Pressure is mounting on this second-year, sixth-round draft pick to become a seam-threat tight end, but he may need time to make the adjustment.
Michael Egnew: How fast can he develop a blocking game?
If Egnew was a skilled blocker, then he could've easily gone in the second or first round of April's draft. However, he was rarely asked to block at Missouri, and he'll have to dedicate significant time to develop that facet of his game.
His 6'5", 252-pound frame and 4.6 speed make him a matchup nightmare, but we might not see Egnew in a big role until he becomes a more complete player.
Jeron Mastrud: Can he warrant a roster spot based on blocking skills alone?
Mastrud is a blocking specialist who's been on the active roster for 22 games in the last two seasons. The Phins need three skilled blocking tight ends for goal-line and short-yardage formations. Because Egnew is so raw, Mastrud may demand a roster spot based on his blocking capacity alone.
Les Brown: How quickly can he transition from an accounting firm to the NFL?
Brown, a college basketball player turned accountant turned Dolphins tight end, is one to watch during camp. He's an athletic, 6'4", 238-pound player who has very intriguing upside, but he's facing a daunting transition. He'll likely land on the practice squad in 2012.
Offensive Tackles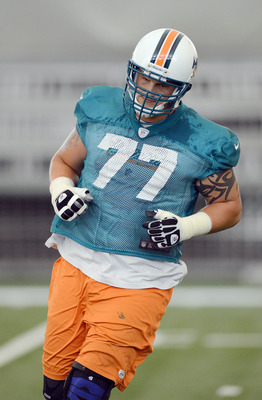 Steve Mitchell-US PRESSWIRE
Jake Long: Can he stay healthy?
Long has dealt with injuries to his back, biceps, shoulder and knees in the last two years alone. Even when injured, he's an elite offensive tackle, but he's been visibly hindered. Entering a contract season, Long is under pressure to stay healthy, and the Dolphins need him as close to 100 percent as possible.
Jonathan Martin: How fast will he adjust to the NFL?
The Phins spent a second-round pick on Martin in April and plugged him into the starting right tackle role immediately. Miami clearly views him as a day-one starter, but he still needs to prove he's actually ready for the NFL. Martin has to soothe concerns about his strength, which is one of the reasons his draft stock slipped.
Lydon Murtha: Can he play offensive guard?
Murtha surfaced on the radar after four promising starts in 2010. A season-ending toe injury prevented him from earning a starting role in 2011, and the arrival of Jonathan Martin has all but eliminated him again. The only hope for Murtha to crack the starting lineup in 2012 may be at guard, where he's taken some reps during camp, but that's a long shot.
Andrew McDonald: Can he maintain his spot on the second-team offense?
McDonald, an undrafted free agent from Indiana University, was surprisingly listed as a second-team offensive tackle on Miami's first depth chart, putting him ahead of veterans John Jerry and Will Barker. It's too early to make any assumptions, but it'll be interesting to see if McDonald keeps it up.
Will Yeatman: How will he transition from tight end to tackle?
Yeatman is a converted lacrosse player with a massive 6'5", 268-pound build. The Dolphins signed him last season and he saw three games on the 53-man roster as a tight end. Now, the Phins are converting him to offensive tackle, where he can better utilize his huge build. If he makes enough progress in camp, then he'll land on the practice squad.
Will Barker: Has he done anything to warrant a roster spot?
Barker spent the 2011 season on the practice squad, and he's currently running with the third-team offense. Joe Philbin's coaching staff might not like this 6'7" tackle as much as Tony Sparano's did, and he needs to impress in the preseason to stay on board.
Chandler Burden: Will his athleticism make him a worthwhile developmental project?
Burden is an undrafted free agent whom the Phins signed on August 2nd. He converted from defensive end to offensive tackle while at the University of Kentucky and maintained his athleticism throughout the transition. He ran a 5.07 40 at the combine (pretty good for a lineman), and this could make him a nice fit at offensive guard in Miami's finesse offense.
Offensive Guards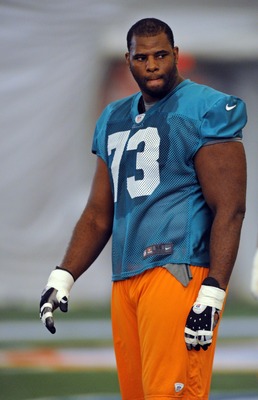 Artis Hicks
Steve Mitchell-US PRESSWIRE
Richie Incognito: Is he athletic enough to thrive in the West Coast Offense?
Incognito is a 6'3", 324-pound mauler who was a great fit for Tony Sparano's nasty and physical offensive line. But, in Joe Philbin's offense, Incognito will be asked to pull and trap, which requires nimble feet and quickness.
Artis Hicks: Can he fend off Eric Steinbach for the starting right guard job?
Hicks is a veteran journeyman whom Miami signed in March. Although he initially projected as a backup, he's run with the first team throughout the offseason. The Dolphins signed guard Eric Steinbach two weeks ago, but Hicks has managed to retain his spot so far.
Eric Steinbach: Is he still a starting-caliber player?
The Dolphins signed Steinbach, a 32-year-old coming off back surgery, two weeks ago. Initially, it looked like he would supplant Hicks for the starting RG job. Instead, he's run solely with the second team, and he might stay there for the duration of 2012.
Nate Garner: Is his versatility enough to demand a roster spot?
Garner's ability to play guard and tackle makes him valuable, but versatility alone won't guarantee him a job. He's shown promise in the past—most notably during eight starts in 2009—and he needs to build on it to make the team and provide the Phins with a reliable backup.
John Jerry: Has he finally worn out his welcome?
The most embattled player on Miami's roster, Jerry was lucky to make the roster after a substandard training camp in 2011. He made the Phins look wise for keeping him by performing admirably in a few games down the stretch. But, he's regressed yet again and is now running with the third team.
He isn't athletic enough to play in Philbin's WCO offense to begin with, and struggling to keep his weight only further hinders his chances of making the team. Jerry's days with the Dolphins are numbered, and barring an unforeseen turnaround, it's safe to declare him a bust.
Ray Feinga: Will the team's patience with him ever pay off?
After two seasons on the practice squad, this might be Feinga's last chance to impress the Dolphins and earn an extended stay. He's yet to do anything to bolster his value.
Centers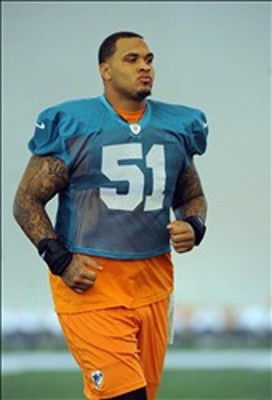 Steve Mitchell-US PRESSWIRE
Mike Pouncey: Can he avoid a sophomore slump?
By the end of 2011, Pouncey looked like a seasoned veteran capable of matching up with the league's best interior defensive linemen. He'll have huge expectations to fulfill in 2012, but he needs to make a concerted effort to dodge the dreaded sophomore wall.
Josh Samuda: Can he make the transition to center?
Samuda is an undrafted free agent out of UMASS who can make the 53-man roster as Pouncey's backup if he makes a swift and seamless transition from guard to center. The Dolphins listed him as a second-team center on the depth chart, so, at the very least, he'll be on the practice squad in 2012.
Ryan Cook: Is he a significantly better center than Richie Incognito or Josh Samuda?
The Dolphins signed Cook to back up Mike Pouncey last season, but he's facing an uphill battle for a roster spot. Richie Incognito has experience at center, so if Pouncey was injured, he could step in. Plus, Samuda is already listed ahead of Cook on the tentative depth chart.
Defensive Ends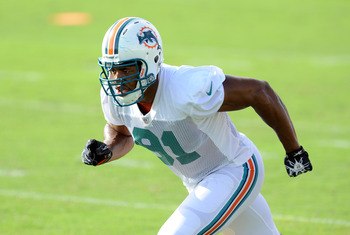 Steve Mitchell-US PRESSWIRE
Cam Wake: How will he transition back to the 4-3?
Wake was historically dominant at defensive end in the CFL, but he's spent the last three years as a 3-4 outside linebacker. Any time a player is forced to play a new position there's margin for error, but there's really no reason to worry about him.
Jared Odrick: Can he thrive as an oversized defensive end?
Odrick, at 6'5", 304 pounds, is an oversized 4-3 defensive end. He's capable of setting the edge against the run and generating a pass-rush—the two primary responsibilities of his position—but is he fast enough to track down ball carriers in the backfield? What about stamina?
Olivier Vernon: How much of an impact can he make as a rookie?
Vernon is a fierce pass-rusher who might've been a steal in the third-round, but is he ready to make an impact in 2012? It sure looks like it. He's impressed Miami's veterans and projects as a situational pass-rusher who can rack up between five and 10 sacks this season.
Jamaal Westerman: Can he carry offseason momentum into the regular season?
Westerman has been one of the most pleasant surprises of Dolphins camp. Signed as a free agent, the ex-Jet has displayed overpowering pass-rushing skills, even racking up three sacks in one practice. At this rate, he'll factor into the defensive-end rotation, but he needs to replicate this success against opposing offensive lines as well.
Jacquies Smith: Will his size prevent him from making the roster?
Smith, an undrafted free agent out of Missouri, is undersized for a defensive end, weighing in at just 6'3", 253 pounds. What he lacks in size and power, he makes up for with athleticism, but he'll need to emerge as a valuable special teamer in order to make the 53-man roster.
Jarrell Root: Can he crack the practice squad?
Root, an undrafted free agent out of Boise State, is a 6'3", 270-pound defensive end who's athletic for his size. He was mildly productive in college, and it's tough to see him sticking with the team long term. Best-case scenario for Root in 2012 is a spot on the practice squad.
Derrick Shelby: Will he be one of the only UDFAs to make the roster?
Shelby has played well enough to leapfrog Jamaal Westerman on the depth chart, which is very surprising. The Phins must like what they see from this former Utah Ute, and if he maintains this level of play, then he may indeed make the 53-man roster.
Defensive Tackles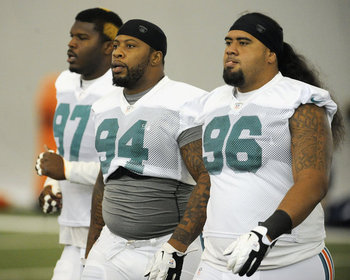 Photo courtesy SunSentinel.com/Susan Stocker
Paul Soliai: How does he fit into the 4-3?
Soliai is way bigger than your traditional 4-3 defensive tackle, but it looks like he might play a similar role that Bengals defensive tackles Domata Peko (6'3", 320) and Pat Sims (6'2", 330) do and anchor the defensive line. Kevin Coyle saw this strategy succeed in Cincinnati.
Randy Starks: Can he generate a pass rush from the interior?
If the Dolphins want to generate a pass rush from their base 4-3 package, then Starks will need to help provide it. Soliai can't get to the QB and Cam Wake figures to face double-teams on a consistent basis.
Tony McDaniel: Will he rebound from a disappointing 2011 season?
McDaniels had a breakout season in 2010 but followed it up with a subpar 2011 campaign. He can sub in for Soliai in the nickel and dime formations, so he'll have ample opportunity to reestablish himself as a valuable player.
Kheeston Randall: Is his roster spot already in jeopardy?
The Dolphins drafted Randall in the seventh round of April's draft. He's been very quiet this offseason but is currently listed as a second-team defensive tackle. Despite his early standing, Randall needs to make some plays in the preseason to secure a spot on the 53-man roster or the practice squad.
Ryan Baker: Can he prove more valuable than younger defensive tackles?
At age 27, Baker's age puts him at an immediate disadvantage. Couple this with underwhelming play in the preseason and it doesn't look like he'll be a Dolphin in 2012.
Chas Alecxih: Can he continue to impress throughout the preseason?
An undrafted free agent out of Pitt, Alecxih is a 6'3", 296-pound DT who's already made a good impression. If he plays similarly well in preseason game action, then expect to see him on the practice squad, and possibly on the 53-man roster in 2012.
Isaako Aaitui: Will he make an impact before it's too late?
The Dolphins signed Aaitui in January, but that's the only time he's made headlines. He's been a ghost in minicamp and training camp thus far, and he'll need to start making some big plays to warrant roster spot consideration.
Outside Linebackers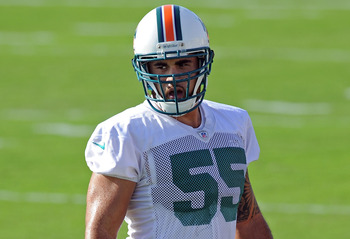 Koa Misi
Steve Mitchell-US PRESSWIRE
Koa Misi: Can he revive his career in the 4-3?
Misi struggled as an outside linebacker in Mike Nolan's 3-4 defense, and he's now under immense pressure to deliver in Kevin Coyle's 4-3. The Dolphins spent a second-round pick on him just two years ago, and it's time he live up to his draft billing. If he falters early, then Gary Guyton could supplant him as a starter.
Kevin Burnett: Can he avoid another slow start?
Burnett struggled at the outset of the 2011 season, and he didn't really hit his stride until the midway mark. There's no excuse for that to happen again. He needs to be on his A-game throughout the entire season, or Gary Guyton could push him for playing time.
Gary Guyton: Will he recover his coverage skills?
Guyton is billed as an athletic linebacker who can play both strong-side and weak-side linebacker. Prior to last season, he was also known for his ability to cover athletic tight ends but struggled with them last season. The Dolphins have struggled to contain seam-threat tight ends for years, and they need Guyton to help alleviate that shortcoming.
Jason Trusnik: Does he fit into the 4-3?
The Cleveland Browns let Trusnik go when they transitioned to the 4-3. Will the Dolphins do the same? He's a 3-4 outside linebacker at his core, but rather than move him to defensive end in the 4-3, they're giving him a shot to stay at linebacker. He needs to both prove valuable on special teams and flexible enough to fit into the 4-3 to remain with the team.
Josh Kaddu: Will he contribute in 2012?
The Dolphins were wise to spend a fifth-round pick on Kaddu, who can help alleviate the team's struggles with tight ends in the future. He can also unseat Trusnik for a second-team role if he flashes enough potential in camp. For now, however, he's running with the third team and might have to focus his efforts on special teams this season.
Jonathan Freeny: Has he made enough progress to stick?
The Dolphins scooped Freeny up as an undrafted free agent last year and stashed him on the practice squad. Now, he's running with the third-team defense. If he impresses or Trusnik is cut, he'll have a chance to land on the roster. He's facing an uphill battle for now, though.
Shelly Lyons: Will he flash enough potential to earn a spot on the practice squad?
Lyons signed as an undrafted free agent this offseason, and naturally, is a long shot for the roster. But what about the practice squad? Well, he hasn't done much to warrant a spot yet and is currently running with the fourth team.
Middle Linebackers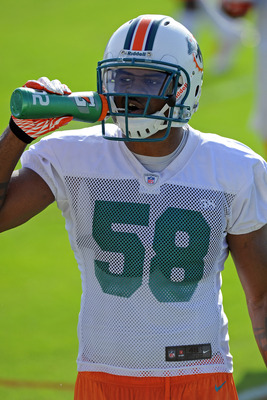 Steve Mitchell-US PRESSWIRE
Karlos Dansby: Will he finally live up to his contract?
The Dolphins made Dansby the highest paid inside linebacker in NFL history in 2010, but he hasn't lived up to his mega-contract. For that kind of money, he needs to be a dominant force, both on the field and in the locker room. Dansby should benefit statistically from the switch to the 4-3 as the defense works to force running backs inside to him and Paul Soliai.
Austin Spitler: Could he step in for Dansby if called upon?
Spitler, a former seventh-round pick, is entering his third NFL season, and he needs to show he's developing into a serviceable middle linebacker. The Dolphins didn't sign another veteran middle linebacker this offseason, which could be a vote of confidence in Spitler. If Dansby went down with an injury, he'd probably get the call. Is he ready for such a big responsibility?
Cameron Collins: Can he unseat Spitler as the No. 2 middle linebacker?
Collins is an undrafted free agent from Oregon State who's taken some snaps with the second-team defense in training camp. If he can contribute on special teams, then we could see him take Spitler's spot on the roster.
Cornerbacks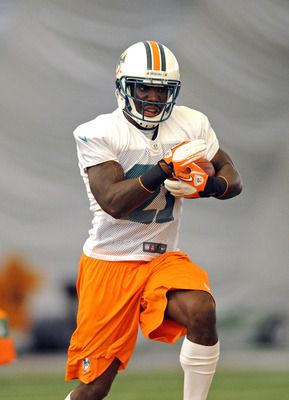 Steve Mitchell-US PRESSWIRE
Vontae Davis: Can he stay focused and become a lockdown cornerback in 2012?
Davis got off to a slow start in 2011, and things hit a boiling point when he allegedly showed up to practice hungover. After that incident, however, he started to look like the top-flight corner we've expected him to become. Now entering his fourth NFL seasons, there's no more room for inconsistency.
Sean Smith: Will play like he did in 2010...or 2011?
After an amazing 2010 season, Smith was on the road to stardom. But, he inexplicably regressed in 2011. Not only did his play decline, he was horribly inconsistent. Consistency has always been an issue for Smith, but he, like Davis, can't afford to slack in 2012. The stakes are even higher for Smith, who's entering a contract year.
Richard Marshall: Could he actually start over Vontae Davis?
Rather shockingly, the Dolphins listed Marshall as a first-team cornerback, ahead of Vontae Davis, on their first depth chart. No, not according to Omar Kelly of the Sun Sentinel, who believes the Phins are merely getting Davis reps at nickelback in order to provide the secondary with greater depth and flexibility.
Nolan Carroll: Can he make the leap in 2012?
Carroll was a training camp star in 2010 but hasn't done anything of note since (besides tripping over Sal Alosi's foot). He needs to elevate his game because he's only one injury away from vaulting into a major role.
Jonathan Wade: Will he persuade the Dolphins to keep five cornerbacks?
The Dolphins don't have to keep five cornerbacks on the 53-man roster. Instead, they can keep four corners and five safeties, especially because Jimmy Wilson can play the former. Wade is a veteran journeyman who looked solid at minicamp, but he's been on the wrong end of some big plays from the offense in training camp.
Quinten Lawrence: How will he handle the transition from wide receiver to cornerback?
Lawrence is attempting to convert from wide receiver to cornerback in order to land a roster spot with the Phins. The 27-year-old needs to prove his value on special teams, and his experience on both sides of the ball could make him a solid gunner. If he makes considerable progress this summer, then he might deserve a spot on the practice squad.
Trenton Hughes: Will he contribute enough on special teams to earn a spot?
Miami signed Hughes as an undrafted free agent this offseason. He started 16 games for Maryland during his junior and senior seasons, so he may have some value as a developmental corner. If he wants to make an impact in 2012, it'll have to be through special teams, where his speed and experience could make him an asset.
Vincent Agnew: Has he progressed enough to compete for a roster spot?
The Dolphins signed Agnew as an undrafted free agent last summer and proceeded to stash him on the practice squad. He sealed the team's second preseason game with an interception, but that's the most we've see from him. Entering his second season, he's aiming for another spot on the practice squad.
Marcus Brown: Is he anything more than a camp body?
Brown signed with Miami back in December and spent the remainder of the season on the practice squad. He boasts great speed, but needs to display more skills in order to retain his spot on the practice squad.
Safeties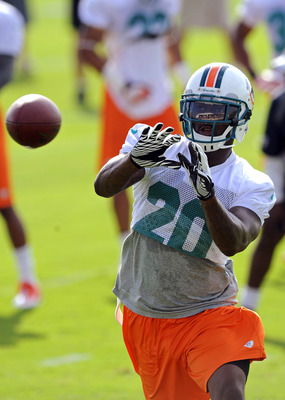 Steve Mitchell-US PRESSWIRE
Reshad Jones: Will he live up to the offseason hype?
Jones is the most hyped defensive player entering the preseason. He's an aggressive, ball-hawking safety who isn't afraid to take risks, but he was often too aggressive in 2011. The Dolphins are making a taking a huge leap of faith by starting Jones, but they appear to be plenty confident in the third-year veteran.
Chris Clemons: Can he stay healthy and regain 2010 form?
Clemons looked like a solid starter after a respectable 2010 season. He lost his job to Jones last season, as he dealt with a lingering groin injury that eventually required surgery. He's already been sidelined once during training camp but has recovered and is back with the first-team defense. If he stays healthy—which is a big if—then he can be a nice, conservative complement to Jones.
Jimmy Wilson: Has he made enough progress to challenge Clemons for a starting role?
Wilson was the sweetheart of last year's training camp, and he'll look to make a similar impression this year. He's converting from cornerback to safety and has already taken first-team reps (when Clemons was injured last week).
Wilson's instincts, explosiveness and nose for the football make him an intriguing prospect. His ceiling is higher than Clemons', but he'll have to outperform his superior to supplant him on the depth chart.
Tyrone Culver: Can he challenge for a starting role, too?
Culver is one of the longest tenured Dolphins, now entering his fifth season with the team. He's a perennially underrated asset who's been an ace special teamer and always delivers at safety when called upon. It'll be tough for him to beat out both Clemons and Jimmy Wilson, but his consistency would be welcome next to the aggressive Reshad Jones.
Tyrell Johnson: Will this free-agent signing make it through the preseason?
Despite a glaring need at the position, Johnson is the only free-agent safety the Phins brought in. He figured to compete for the starting job but hasn't played well enough to garner a shot. In fact, he's currently running with the third-team defense. Unless he turns things around quickly, he'll face the chopping block.
Anderson Russell: Will this UDFA take Johnson's rosters spot?
Running alongside Johnson on the third team is UDFA Anderson Russell. He's consistently made plays at camp, and Omar Kelly of the Sun Sentinel went so far as to call him the best playmaking safety on the roster. If he keeps this up, then he should land a spot on the 53-man roster.
Kelcie McCray: Can he contribute on the 53-man roster once healthy?
McCray was one of the most notable UDFAs the Dolphins signed following April's draft. He was a standout at Arkansas State who had a chance to contribute on special teams right away.
However, he fractured his foot last week, which should sideline him for the remainder of the preseason. Once healthy, he may get a look on the 53-man roster, but only if he shows more upside than Russell.
Specialists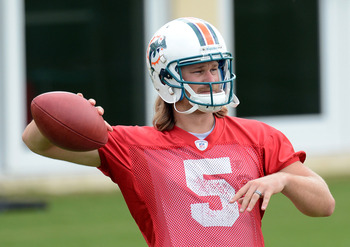 Steve Mitchell-US PRESSWIRE
Brandon Fields: Will he justify his new contract?
The Dolphins just handed Fields a four-year, $13 million deal, making him one of the highest-paid punters in the NFL. After posting a career-high 48.8 yards per punt in 2011, he certainly deserved a pay raise. Fields was arguably the team's most valuable player last year, but pressure will mount now that he's being paid like an elite player.
Dan Carpenter: Can he build off a rebound 2011 season?
Carpenter was a Pro Bowler in 2009 but followed his breakout season up with a disappointing one. In 2010, he attempted a league-high 41 field goals but split the uprights only 30 times.
Last year, he rebounded, hitting 29 of his 34 attempts. So, which Carpenter will we see in 2012? Will it be the consistent and reliable one we saw in 2008, 2009 and 2011, or the inconsistent one we saw in 2010?
John Denney: Can he maintain his unparalleled consistency?
Denney is the longest-tenured player on Miami's roster. Assuming he avoids injury in camp and makes the team, then he'll have survived his third regime change. Denney has been incredibly reliable for the Phins, and there's no reason to believe he won't continue to be in 2012.
Keep Reading

Miami Dolphins: Like this team?