NHL Free Agency: 10 Players Set to Head Up Next Summer's Free-Agent Class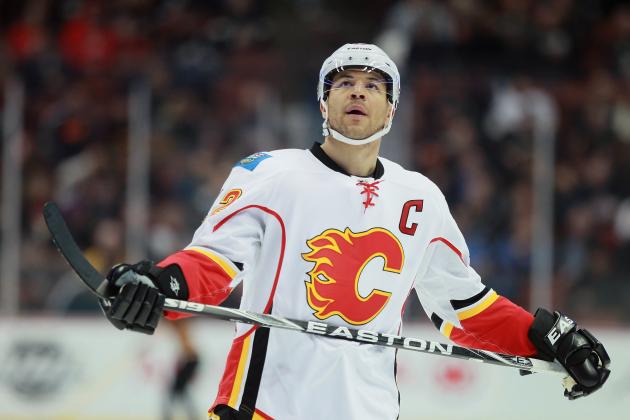 Jeff Gross/Getty Images

Shane Doan stands alone as the final big-ticket free agent available from the 2012 class. With that in mind it's time to look ahead to 2013. What players have the potential to cash in during the summer of 2013?
There is no guarantee that the players that follow will ever reach the open market. Surely some will be traded and others will sign contracts with their current teams before they hit the free market, but until that happens, they will remain the players set to lead the way in the class of 2013.
Please note: Only unrestricted free agents were considered for inclusion in this list.
Begin Slideshow

»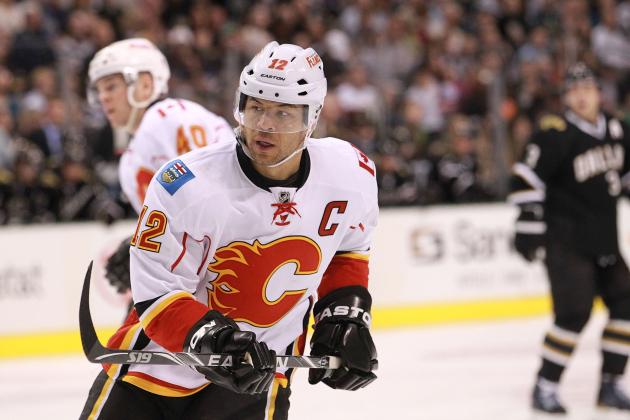 Ronald Martinez/Getty Images

Over the past several years, there has been one constant when it comes to trade rumors and speculation, and that constant has been Calgary Flames captain Jarome Iginla.
Over that time, Iginla, the face of the Flames and the franchise's all-time leading scorer, made it known that his heart was with the Flames.
While that may be true, the reality is that Iginla is in the final year of a five-year, $35 million contract with the Flames and will be in high demand. You can bet that the Flames will make every effort to trade the 35-year-old winger before he hits the free market, but that doesn't mean Iginla will sign a deal with the team that trades for him.
I would fully expect Iginla to hit the open market this summer, and when he does, you can expect him to be the subject of a bidding war. He's a true power forward and a strong leader; he'll be seen as the one piece that can put a contending team over the top in their quest for the Stanley Cup, a Raymond Bourque-type figure if you will.
It'll be a sad day when Iginla leaves the Flames, and you can expect some tears will be shed, but it'll be worth it if Iginla gets the chance to lift the Cup.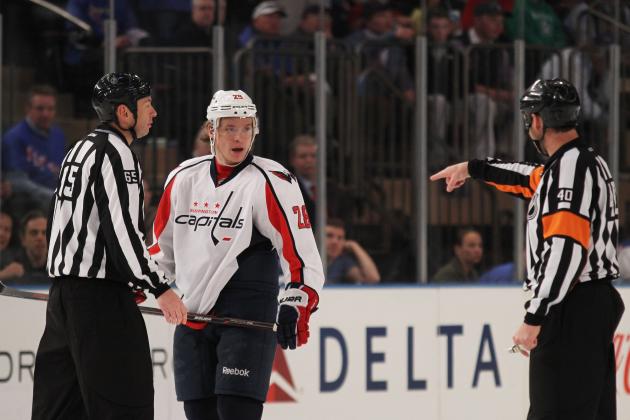 Bruce Bennett/Getty Images

Alexander Semin signed a one-year deal with the Carolina Hurricanes this summer. The deal will give Semin a $300,000 raise over the $6.7 million the Washington Capitals paid him for the 2012 season. It's the perfect deal for the man that was an enigma during his tenure with the Caps.
When he wanted to, Semin could play like what he is, one of the most talented players in the game, the kind of player that the game comes to, an almost effortless talent that is the envy of many.
The problem with Semin is that he didn't play that way enough. Instead, he was viewed as a me-first player, never buying into the team concept and only looking for individual glory.
If Semin is smart, he'll look at this one-year deal as a tryout of sorts, allowing him to show all his doubters that he can be a team guy, that he can be trusted and that he is worth a bank-breaking deal come the summer of 2013.
Let's not forget, Semin has scored 408 points in 469 NHL games, and if he can do that while just going through the motions at times, well, it'll be interesting to see what he can do if he honestly focuses and makes an effort for the entire season.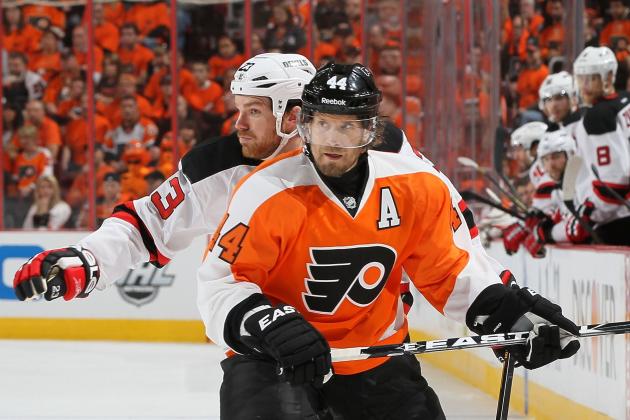 Jim McIsaac/Getty Images

Kimmo Timonen may be getting long in the tooth, but as the top defensive player to hit the market next season, look for offers to come his way. The 37-year-old rearguard may not be inundated by long-term contracts, but he will get some interest from top-notch teams looking to solidify their blueline in pursuit of the Stanley Cup.
Timonen is in the final year of a six-year deal with the Philadelphia Flyers and will pocket $3 million in salary in this year of his contract. If any team thinks it will be able to sign him for that rate, it better think again.
Early in the deal, the Finnish defenseman made $8 million a year. I'm not saying he'll land a contract at that rate, but $3 million will be low, unless that team he is signing with is a clear Cup favorite.
Timonen has averaged 22:40 in ice time during his career and has racked up 507 points over 970 games while playing for the Nashville Predators and Philadelphia Flyers.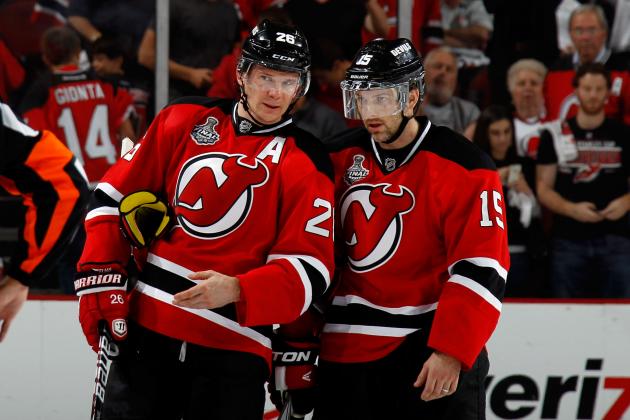 Bruce Bennett/Getty Images

Patrik Elias will close out a seven-year deal this coming season. That deal earned him $42 million, and at 36 years of age, he probably has a couple more good years in him. He's coming off seasons of 62 and 78 points, which put him first in scoring in 2011 and second in 2012.
Elias is the Devils' all-time leader in goals (361), assists (533), points (894), power-play goals (99), game-winning goals (78) and shots (2,918). He's second all-time in plus/minus with a plus-186 ranking, falling short of only Scott Stevens.
For all these accomplishments, he remains an underrated player. Maybe it's playing for the Devils; maybe it's a personality that doesn't jump into the spotlight. Elias plays the game and wins; it's that simple.
Elias will be in demand for teams looking to add veteran presence in a run for the Stanley Cup.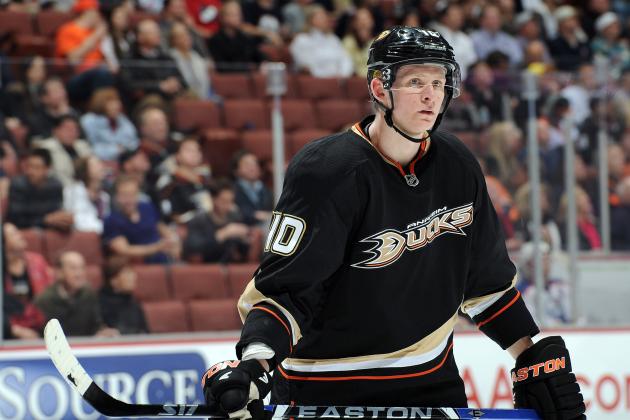 Harry How/Getty Images

Corey Perry had a great individual season in 2011, racking up 50 goals and 98 points. His performance for the Anaheim Ducks allowed him to take home the Rocket Richard Trophy as the league's leading goal scorer, as well as the Hart Trophy as NHL MVP.
Perry's 2012 was not as strong, as he scored 37 goals and added 23 assists for 60 points, a huge dropoff from his career high the previous season. The reality is that those numbers fall more in line with the rest of his career numbers. Prior to 2011, he had never scored more than 32 goals or 76 points.
Perry's name has been mentioned in trade speculation, but with his five-year, $26.6 million contract expiring at the end of the 2013 season, the Ducks, if they do move Perry, will operating from a position of weakness.
The Ducks have said they will look to re-sign the 27-year-old winger, but the allure of hitting the open market at a relatively young age may appeal to Perry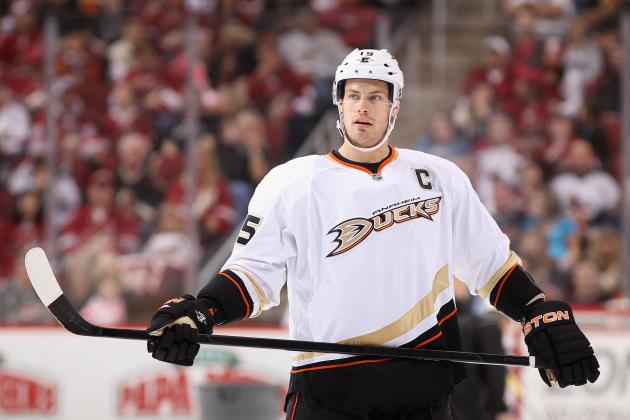 Christian Petersen/Getty Images

The Anaheim Ducks have their work cut out for them this season. Not only is Corey Perry in the final year of his contract, but so is Ryan Getzlaf. Getzlaf, like Perry, had an off year in 2012, dropping from 76 points in 2011 to 57.
Getzlaf, like Perry, has heard his name mentioned in trade speculation, but he has also heard that the team will look to get him under contract as well before he hits unrestricted free agency.
Getzlaf is 27 years old, and impending free agency may be something he finds intriguing, especially if the Ducks don't improve on their 13th-place Western Conference finish.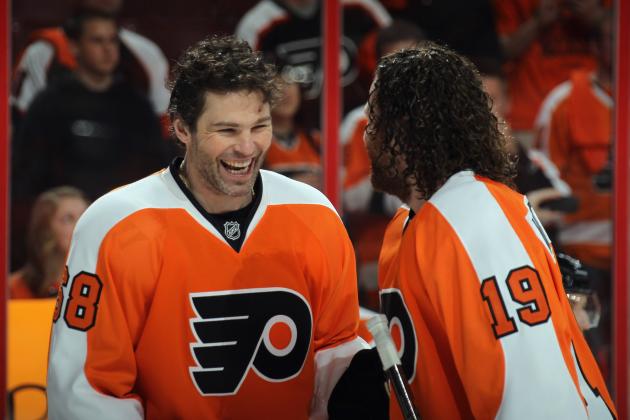 Bruce Bennett/Getty Images

At 40 years of age, it may come as a surprise to some to see Jaromir Jagr appear on this list. It shouldn't.
Jagr returned to the NHL last year after three years away from the league and put up 54 points in 73 games. More importantly, the Philadelphia Flyers used him in a mentoring role, a role that some would say was just as important as his on-ice output.
For the above reasons, Jagr was hotly pursued as a free agent this summer, with reports stating that he received offers from 21 NHL teams when he became available.
Jagr decided to sign a one-year deal with the Dallas Stars, and if he can perform close to the way he did for the Flyers, look for teams to actively pursue him next year as well.
There's always a market out there for a player of Jagr's talents ,and while I would be shocked to see 21 teams asking about him next year, I won't be shocked to see him suit up for the 2014 season.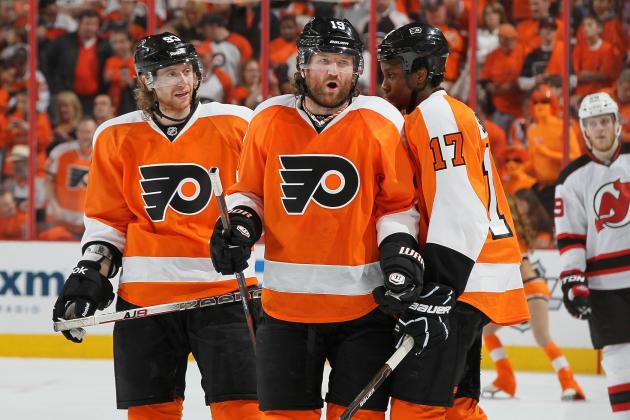 Jim McIsaac/Getty Images

Prior to last season, Scott Hartnell's name was being thrown around in trade speculation, and if the Flyers were considering moving him, well, they could be forgiven. Hartnell had put up career-high numbers in 2009, scoring 30 goals and 60 points, and then followed up that season with 44 and 49 points.
In 2012, he kicked it into high gear, putting up 37 goals and adding 30 assists for 67 points.
Some will say that Hartnell's jump in production came because he was matched up with Claude Giroux, and that may be true, but so what? That just indicates that when paired with a highly talented linemate, he can thrive. That's not a knock on the guy; that's a positive in my book.
Hartnell is 30 years old and closing out a six-year deal in Philly. He's a gritty player that opposition teams hate to play against, but would love to have on their team. Look for Hartnell to be in demand if he hits free agency.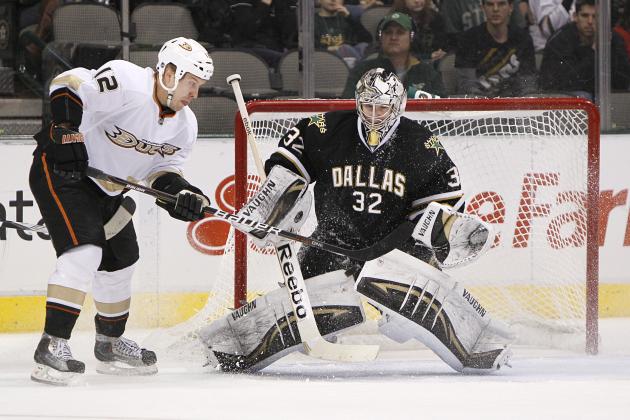 Brandon Wade/Getty Images

A 28-year-old starting goaltender is getting ready to hit the open market, and that can mean only one thing: a nice payday is on the way for Dallas Stars netminder Kari Lehtonen.
It doesn't hurt that the past two seasons have been the best of Lehtonen's career.
Teams will overpay for a starting goaltender. If you don't believe that, look no further than the man that signed a nine-year deal with the Philadelphia Flyers last season, Ilya Bryzgalov.
I'm not saying that Lehtonen will earn that type of payday, but I wouldn't be surprised to see him sign a deal longer than his last contract, which was for three years and $10.65 million.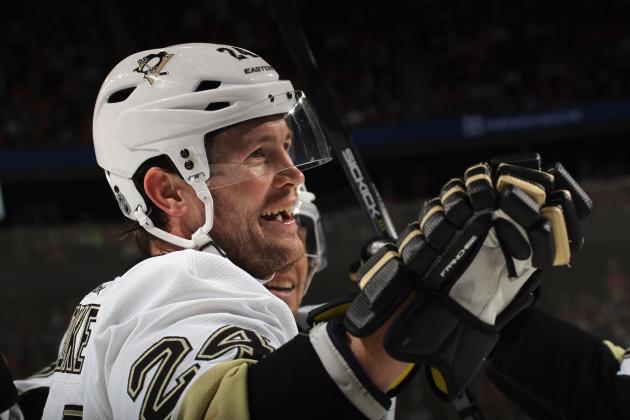 Bruce Bennett/Getty Images

This one is a wildcard of sorts. Matt Cooke was known as one of the nastiest and dirtiest players in the game prior to the 2012 season. In 2012, he reigned in that nastiness and came away with 19 goals and 38 points while reducing his penalty minutes from 129 down to 44.
That turnaround was noticed by many around the league and pointed to a player finally getting it and knowing that if he didn't change his ways, he may be out of the league.
For all we know, 2012 could have been an aberration for Cooke. He could go back to the player of old, racking up suspensions and fines, but I doubt that will happen. I think Cooke saw the future of the NHL, and he was not in it if he continued his manner of play.
If Cooke can progress during the 2013 season, he will be in for a nice raise over the $1.25 million he is scheduled to take home in the last year of his contract with the Pittsburgh Penguins.