FC Barcelona: 10 Players Who Could Be the Next Messi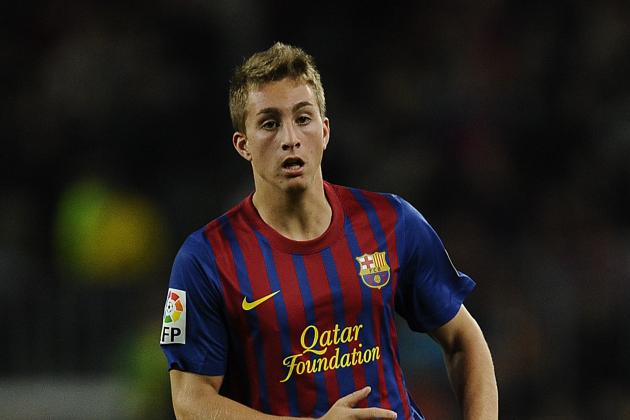 David Ramos/Getty Images

There are a number of young players in the game who could emulate Lionel Messi. Of course, their is only one Lionel Messi and we aren't saying that these players will be exactly like him in any way.
All the players on this list can play the same positions as Messi and whether its their similarity in playing style, similar skills, their possible impact on their team and/or their extreme potential, these players can be the next Lionel Messi.
We tried to keep this list to players under 21, considering Mess is only 25 himself, but there is one exception. We are also ruling out more established young stars like Eden Hazard, Mario Gotze or Neymar who have been on list likes this before.
Here are 10 Players who could be the next Lionel Messi.
Begin Slideshow

»
Age: 20
Cristian Tello announced himself a little this year with seven goals in 22 appearances. The Barcelona youngster has plenty of pace and dribbling skills in his arsenal and some quality finishing as well.
He may not be as accomplished a passer as Lionel Messi nor will he necessarily be a player to drop into midfield like the Argentinean but Tello has skills similar to his teammate and could be a big player for both club and country in the future.
Age: 18
While Barcelona sporting director Andoni Zubizarreta states that Gerard Deulofeu should not be compared to Lionel Messi, the hype the youngster has received since his role in Spain's U-17 European championship victory makes it hard.
Deulofeu is well-versed in Barcelona football philosophy and while the youngster has a lot to learn, he cleary has the potential and the raw skill to be an extremely good player.
Age: 20
Xherdan Shaqiri will find himself on a bigger stage next season when he has to compete with players like Arjen Robben and Franck Ribery for a spot on Bayern Munich's team.
The Swiss youngster will get the chance to show his skills in the Bundesliga, and with his ability to create for his teammates as well as himself, he could be a big hit.
Age: 19
Ahmed Musa may be one of the few players on this list who hasn't been compared to Lionel Messi in some way but that's alright.
Musa could very well be Nigeria's next big star and certainly has a skill-set similar to the diminutive Argentine. He can play as a winger or forward and was linked to a move for Arsenal at one point.
Age: 19
Ryo Miyaichi impressed while at Bolton in the second half of the season and could very well follow the path of his fellow youngster Alex Oxlade-Chamberlain and make an impact for Arsenal next season.
He made an impression at Feyenoord as well and with his talent, he has the ability to become a major star for his club and country.
Age: 22
Folks got a taste of Eugene Konoplyanka during Euro 2012 and were sure to come away impressed. The Ukranian youngster has all the skills and it's just a matter of putting it all together and hopefully making a move to a bigger stage.
Age: 21
James Rodriguez's skill with his left foot already makes him similar to Lionel Messi. The Colombian winger is becoming a real fixture for Porto and could be the club's new main star if Hulk and Joao Moutinho leave this summer.
Age: 19
Perhaps the comparison's to his compatriot Lionel Messi got to Juan Iturbe during his first season with Porto as he had very little playing time but, at 19, the young attacker has plenty of time to get to that level.
Age: 15

First off, if the name is wrong, blame Barcelona's website. Secondly, I know I said players had to play in the same positions as Lionel Messi but Seung-Ho Paik bucks the trend as he plays as and is listed as a midfielder on Barcelona's website.
To be honest, the video provides little evidence of Messi-eque skills on the ball but Seung-ho has been nicknamed the "Korean Messi" so we'll leave him on here for now thanks to his potential.