McKayla Maroney: Unlikely Fall Costs American Gymnast Her Olympic Gold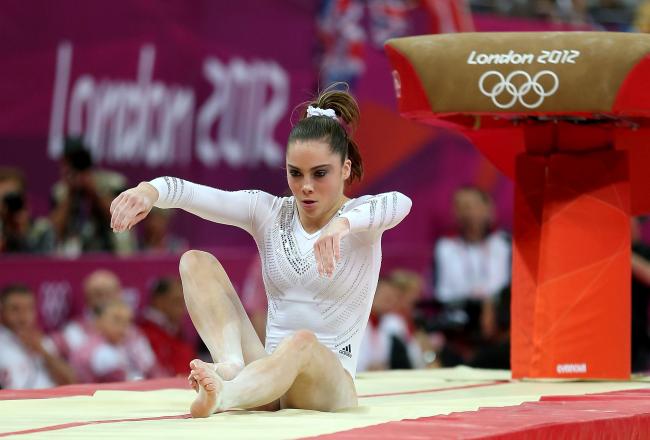 Quinn Rooney/Getty Images
In a surprising result, American gymnast McKayla Maroney did not take home the Olympic gold medal on vault.
Maroney entered Sunday's individual finals as the favorite to win the gold medal, but a rare miscue cost her.
After scoring a 15.866 on her first vault, she was in great position to win the event. She could only manage a 14.300 on her second attempt after falling on the landing.
With an average score of 15.083, Maroney's score fell short of Romanian gymnast Sandra Izbasa's 15.191 for gold.
It was a stunning result because the American is normally perfect on vault. Her first attempt was the highest score of the day, and no other gymnast came within four-tenths of her score (according to NBCOlympics.com).
Maroney is a vault specialist, but showed she is human. Despite having a great showing at the Olympics before her final vault, she fell short of her dream of a gold medal.
She was as good as possible in her first two days of competition. She qualified first on vault last Sunday and she showed why she was considered the favorite for gold. Her score of 15.900 set a high standard, but it was not even her best vault in London.
During the team finals on Tuesday, she helped her team win gold with her vault. Her score of 16.233 was the highest of the competition and her performance was one of the best of the gymnastics competition.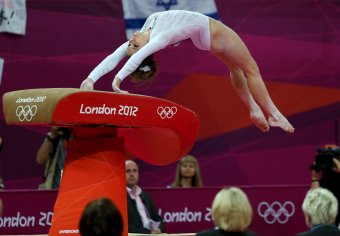 Ezra Shaw/Getty Images
After the opening vault in the individual finals, Maroney was poised to finish first. She needed to land her vault in order to take home gold, but she fell to the mat on her landing.
The fall made it nearly impossible for her to win the event, but Americans hoped she managed to pull it off.
It was a difficult situation for the 16-year-old, but she still came away with silver. It is nothing to be ashamed of, and she should be proud of her 2012 London performance. She put together some of the best routines of the Olympics and she deserved better.
Will Graves of the AP tweeted a quote from the disappointed Maroney, and she handled the situation with class:
McKayla: ""It happens, it's gymnastics. You can't be perfect and sometimes things don't go as you planned ... I messed up."

— Will Graves (@WillGravesAP) August 5, 2012
Maroney is still the best vaulter in world and her uncharacteristic fall does not change how she did. Her performance with the team helped the Americans run away with the gold medal on Tuesday, but the teen was unable to add another gold to her collection.
Her Olympic performances are over and she will need to move on from the disappointing ending. She can now sit and cheer on her teammates as they compete in other event finals.
Although Maroney fell short of the gold, she will be remembered as a key member of the 2012 Olympic championship team.
This article is
What is the duplicate article?
Why is this article offensive?
Where is this article plagiarized from?
Why is this article poorly edited?