Olympics 2012: USA Swimming's Missy Franklin Ignites London as She Tops Week 1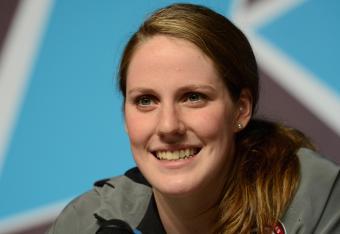 Julia Vynokurova/Getty Images
Week 1 of the London Olympics seals to a close just as Week 2 will be quite the thrill. The main event of swimming brings plenty of story lines to the front page of the first week.
From Phelps capping a career as the most decorated athlete in Olympic history, Lochte's personal life becoming mainstream, or world records snapping like licorice only to be reset, one athlete has emerged and stormed the scene; 17-year-old Missy "The Missile" Franklin.
Competing in her first Olympics, Franklin stirred the swimming world with her stellar form and competitive force. Entering the games, Franklin certainly had plenty of pressure on her shoulders and as great athletes always do, she rose to the occasion.
From the beginning, Missy Franklin lived up to the standard and notched a bronze medal in the Women's 4x100 meter freestyle. A third-place finish was only the beginning before Missy gained traction on the competition.
The Women's 100-meter backstroke final was the perfect stage for Missy to shine; a gold medal slung around her neck which actually shined. Despite Franklin's third final, 200-meter freestyle, ending in a fourth place finish, the race proved to merely be a minor bump in the road.
Entering her fourth final, 4 x 200-meter freestyle, she teamed with Dana Vollmer, Shannon Vreeland and Allison Schmitt to not only nab her second gold medal, but the swimmers garnered an Olympic record at 7:42.92.
Backstroke being Missy's strength, the opportunity unfolded for another gold medal. Entering the 200-meter backstroke final, Franklin glistened as she set a world record of 2:04.06. With three gold medals and one bronze notched in her resume, one final attempt to grasp another stood on the line.
The 4x100 meter medley matched Missy the Missile with three top USA swimmers to compete for gold. Again swimming with Dana Vollmer and Allison Schmitt, Rebecca Soni teamed up as the fourth swimmer for USA.
The group placed each swimmer at their strength which means Missy Franklin backstroked to the lead. With Schmitt swimming anchor, USA finished almost two seconds ahead of Australia while setting a world record at 3:52.05. Franklin garnered her fifth medal of the 2012 London Olympics and her fourth gold medal of the Games.
Franklin displayed quite the performances by showcasing an electrifying skill for Team USA. At only 17 years old, the new star not only takes home a handful of medals, yet in the running for someday being a great Olympian.
Former Olympian and two-time gold medalist Mel Stewart voiced support for Franklin being one of the greatest Olympians, even comparable to Michael Phelps someday.
Despite the high pressure, no one aside from Missy herself expected a stellar Olympics. After rising to the podium, USA Swimming will place their hopes in Missy Franklin continuing her pursuit for Olympic gold.
Week 1 of the London Olympics provided Franklin with a chance to shine and take center stage in the packed week. Congratulations to Missy Franklin, and we all cannot wait for the 2016 Summer Olympics in Rio!
This article is
What is the duplicate article?
Why is this article offensive?
Where is this article plagiarized from?
Why is this article poorly edited?