How Does the USA Today Preseason Poll Alter Notre Dame's BCS Path?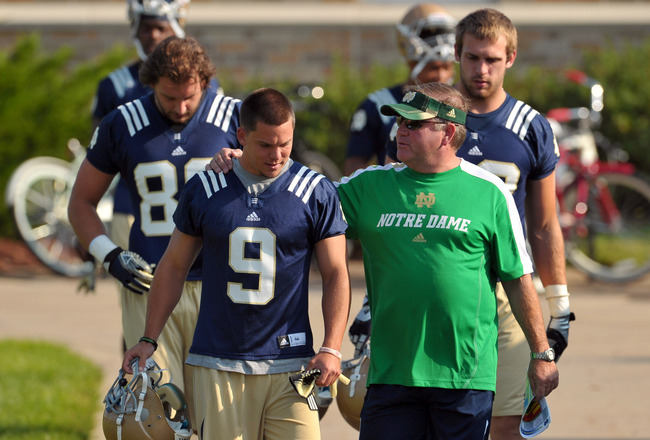 Matt Cashore-US PRESSWIRE
The seasons change, as do the faces, but the goals and aspirations never do.
Such is the case for the Fighting Irish of Notre Dame. Season after season, year after year, the rabid fanbase following the team under the golden dome expects its team to be one of the select few BCS participants.
The initial phase in any team's quest to reach the promised land of a BCS game is earning a spot in the USA Today preseason Top 25 poll, where Notre Dame finds itself ranked 24th in the first batch of official preseason rankings released thus far.
It's no surprise that the Irish find themselves in this position; it's an annual tradition for the nation's most historic program, whether it deserves inclusion in the rankings or not.
How that ranking alters Notre Dame's BCS path is what needs to be dissected. Let's have a look.
No. 13 Michigan State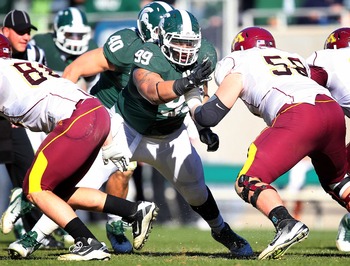 Mike Carter-US PRESSWIRE
Despite being forced to replace quarterback Kirk Cousins, the Michigan State Spartans find themselves in a very generous 13th spot in the USA Today preseason poll.
When Mark Dantonio's squad welcomes Notre Dame to East Lansing, each team will have played two games, with 2-0 records for each being the overwhelming likelihood.
Along with those 2-0 records will come national rankings for each team, making for quite a savory matchup on national television.
This contest will come down to the wire, much like it did in East Lansing back in 2010. Unfortunately for Irish fans, the Spartans will come out victorious in this contest, largely due to home-field advantage and Notre Dame's historic trend of laying down in night road games on national television.
No. 8 Michigan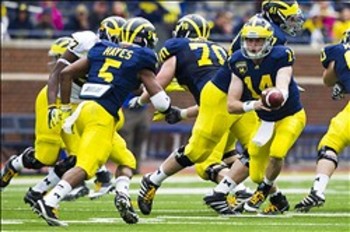 Rick Osentoski-US PRESSWIRE
Something has to give, right?
In the last two meetings between Notre Dame and Michigan, the Wolverines have pulled out the victory in the final 30 seconds of regulation, despite having been outplayed.
Despite likely carrying a Top 10 ranking into this contest, the Irish will not be intimidated. If anything, Brian Kelly's squad will be fired up after swallowing a tough loss at Michigan State the week before.
Sure, Michigan still has Heisman Trophy candidate Denard Robinson back at quarterback, but the Irish did an excellent job of corralling the pesky Robinson last season. With home-field advantage and a fire lit underneath them, the Irish will roll to a surprisingly sound victory in South Bend.
No. 18 Stanford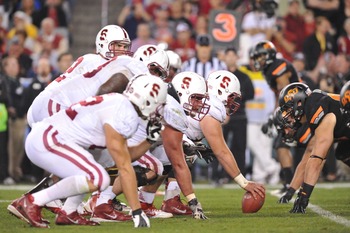 Chris Morrison-US PRESSWIRE
My, how the tides have shifted in the rivalry between Notre Dame and Stanford.
After winning seven straight meetings against the Cardinal from 2002 to 2008, Notre Dame has dropped three consecutive games to Stanford.
That three-game win streak won't be continuing this season, though. Without Andrew Luck, the Cardinal is simply no longer the same team that has earned two BCS berths in as many seasons.
And facing a much-improved Notre Dame team in South Bend won't be a small task for David Shaw's squad.
The Irish will grab this game from Stanford, winning by one touchdown to move to 5-1 on the season, and possibly earning a Top 15 ranking in the process.
No. 4 Oklahoma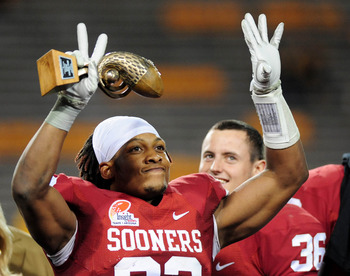 Jennifer Hilderbrand-US PRESSWIR
October 27th will be quite the road test for Brian Kelly and Co. They'll travel to Norman, Okla., to take on Bob Stoops and the Oklahoma Sooners, who have earned a No. 4 ranking in the USA Today preseason poll.
Year in and year out, the Sooners are included in the conversation of the nation's best team, and this season is no different.
With Landry Jones back at quarterback, as well as the addition of Penn State transfer Justin Brown at receiver, the Sooner offense will be a force to be reckoned with. Jones will have no trouble picking apart a weak Notre Dame secondary on the way to a resounding victory.
The Irish will return to South Bend as a 6-2 football team.
No. 3 USC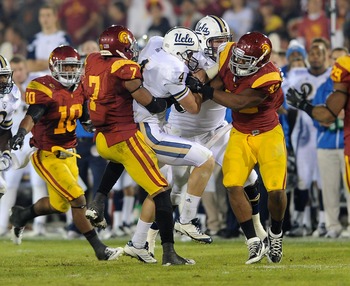 Kirby Lee-US PRESSWIRE
The weapons are endless for the USC Trojans.
Lane Kiffin's squad features quarterback and Heisman Trophy favorite Matt Barkley, two receivers who amassed over 1,000 receiving yards last season in Marqise Lee and Robert Woods, and a 1,000-yard running back in Curtis McNeal.
It's a shock that the Trojans were not granted the No. 1 preseason ranking, given the experienced talent returning to Los Angeles this season, as well as the addition of Penn State transfer and running back Silas Redd.
That overwhelming talent will certainly overwhelm Notre Dame when the team visits USC at the Los Angeles Memorial Coliseum over Thanksgiving weekend.
The Irish will be embarrassed on the road during a nationally televised night game for the second time in the 2012 season. The loss will drop the Irish to a final regular-season record of 9-3.
Final Analysis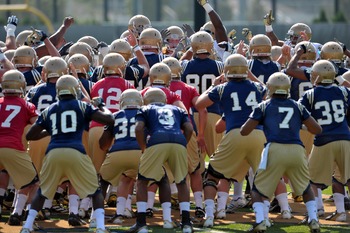 Matt Cashore-US PRESSWIRE
After facing a gauntlet of a schedule, the Fighting Irish will exit murderers' row with a very respectable 9-3 record.
Should Notre Dame finish the season with that same record, it would be a testament to the coaching job of Brian Kelly and his staff, as the talent level on the roster still isn't where it needs to be for the program to have BCS aspirations.
Of course, that 9-3 record will not qualify the Irish for a BCS game, but it will set the Irish up to make a serious run at a BCS game in 2013.
Keep Reading

Notre Dame Football: Like this team?