WWE: Why CM Punk Has Every Right to Hate the Rock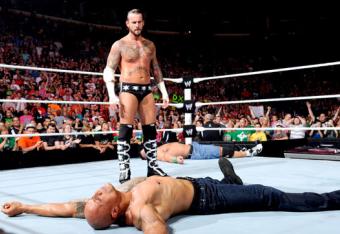 Photo courtesy of WWE.com

Take a comprehensive look at the way CM Punk has altered his attitude over the last 14 months or so. Punk was once leading The New Nexus, but dropped all of that and was about to drop the WWE completely. Punk, in the only way he knew how, decided to tell the world about his frustrations with the company since his debut in ECW in 2006. Punk also said that he wanted to leave as WWE Champion, which he did, only to return and become an undisputed champion at last year's SummerSlam.
From that point on up until the 1,000th episode of RAW, it was hard to see Punk as anything shy of an overwhelming fan favorite. When Kevin Nash appeared, attacked Punk and ultimately assisted Alberto Del Rio in winning the WWE Championship to end SummerSlam, the former world champion got the unwavering support of the entire WWE Universe. There wasn't a person inside Madison Square Garden who was unhappy when Punk regained that title, which he has not relinquished since. The attitudes of many changed when Punk attacked The Rock at RAW 1,000, but this one has stayed the same for this entire time.
CM Punk has never liked The Rock.
Honestly, why should he? Punk is constantly trying to think of how to better himself as a performer and how to strengthen the overall WWE product. A guy like The Rock is exactly what would take away from WWE, because what The Rock did took away from the product at the time. When The Rock was still in the prime of his wrestling career, he left to go and be a movie star. At first, it gave WWE some exposure because it was one of their wrestlers doing the acting. However, there was less and less wrestling over time and more movie roles for The Rock.
Then, The Rock started going by the full name of Dwayne "The Rock" Johnson before abandoning the nickname of The Rock altogether for a time. That benefit of being a professional wrestler, which was a launching pad for Johnson into Hollywood, was the exact thing that he was trying to rid himself of. Johnson wasn't just doing action movies anymore. There were kids movies, such as The Tooth Fairy and The Gameplan. All the while, WWE survived without seeing The Rock.
The Rock would finally return to WWE programming, but not on a consistent basis due to movie roles. These were movie roles which now saw Johnson being seen as The Rock again, almost as if showing back up on WWE programming suddenly made him "The People's Champion" once more. It basically feels like The Rock has just used WWE to gain more popularity for Fast Five, Journey 2 and his upcoming GI Joe movie.
Meanwhile, CM Punk has been smaller than your average superstar, but possesses the popularity of a megastar. A lot of that has come from his following back from his independent days. Punk knew how to really bring a storyline to life and could make you love him or hate him rather easily. Still, there were two things he could make any fan do.
Punk could always make a fan pay attention when he was in the ring or on the microphone. He could also get a fan to respect him, regardless of how they felt about him. It was never like anything with John Cena and his anti-Cena fans. Punk's haters could at least admit that he was among the best in the world.
His signing to WWE back in 2005 was a big deal to a lot of wrestling fans. This was a lot like the signings of Daniel Bryan and Seth Rollins, except that the Internet and social media was not at the level it is at today. It was a much simpler time, when spoilers weren't in your face nearly as much. Punk was seen as ready for WWE right then and there by some, but he would own OVW—the developmental site at the time—until debuting on ECW.
Punk literally felt like the one new thing that was worth watching in the new ECW. Outside of Punk, there were a lot of former extremists and some new superstars that didn't quite have the lasting power or the right fit for ECW. Punk was trying to become the new ECW Champion and was supposed to face Chris Benoit for the title. Benoit never showed and Johnny Nitro stepped in and won. We know what the fate of Benoit was and Nitro became John Morrison.
Punk would ultimately win the ECW Championship, but would move on to bigger things when he won Money in the Bank at WrestleMania XXIV. By June of that year, Punk was drafted to Raw and would cash in to become World Heavyweight Champion the following week. At Unforgiven, Punk was supposed to defend in a championship scramble match, but was unable to compete and seemingly forfeited the title.
It would take another Money in the Bank victory for Punk to make it back to prominence as a world champion. The second time around, Punk was a heel and ultimately ended Jeff Hardy's tenure in WWE. Punk would become the first man to ever lose a world championship in a Hell in a Cell match, falling to The Undertaker. It would be a long way back for Punk, who would lead both The Straightedge Society and The New Nexus before removing himself from both and issuing his seething shoot promo that made him infamous last summer.
In that promo, Punk clearly said that he doesn't hate John Cena, but did lay into The Rock, referred to him in the promo as "Dwayne", pretty badly. Punk said that Cena was only better than him in "kissing Vince McMahon's ass."
After making a reference to Hulk Hogan, Punk said, "I don't know if you're as good as Dwayne though. He's a pretty good ass kisser. Always was and still is." Later, Punk went on to say, "This isn't sour grapes. But the fact that Dwayne is in the main event at WrestleMania next year and I'm not makes me sick!"
Punk has come out and said that the words in this promo were exactly what he felt like saying. There was no script that night for this. This was exactly what Punk thought of The Rock. Punk has a legitimate gripe too. When Punk won the WWE Championship back at Survivor Series last November, it was The Rock that ultimately stole the main event spotlight. Punk's WWE Championship match at WrestleMania was the last match on the card, except for The Rock facing John Cena. In Punk's reign as champion, he has taken a lot of criticism for the ratings of Raw. When Raw was still two hours, Punk was relegated to start the 10pm slot and not be in the main event outside of a handful of times.
Only once since CM Punk's title victory in November 2011 has Punk been involved in the final match of a pay-per-view. That match was the following pay-per-view, TLC 2011. So, despite being WWE Champion the entire year of 2012 so far, Punk is yet to compete in the final match on a pay-per-view card. That meant that his match for RAW 1,000 was actually the biggest main event match for Punk in all of 2012. It went without a finish as Big Show caused a disqualification.
As if this wasn't bad enough, Punk had to watch as The Rock came in to save the day. Even as The Rock was nowhere near this title match, he felt the need to come down the ring and interrupt this night, which should have belonged to Punk, the first champion to not lose his title from a Money in the Bank cash-in. Punk wanted to stand mighty and could only do that by taking down The Rock and giving him a Go To Sleep.
On top of that, The Rock announced that he will have a WWE Championship match at Royal Rumble, but didn't really seem to act like it would be Punk that he would face. Tomorrow is day 260 in CM Punk's reign as WWE Champion. Maybe tomorrow night on Raw, CM Punk will be given some respect.
This article is
What is the duplicate article?
Why is this article offensive?
Where is this article plagiarized from?
Why is this article poorly edited?