UFC on Fox 4 Results: How Lyoto Machida Stacks Up Against Jones and Henderson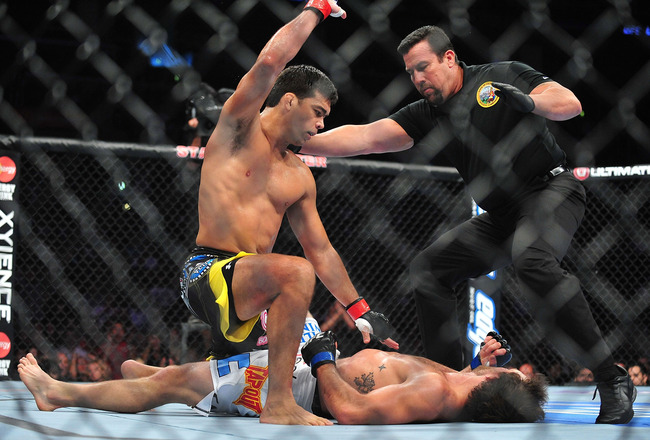 Gary A. Vasquez-US PRESSWIRE
Lyoto "The Dragon" Machida's next UFC fight will be for a title.
With his darting karate style, Machida was able to land a crushing straight right hand to the jaw of Ryan Bader at UFC on Fox 4 Saturday in Los Angeles, and "The Dragon's" fate was sealed.
Dana White broke the news of Machida's earned shot shortly after the event, so the question now is: Who will he face?
Light heavyweight champion Jon Jones is set to face legendary fighter Dan Henderson at UFC 151, so we know it will be one of these two men.
How does Machida stack up against each fighter? Start the slideshow to find out.
Dan Henderson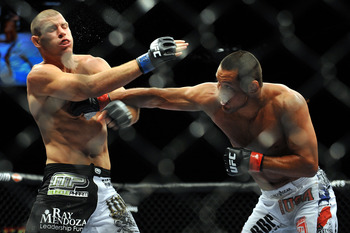 Jon Kopaloff/Getty Images
The heavy-handed Henderson is a tall task for any fighter in any weight class in any dimension in any galaxy.
His strong Greco-Roman wrestling base allows him to dictate where his bouts take place, and standing, his patented "H-bomb" is as devastating a weapon as any inside the Octagon.
Unfortunately for Hendo, an H-bomb alone is not enough to defeat Machida in a potential matchup.
Let me rephrase that, if I may: An H-bomb is enough to win the fight, but he will not be able to land it against Machida.
Machida is one of the most elusive fighters in UFC history, and he spectacularly avoids damage in his bouts.
"The Dragon" is super fast and super powerful, and a matchup with Dan Henderson for the title almost certainly results in the Brazilian Machida having the belt strapped around his waist by night's end.
I see him picking Hendo apart, keeping his distance and avoiding the H-bomb en route to a unanimous decision victory.
While I do think Machida's knockout power is impressive as well, knocking out Hendo is like knocking out a Redwood tree: It just ain't happening.
Should he face Henderson in his title matchup, expect Machida to fight a smart, calculated fight and reclaim the UFC strap.
Jon Jones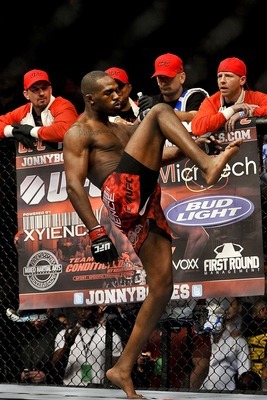 Paul Abell-US PRESSWIRE
The good thing about predicting this fight is that we have already seen it, and it does not go well for Machida.
After a solid first round against the champion, Machida fell victim to Jones' savvy guillotine choke in Round 2, ending what was a promising bid for the title at UFC 140.
In a rematch, however, I think we see a more competitive fight.
Machida's stick-and-move striking style is a puzzle for anybody to figure out, and I view him as one of the few fighters that can actually challenge Jones standing.
"The Dragon" is smart, and he undoubtedly learned from his first meeting with Jones.
I do not expect to see him choked unconscious again against the champion, but I do think Jones will still emerge victorious.
The method?
Ground and pound.
I see Jones clinching Machida, tossing him to the mat and then working his vicious elbows from top position.
Machida will frustrate Jones early (again), but the champion will prevail in his most difficult test to date.
Keep Reading