UFC on FOX 4 Results: Top 10 Light Heavyweights in the UFC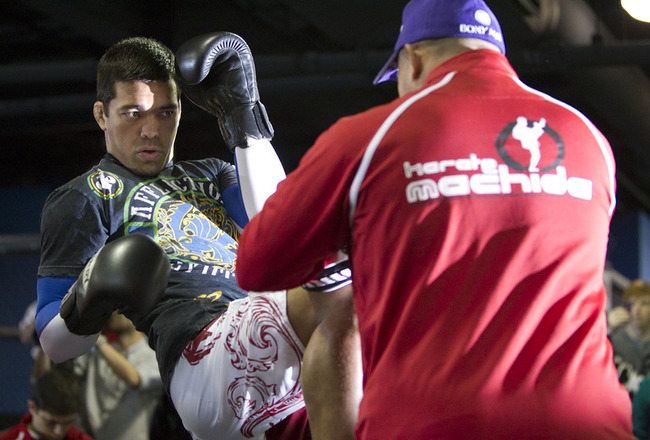 Lyoto Machida - Esther Lin/MMAFighting

"The Dragon" is back.
Four light heavyweights entered the Octagon with title aspirations on Saturday night, but in the end, Lyoto Machida was the named the new No. 1 contender for the UFC title.
At UFC on FOX 4, Machida landed a devastating short right hand that knocked Ryan Bader's lights out at 1:32 of the second round.
"I feel very well," Machida told UFC commentator Joe Rogan after the fight. "I think it was a great performance. I want to say that 'The Dragon' is back."
During a post-fight interview on FOX, UFC President Dana White officially announced Machida would be next in line to challenge either Jon Jones or Dan Henderson for the UFC title.
Mauricio "Shogun" Rua and Brandon Vera were the other pair of light heavyweights featured in the main event of the UFC on FOX 4 fight card.
Vera quieted critics who believed he didn't even deserve to share the same Octagon with upper-echelon stars like Shogun. "The Truth" poured his entire heart and soul into an amazing four-round effort that left both men battered and depleted.
In the fourth round, a last-ditch flurry from Shogun sent Vera crashing to the canvas at 4:09.
Top-10 light heavyweight Phil Davis was also in action on Saturday night. His bout against Wagner Prado was ruled a no-contest after he delivered an unintentional eye poke in the first round.
Without any upsets at UFC on FOX 4, the UFC's light heavyweight rankings stay intact. Where did your favorite fighters end up?
Here are the top 10 light heavyweights in the UFC.
10. Quinton "Rampage" Jackson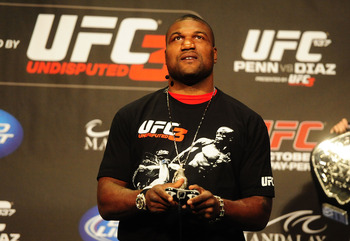 Mark J. Rebilas-US PRESSWIRE
For the first time in his professional career, Quinton "Rampage" Jackson finds himself coming off consecutive losses.
After getting submitted by Jon Jones at UFC 135, Rampage lost a shocking unanimous decision to Ryan Bader.
The window appears to be closing on the former UFC champ's career.
During an interview with Fighters Only, Rampage announced his next Octagon appearance would be his last.
He is slated to face Brazilian striker Glover Teixeira on October 13 at UFC 153.
9. Antonio Rogerio Nogueira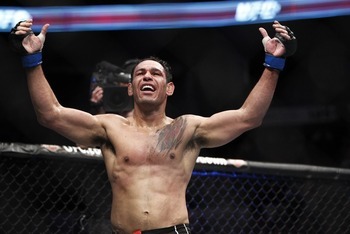 Antonio Rogerio Nogueira - Esther Lin/MMAFighting
After back-to-back losses to Phil Davis and Ryan Bader, Antonio Rogerio Nogueira rebounded at UFC 140 with a dominant victory over Tito Ortiz.
The win keeps Nogueira afloat in a deep light heavyweight division, but it'll take more than a victory over Ortiz to climb into the title picture.
Nogueira was scheduled to face Alexander Gustafsson at UFC on Fuel 2, but an injury sustained during training forced him to withdraw from the bout.
8. Ryan Bader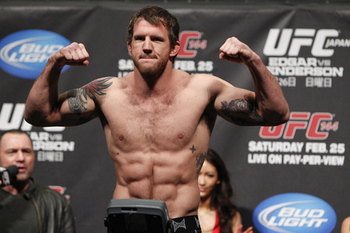 Ryan Bader - Esther Lin/MMAFighting
Ryan Bader shocked the world by routing Quinton "Rampage" Jackson, but he wasn't able to solve the Lyoto Machida puzzle at UFC on Fox 4.
The Ultimate Fighter Season 8 winner was knocked out cold in the second round of his title-eliminator bout.
It's back to the drawing board for Bader, who is 2-3 in his last five fights.
7. Alexander Gustafsson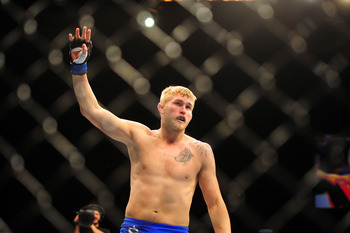 Mark J. Rebilas-US PRESSWIRE
If there is any light heavyweight comparable to Jon Jones, it would be Alexander Gustafsson.
At only 25 years of age, the Swedish striker already looks like a world-beater.
His unorthodox standup and vastly improved ground game has helped him earn dominant victories over Thiago Silva, Vladimir Matyushenko, Matt Hamill and James Te-Huna.
Few can match Jones' overall skill, but Gustafsson would present an interesting challenge physically. His incredible height and reach allow him to frustrate opponents by keeping them at a distance.
Could Gustafsson be the only light heavyweight with the ability to truly test Jones?
6. Phil Davis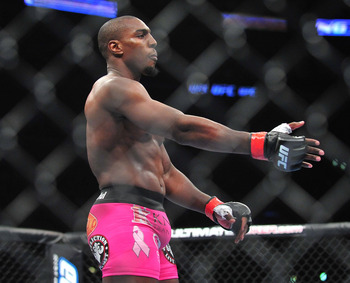 Gary A. Vasquez-US PRESSWIRE
Phil Davis remains a work in progress.
At only 27 years of age, "Mr. Wonderful" has plenty of time to get his striking up to par with his world-class grappling skills.
He has run into a string of bad luck in recent outings. After being routed by Rashad Evans in January, Davis accidentally poked Wagner Prado in the eye, which led to a no-contest ruling at UFC on Fox 4.
5. Lyoto Machida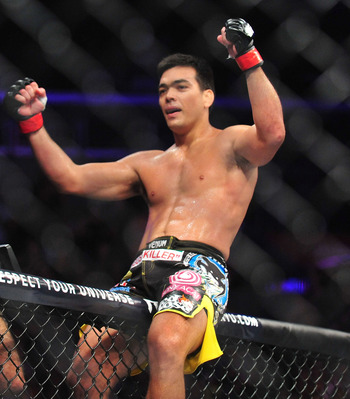 Gary A. Vasquez-US PRESSWIRE
Lyoto Machida is a man on a mission.
After suffering a second-round submission loss to Jon Jones, "The Dragon" returned with a vengeance at UFC on Fox 4.
He knocked out Ryan Bader in the second round to lock up the next shot at the light heavyweight title.
The winner of Jon Jones vs. Dan Henderson, which is slated for September 1, will serve as his next opponent.
4. Mauricio "Shogun" Rua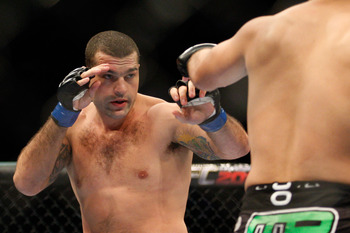 Richard Wolowicz/Getty Images
Mauricio "Shogun" Rua ran into a tougher-than-expected challenge in Brandon Vera at UFC on FOX 4.
Coming off a loss to Dan Henderson, Shogun got back to his winning ways with a fourth-round TKO stoppage.
After the event, UFC president Dana White officially announced live on FOX that Lyoto Machida would be receiving the next light heavyweight title shot.
This means more work for Shogun as he looks to reclaim his UFC title.
3. Dan Henderson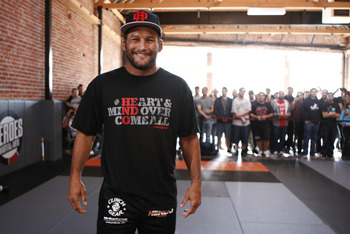 Dan Henderson - Esther Lin/MMAFighting
Those wishing to put an age limit on UFC fighters apparently haven't met Dan Henderson.
The 41-year-old veteran has amazingly climbed back into the pound-for-pound conversation with wins over Fedor Emelianenko, Mauricio "Shogun" Rua, Rafael Cavalcante and Renato Sobral.
If he defeats Jones for the UFC title on September 1, Henderson will complete, quite possibly, the greatest Cinderella story in the history of sports.
2. Rashad Evans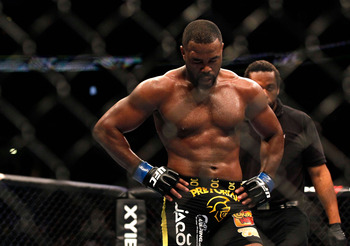 Kevin C. Cox/Getty Images
If losing wasn't already bad enough, Rashad Evans' defeat came at the hands of Jon Jones.
The massive beef between the former teammates took on a life of its own in the months leading up to the UFC 145 championship bout.
In the end, Jones was the one with his hand raised, and Evans was forced to sit and watch as his old coaches and teammates celebrated his defeat.
It'll be interesting to see if Evans stays at light heavyweight. He has recently shown interest in dropping to the middleweight division to challenge UFC champ and pound-for-pound kingpin Anderson Silva.
1. Jon "Bones" Jones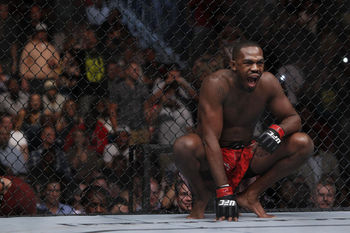 Jon Jones - Esther Lin/MMAFighting
Jon Jones is shining like Leroy Green from "The Last Dragon."
In 2011, the UFC light heavyweight champion had one of the best years in MMA history.
In one year, he defeated three former UFC champions and future Hall of Famers in Mauricio "Shogun" Rua, Lyoto Machida and Quinton "Rampage" Jackson.
So far, Jones has continued his winning ways in 2012. He dominated former teammate Rashad Evans in one of the biggest grudge matches in UFC history.
On September 1, Jones will try to add another legend to his résumé when he defends his title against Dan Henderson at UFC 151.
Keep Reading